Luggage - Road Bike Shop
Shop
>
Accessories
>
Travel
>
Luggage
DAKINE Cruiser Roller 65L Gear Bag - Women's - 3950cu in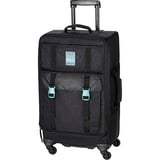 Run down the terminal with your airplane ticket in one hand and the other pulling the Dakine Women's Cruiser Roller 65L Gear Bag behind you. A retractable handle and four multi-directional spinner wheels make sure this roller bag doesn't slow you down, and you can replace the wheels when they...
DAKINE Cyclone Dry Roll-Top Backpack - 2200cu in
After catching some waves to start out your day, toss your wetsuit in the Dakine Cyclone Roll-Top Dry Backpack to keep your car seats from getting soaked. Waterproof welded construction with a roll-top closure keeps water in (or out, depending on the circumstances), and a zippered front pockets...
DAKINE Departure 55L Backpack - 3360cu in
Instead of letting the airlines squeeze another hundred bucks out of you just to check your bag, thwart their greedy efforts with the Dakine Departure Backpack. Its cube-like shape is designed to take advantage of every last square inch of space allowed for carry-on by most airlines. More like a...
DAKINE DLX Roller 80L Rolling Gear Bag - 4940cu in
Look no further than the Dakine DLX Roller 80L Rolling Gear Bag for spacious travel storage and nifty internal organization. This excursion-ready bag features smooth-rolling urethane wheels and a retractable handle for easy towing over rough sidewalks and crack-filled streets. Its split-level...
DAKINE Duffel Roller 90L Gear Bag - 5500cu in
Load up everything you need for a week in Europe or a month on a remote Costa Rican beach into the Dakine Duffel Roller 90L Gear Bag. It has a huge main compartment with a U-shaped opening for easy access to all your clothes, along with internal mesh pockets and zippered end pockets to keep your...
DAKINE Duffle Roller 58L Gear Bag - 3500cu in
Whether you're jet-setting to Maui or road-tripping to the Rockies for fresh powder, the Dakine Duffle Roller 58L Gear Bag (3500-cubic inches) eagerly swallows all of your clothing and travel gear with easy-rolling portability. Its large main compartment features a U-shaped zipper for easy...
DAKINE EQ 51L Duffel Bag - 3100cu in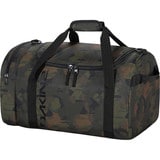 Whether you're heading to the gym for your daily workout or jet-setting across the country for a long weekend, the Dakine EQ 51L Duffel Bag has you covered. The U-shaped opening gives you easy access to your clothes and gear, and the zippered end pocket holds small essentials or stinky socks....
DAKINE EQ 74L Duffel Bag - 4500cu in
Packing for your next trip will be easy when you can just cram everything you need for the next few days into the spacious Dakine EQ 74L Duffel Bag. The U-shaped opening allows for easy access so you can find your clothes quickly, and the removable padded shoulder strap makes it comfy to carry....
DAKINE Foundation 26L Laptop Backpack - 1600cu in
Effortlessly organize all of your school stuff, daily items, and work essentials in bold style with the Dakine Foundation 26L Laptop Backpack. The pack's main compartment is roomy enough to stash school textbooks, an extra layer, and larger everyday items, while the fleece-lined laptop pocket...
DAKINE Gemini 28L Backpack - 1706cu in
Designed for life in transit, the Dakine Gemini 28L Backpack (1706-cubic inches) makes packing and accessing travel accessories, electronics, and daily items a breeze with its 270-degree main compartment access. This nifty pack organizes all of your smaller and midsized items in mesh pockets...
<< Prev | 1 | 2 | 3 | 4 | 5 | 6 | 7 | 8 | 9 | Next >>