Luggage - Road Bike Shop
Shop
>
Accessories
>
Travel
>
Luggage
Chrome Mini Metro Messenger Bag
Retail Price:
$140.00
Our Price: $111.99
buy now
The Chrome Mini Metro Messenger Bag is a small messenger bag with a deceptively large interior for hauling all of the basics to work, school, and play. The exceedingly durable interior and exterior can take whatever you can dish out. Made in Chico, California, USAWaterproof, durable Cordura...
Chrome Orlov Backpack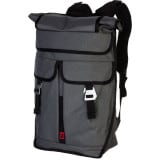 Hauling wet gear around is a waste of time if you get wet in the process. On the flip side, though, hauling dry gear in a leaky bag in the rain is just as annoying. At the same time, you don't always need to carry the kitchen sink with you. Taking all of this into account, Chrome tackled big...
Chrome Pawn Backpack
The Chrome Ivan Messenger Bag's little brother, the Pawn, is loaded with all the same features as its older brother, but in a slightly smaller size. Like the Ivan, the Pawn's stylish retro look is actually more function than fashion, with military rucksack styling and weatherproof, expandable...
Chrome Soyuz Messenger Bag
Retail Price:
$159.95
Our Price: $143.95
buy now
The Chrome Soyuz Messenger Bag is big on style and huge on utility. This practically indestructible bag protects your laptop, clothes, and books from the weather while it protects you from looking lame. Ultra-durable Cordura is abrasion-resistant and weather-blockingTarpaulin lining with welded...
Chrome Victor Bag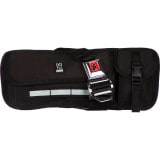 Pretty much every time you leave the house on your bike you have to carry something. Most of the time it's something small like your phone, a light jacket, and a bagel. It's kind of silly to carry a messenger bag or backpack when all you really need is a lunchbox-size pouch. Chrome feels your...
Chrome Yalta Messenger Bag
Retail Price:
$120.00
Our Price: $107.99
buy now
You're riding home from work when you get slammed by a freak storm that has you soaked from head to toe, but your laptop, books, and complete set of collectible comics are safe and dry in your Chrome Yalta Messenger Bag. Hardcore, rain-ready design keeps the inside of your bag protected from the...
Deuter Bike One 18 SL Backpack - Women's - 1098cu in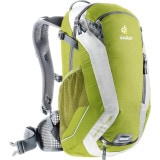 Retail Price:
$129.00
Our Price: $58.05
buy now
There's only one pack you need for mountain biking, hiking, and travel: the Deuter Women's Bike One 18 SL Backpack. The Bike One features an integrated rain cover to keep the multiple internal and external pockets dry and the other material free from mud during nasty weather. Slim Line (SL) is a...
Green Guru Gear Freewheeler Messenger Bag
Built from recycled, upcycled, and re-appropriated materials, the Green Guru Gear Freewheeler Messenger Bag not only keeps waste out of landfills, it turns would-be garbage into a ware of great importance. Designed with the same thought, attention, and convenience as those other high-end...
Louis Garneau TR-40 Backpack
Getting your gear to transition should be as seamless as the transition itself. Louis Garneau designed the TR-40 Backpack specifically for this. It's loaded with triathlon-specific features to keep your gear organized and ready for use at a moment's notice. The large main compartment is easy to...
Timbuk2 Colby Shoulder Bag - Women's
Strap your Timbuk2 Women's Colby Shoulder Bag to your handlebars for your ride to the pub, and amaze the patrons on the patio as you undo the straps to turn it back into the fashionable purse that it is. The hook-and-loop bike straps hide into the rear slash pocket so that no one's the wiser to...
<< Prev | 1 | 2 | 3 | Next >>