Cases - Road Bike Shop
Shop
>
Accessories
>
Travel
>
Cases
BIKND Helium Air-Cushioned Bike Case
The first thing you'll notice about the Biknd Helium Bicycle Travel Case is that it has air bags for your bike. We should note, by the way, that it doesn't use helium in any way -- just air. The name 'Helium' stems from the lightness of the case. It weighs only 24 lbs empty, and considering the...
BIKND Jetpack
If you've ever traveled with your bike you know all too well that security agents and baggage handlers are like bulls in a china shop. In fact, it almost seems that the case itself lets off a high pitch that beckons like a whistle to a dog, screaming --"abuse me, misuse me." The Canadian company,...
Evoc Bike Travel Bag
Retail Price:
$475.00
Our Price: $450.00
buy now
It's safe to say, that as much as we enjoy traveling for races or bike tours, the whole process of packing our bike and lugging it through the airport is less than desirable. Most cases are either difficult to maneuver or just plain flimsy. The EVOC Bike Travel Bag is a soft-sided, reinforced...
Evoc Bike Travel Bag Pro
Your bike is your baby, so it makes sense to give it all the protection you'd show a tiny human who can't look after itself. You can with Evoc's Bike Travel Bag Pro, which is designed to safely and comfortable carry all types of road and mountain bikes when you're heading across the globe to ride...
Evoc CC 10L Plus 2L Bladder Hydration Pack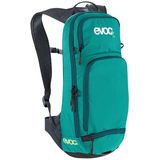 So if Evoc's spine-saving FR Protector series of backpacks is for those hardcore folks who need to think about back injuries when they bail, what do the rest of us wear when we're not concerned with such things? You just want to go for a cross-country spin or do some racing, and Evoc wants to be...
Evoc CC 3L Plus 2L Bladder Hydration Pack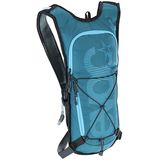 For endurance races such as the TransAlp or even your local 24-hour, you'll have a crew to keep you hydrated and fed. To that end, all you need to carry are a few tools and enough drink to get you from feed zone to feed zone. The Evoc CC 3L Plus 2L Hydration Pack is light for speed, with enough...
Evoc CC 6L Plus 2L Bladder Hydration Pack
Similar to its FR Performance series, the Evoc CC 6L Plus 2L Bladder Hydration Pack was sewn from panels of 210Denier Nylon Ripstop fabric that has been PU coated. This make the fabric durable enough to resist tears and also gives it a water-resistant finish. It features a main carry compartment...
Evoc Chain Cover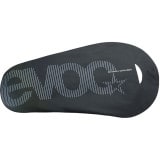 Tired of dirty chains marring the interior of your car? Then use the Evoc Chain cover to protect your investment. It also protects the frame when use with an Evoc travel bag. The cover is 60 x 30cm and is constructed from 600d Nylon.
Evoc Commuter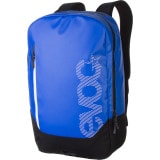 Retail Price:
$160.00
Our Price: $151.99
buy now
Pulling some of its best tricks out of its deep hat, Evoc has made a backpack to be the envy of all cycling backpacks. The Evoc Commuter blends style, smart details, and German engineering into a bag that's admittedly a bit more expensive than the competition, but earns those dollars every time...
Evoc Duffel
Retail Price:
$125.00
Our Price: $75.00
buy now
While the Evoc name is a relatively young one, the company's products are already the stuff of legend. The Evoc Duffel came about to meet frequent customer requests for smaller, more all-purpose gear, after the brand's Bike Travel Case quickly became an industry standard -- and the Duffel...
<< Prev | 1 | 2 | 3 | 4 | 5 | 6 | Next >>