Cases - Road Bike Shop
Shop
>
Accessories
>
Travel
>
Cases
BIKND Helium Air-Cushioned Bike Case
The first thing you'll notice about the Biknd Helium Bicycle Travel Case is that it has air bags for your bike. We should note, by the way, that it doesn't use helium in any way -- just air. The name 'Helium' stems from the lightness of the case. It weighs only 24 lbs empty, and considering the...
BIKND Jetpack
If you've ever traveled with your bike you know all too well that security agents and baggage handlers are like bulls in a china shop. In fact, it almost seems that the case itself lets off a high pitch that beckons like a whistle to a dog, screaming --"abuse me, misuse me." The Canadian company,...
DAKINE Bike Bag
Instead of accruing fees aboard awkward and questionable-quality rental bikes, pack your beloved ride in the Dakine Bike Bag. This big and protective bag fits road, mountain, and even full-on downhill bikes. A padded divider keeps wheels from scratching the frame, and Dakine added several...
Evoc Bike Travel Bag
Retail Price:
$475.00
Our Price: $427.50
buy now
Anyone who's traveled with a bike has their share of horror stories -- broken frames, misplaced wheels, cases left unzipped -- not to mention the general unwieldiness of traveling with a bike. The Evoc Bike Travel Bag solves for most of these common issues, starting with its construction. Evoc...
Evoc CC 10L Plus 2L Bladder Hydration Pack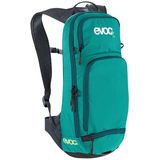 So if Evoc's spine-saving FR Protector series of backpacks is for those hardcore folks who need to think about back injuries when they bail, what do the rest of us wear when we're not concerned with such things? You just want to go for a cross-country spin or do some racing, and Evoc wants to be...
Evoc CC 3L Plus 2L Bladder Hydration Pack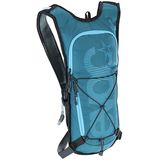 Retail Price:
$80.00
Our Price: $52.00
buy now
For endurance races such as the TransAlp or even your local 24-hour, you'll have a crew to keep you hydrated and fed. To that end, all you need to carry are a few tools and enough drink to get you from feed zone to feed zone. The Evoc CC 3L Plus 2L Hydration Pack is light for speed, with enough...
Evoc CC 6L Plus 2L Bladder Hydration Pack
Similar to its FR Performance series, the Evoc CC 6L Plus 2L Bladder Hydration Pack was sewn from panels of 210Denier Nylon Ripstop fabric that has been PU coated. This make the fabric durable enough to resist tears and also gives it a water-resistant finish. It features a main carry compartment...
Evoc Chain Cover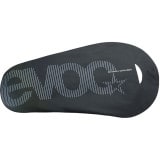 Tired of dirty chains marring the interior of your car? Then use the Evoc Chain cover to protect your investment. It also protects the frame when use with an Evoc travel bag. The cover is 60 x 30cm and is constructed from 600d Nylon.
Evoc FR Enduro Protector Hydration Pack - Women's
Retail Price:
$180.00
Our Price: $149.99
buy now
If you enjoy shorter rides or races, Evoc has designed its FR Enduro Protector Hydration Pack specifically for a women's shorter torso and narrower shoulders. It also features built-in spine protection for downhill runs and big drops. In general, women have shorter torsos and narrower shoulders...
Evoc FR Enduro Team Protector Hydration Pack
If you're the type of rider who actually thinks about the potential of back injuries if you happen to crash, then you know the importance of protection. The Evoc FR Enduro Team Protector Hydration Pack features a certified back plate integrated into its hydration pack. The Evoc pack was...
<< Prev | 1 | 2 | 3 | 4 | 5 | Next >>