Cases - Road Bike Shop
Shop
>
Accessories
>
Travel
>
Cases
Thule Round Trip Transition Bike Travel Case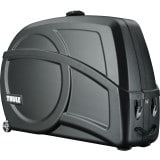 Retail Price:
$599.95
Our Price: $478.95
buy now
Traveling with a bike can be a stressful experience, full of horror stories of broken frames and tense moments watching baggage handlers throw cargo onto conveyor belts and transfer carts. The Thule Round Trip Transition Bike Travel Case eases some of that stress by providing exceptional...
Topeak Bike Cover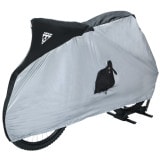 Retail Price:
$49.95
Our Price: $37.46
buy now
When bikepacking or touring, your mode of transportation is usually left out in the elements, even while you seek shelter. Topeak's Bike Cover, however, gives your bike a safe haven during foul weather. The cover is constructed from 190T Nylon for durability and measures 178 x 63 x 100cm to fit...
Tri All 3 Sports Clam Shell Wheel Case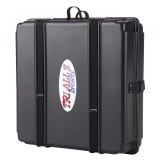 Traveling with wheels that cost as much as your car can be a wee bit nerve wracking, but you can't very well leave them at home or pedal across the ocean to get to your next race. Before you watch your wheels disappear down the conveyor belt and you spend the next eight hours shivering and...
Tri All 3 Sports Velo Safe Custom Road Bike Case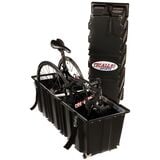 The Tri All 3 Sports Velo Safe Custom Road Bike Case is the best option on the planet for shipping or traveling with your bike. Constructed from nearly indestructible polyethylene, the Velo Safe won't be punctured or crushed during transport. Four commercial-grade caster wheels and convenient...
Tri All 3 Sports Velo Safe II Pro-Series Bike Case
Few things are more vulnerable to the capricious hobgoblins of travel-related dings and dents than bicycles. Whether it's as simple as a bent derailleur hanger or as serious as a structural failure, the woes of traveling with a bike or two are assuaged by Tri All 3 Sports' Velo Safe II Pro-Series...
Tri All 3 Sports Velo Safe Pro Series ISP
Since the good old days of flying with your bike never existed, we pine for the possibility that such days might exist in the future, a day so good, we will be able to take our bike unwrapped to the plane and the baggage handlers will take care of it with no extra fees. Until then, we're using...
White Lightning Chain Johnny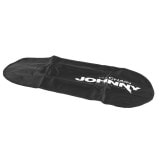 Retail Price:
$19.95
Our Price: $14.96
buy now
Transporting your bicycle in an airline case or in a vehicle without a dedicated roof or hitch rack can often be a messy, if not worrisome experience. The White Lighting Chain Johnny is a simple solution to preventing drivetrain grease marks or chainrings gouging the leather backseat of your...
Zipp Connect Wheel Bag
You probably spent a sizable amount of money to buy a set of wheels, which means you'll definitely want to keep them protected while traveling to and from events during race season. Zipp's Connect Wheel Bag can be used on its own or can be attached to a second Zipp Connect bag to safely and...
Zipp SG Dual Wheel Bag
Retail Price:
$125.00
Our Price: $112.99
buy now
Damaged wheels suck--but having your wheels damaged while you aren't even riding is worse. The Zipp SG Dual Wheel Bag protects your expensive race wheels while you travel, so they arrive just like they left. The SG Dual is made with abrasion-resistant nylon. Inside, you'll find a layer of...
Zipp Speed Box Frame Bag
When hunger strikes on your next ride, don't be unprepared. Zipp's Speed Box Frame Bag comes in three sizes, so whether you're a minimalist or the type of person who likes to bring a full flavor range of energy gels on every ride, there's a Speed Box bag that will fit your food, and maybe a...
<< Prev | 1 | 2 | 3 | 4 | 5 | Next >>