Cases - Road Bike Shop
Shop
>
Accessories
>
Travel
>
Cases
Topeak Bike Cover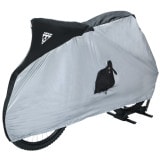 Retail Price:
$49.95
Our Price: $37.46
buy now
When bikepacking or touring, your mode of transportation is usually left out in the elements, even while you seek shelter. Topeak's Bike Cover, however, gives your bike a safe haven during foul weather. The cover is constructed from 190T Nylon for durability and measures 178 x 63 x 100cm to fit...
Tri All 3 Sports Clam Shell Wheel Case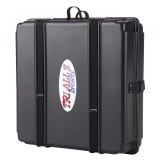 Retail Price:
$374.95
Our Price: $280.50
buy now
Traveling with your race wheels can only be described as nerve-wracking. After all, only an elite few are granted the privilege of handling our race-day wheels, yet we resign that right the moment that we check our luggage. So, if you've ever watched your wheels disappear on the carousel with the...
Tri All 3 Sports Velo Safe Custom Road Bike Case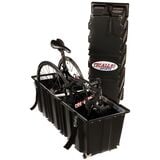 We ordinarily ship complete bicycles in a cleverly designed heavy-duty cardboard box. The overall goal of our bike box is to protect the bike from both structural damage and cosmetic damage as it makes its way from our warehouse to you. History proves that our design is an excellent one. Except...
Tri All 3 Sports Velo Safe II Pro-Series Bike Case
Retail Price:
$675.00
Our Price: $506.25
buy now
Traveling with your steed is a hair-raising event. And we're not talking about the rush of the race at your destination. Getting your bike on and off the plane without it being accosted by the airport gorillas can cause major anxiety -- especially if you have a window seat and get to watch...
Tri All 3 Sports Velo Safe Pro Series ISP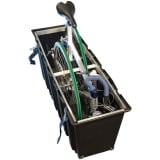 Since the good old days of flying with your bike never existed, we pine for the possibility that such days might exist in the future, a day so good, we will be able to take our bike unwrapped to the plane and the baggage handlers will take care of it with no extra fees. Until then, we're using...
White Lightning Chain Johnny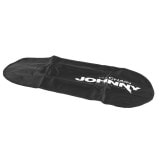 Retail Price:
$19.95
Our Price: $14.95
buy now
Transporting your bicycle in an airline case or in a vehicle without a dedicated roof or hitch rack can often be a messy, if not worrisome experience. The White Lighting Chain Johnny is a simple solution to preventing drivetrain grease marks or chainrings gouging the leather backseat of your...
<< Prev | 1 | 2 | 3 | 4 | 5 | Next >>