Cases - Road Bike Shop
Shop
>
Accessories
>
Travel
>
Cases
Evoc World Traveler Suitcase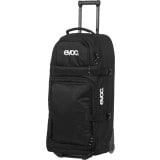 Evoc's seminal product was its bar-raising Bike Travel Case. We find it easy to think of the World Traveler Suitcase as an extension of that product, because really, it is. Evoc's quickly-established fan base practically demanded some non-bike-specific transport gear, and the company answered...
Louis Garneau AWD Bike Transpo Case
When it comes to traveling, cycling presents distinct issues -- especially when you're going to catch a ride in a big aluminum tube. Baggage handlers don't exactly have a reputation for being gentle, and when you place your prized, and fragile, road bike and race wheels their hands, you're...
Pika Packworks EEP 29er Bike Case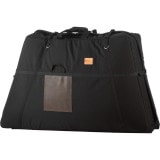 There aren't many bag companies that can claim they've been manufacturing cycling-specific travel bags as long as Pika Packworks. Since '94, they've been producing air-travel cycling bags for some of the world's top racing teams. There also aren't many companies that can claim their products are...
Pika Packworks EEP Standard Bike Bag
Don't let the romance of riding your bike over famous cobbles or classic cols be tainted with the terrifying thought of gorilla-trained baggage handlers or the burden of schlepping around a hardshell type bike case. Pika Packworks makes the EEP Standard Bicycle Travel Bag to safeguard your bike...
Pika Packworks EEP Stretch Bike Bag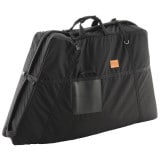 Pika Packworks builds the EEP (Exercise Equipment Pack) Stretch Bicycle Travel Bag in Salt Lake City, Utah. It's designed first and foremost to protect your two-wheeled investment, and it certainly does that. Yet the packable foam and nylon structure is easy to transport and stow when you reach...
SciCon Aero Comfort Plus 2.0 TSA Travel Case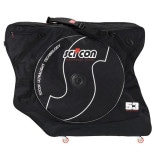 For maximum, nuke-proof protection, a full-blown hard case is usually the safest option for your bike. However, such a case is rarely practical as a means of transporting your bike when you travel. Hard cases are difficult to fit in any car smaller than an SUV, and they're awkward to transport in...
SciCon Defender Lycra Bike Bra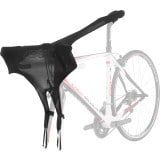 Retail Price:
$37.95
Our Price: $33.99
buy now
When you have a busy race schedule you don't have time to clean a creamy puree of insects off your bike. The SciCon Defender Lycra Bike Bra, however, protects every frontal inch of your bike from unsavory airborne encounters. You can install the SciCon Defender Lycra Bike Bra in less than 10...
Thule Round Trip Pro Bike Travel Case
If you spend a lot of time traveling, you know how important it is to have equipment that makes the journey a little bit easier. Such is the case with the Thule Round Trip Pro Bike Travel Case. This soft-sided case has all the accoutrements you'd expect -- wheels, protective sides, massive...
Thule Round Trip Sport Bike Travel Case
Store and protect your bike from the toughest baggage handlers with Thule's Round Trip Sport Bike Travel Case. Hard-sided, durable polyethylene construction will prevent damage, and its voluminous size easily fits road, mountain, and cyclocross bikes. To ease transport, Thule equipped the Round...
Thule Round Trip Transition Bike Travel Case
Traveling with our prized two-wheeled machines isn't that dissimilar to the road musician who guards his instruments with the utmost care. We carefully package, cushion, and prepare our components with precision, knowing that they'll be subject to a variety of bumps along the way. And when we...
<< Prev | 1 | 2 | 3 | 4 | Next >>