Cases - Road Bike Shop
Shop
>
Accessories
>
Travel
>
Cases
Evoc World Traveler Suitcase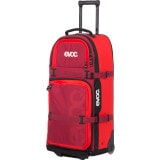 Evoc's seminal product was its bar-raising Bike Travel Case. We find it easy to think of the World Traveler Suitcase as an extension of that product, because really, it is. Evoc's quickly-established fan base practically demanded some non-bike-specific transport gear, and the company answered...
Louis Garneau AWD Bike Transpo Case
When it comes to traveling, cycling presents distinct issues -- especially when you're going to catch a ride in a big aluminum tube. Baggage handlers don't exactly have a reputation for being gentle, and when you place your prized, and fragile, road bike and race wheels their hands, you're...
Mavic Crossmax Hydropack 15 Hydration Pack - 915cu in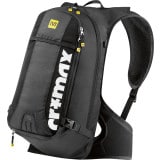 Retail Price:
$149.95
Our Price: $119.96
buy now
Going on an all-day trail ride dictates carrying not only hydration, but tools, snacks, and an extra layer. But, many packs are burly and unstable when full. That's not the case with the Mavic Crossmax Hydropack 15L pack -- it holds everything you need and fits like a second skin.The Crossmax is...
Mavic Crossmax Hydropack 8.5 Hydration Pack - 519cu in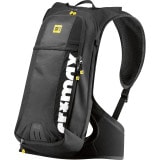 Retail Price:
$129.95
Our Price: $103.96
buy now
Riding the trails requires being prepared not only with extra fluid but also with tools necessary to make on-the-go repairs. The Mavic Crossmax Hydropack 8. 5 holds everything you need for a short ride, in a fit that won't cramp your style. Sewn from durable, 420 Denier ripstop nylon, the pack...
Pika Packworks EEP 29er Bike Case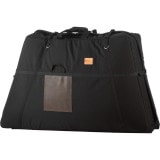 There aren't many bag companies that can claim they've been manufacturing cycling-specific travel bags as long as Pika Packworks. Since '94, they've been producing air-travel cycling bags for some of the world's top racing teams. There also aren't many companies that can claim their products are...
Pika Packworks EEP Stretch Bike Bag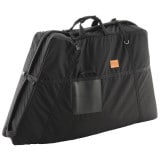 Pika Packworks builds the EEP (Exercise Equipment Pack) Stretch Bicycle Travel Bag in Salt Lake City, Utah. It's designed first and foremost to protect your two-wheeled investment, and it certainly does that. Yet the packable foam and nylon structure is easy to transport and stow when you reach...
SciCon Aero Comfort Plus 2.0 TSA Travel Case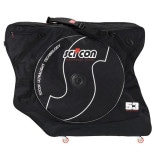 Retail Price:
$650.00
Our Price: $487.50
buy now
For maximum, nuke-proof protection, a full-blown hard case is usually the safest option for your bike. However, such a case is rarely practical as a means of transporting your bike when you travel. Hard cases are difficult to fit in any car smaller than an SUV, and they're awkward to transport in...
SciCon Aero Tech Evolution TSA Bike Case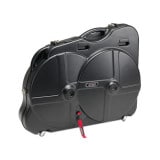 Retail Price:
$1400.00
Our Price: $1050.00
buy now
The Sci'Con Aerotech Travel Case has been put through the wringer by pro teams Liquigas Cannondale, Astana, and Saxobank Sungard as they take their bikes all over the world. The extreme level of protection for your bike makes it quite possibly the finest hard case money can buy. The AeroTech's...
SciCon AeroComfort MTB TSA Bike Case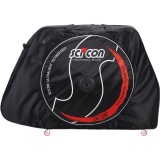 Retail Price:
$799.95
Our Price: $599.96
buy now
Mountain biking continues to grow by leaps and bounds and with that growth there are more races and opportunities for riders to travel. But, with that travel comes the inevitable hassle of finding a secure case in which to pack your 29er -- most road bike cases are just too small. SciCon has you...
SciCon Defender Lycra Bike Bra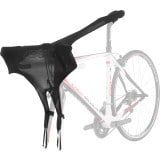 Retail Price:
$37.95
Our Price: $33.99
buy now
When you have a busy race schedule you don't have time to clean a creamy puree of insects off your bike. The SciCon Defender Lycra Bike Bra, however, protects every frontal inch of your bike from unsavory airborne encounters. You can install the SciCon Defender Lycra Bike Bra in less than 10...
<< Prev | 1 | 2 | 3 | 4 | Next >>