Cases - Road Bike Shop
Shop
>
Accessories
>
Travel
>
Cases
Evoc Rover Trolley - 4881cu in
Retail Price:
$250.00
Our Price: $190.00
buy now
When you're packing for your two-week cycling dream trip to Italy, you can fit your shoes, clothes, helmet, and everything else in the Evoc Rover Trolley and still have tons of room to spare. At a cavernous 4881 cubic inches, the Rover Trolley will be the only bag you need, but the smooth, silent...
Evoc Terminal Bag - 3661cu in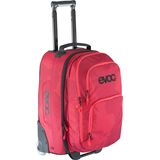 Retail Price:
$250.00
Our Price: $200.00
buy now
You've got all the gear you'll need at your destination figured out, but you need a convenient way to bring it there. Adding the Evoc Terminal Bag to your closet gives you a convenient way to transport your gear on trips that involve multiple modes of transportation. The durable, travel-proof...
Evoc Two Wheel Bag
Like a good French omelet, a wheelbag is best when it's uncomplicated. Too many details and features just get in the way, muddying flavors or, in the case of a wheel bag, risk damaging your race hoops. Fortunately for the wheel nuts among us, Evoc's Two Wheel Bag sticks to the classic wheel bag...
Evoc World Traveller Suitcase - 7628cu in
Evoc's seminal product was its bar-raising Bike Travel Case. We find it easy to think of the World Traveller Suitcase as an extension of that product, because really, it is. Evoc's quickly-established fan base practically demanded some non-bike-specific transport gear, and the company answered...
SciCon Aero Comfort Plus 2.0 TSA Travel Case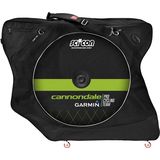 Retail Price:
$650.00
Our Price: $599.00
buy now
Flying with your bike is never exactly fun, but the SciCon Aero Comfort Case might make it just a little bit easier. Hard cases are, by definition, the most protective of your ride, but they're also the hardest to maneuver, pack, and lift. With the SciCon Aero Comfort, you just take off your...
SciCon Aero Tech Evolution TSA Bike Case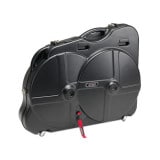 Retail Price:
$1400.00
Our Price: $1120.00
buy now
When it comes to your pride and joy, sometimes only a hard case will really put your mind at ease. For trips where the race matters, choose the SciCon Aero Tech Evolution TSA Bike Case. It's been field tested by the likes of Cannondale, Astana, and Saxo as they campaign at top-level races the...
SciCon AeroBars Protector
Whether you're packing up your bike to travel or tossing it over your car between races, the SciCon AeroBars Protector protects your time trial/triathlon bike's aerobars. Its slip-on design with high-density foam padding offers increased shock absorption, just in case it gets bumped along the way.
SciCon AeroComfort MTB TSA Bike Case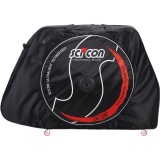 Retail Price:
$799.95
Our Price: $695.96
buy now
Mountain biking continues to grow by leaps and bounds and with that growth there are more races and opportunities for riders to travel. But, with that travel comes the inevitable hassle of finding a secure case in which to pack your 29er -- most road bike cases are just too small. SciCon has you...
SciCon AeroComfort Triathlon TSA Bike Case
The SciCon AeroComfort Triathlon TSA Bike Case is designed specifically to keep your triathlon bike safe for the duration of your journey. The majority of the bag is sewn from 840 denier ripstop nylon backed with PE for added durability. A waterproof polyurethane is used for the bottom panel and...
SciCon Cycle Bag Travel Basic Plus Triathlon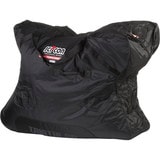 Like the SciCon Travel Plus Racing, the Travel Plus Triathlon bag was made for the triathletes who need to protect their bikes from scratches and abrasion while moving in and out of vehicles, hotel rooms, and the like. It's made of a durable nylon outer material with foam padding throughout to...
<< Prev | 1 | 2 | 3 | 4 | 5 | Next >>