Trainers - Road Bike Shop
Shop
>
Accessories
>
Trainers & Rollers
>
Trainers
BKOOL Electronic Training System Premium Trainer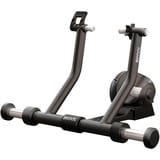 Many of us at Competitive love the traditional elements of cycling. Mechanical drivetrains, wool arm warmers, steel frames -- some things have been around for so long because they just work. When it comes to alleviating the boredom of indoor training, though, we say bring on the innovations....
Blackburn Tech Fluid Trainer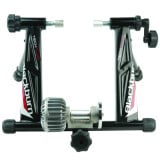 Blackburn's Tech Fluid Trainer uses fluid to sculpt a resistance curve that ramps up as your rear wheel speed increases. And just as you'd shift into a higher gear out on the road to get a greater workout, you'll do the same here. The beauty of the Tech Fluid Trainer is its simplicity. Unlike the...
Blackburn Tech Mag 6 Trainer
The Race of the Falling Leaves traditionally signals the end of the season. And as we watch the leaves fall around us, we're reminded that it won't be long before we'll look to a stationary trainer to help us stay in shape for next season. The Blackburn Tech Mag 6 Trainer is a perfect tool for...
Blackburn Tech Mag Race Trainer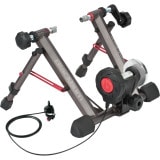 Warm up your pre-race morning legs on the Blackburn Tech Mag Race Trainer, and get the hole shot every time. The Mag Race's Fast Crank mounting system lets you quickly mate your dropouts to the stand, while the fully adjustable legs maximize stability on asphalt, grass, or any other surface....
CycleOps Fluid 2 Power Training Kit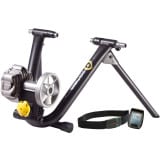 Riding your bike indoors is less than fun. Sure, you put in a few movies, or blast the music, but nothing reminds you more that you aren't outside and that you probably aren't maximizing those indoor miles. CycleOps knows how hard it is to focus indoors. Its Fluid 2 Power Training Kit is an...
CycleOps Fluid 2 Winter Training Kit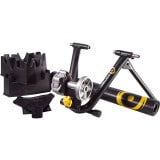 We've got to hand it to CycleOps for making the experience of training within the confines of our homes and gyms more than just tolerable. In fact, with the new Fluid 2 Winter Training Kit ??? complete with the Fluid 2 trainer, two climbing blocks, trainer mat, and sweat guard ??? you just might...
CycleOps JetFluid Pro Trainer
If you like to keep your indoor training simple, but you still want to feel as though you're getting a workout, the CycloOps JetFluid Pro Trainer is the ideal winter training partner. Setting it apart from other CycleOps trainers is the wider platform to keep you even more stable. It also...
CycleOps Mag Trainer w/o Adjuster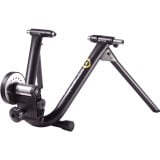 Logging hours during the winter is key to starting your spring riding season off on the right foot, but we forgive you if you don't want to deal with slushy roads and less than favorable weather. If you'd prefer to log those base miles indoors, the CycleOps Mag Trainer lets you do just that. To...
CycleOps Mag+ Trainer w/Adjuster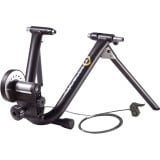 If you're like most of us, there are days when you need to ride, but the weather just isn't cooperating. So if you're in need of an effective way to train indoors, the CycleOps Mag+ Trainer with Adjuster gives you five different resistance settings, which you can adjust on the fly with a...
CycleOps Magneto Trainer
When all you want is to ride your bike and not deal with cleaning road grime off your bike, or worse, succumbing to the elements of winter, the CycleOps Magneto Trainer is the perfect solution. With its simple design and adequate resistance, you'll be ready to take on the spring training rides...
<< Prev | 1 | 2 | 3 | Next >>