Trainers - Road Bike Shop
Shop
>
Accessories
>
Trainers & Rollers
>
Trainers
BKOOL Electronic Training System Premium Trainer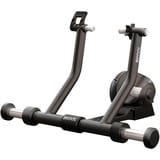 Retail Price:
$699.99
Our Price: $559.99
buy now
There's no point in denying it: training inside is a bummer. It's boring, lonely, boring, and boring, which means making it through the winter in cold climes can really take a toll on your fitness or sanity (or both). Happily, though, BKOOL's Electronic Training System Premium Trainer can...
Blackburn Tech Fluid Trainer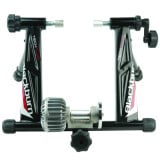 Blackburn's Tech Fluid Trainer uses fluid to sculpt a resistance curve that ramps up as your rear wheel speed increases. And just as you'd shift into a higher gear out on the road to get a greater workout, you'll do the same here. The beauty of the Tech Fluid Trainer is its simplicity. Unlike the...
Blackburn Tech Mag 5 Trainer
Whether you're familiar with the benefits of building base miles over the winter or have yet to experience the advantages in springtime form for yourself, Blackburn's Tech Mag 5 Trainer will allow you to keep your fitness up indoors over the winter without blowing your upgrade budget. With a...
Blackburn Tech Mag 6 Trainer
The Blackburn Tech Mag 6 Trainer features six different resistance settings and a smooth road-like feel, providing you the perfect way to stay fit during the winter. The trainer's magnetic resistance system is controlled via the handlebar-mounted remote lever, which makes switching the resistance...
Blackburn Tech Mag Race Trainer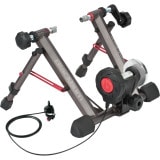 Warm up your pre-race morning legs on the Blackburn Tech Mag Race Trainer, and get the hole shot every time. The Mag Race's Fast Crank mounting system lets you quickly mate your dropouts to the stand, while the fully adjustable legs maximize stability on asphalt, grass, or any other surface....
CycleOps Fluid 2 Power Training Kit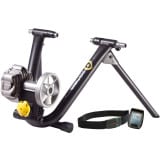 Retail Price:
$499.99
Our Price: $449.99
buy now
Riding your bike indoors is less than fun. Sure, you put in a few movies, or blast the music, but nothing reminds you more that you aren't outside and that you probably aren't maximizing those indoor miles. CycleOps knows how hard it is to focus indoors. Its Fluid 2 Power Training Kit is an...
CycleOps Fluid 2 Trainer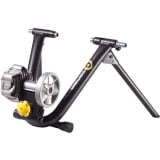 Retail Price:
$349.99
Our Price: $314.99
buy now
For cyclists in Florida or southern California, "winter" is a seriously vague notion, but to the rest of us, the realities of cold, snow, slush, rain, and wind are all too obvious. Even hardcore riders can get shut down, so having a killer trainer like the CycleOps Fluid 2 is the best way to stay...
CycleOps Fluid 2 Winter Training Kit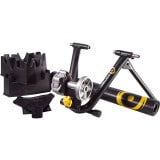 Retail Price:
$449.99
Our Price: $404.99
buy now
For most of us who don't live in a tropical climate, spring racing means a winter spent slugging out miles in the living room. The CycleOps Fluid 2 Winter Training Kit can't melt the snow, but it does minimize the sting of staying indoors and provides everything you'll need to get the most out of...
CycleOps JetFluid Pro Trainer
If you like to keep your indoor training simple, but you still want to feel as though you're getting a workout, the CycloOps JetFluid Pro Trainer is the ideal winter training partner. Setting it apart from other CycleOps trainers is the wider platform to keep you even more stable. It also...
CycleOps Mag Trainer w/o Adjuster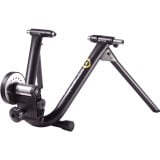 Logging hours during the winter is key to starting your spring riding season off on the right foot, but we forgive you if you don't want to deal with slushy roads and less than favorable weather. If you'd prefer to log those base miles indoors, the CycleOps Mag Trainer lets you do just that. To...
<< Prev | 1 | 2 | 3 | 4 | Next >>