Trainers - Road Bike Shop
Shop
>
Accessories
>
Trainers & Rollers
>
Trainers
Kinetic Road Machine 2.0 Fluid Trainer
Retail Price:
$369.00
Our Price: $349.00
buy now
It seems like every trainer on the market purports to provide a 'more road like feel,' but living in Utah, we ride more than our fair share of trainers, and we've found this to be less than true. The Kinetic Road Machine 2. 0 Fluid Trainer is the exception to this experience, though. Its heavy...
Kinetic Trainer Sweat Guard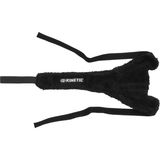 Sure, you can drape a towel over your bars during your trainer workouts to protect your frame from sweat damage, but after a few minutes it begins to feel pretty impractical. Kinetic created its own Trainer Sweat Guard that will keep sweat off of your frame without blocking your computer or...
SportCrafters Omnium Trainer
Retail Price:
$449.00
Our Price: $404.10
buy now
Few sights get our heart rates up faster than a bank of trainers set up in a shaded corner of a parking lot half an hour before start time, and few trainers are as easy to transport and set up as the SportCrafters Omnium Trainer. With a quick-release faux axle up front and a pair of...
Wahoo Fitness KICKR Power Trainer 11-Speed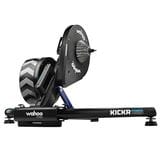 Retail Price:
$1199.99
Our Price: $1079.99
buy now
If you're going to be suffering through hours of training in your windowless basement this winter, you might as well get something out of your efforts come spring. Rather than spinning your pedals idly in front of your TV on your dusty old trainer, set your bike up on the Wahoo KICKR Power...
Wahoo Fitness KICKR SNAP PowerTrainer
Whether you've got a spring race that's going to require some serious winter base mileage or cycling is your year-round passion, investing in the right indoor oasis is crucial to coming out stronger than ever when the snow melts. Upgrade your at-home base camp and train with Wahoo's KICKR SNAP...
<< Prev | 1 | 2 | 3 | 4 | Next >>