Trainers - Road Bike Shop
Shop
>
Accessories
>
Trainers & Rollers
>
Trainers
Kinetic Smart Control Power Unit
Say you're an aspiring racer. Say this last season has been your most lucrative, results-wise, and you're looking to carry your best-ever form over into next season. By adding the Smart Control Power Unit to your standard Kinetic Rock and Roll or Road Machine trainer, you'll be adding a powerful...
Kinetic Trainer Sweat Guard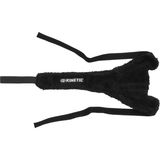 Sure, you can drape a towel over your bars during your trainer workouts to protect your frame from sweat damage, but after a few minutes it begins to feel pretty impractical. Kinetic created its own Trainer Sweat Guard that will keep sweat off of your frame without blocking your computer or...
Tacx Blue Matic Training Base
Keep your body in top riding condition through the winter months with the Tacx Blue Matic Training Base. The intermediate model of the Blue cycle trainers, the Blue Matic has a magnetic brake with permanent magnets and allows you to set the resistance selecting one of the ten different positions...
Tacx Blue Motion Training Base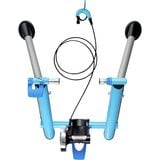 Out of the three Blue cycle trainers Tacx has to offer, the Blue Motion Training Base has the most powerful brake of them all: a Neodymium magnetic brake. This type of magnetic braking system lets you achieve exceptionally high-power output at low, or slow, pedaling rates, and is adjustable to 10...
Tacx Blue Twist Training Base
With everything you need to stay at the top of your game, and nothing you don't, the Tacx Blue Twist Training Base keeps your body pedaling in peak condition through winter days, without the need for any frills. Crafted from sturdy aluminum and steel, this training base delivers the stability you...
Tacx Booster Training Base (T-2500)
Ideally suited for power-based workouts, the Tacx Booster Training Base (T-2500) helps you progress on indoor days by doing everything from simulating climbs to tackling intense interval sprints. Employing an advanced magnetic brake system, the Booster generates high level of resistance at low...
Tacx Bushido Smart Wireless Training Base
Become an indoor winter warrior with the help of the Tacx Bushido Smart Wireless Training Base. An interactive Smart trainer with a wireless motor brake, the Bushido Smart has a maximum resistance of 1400 Watts, and ensures smooth pedaling even during steep climbs. Its wireless design means that...
Tacx Flux Trainer
While autumn makes for some of the most stunning cycling, there's always a looming darkness in the back of our minds as we try to deny that these cool and crisp mornings will turn into snow banks in a matter of weeks. Many of us loathe trainers, we'd prefer to sip Scotch next to a fire than stare...
Tacx Genius Smart Trainer
For the most part, we only revert to the trainer for one reason: the weather is too inclement to risk 25m tires on the road. Tacx Genius Smart Trainer replicates every facet of the experience of riding outside except for the inclement weather that forced you indoors and the wind in your hair. The...
Tacx Neo Steering Track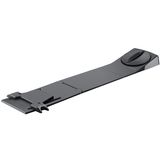 One of the most ingenious training accessories we've ever laid our eyes upon, the Tacx Neo Steering Track is an interactive steering track that's compatible with a Neo Smart Trainer with Tacx's interactive training software. You need to supplement your Neo Smart with the Upgrade Smart Kit in...
<< Prev | 1 | 2 | 3 | 4 | 5 | Next >>