Trainers - Road Bike Shop
Shop
>
Accessories
>
Trainers & Rollers
>
Trainers
SportCrafters Omnium Trainer
Retail Price:
$449.00
Our Price: $404.10
buy now
Few sights get our heart rates up faster than a bank of trainers set up in a shaded corner of a parking lot half an hour before start time, and few trainers are as easy to transport and set up as the SportCrafters Omnium Trainer. With a quick-release faux axle up front and a pair of...
Tacx Blue Matic Training Base
Keep your body in top riding condition through the winter months with the Tacx Blue Matic Training Base. The intermediate model of the Blue cycle trainers, the Blue Matic has a magnetic brake with permanent magnets and allows you to set the resistance selecting one of the ten different positions...
Tacx Blue Motion Training Base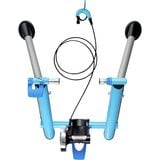 Out of the three Blue cycle trainers Tacx has to offer, the Blue Motion Training Base has the most powerful brake of them all: a Neodymium magnetic brake. This type of magnetic braking system lets you achieve exceptionally high-power output at low, or slow, pedaling rates, and is adjustable to 10...
Tacx Blue Twist Training Base
With everything you need to stay at the top of your game, and nothing you don't, the Tacx Blue Twist Training Base keeps your body pedaling in peak condition through winter days, without the need for any frills. Crafted from sturdy aluminum and steel, this training base delivers the stability you...
Tacx Booster Training Base (T-2500)
Ideally suited for power-based workouts, the Tacx Booster Training Base (T-2500) helps you progress on indoor days by doing everything from simulating climbs to tackling intense interval sprints. Employing an advanced magnetic brake system, the Booster generates high level of resistance at low...
Tacx Bushido Smart Wireless Training Base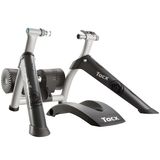 Become an indoor winter warrior with the help of the Tacx Bushido Smart Wireless Training Base. An interactive Smart trainer with a wireless motor brake, the Bushido Smart has a maximum resistance of 1400 Watts, and ensures smooth pedaling even during steep climbs. Its wireless design means that...
Tacx Neo Steering Track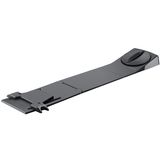 One of the most ingenious training accessories we've ever laid our eyes upon, the Tacx Neo Steering Track is an interactive steering track that's compatible with a Neo Smart Trainer with Tacx's interactive training software. You need to supplement your Neo Smart with the Upgrade Smart Kit in...
Tacx Satori Smart Wireless Training Base
Providing speed, cadence, and power outputs, the Tacx Satori Smart Wireless Training Base does it all when you're pushing yourself into peak condition through indoor workouts. The Satori's magnetic braking system is controlled by a lever on your handlebar, allowing you to set the level of desired...
Zwift Arion Roller Flexible Package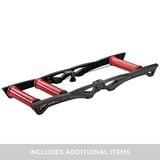 The Arion Roller Flexible Package ups the ante from Zwift's Basic packages. Instead of relying on speed and cadence sensors in order to map your avatar's progress through the online Watopia environment, the Arion Flexible Package uses a power meter. It still transmits your numbers to a...
Zwift Kinetic Z Rollers Flexible Package
Zwift's Kinetic Z Rollers Flexible Package sets up a train of power measurement, transmission, and display -- the only thing missing is a subscription to the Zwift online training software and you, the engine. The ANT+ dongle receives power readings from the included Pioneer/Shimano Dura-Ace...
<< Prev | 1 | 2 | 3 | 4 | 5 | Next >>