Trainers - Road Bike Shop
Shop
>
Accessories
>
Trainers & Rollers
>
Trainers
LeMond Revolution 1.1 Trainer
Even for the devoted cyclist who rides outdoors as much as physically possible, there are still those days when the trainer comes into play. From warming up before a race to spinning away while the snow piles up at the front door, we all rely on the spin station from time to time. This is the...
SportCrafters Omnium Trainer
Few sights get our heart rates up faster than a bank of trainers set up in a shaded corner of a parking lot half an hour before start time, and few trainers are as easy to transport and set up as the SportCrafters Omnium Trainer. With a quick-release faux axle up front and a pair of...
SportCrafters Track Omnium Trainer with No Resistance
Pre-race warm-ups get a lot easier with SportCrafters' Track Omnium Trainer. It's designed to fold up small enough to be stowed in a carry-on bag or backpack so that you can take it to bucket-list races in far-flung locales just as easily as your neighborhood criterium. The Omnium is effective,...
Wahoo KICKR Power Trainer 11-Speed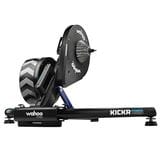 It's been a great season of riding on the roads, but on your last ride you couldn't deny it: there was a hint of fall chill in the air. Come to think of it, the sun seems to have been setting much earlier lately, and the trees on your regular routes are turning orange and red. When did that...
Wahoo KICKR SNAP PowerTrainer
Retail Price:
$849.99
Our Price: $698.99
buy now
As the leaves take on the bright hues of autumn and begin to fall, shorter days and plummeting temperatures force you to finally concede that it's time to outfit the indoor cycling haven. Give those trainer doldrums a kick and boost your winter training routine with the Wahoo KICKR SNAP...
<< Prev | 1 | 2 | 3 | 4 | Next >>