Trainers - Road Bike Shop
Shop
>
Accessories
>
Trainers & Rollers
>
Trainers
CycleOps Mag Trainer w/o Adjuster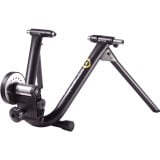 Logging hours during the winter is key to starting your spring riding season off on the right foot, but we forgive you if you don't want to deal with slushy roads and less than favorable weather. If you'd prefer to log those base miles indoors, the CycleOps Mag Trainer lets you do just that. To...
CycleOps Mag+ Trainer w/Adjuster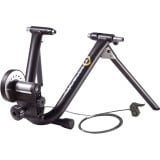 If you're like most of us, there are days when you need to ride, but the weather just isn't cooperating. So if you're in need of an effective way to train indoors, the CycleOps Mag+ Trainer with Adjuster gives you five different resistance settings, which you can adjust on the fly with a...
CycleOps PowerBeam Pro Bluetooth Smart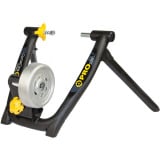 No one really jumps for joy in anticipation of winter indoor training -- it's monotonous, boring, and it's not possible to have the same quality of workout as outdoors. Right? The CycleOps PowerBeam Pro Bluetooth Smart makes a mockery of traditional indoor workouts. It was designed for the most...
CycleOps The Silencer Direct Drive Mag Trainer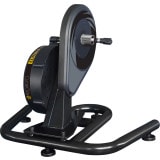 The odds are pretty good that if you were to ask some indoor-trainer-savvy cyclists what the negatives are to riding inside, the obnoxious sound their trainer makes would most likely make the list. Well, CyclOps' new Silencer Direct Drive Mag Trainer might just be the golden ticket for indoor...
CycleOps The Silencer Direct Drive Mag w/Cassette
You know all too well that the sounds that emanate from your trainer are loud, to say the least. If you live in an apartment or condo, how many times have you tried to get a late night session in and soft-pedaled most of the time to avoid the wind noise of a fast-spinning resistance unit? Have...
CycleOps Trainer Carrying Bag
The CycleOps Trainer Carrying Bag conveniently totes your trainer to the race so you don't have to clumsily haul your roller and trainer stand. Nothing is more embarrassing than dropping your stuff all over the asphalt as you try to roll your bike around while carrying an armload of other stuff....
CycleOps Training Mat - 36in x 65in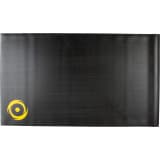 A no-slip rubberized mat that protects your carpet or hardwood floor from grime and sweat when you're doing indoor training on your rollers or trainer. Measures 36" x 65".
Kinetic Cyclone 2.0 Wind Trainer
Retail Price:
$239.00
Our Price: $199.95
buy now
Wind trainers are fairly simplistic in function. Basically, it's a fan and roller system that creates resistance so that your indoor training sessions don't have you just spinning your wheels. Before the advent of the wind trainer, you had only a few choices. Ride on rollers, ride an ergometer...
Kinetic Riser Ring
Put the Kinetic Riser Ring under your front wheel and watch the pros ride last year's tour while you sit and spin for a few hours. The Riser Ring accommodates tires up to 2. 25 inches wide and features four heights in half-inch increments to level out your bike. If you really want to enhance the...
Kinetic Rock n Roll 2.0 Trainer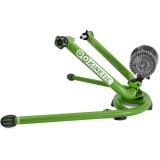 Most trainers use a weighted flywheel along with some kind of magnetic or fluid resistance to give you that elusive "road feel" sensation. A few use a computer program to create the magnetic resistance. Only Kinetic by Kurt employs a resistance unit and frame designed to mimic the natural...
<< Prev | 1 | 2 | 3 | Next >>