Trainers - Road Bike Shop
Shop
>
Accessories
>
Trainers & Rollers
>
Trainers
CycleOps Mag+ Trainer w/Adjuster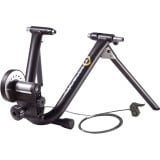 If you're like most of us, there are days when you need to ride, but the weather just isn't cooperating. So if you're in need of an effective way to train indoors, the CycleOps Mag+ Trainer with Adjuster gives you five different resistance settings, which you can adjust on the fly with a...
CycleOps Magneto Trainer
When all you want is to ride your bike and not deal with cleaning road grime off your bike, or worse, succumbing to the elements of winter, the CycleOps Magneto Trainer is the perfect solution. With its simple design and adequate resistance, you'll be ready to take on the spring training rides...
CycleOps PowerBeam Pro ANT+
Unless you are a yeti, or your cycling training consists solely of dawn patrol in the mountains, the advent of winter probably doesn't make you smile with glee. CycleOps knows that having the tools to effectively train indoors is important, not only to your psyche, but to your legs. The CycleOps...
CycleOps PowerBeam Pro ANT+ with CycleOps Joule GPS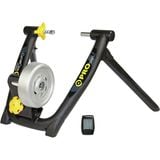 Winter training is not for the faint of heart. If your enthusiasm for your carefully crafted training program plummets faster than the stock market, you need something to keep your spirits bright and your gut focused on next year's goals. The CycleOps PowerBeam Pro ANT+ with CycleOps Joule GPS...
CycleOps PowerBeam Pro Bluetooth Smart
No one really jumps for joy in anticipation of winter indoor training -- it's monotonous, boring, and it's not possible to have the same quality of workout as outdoors. Right? The CycleOps PowerBeam Pro Bluetooth Smart makes a mockery of traditional indoor workouts. It was designed for the most...
CycleOps SuperMagneto Pro Trainer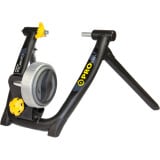 The CycleOps SuperMagneto Pro is an ideal indoor trainer for the multiple-cyclist household. The Flexible Power Curve Technology offers four distinctly different power curves by changing the location of the four resistance magnets; as they move away from the trainer's axis, resistance increases....
CycleOps The Silencer Direct Drive Mag Trainer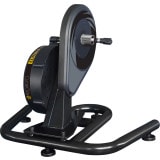 The odds are pretty good that if you were to ask some indoor-trainer-savvy cyclists what the negatives are to riding inside, the obnoxious sound their trainer makes would most likely make the list. Well, CyclOps' new Silencer Direct Drive Mag Trainer might just be the golden ticket for indoor...
CycleOps The Silencer Direct Drive Mag w/Cassette
You know all too well that the sounds that emanate from your trainer are loud, to say the least. If you live in an apartment or condo, how many times have you tried to get a late night session in and soft-pedaled most of the time to avoid the wind noise of a fast-spinning resistance unit? Have...
Elite Arion Roller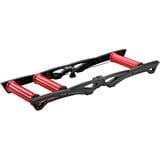 Retail Price:
$349.99
Our Price: $279.99
buy now
The most basic of Elite's rollers, the Arion Roller still packs far more features than most of its competitors. Its frame, which is made of a light-but-tough fiberglass-reinforced polyamide plastic, folds up for easy storage or carrying. Once aboard, you'll appreciate the parabolic rolling...
Elite Power Fluid Trainer
Retail Price:
$325.99
Our Price: $149.99
buy now
While Competitive Cyclist's HQ in Utah has been enjoying unseasonably temperate conditions this winter, other parts of North America have been hit with the kind of snow you measure in feet. Suffice it to say, this isn't conducive to riding outside, and if you haven't already made a fitness...
<< Prev | 1 | 2 | 3 | Next >>