Trainers - Road Bike Shop
Shop
>
Accessories
>
Trainers & Rollers
>
Trainers
CycleOps Fluid 2 Winter Training Kit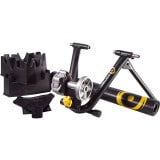 Retail Price:
$449.99
Our Price: $404.99
buy now
For most of us who don't live in a tropical climate, spring racing means a winter spent slugging out miles in the living room. The CycleOps Fluid 2 Winter Training Kit can't melt the snow, but it does minimize the sting of staying indoors and provides everything you'll need to get the most out of...
CycleOps JetFluid Pro Trainer
If you like to keep your indoor training simple, but you still want to feel as though you're getting a workout, the CycloOps JetFluid Pro Trainer is the ideal winter training partner. Setting it apart from other CycleOps trainers is the wider platform to keep you even more stable. It also...
CycleOps Mag Trainer w/o Adjuster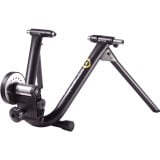 Retail Price:
$199.99
Our Price: $179.99
buy now
Logging hours during the winter is key to starting your spring riding season off on the right foot, but we forgive you if you don't want to deal with slushy roads and less than favorable weather. If you'd prefer to log those base miles indoors, the CycleOps Mag Trainer lets you do just that. To...
CycleOps Magneto Trainer
Retail Price:
$290.00
Our Price: $261.00
buy now
When all you want is to ride your bike and not deal with cleaning road grime off your bike, or worse, succumbing to the elements of winter, the CycleOps Magneto Trainer is the perfect solution. With its simple design and adequate resistance, you'll be ready to take on the spring training rides...
CycleOps PowerBeam Pro ANT+
The CycleOps PowerBeam Pro ANT+ keeps you in top physical form all winter long without the loud, annoying hum traditionally associated with indoor trainers. In fact, CycleOps states that this trainer maintains a reasonable 69-70 decibels when you're riding at 20mph, allowing you to train anywhere...
CycleOps PowerBeam Pro ANT+ with CycleOps Joule GPS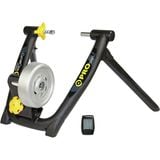 Retail Price:
$1199.99
Our Price: $1079.99
buy now
If your love of training sinks faster than the thermometer on a blustery winter day, riding the CycleOps PowerBeam Pro ANT+ with CycleOps Joule GPS will give you the "pick up" you need to keep the training going all year long. The CycleOps PowerBeam is a trainer with benefits. Rather than just...
CycleOps PowerBeam Pro Bluetooth Smart
No one really jumps for joy in anticipation of winter indoor training -- it's monotonous, boring, and it's not possible to have the same quality of workout as outdoors. Right? The CycleOps PowerBeam Pro Bluetooth Smart makes a mockery of traditional indoor workouts. It was designed for the most...
CycleOps SuperMagneto Pro Trainer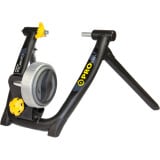 Retail Price:
$419.99
Our Price: $377.99
buy now
The CycleOps SuperMagneto Pro Trainer provides four distinctly different power curves for different types of training or for the different stages of your rainy-day ride. The four settings--Easy, Road, Interval, and Mountain, each provide different rates of resistance to simulate your training....
Elite Turbo Muin Trainer Campagnolo Adapter
Let's be frank. One of the most rewarding aspects of riding Campagnolo is being the only member of your local scene whose shift levers don't look like toy ray guns. This also comes with the cost of standing out, so you can't afford to sail out the back of a group ride as soon as the road turns up...
Feedback Sports Omnium Portable Trainer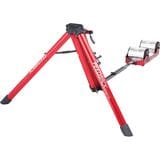 Finding a trainer that's portable enough to take to and from races but solid enough that you'd also want to leave set-up in your basement for indoor winter training can be a lot to ask. Additionally, if you're using it to warm up pre-race, you can't risk damaging a race tire with a rear-locking...
<< Prev | 1 | 2 | 3 | Next >>