Rollers - Road Bike Shop
Shop
>
Accessories
>
Trainers & Rollers
>
Rollers
CycleOps Training Rollers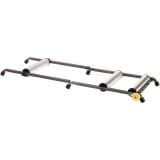 Retail Price:
$309.99
Our Price: $278.99
buy now
Maybe your downstairs neighbors frequently comment on the whirring and whooshing sound that comes from your condo every night. Or maybe the wind trainer is just getting boring. Either way, the CycleOps Training Rollers will bring the fun back to your winter training miles. Unlike a traditional...
Kreitler 3.0 Drum
Retail Price:
$263.95
Our Price: $198.00
buy now
Change resistance levels on your rollers with a simple swap of the drum using the Kreitler 3. 0 Drum. Designed to split the difference between Kreitler's other drum diameters, the 3. 0s provide the perfect amount of warm-up resistance for larger, stronger riders, or training resistance for all...
Kreitler 4.5 Drum
Retail Price:
$283.95
Our Price: $198.75
buy now
It's January, you've been off the bike for a month (or more) and you can't fathom the depth of the pain cave you're about to enter. Ease into the madness with the Kreitler 4. 5 Drum. These drums provide low resistance for long spinning workouts or pre-race warm-ups. Hot Dog version is ten inches...
SportCrafters Cadence Rollers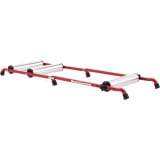 For nearly 20 years, SportCrafters has been making private label rollers for CycleOps. Several years ago it developed and patented its ARC Power Modulation Technology, which paved the way for its own line of Cadence and Overdrive rollers. The SportCrafters' Cadence Rollers are precision machined...
SportCrafters OverDrive Pro Rollers
Rollers have been regarded as the go-to winter training option by professional riders for years. Besides providing a consistent workout, rollers also promote balance and core-strengthening. The biggest drawback has always been that rollers only provide so much resistance -- until now. The...