Tools - Road Bike Shop
Shop
>
Accessories
>
Tools & Maintenance
>
Tools
Abbey Bike Tools Bottom Bracket Socket - Dual Sided Dura Ace & Ultegra
The Abbey Bike Tools Dual Sided Dura Ace & Ultegra Bottom Bracket Socket makes working on your bottom bracket a breeze. Made from precisely machined and hard anodized 7075 aluminum billets, this bottom bracket socket is compatible with Shimano DA-9000/XTRBB93 and Ultegra BBR60 bottom brackets....
Abbey Bike Tools Bottom Bracket Socket - Single-Sided
Use Abbey Bike Tools' Single-Sided Bottom Bracket Socket to install your outboard bearing bottom bracket cups. Compatible with outboard bearing Campagnolo, SRAM, FSA, and older Shimano bottom brackets, this tool is fashioned from sturdy 7075 aluminum to ensure it's durable enough to be used...
Abbey Bike Tools Dual Sided Crombie Tool
Whether you're removing your cassette for a detailed cleaning or swapping cassettes for an upgraded drivetrain, the Abbey Bike tools Dual Sided Crombie Tool comes in handy for bike mechanics and DIY bike builders alike. Constructed of solid stainless steel for maximum longevity, the Dual Sided...
Abbey Bike Tools Hanger Alignment Gauge
In its simplest form, a derailleur-alignment tool is often little more than a pry bar with an adjustable feeler. They're often crude, and can be frustrating to use considering the feeler's position is compromised every time it contacts the rim or is moved to clear frame stays. Abbey Bike Tools...
Abbey Bike Tools Single Sided Crombie Tool
Simplify your drivetrain maintenance with the Abbey Bike Tools Single Sided Crombie Tool. The Single Sided Crombie Tool features a long stainless steel handle that gives you excellent leverage, and the deep teeth connect securely to soft alloy lock rings without causing damage. This makes...
Abbey Bike Tools SL Dual Sided Crombie Tool
Abbey makes bike tools for serious mechanics and folks who really care about quality, and the SL Dual-Sided Crombie Tool puts your standard wrench-and-lockring combo to shame. The stainless-steel handle is thinner than the standard Crombie, saving 124g for the traveling mechanics without...
Abbey Bike Tools Stu Stick Rotor Truing Tool
Originating from the world of cyclocross, where cumbersome tool kits can cause issues for traveling mechanics, the beautifully machined Abbey Bike Tools Stu Stick Rotor Truing Tool provides all of the functionality of its steel counterparts, at a significantly reduced weight. Rotor truing tools...
Abbey Bike Tools Truing Stand Adapter
These days, the current crop of hub standards has made both wheel building and truing a complicated affair. We don't accredit this to our own inabilities, but more so to the dizzying bevy of stand adapters out there. However, with the Abbey Bike Works Truing Stand Adapter you're able to keep your...
Birzman 1/2" Ratchet and Socket Set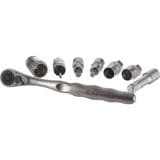 Maintenance and part replacement is easier (or at least possible) if you have the right tools. Birzman's 1/2" Ratchet and Socket Set is designed to handle your hex, Shimano bottom bracket, Shimano HG cassette, and Shimano MF Freewheel needs with an assortment of chrome vanadium steel sockets and...
Birzman Dragonfly Chain Tool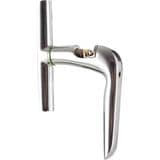 The Birzman Dragonfly Chain Tool would make a welcome addition to any shop, and that assumption is based on its looks alone. Beauty is much more than skin deep in the Dragonfly's case, however. The Dragonfly is made with super durable forged aluminum. It's CNC-machined for incredible precision,...
<< Prev | Back | 1 | 2 | 3 | 4 | 5 | 6 | 7 | 8 | 9 | 10 | More | Next >>