Tools - Road Bike Shop
Shop
>
Accessories
>
Tools & Maintenance
>
Tools
Abbey Bike Tools Bottom Bracket Socket - Dual Sided Dura Ace & Ultegra
The Abbey Bike Tools Dual Sided Dura Ace & Ultegra Bottom Bracket Socket makes working on your bottom bracket a breeze. Made from precisely machined and hard anodized 7075 aluminum billets, this bottom bracket socket is compatible with Shimano DA-9000/XTRBB93 and Ultegra BBR60 bottom brackets....
Abbey Bike Tools Bottom Bracket Socket - Single-Sided
Use Abbey Bike Tools' Single-Sided Bottom Bracket Socket to install your outboard bearing bottom bracket cups. Compatible with outboard bearing Campagnolo, SRAM, FSA, and older Shimano bottom brackets, this tool is fashioned from sturdy 7075 aluminum to ensure it's durable enough to be used...
Abbey Bike Tools Chain Whip
The Abbey Bike Tools Chain Whip lets you loosen the most stubborn cassettes with ease. The Chain features a comfortable grip and 12in stainless handle that offers plenty of leverage. Abbey Bike Tools made the Chain Whip to complement its signature tool, the Crombie, by allowing you to store the...
Abbey Bike Tools Single Sided Crombie Tool
Simplify your drivetrain maintenance with the Abbey Bike Tools Single Sided Crombie Tool. The Single Sided Crombie Tool features a long stainless steel handle that gives you excellent leverage, and the deep teeth connect securely to soft alloy lock rings without causing damage. This makes...
Abbey Bike Tools Stu Stick Rotor Truing Tool
Originating from the world of cyclocross, where cumbersome tool kits can cause issues for traveling mechanics, the beautifully machined Abbey Bike Tools Stu Stick Rotor Truing Tool provides all of the functionality of its steel counterparts, at a significantly reduced weight. Rotor truing tools...
Birzman 1/2" Ratchet and Socket Set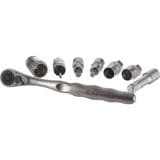 Maintenance and part replacement is easier (or at least possible) if you have the right tools. Birzman's 1/2" Ratchet and Socket Set is designed to handle your hex, Shimano bottom bracket, Shimano HG cassette, and Shimano MF Freewheel needs with an assortment of chrome vanadium steel sockets and...
Birzman 37 Piece Studio Box Tool Kit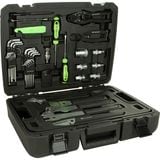 Aside from the work stand, this is everything you'll need to repair your bicycle, unless you break the frame. The Birzman 37-Piece Studio Box tool kit keeps your entire shop in one easy-to-carry polyethylene case. Your days of rifling through every drawer in the garage to find a tool are over. It...
Birzman Dragonfly Chain Tool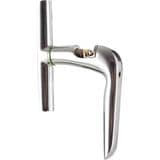 Retail Price:
$74.95
Our Price: $70.00
buy now
The Birzman Dragonfly Chain Tool would make a welcome addition to any shop, and that assumption is based on its looks alone. Beauty is much more than skin deep in the Dragonfly's case, however. The Dragonfly is made with super durable forged aluminum. It's CNC-machined for incredible precision,...
Birzman Hex Key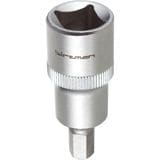 Use Birzman's Hex Key to tighten and adjust, well, pretty much everything on your bike. This chrome vanadium tool gets the job done whether you're tightening your headset, cranking down your suspension, or any one of a dozen other tasks.
Birzman Specialist Wrench Set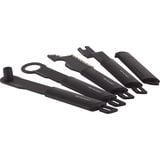 Since it's the main interface between your pedaling power and the bike, making adjustments to your drivetrain can be intimidating, but having good tools can transform tentative fiddling to confident wrenching. Birzman's Specialist Wrench Set is a compact, high-quality package that makes cassette...
<< Prev | Back | 1 | 2 | 3 | 4 | 5 | 6 | 7 | 8 | 9 | 10 | More | Next >>