Tools - Road Bike Shop
Shop
>
Accessories
>
Tools & Maintenance
>
Tools
Abbey Bike Tools Chain Whip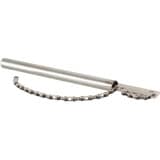 The Abbey Bike Works Chain Whip is the perfect complement to the Dual Sided Crombie tool -- in fact, the Crombie stores neatly inside the Chain Whip's handle. It uses a single length of chain to simplify the design and eliminate a weak spot of traditional whips. Also differentiating the Abbey...
Abbey Bike Tools Dual Sided Crombie Tool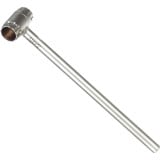 Cassette tools are a home shop essential. However, if you've ever experienced the lack of confidence that wrench-held cassette tools inspire, it comes as no surprise why Abbey Bike Works created the Dual Sided Crombie Tool. This tool combines both the Shimano/SRAM standard on one side and a...
Abbey Bike Tools Single Sided Crombie Tool
No matter how pristine or coveted your home tool collection is, the stainless steel Abbey Bike Works Single Sided Crombie Tool will quickly earn itself a spot in the top drawer, right next to that Campy chain breaker. It's long stainless steel handle provides ample leverage for either cassette...
Abbey Bike Tools Truing Stand Adapter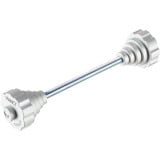 These days, the current crop of hub standards has made both wheel building and truing a complicated affair. We don't accredit this to our own inabilities, but more so to the dizzying bevy of stand adapters out there. However, with the Abbey Bike Works Truing Stand Adapter you're able to keep your...
Chris King Bottom Bracket External Cup Tool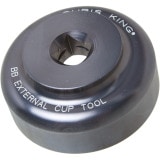 OK, you've just shelled out for your new slice of heaven, a Chris King bottom bracket. Just like the headsets, they come in an array of dazzling anodized colors. Do you really want to torque them into your frame with that half-rusty, stamped steel Shimano external cup wrench? We thought not. What...
Crank Brothers b14 Multi Tool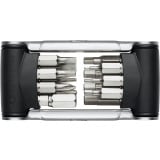 That pesky multi-tool. When you have it, you never need it, but once you forget to slip it into your jersey pocket, that's when you need it the most. You don't want to carry your workbench set with you, so make short work of any necessary fixes with Crank Brothers' b14 Multi Tool. Crank Brothers...
Crank Brothers b17 Multi Tool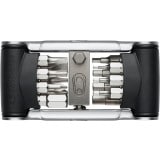 For longer rides and tours, having a bevy of tools for small fixes and repairs at your disposal is highly encouraged. And while throwing a few hex wrenches in your saddle bag is useful, a tool such as Crank Brothers' b17 Multi Tool, is just as light and features all the tools necessary to keep...
Crank Brothers b8 Multi Tool
How many times have you thought about putting a multi-tool in your seatbag, tried to shove it in, and then basically given up in frustration? You don't want to buy a bigger seatbag, as that would ruin the aesthetics of your bike, but having been stuck making "that phone call home" on more than...
Crank Brothers Multi 10 Tool
The Crankbrothers Multi-10 Tool is slimmer and more compact than the Multi-17. While it lacks the chain tool and nipple wrenches, it contains all the super handy tools that you'll really use on a regular basis on the trail or on the tailgate to keep your bike rolling smoothly. In fact, its...
Crank Brothers Multi 5 Tool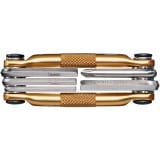 Retail Price:
$12.95
Our Price: $10.36
buy now
Crankbrothers makes elegant stuff, and the Multi-5 is a perfect example. A lightweight, rust-proof aluminum frame houses the essential tools of the trade: 3, 4, 5, 6mm hex key and a Philips screwdriver. Light and small so you can slip it into a jersey pocket and never know it was there.
<< Prev | Back | 1 | 2 | 3 | 4 | 5 | 6 | 7 | 8 | 9 | 10 | More | Next >>