Tools - Road Bike Shop
Shop
>
Accessories
>
Tools & Maintenance
>
Tools
Abbey Bike Tools Chain Whip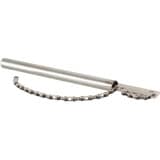 The Abbey Bike Works Chain Whip is the perfect complement to the Dual Sided Crombie tool -- in fact, the Crombie stores neatly inside the Chain Whip's handle. It uses a single length of chain to simplify the design and eliminate a weak spot of traditional whips. Also differentiating the Abbey...
Abbey Bike Tools Dual Sided Bottom Bracket Socket
Precisely machined from 7075 billet aluminum and then hard anodized, Abbey Bike Tools' Dual Sided Bottom Bracket Socket works with Shimano's DA-9000/XTR-BB93 as well 6800 Ultegra. The long-lasting finish and exacting tolerances ensure cups aren't marred during installation or removal, preserving...
Abbey Bike Tools Dual Sided Crombie Tool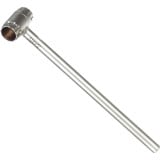 Cassette tools are a home shop essential. However, if you've ever experienced the lack of confidence that wrench-held cassette tools inspire, it comes as no surprise why Abbey Bike Works created the Dual Sided Crombie Tool. This tool combines both the Shimano/SRAM standard on one side and a...
Abbey Bike Tools Hanger Alignment Gauge
In its simplest form, a derailleur-alignment tool is often little more than a pry bar with an adjustable feeler. They're often crude, and can be frustrating to use considering the feeler's position is compromised every time it contacts the rim or is moved to clear frame stays. Abbey Bike Tools...
Abbey Bike Tools Single Sided Crombie Tool
No matter how pristine or coveted your home tool collection is, the stainless steel Abbey Bike Works Single Sided Crombie Tool will quickly earn itself a spot in the top drawer, right next to that Campy chain breaker. It's long stainless steel handle provides ample leverage for either cassette...
Abbey Bike Tools SL Dual Sided Crombie Tool
Keep the Abbey Bike Works SL Dual Sided Crombie Tool in your road-trip toolbox, or keep it on the touring bike for roadside repairs. The tool is compatible with both Shimano and Campy style lock rings. Its long teeth provide sufficient purchase on soft, aluminum rings, and the round handle...
Abbey Bike Tools Stu Stick Rotor Truing Tool
Originating from the world of cyclocross, where cumbersome tool kits can cause issues for traveling mechanics, the beautifully machined Abbey Bike Tools Stu Stick Rotor Truing Tool provides all of the functionality of its steel counterparts, at a significantly reduced weight. Rotor truing tools...
Abbey Bike Tools Truing Stand Adapter
These days, the current crop of hub standards has made both wheel building and truing a complicated affair. We don't accredit this to our own inabilities, but more so to the dizzying bevy of stand adapters out there. However, with the Abbey Bike Works Truing Stand Adapter you're able to keep your...
Blackburn Heist 10 Bike Tool
The Blackburn Heist 10 Bike Tool includes everything you need for a quick middle-of-the-road or trailside repair. 2 through 8mm hex keys (including 2. 5, not including 7) take care of just about everything on your bike. The included T25 Torx, philips, and flathead screwdrivers take care of...
Blackburn Heist 6 Bike Tool
This little guy can bail you out of some sticky situations without weighing you down the rest of the ride. The Blackburn Heist 6 Multi-Tool carries the tools you need for the most common breakdowns and adjustments to keep you in the race. 3, 4, 5, and 6mm hex keys take care of everything from...
<< Prev | Back | 1 | 2 | 3 | 4 | 5 | 6 | 7 | 8 | 9 | 10 | More | Next >>