Tools - Road Bike Shop
Shop
>
Accessories
>
Tools & Maintenance
>
Tools
Park Tool Metric Wrench Set - MW-SET
Unless you're riding an old Schwinn, those standard wrenches aren't gonna help much, that's why the Park Tool Metric Wrench set is your saving grace when it comes to in-house repairs. Fully equipped with 6-17mm wrenches, the Park Tool Metric Wrench set uses high quality steel and Park guarantees...
Park Tool Mini Chain Brute Chain Tool - CT-5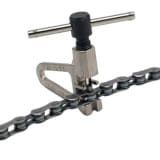 The Park Tool CT-5 Chain Tool is Park's budget chain tool. You'll be able to tackle all necessary work on pretty much any chain under the sun with the CT-5.
Park Tool Needle Nose Pliers - NP-6
Needle nose pliers are undoubtedly one of the most used tools in a bike shop--they need to be tough, well-made, and functional. The Park Tool Needle Nose Pliers are constructed using heat-treated chromoly steel for lifetime of use, and with a six-inch business-end they're the perfect size for...
Park Tool Professional Cable & Housing Cutter - CN-10
The Park Tool CN-10 Professional Cable Cutter has a rubberized grip so it won't slip, and super-sharp jaws that make quick work of both cable and housing.
Park Tool Replacement Chain Tool Pin
We've used the Park CT-3 Chain Tool for decades, and it's a shop essential. The beauty of Park's professional screw-type chain tools is that they last forever. The only maintenance or repair that they'll ever require is the occasional replacement of the drive pin. This Replacement Pin will fit...
Park Tool Rescue Wrench - MT-1C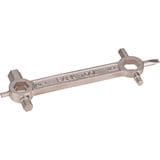 Each of the nine tools on the Park Tool MT-1C Hex Keys is positioned so you don't have to dislocate your wrist just to tighten nuts, bolts, and screws that are hard to reach. The cast-steel and nickel-plated MT-1C multi-tool has five hex wrenches, three socket wrenches, and a screwdriver, and...
Park Tool Rotor Truing Fork - DT-2C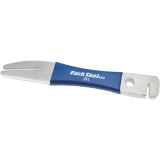 Disc Brakes have been a great advancement for mountain bikes. We love them and can barely remember bikes with anything but. However, sometimes demanding terrain, heat buildup, or even packing and shipping a bike will leave a rotor out of true. They may get bent easily, especially the larger...
Park Tool Shimano/ISIS Bottom Bracket Tool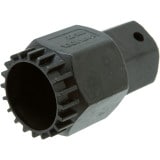 Use the trusty Shimano/ISIS Bottom Bracket Tool to service or replace your ISIS bottom brackets without screaming or needing the assistance of your local mechanic.
Park Tool Shop Hammer - HMR-4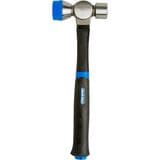 Grab the Park Tool HMR-4 Shop Hammer and take care of business, whatever that business may be. The Shop Hammer features a dual head with a standard steel face on one side, and a replaceable plastic face on the other for more delicate work. Park used a fiberglass shaft for a long life and...
Park Tool Single Speed Spanner - SS-15
The Park Tool Single Speed Spanner SS-15 is the bike tool you need to complement your minimalist lifestyle. Pedal wrench? Check. 15mm axle nut wrench? Got it. Tire lever? Yup. Bottle opener? You know it. It's got just about everything you need to fix your fixie, and keep you lubed up in the...
<< Prev | Back | 1 | 2 | 3 | 4 | 5 | 6 | 7 | 8 | 9 | 10 | More | Next >>