Tools - Road Bike Shop
Shop
>
Accessories
>
Tools & Maintenance
>
Tools
Lezyne Alloy Levers - 1 Pair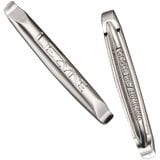 The Lezyne Alloy Levers' compact size makes them a great choice to bring along, the tough aluminum construction handles the most ornery tires easily, and you can see your reflection in the blingin' finish. When you need the extra stiffness of a big steel lever but don't want the weight, go with...
Lezyne BLOX 23 Multi-Tool
If Richard Dean Anderson's '80s TV character had carried a multi-tool, the Lezyne BLOX 23 Multi-Tool would have been it. Including virtually every tool you need to remedy nearly any trailside debacle, the BLOX 23 promises to get you rolling so you're not late for dinner.
Lezyne Carbon 10 Multi-Tool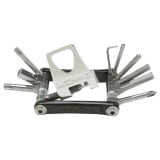 We get in these jags when we look at gear weights, throw up our hands and mutter, "weight doesn't matter." And then we pick up our bike loaded with bottles, pump, and saddlebag. We then reassess. If we're always carrying it, weight does matter. And every gram adds up. This is when we begin...
Lezyne Carbon 5 Multi-Tool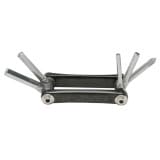 Generally speaking, multi-tools are rarely as beautiful as our bikes. However, this Lezyne Carbon 5 Multi-Tool transcends function and incorporates beauty into its design and construction. It's as simple as an all-purpose tool can be. There are five forged stainless steel bits -- 3, 4, 5, 6mm hex...
Lezyne Chain Drive - Chain Breaker Tool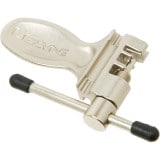 A chain breaker is one of those tools that you just kind of take for granted. You can get away with an attachment on a multi-tool, but once you've used a precise, shop-quality chain breaker you won't want to go back. A well-designed, comfortable chain tool like the Lezyne Chain Drive can make all...
Lezyne Classic Chain Rod
Despite the vaguely British-sounding name, the Lezyne Classic Chain Rod is an awfully nice chain whip. The wood handle feels nice in the hand, and the heat-treated steel head will stand up to all the torque your spindly roadie arms can put on it.
Lezyne Classic Pedal Rod Pedal Wrench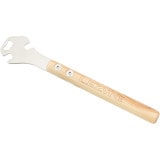 If you don't tighten your pedals, they'll slowly work themselves out and strip your crank arm's pedal threads on the way. We wouldn't wish that experience on anyone, so pick up a Lezyne Classic Pedal Rod Pedal Wrench. It'll help you get those pesky pedals in there good and tight.
Lezyne CNC Chain Rod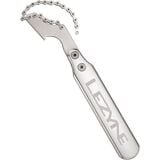 The folks at Lezyne are never satisfied with leaving well enough alone. Most of the time, they prove that well-enough wasn't well-enough at all. The CNC Chain Rod is another in a long line of Lezyne tool designs that incorporates subtle refinements to make a tool that's greater than the sum of...
Lezyne CNC Pedal Rod Pedal Wrench
Don't let the good looks fool you, Lezyne's line of shop-quality tools are all about getting the job done. The Lezyne CNC Pedal Rod Wrench's beautiful, machined shape is there for a reason. The ergonomic design fits nicely in your hand while you're throwing all of your weight into pulling your...
Lezyne CRV 12 Multi-Tool
When you need a quick fix, grab the Lezyne CRV 12 Multi-Tool. Sturdy chrome vanadium bits provide positive purchase when loosening stubborn bolts, while a low weighte and profile make taking the CRV along on your adventures a ponder-free process.
<< Prev | Back | 1 | 2 | 3 | 4 | 5 | 6 | 7 | 8 | 9 | 10 | More | Next >>