Tools - Road Bike Shop
Shop
>
Accessories
>
Tools & Maintenance
>
Tools
Lezyne Port-A-Shop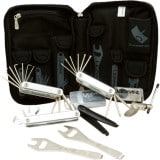 Retail Price:
$139.99
Our Price: $129.99
buy now
The only thing more frustrating than making emergency repairs is not having the right tool for the job -- luckily the Lezyne Port-A-Shop eliminates the dilemma. The Port-A-Shop comes with key cycling-specific tools all wrapped up and labeled in a nice, durable, zip-up case. Convenient carrying...
Lezyne Power Lever Tool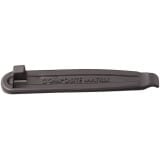 Don't let Lezyne Power Levers' simple appearance fool you. They are specialists. There are literally millions of more complicated tools out there that can't do nearly as good a job of pulling a tire off of a rim. The Power Levers' fiber-reinforced Composite Matrix construction can stand up to the...
Lezyne RAP 20 Multi-Tool
Roughly the profile of a driver's license, Lezyne's RAP 20 Multi-Tool covers the essentials in a sub-180-gram design, with bonuses for both Mavic and disc brake aficionados. These additional features include a Mavic MTN spoke wrench and a disc brake wedge -- bringing the RAP's functionality count...
Lezyne RAP 6 Multi-Tool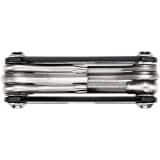 The smallest of Lezyne's RAP Multi-Tools, the RAP 6 features several hex, Torx, and Phillips bits, which is just enough to tweak drivetrain and steering components. This means it'll ride along in jerseys, shorts, and rear saddle bags without sagging or bouncing around. Stamped aluminum side...
Lezyne RAP-14 Multi Tool
You can have the best-equipped home workshop around, but that pro-quality stand and bevy of fancy tools won't do you much good when you have a mechanical mid-ride. So when you're ready to take matters into your own hands, the Lezyne RAP-14 Multi Tool gives you the essentials to handle your next...
Lezyne Saber Levers - 1 Pair
Lezyne made the Saber Levers for changing big DH and freeride tires that usually snap plastic levers like toothpicks. These stainless steel Lezyne levers hold up to tons of torque and abuse, and also include a 15mm end wrench to help remove your burly back wheel. Oh yeah, and they have a bottle...
Lezyne Stainless 12 Multi-Tool
It can be tough to find a happy medium between carrying everything you need and keeping weight and bulk to a minimum. A lot of hydration packs have only the minimum storage space for your spare tube, levers, pump, chain links, a snack, and a multi-tool. Because of this, the 45-tool...
Lezyne Stainless 20 Multi-Tool
Just look at it. The Lezyne Stainless 20 Multi-Tool is all about function, but the form is what will grab your attention. The design is actually pretty basic, but we love the strategic use of stainless steel and aluminum components to keep the weight down while maintaining bombproof durability....
Lezyne SV 11 Multi Tool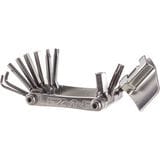 Retail Price:
$46.99
Our Price: $35.24
buy now
With a low profile design and total weight of just over 100 grams, the Lezyne SV 11 Multi Tool is the insurance policy against a long walk back to the car. The compact design allows you to easily toss the tool in your saddle bag or hydration pack, while the ergonomically designed aluminum side...
Lezyne SV-5 Multi-Tool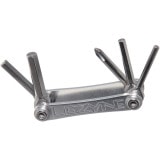 If you wanted to, you could haul your toolbox around on the back of your bike. You won't be winning any races that way, and climbing hills will take on a whole new definition of pain, but we're willing to bet that you'd make a few friends along the way. If, however, rescuing stranded motorists...
<< Prev | Back | 1 | 2 | 3 | 4 | 5 | 6 | 7 | 8 | 9 | 10 | More | Next >>