Tools - Road Bike Shop
Shop
>
Accessories
>
Tools & Maintenance
>
Tools
Park Tool Home Mechanic Repair Stand - PCS-9
The Park Tool PCS-9 Home Mechanic Repair Stand includes a 360-degree rotating head and screw-down clamp that holds any bike regardless of frame design. An adjustable height lets you position your bike in the ideal spot whether you're working on derailleur adjustments or replacing your cranks....
Park Tool I-Beam Mini Hex/Screwdriver Set - IB-1
Double-check that you stashed the Park Tool I-Beam Mini Fold Up Hex & Screwdriver Set in your bike pack--at a slight 3. 1ounces, this multi-tool's weight has a tendency to go unnoticed. The I-Beam handle makes the Mini Fold Up easy to get a grip on, while 3, 4, 5, 6, and 8mm hex wrenches provide...
Park Tool I-Beam Mini w/ Chain Tool - IB-3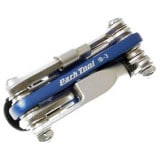 Whether you have to tune your derailleur, change a flat, or fix a chain, the Park Tool I-Beam Mini Fold-Up Tool includes what you need to get the job done right. A selection of hex wrenches, a T25 star drive, and a flathead screw driver helps you adjust, tighten, or loosen just about anything on...
Park Tool ISIS/Octalink Crank Puller - CCP-44C
Service your BB or replace chainrings with the Park Tools ISIS/Octalink Crank Puller. Park Tool treats your hand to a comfy rubber-coated handle; while a rotating tip reduces binding and fine 22x1mm threading provides smooth, effortless crank pulling. For ISIS Drive or Shimano Octalink cranksets
Park Tool Lockring Wrench - XTR and Dura Ace - BBT-7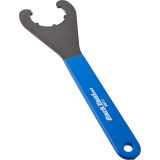 Safely remove the lockring used on Dura Ace 7700 and XTR 950 bottom brackets with the Park Tool BBT-7 Lockring Wrench.
Park Tool Mini Chain Brute Chain Tool - CT-5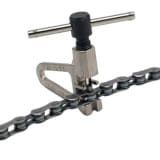 The Park Tool CT-5 Chain Tool is Park's budget chain tool. You'll be able to tackle all necessary work on pretty much any chain under the sun with the CT-5.
Park Tool NP-6 Needle Nose Pliers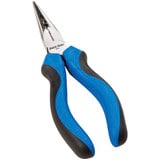 The uses for a set of Park Tool NP-6 Needle Nose Pliers are virtually countless. The tight spaces they can reach, the strength and precision they offer, and the durability they promise mean you'll be using the heck out of them, and that's what they're made for. Heat-treated chromoly steel and...
Park Tool Professional Pedal Wrench - PW-4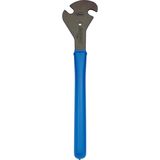 The Park Tool PW-4 Pedal Wrench is the only pedal wrench worth owning. Oversized handle is plenty long for leverage. 15mm offset openings at 30 and 45 degrees so you can easily remove pedals at any angle.
Park Tool Professional Wheel Truing Stand - TS-2.2
The Park Tool TS-2. 2 Professional Wheel Truing Stand is the one to choose for heavy shop use. Alternatively, if you do your own wheel work at home, this is the one you'll want if you appreciate high quality tools and settle for nothing less than the best. The TS-2. 2 accepts wheels up to 29"...
Park Tool Replacement Chain Tool Pin
We've used the Park CT-3 Chain Tool for decades, and it's a shop essential. The beauty of Park's professional screw-type chain tools is that they last forever. The only maintenance or repair that they'll ever require is the occasional replacement of the drive pin. This Replacement Pin will fit...
<< Prev | Back | 1 | 2 | 3 | 4 | 5 | 6 | 7 | 8 | 9 | 10 | More | Next >>