Tools - Road Bike Shop
Shop
>
Accessories
>
Tools & Maintenance
>
Tools
Lezyne CNC Chain Rod
The folks at Lezyne are never satisfied with leaving well enough alone. Most of the time, they prove that well-enough wasn't well-enough at all. The CNC Chain Rod is another in a long line of Lezyne tool designs that incorporates subtle refinements to make a tool that's greater than the sum of...
Lezyne CNC Pedal Rod Pedal Wrench
Don't let the good looks fool you, Lezyne's line of shop-quality tools are all about getting the job done. The Lezyne CNC Pedal Rod Wrench's beautiful, machined shape is there for a reason. The ergonomic design fits nicely in your hand while you're throwing all of your weight into pulling your...
Lezyne CRV 12 Multi-Tool
When you need a quick fix, grab the Lezyne CRV 12 Multi-Tool. Sturdy chrome vanadium bits provide positive purchase when loosening stubborn bolts, while a low weighte and profile make taking the CRV along on your adventures a ponder-free process.
Lezyne CRV 20 Multi-Tool
When you lend the Lezyne CRV 20 Multi-Tool to your ill-equipped partner, you won't have to worry about him ham fisting the tool and rounding off a bit, thanks to the ultra-hard, forged, and CNC'd chrome vanadium bits. You, however, might want to worry about the over-tightened carbon bars, now...
Lezyne Multi Block Tool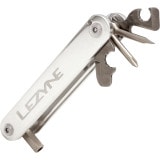 You hate being weighed down by excess crap on the trail, but you're smart enough to not ride without some kind of insurance. The Lezyne Multi Block Tool provides all the tools you would need on an afternoon ride, plus a bottle opener for your post-ride celebrations.
Lezyne Power Lever Tool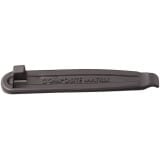 Don't let Lezyne Power Levers' simple appearance fool you. They are specialists. There are literally millions of more complicated tools out there that can't do nearly as good a job of pulling a tire off of a rim. The Power Levers' fiber-reinforced Composite Matrix construction can stand up to the...
Lezyne RAP 6 Multi-Tool
The smallest of Lezyne's RAP Multi-Tools, the RAP 6 features several hex, Torx, and Phillips bits, which is just enough to tweak drivetrain and steering components. This means it'll ride along in jerseys, shorts, and rear saddle bags without sagging or bouncing around. Stamped aluminum side...
Lezyne RAP-14 Multi Tool
You can have the best-equipped home workshop around, but that pro-quality stand and bevy of fancy tools wonaTMt do you much good when you have a mechanical mid-ride. So when youaTMre ready to take matters into your own hands, the Lezyne RAP-14 Multi Tool gives you the essentials to handle your...
Lezyne RAP-21 Multi Tool
You know the feeling you get when you know you messed up big time? Like, for instance, when youaTMre miles from the trailhead, youaTMre stuck without tools, and your bike has stopped rolling? Well, if youaTMd packed the Lezyne RAP-21 Multi Tool, this probably wouldnaTMt be striking a chord....
Lezyne Saber Levers - 1 Pair
Lezyne made the Saber Levers for changing big DH and freeride tires that usually snap plastic levers like toothpicks. These stainless steel Lezyne levers hold up to tons of torque and abuse, and also include a 15mm end wrench to help remove your burly back wheel. Oh yeah, and they have a bottle...
<< Prev | Back | 1 | 2 | 3 | 4 | 5 | 6 | 7 | 8 | 9 | 10 | More | Next >>