Tools - Road Bike Shop
Shop
>
Accessories
>
Tools & Maintenance
>
Tools
Park Tool Bottom Bracket/Cassette Tool for Campagnolo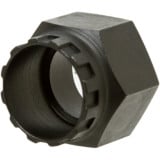 It's about time to pull the bottom bracket on your race bike for a good cleaning and greasing. The Park Tool BBT-5 tool is just what you need to pull a Campagnolo BB. When you're done with that you can pull and clean your cassette because the Park Tool BBT-5 also fits all Campy cassette...
Park Tool Brake Piston Press
Using the nearly-obsolete cone wrench for spreading peanut butter is a noble application of the bike-shop icon. Using it to spread brake pistons, however, is an indication of beater status. Unlike the purpose-designed Park Tool Brake Piston Press, its edges are pad-damaging sharp and you're bound...
Park Tool Cassette/Rotor Lockring Removal Tool - FR-5/FR-5G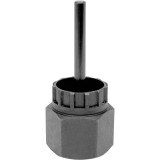 Remove and install Shimano and SRAM Cassettes, and CenterLock Rotors with the Park Tool FR-5/FR-5G Lockring Removal Tool.
Park Tool Chainring Nut Wrench - CNW-2C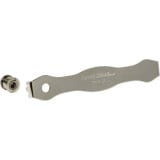 One of the quickest, easiest ways to destroy a set of chainring nuts is to try jamming a flathead in the slot to hold them in place. Do yourself a huge favor and pick up the Park Tool CNW-2C Chainring Nut Wrench. You'll be glad you did when you get your rings off without a hacksaw and a shredded...
Park Tool Crown Race Setting System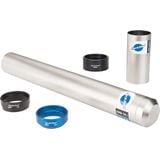 The Park Tool CRS-1 Crown Race Setter comes with six inserts to ensure that you won't deform your crown race as you pound it onto the fork crown. The CRS-1 set includes one universal setting tube, three 1" inserts, and three 1-1/8in inserts. If you have an oversized 1-1/4 or 1-1/2in steerer tube,...
Park Tool Deluxe Bench Mount Repair Stand - PRS-4 OS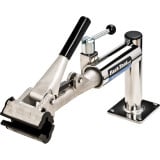 Take your home shop to professional levels with the wall-mounted Park Tool PRS-4 OS Deluxe Bench Mount Repair Stand. Places the clamp approximately 14. 5 inches (37cm) from the wallDurable clamp covers won't mar finishes and are replaceable when they eventually wear outSolid cast aluminum...
Park Tool Deluxe Home Mechanic Repair Stand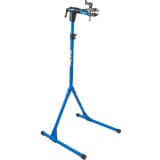 Sturdy and built to last, the Park Tool Deluxe Home Mechanic Repair Stand is a fine addition to any home shop. The Deluxe Mechanic Repair Stand features a four-point leg system for a rock-solid platform. Steel powder-coated tubing and a composite horizontal tube make durability a reality, while...
Park Tool Dial Indicator Gauge Set - TS-2/TS-2.2
Make wheel building and truing as precise as possible with the Park Tool's TS-2/TS-2. 2 Dial Indicator Gauge Set. This gauge set comes with all the hardware needed to mount both a lateral and radial runout dial indicator to the Park Tool TS-2. 2 and TS-2 Truing stand. Once you install it, you set...
Park Tool Digital Scale - DS-1
Admit it -- you really, really wanna know. How much does you bike weigh? Is it really as light as you think? The Park Tool DS-1 Digital Bicycle Scale divines the truth, for better or worse. The precision of the DS-1 is second-to-none. It can measure anything up to 55lbs (it can go metric if you...
Park Tool Event Stand Add-on Kit - ES-2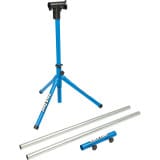 So, business is booming and your ES-1 Stand isn't wide enough to display all the bikes that need to bring to your next demo. Congratulations! The Park Tool ES-2 Event Stand Add-On Kit extend the ES-1 Stand by eight feet and should give you plenty of room for your gigantic demo fleet.
<< Prev | Back | 1 | 2 | 3 | 4 | 5 | 6 | 7 | 8 | 9 | 10 | More | Next >>