Tools - Road Bike Shop
Shop
>
Accessories
>
Tools & Maintenance
>
Tools
Lezyne Power Lever Tool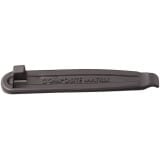 Don't let Lezyne Power Levers' simple appearance fool you. They are specialists. There are literally millions of more complicated tools out there that can't do nearly as good a job of pulling a tire off of a rim. The Power Levers' fiber-reinforced Composite Matrix construction can stand up to the...
Lezyne RAP-14 Multi Tool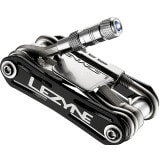 You can have the best-equipped home workshop around, but that pro-quality stand and bevy of fancy tools won't do you much good when you have a mechanical mid-ride. So when you're ready to take matters into your own hands, the Lezyne RAP-14 Multi Tool gives you the essentials to handle your next...
Lezyne Stainless 12 Multi-Tool
It can be tough to find a happy medium between carrying everything you need and keeping weight and bulk to a minimum. A lot of hydration packs have only the minimum storage space for your spare tube, levers, pump, chain links, a snack, and a multi-tool. Because of this, the 45-tool...
Lezyne SV-5 Multi-Tool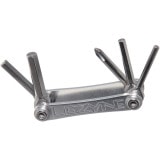 If you wanted to, you could haul your toolbox around on the back of your bike. You won't be winning any races that way, and climbing hills will take on a whole new definition of pain, but we're willing to bet that you'd make a few friends along the way. If, however, rescuing stranded motorists...
Lezyne Torx Block Tool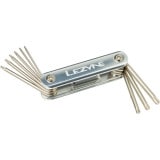 Keep every Torx wrench you'll need handy with the Lezyne Torx Block Tool. The tough I-beam construction handles the worst your ham-fist can dish out.
Nite Ize Gear Tie Dockable Twist Tie - 12in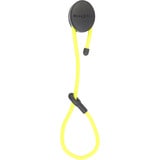 Insanely good for solving problems you didn't even realize you had, the Nite Ize 12-inch Dockable Twist Tie is a strong, light rubberized band of wire that can get a grip on virtually anything. Think of it as a giant, heavy-duty twist tie, because that's what it is. It can suspend up to 25lb and...
Nite Ize Gear Tie Dockable Twist Tie - 24in
Sometimes you encounter a product so ingenious you can't but help stare at it in silence for a few moments while your brain goes, "!!!!!" One such item is the Nite Ize 24-inch Gear Tie Dockable Twist Tie. It's little more than a steroidal version of the twist tie you took off the bread bag this...
Park Tool 11-Speed Compatible ChainWhip/Sprocket Remover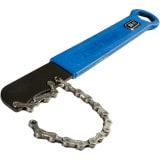 Retail Price:
$30.95
Our Price: $27.86
buy now
Swap your 11-23 for a 12-26 before you head out to the annual hill climb race. The Park Tool SR-11 11-Speed Compatible ChainWhip / Sprocket Remover will help you swap your cassettes in record time, even if you're running that newfangled Italian 11-speed. The one-inch box wrench in the handle fits...
Park Tool Adjustable Crown Race Puller - CRP-2
Retail Price:
$259.95
Our Price: $233.96
buy now
Quickly and easily remove headset crown races from forks with Park Tool's Adjustable Crown Race Puller - CRP-2. Unlike other crown removers, the CRP-2 is fully adjustable to allow precise and independent positioning of blades around the race. By locating each blade independently, this provides...
Park Tool Adjustable Wrench - PAW-12
Retail Price:
$35.95
Our Price: $32.36
buy now
Fix your bike with the Park Tool 12in PAW-12 Adjustable Wrench before you get frustrated, drop cycling altogether, and end up a vicious racewalker.
<< Prev | Back | 1 | 2 | 3 | 4 | 5 | 6 | 7 | 8 | 9 | 10 | More | Next >>