Tools - Road Bike Shop
Shop
>
Accessories
>
Tools & Maintenance
>
Tools
Lezyne V5 Multi-Tool
We can read your mind. You want a tough multi-tool that's light enough to let you forget all about it until you need it. Lezyne also read your mind, and came through with the V-5 Multi-Tool. The V-5 uses ultra-durable nickel-plated chrome vanadium bits and a lightweight 7075 aluminum frame to...
Park Tool 3-Way Hex Wrench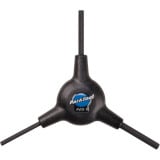 When making adjustments to your bike, the three most common hex sizes are 4, 5, and 6mm. Park Tool, being the savvy purveyor of bicycle repair equipment that it is, developed what's quite possibly the most iconic shop tool ever -- the 3-Way Hex Wrench. Known internally at Park Tool as the AWS-1,...
Park Tool 3-Way Internal Nipple Wrench - SW-15
Today's aero-arms race forces manufacturers go to extreme measures to cheat wind resistance -- including hiding the spoke nipples inside the rims. The innovative Park Tool SW-15 3-Way Internal Spoke Nipple Wrench has three different sized wrenches to fit nipples hidden inside of rims. The SW-15...
Park Tool 3-Way Internal Nipple Wrench - SW-15
Hidden spoke nipples cheat wind, but require specific equipment like Park Tool's innovative SW-15 3-Way Internal Spoke Nipple Wrench. The SW-15 features a 3. 2mm square drive, and both 5 and 5. 5mm hex drive sockets. The low-profile walls fit perfectly in the tight surroundings of most rims, and...
Park Tool Adjustable Crown Race Puller - CRP-2
Quickly and easily remove headset crown races from forks with Park Tool's Adjustable Crown Race Puller - CRP-2. Unlike other crown removers, the CRP-2 is fully adjustable to allow precise and independent positioning of blades around the race. By locating each blade independently, this provides...
Park Tool Adjustable Spoke Wrench - SW-10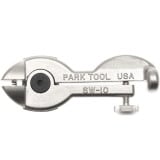 Get a twist going on your most stubborn road or mountain spokes with Park Tools' SW-10 Adjustable Spoke Wrench. Whether you're bringing your road bike wheels precisely true on race day, or trying to de-taco your burly freeride wheelset, the SW-10 will fit both, and any of the 80 gauge sizes...
Park Tool Advanced Mechanic Tool Kit
It takes time to acquire the proper tools for any job, let alone for servicing bicycles. But, you're able to accelerate the process with Park Tool's Advanced Mechanic Tool Kit. It includes the basics that every shop has, and it comes prepackaged in a convenient tool box that keeps everything...
Park Tool Backpack Harness - For BX-1, BX-2, and EK-1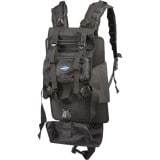 Retail Price:
$89.95
Our Price: $69.99
buy now
The Park Tool Backpack Harness makes it easy to tote your BX-1, BX-2, or EK-1 tool kit around with you and leaves your hands free to fight off marauding tool thieves. This fully adjustable harness features padded shoulder and waist straps, a sternum strap, and convenient pouches for your phone,...
Park Tool Bottom Bracket Facing Set
The classic British racing frame you have sitting in your basement has been calling you to build-it-up again. Unfortunately, you discovered that the 'expert' before you had cross-threaded the bottom bracket, leaving you with a worthless, stripped-out shell. Never fear, you recently scored the...
Park Tool Bottom Bracket Tool - BBT-19
The BBT-19 is a heavy duty, shop quality tool for installing and removing Shimano, Truvativ GXP, Race Face, FSA and Campagnolo 16-notch external bearing bottom bracket cups. Made from investment cast steel, the BBT-19 can be used with either a 3/8" drive torque wrench, 3/8" ratchet driver, FRW-1...
<< Prev | Back | 1 | 2 | 3 | 4 | 5 | 6 | 7 | 8 | 9 | 10 | More | Next >>