Tools - Road Bike Shop
Shop
>
Accessories
>
Tools & Maintenance
>
Tools
Park Tool Bottom Bracket Facing Set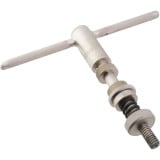 The classic British racing frame you have sitting in your basement has been calling you to build-it-up again. Unfortunately, you discovered that the 'expert' before you had cross-threaded the bottom bracket, leaving you with a worthless, stripped-out shell. Never fear, you recently scored the...
Park Tool Bottom Bracket Tool - BBT-19
The BBT-19 is a heavy duty, shop quality tool for installing and removing Shimano, Truvativ GXP, Race Face, FSA and Campagnolo 16-notch external bearing bottom bracket cups. Made from investment cast steel, the BBT-19 can be used with either a 3/8" drive torque wrench, 3/8" ratchet driver, FRW-1...
Park Tool Bottom Bracket/Cassette Tool for Campagnolo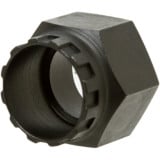 It's about time to pull the bottom bracket on your race bike for a good cleaning and greasing. The Park Tool BBT-5 tool is just what you need to pull a Campagnolo BB. When you're done with that you can pull and clean your cassette because the Park Tool BBT-5 also fits all Campy cassette...
Park Tool Brake Piston Press
Using the nearly-obsolete cone wrench for spreading peanut butter is a noble application of the bike-shop icon. Using it to spread brake pistons, however, is an indication of beater status. Unlike the purpose-designed Park Tool Brake Piston Press, its edges are pad-damaging sharp and you're bound...
Park Tool Carbon Cutting Saw Blade CSB-1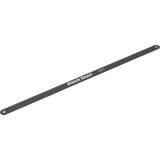 Carbon this, carbon that: cut it all with the Park Tool Carbon Cutting Saw Blade CSB-1. Designed for use with the Park Tool Saw-1 it also fits within the SG-8 Saw Guide.
Park Tool Cassette/Rotor Lockring Removal Tool - FR-5/FR-5G
Remove and install Shimano and SRAM Cassettes, and CenterLock Rotors with the Park Tool FR-5/FR-5G Lockring Removal Tool.
Park Tool Chainring Nut Wrench - CNW-2C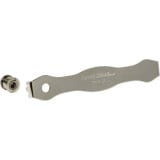 One of the quickest, easiest ways to destroy a set of chainring nuts is to try jamming a flathead in the slot to hold them in place. Do yourself a huge favor and pick up the Park Tool CNW-2C Chainring Nut Wrench. You'll be glad you did when you get your rings off without a hacksaw and a shredded...
Park Tool Crown Race Setting System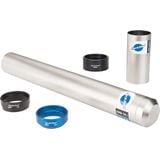 The Park Tool CRS-1 Crown Race Setter comes with six inserts to ensure that you won't deform your crown race as you pound it onto the fork crown. The CRS-1 set includes one universal setting tube, three 1" inserts, and three 1-1/8in inserts. If you have an oversized 1-1/4 or 1-1/2in steerer tube,...
Park Tool Deluxe Bench Mount Repair Stand - PRS-4 OS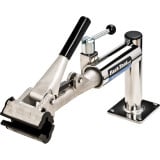 Take your home shop to professional levels with the wall-mounted Park Tool PRS-4 OS Deluxe Bench Mount Repair Stand. Places the clamp approximately 14. 5 inches (37cm) from the wallDurable clamp covers won't mar finishes and are replaceable when they eventually wear outSolid cast aluminum...
Park Tool Dial Indicator Gauge Set - TS-2/TS-2.2
Make wheel building and truing as precise as possible with the Park Tool's TS-2/TS-2. 2 Dial Indicator Gauge Set. This gauge set comes with all the hardware needed to mount both a lateral and radial runout dial indicator to the Park Tool TS-2. 2 and TS-2 Truing stand. Once you install it, you set...
<< Prev | Back | 1 | 2 | 3 | 4 | 5 | 6 | 7 | 8 | 9 | 10 | More | Next >>