Tools - Road Bike Shop
Shop
>
Accessories
>
Tools & Maintenance
>
Tools
Park Tool Advanced Mechanic Tool Kit
It takes time to acquire the proper tools for any job, let alone for servicing bicycles. But, you're able to accelerate the process with Park Tool's Advanced Mechanic Tool Kit. It includes the basics that every shop has, and it comes prepackaged in a convenient tool box that keeps everything...
Park Tool Backpack Harness - For BX-1, BX-2, and EK-1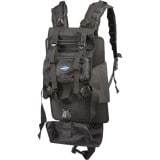 The Park Tool Backpack Harness makes it easy to tote your BX-1, BX-2, or EK-1 tool kit around with you and leaves your hands free to fight off marauding tool thieves. This fully adjustable harness features padded shoulder and waist straps, a sternum strap, and convenient pouches for your phone,...
Park Tool Bottom Bracket Facing Set
The classic British racing frame you have sitting in your basement has been calling you to build-it-up again. Unfortunately, you discovered that the 'expert' before you had cross-threaded the bottom bracket, leaving you with a worthless, stripped-out shell. Never fear, you recently scored the...
Park Tool Bottom Bracket/Cassette Tool for Campagnolo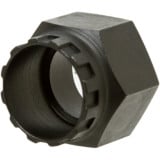 It's about time to pull the bottom bracket on your race bike for a good cleaning and greasing. The Park Tool BBT-5 tool is just what you need to pull a Campagnolo BB. When you're done with that you can pull and clean your cassette because the Park Tool BBT-5 also fits all Campy cassette...
Park Tool Chain Whip For 1/8in Cogs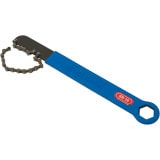 Remove a cassette lock ring or freewheel safely and easily with the Park Tool Chain Whip. The Chain Whip features a heat-treated handle that won't bend or break when removing an over-tightened lock ring. The opposite end of the Chain Whip has a hex opening designed to fit Park Tool freewheel...
Park Tool Chainring Nut Wrench - CNW-2C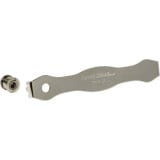 One of the quickest, easiest ways to destroy a set of chainring nuts is to try jamming a flathead in the slot to hold them in place. Do yourself a huge favor and pick up the Park Tool CNW-2C Chainring Nut Wrench. You'll be glad you did when you get your rings off without a hacksaw and a shredded...
Park Tool Crown Race Setting System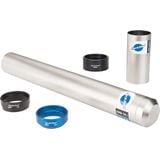 The Park Tool CRS-1 Crown Race Setter comes with six inserts to ensure that you won't deform your crown race as you pound it onto the fork crown. The CRS-1 set includes one universal setting tube, three 1" inserts, and three 1-1/8in inserts. If you have an oversized 1-1/4 or 1-1/2in steerer tube,...
Park Tool Dial Indicator Gauge Set - TS-2/TS-2.2
Make wheel building and truing as precise as possible with the Park Tool's TS-2/TS-2. 2 Dial Indicator Gauge Set. This gauge set comes with all the hardware needed to mount both a lateral and radial runout dial indicator to the Park Tool TS-2. 2 and TS-2 Truing stand. Once you install it, you set...
Park Tool Event Stand Add-on Kit - ES-2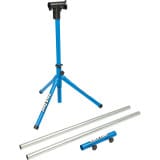 So, business is booming and your ES-1 Stand isn't wide enough to display all the bikes that need to bring to your next demo. Congratulations! The Park Tool ES-2 Event Stand Add-On Kit extend the ES-1 Stand by eight feet and should give you plenty of room for your gigantic demo fleet.
Park Tool Extension Kit - For PCS-1 Repair Stand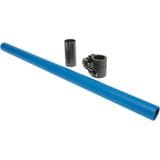 The Park Tool PCS-EXT Extension Kit makes it possible to raise the working height of the pre-2001 PCS-1 Repair Stand. The PCS-EXT is required for the use of the 106-AC or 106 tool tray.
<< Prev | Back | 1 | 2 | 3 | 4 | 5 | 6 | 7 | 8 | 9 | 10 | More | Next >>