Tools - Road Bike Shop
Shop
>
Accessories
>
Tools & Maintenance
>
Tools
Lezyne Standard Block Tool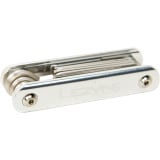 If all you ride is American (or pre-E. U. British), finding tools to fix your ride in a normal bike shop can be tough. Fortunately, Lezyne has your all-American back with the Standard Block Tool. This hex wrench set features seven straight hex wrenches and three L-shaped wrenches so you can...
Lezyne SV-5 Multi-Tool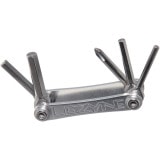 If you wanted to, you could haul your toolbox around on the back of your bike. You won't be winning any races that way, and climbing hills will take on a whole new definition of pain, but we're willing to bet that you'd make a few friends along the way. If, however, rescuing stranded motorists...
Lezyne SV10 Multi-Tool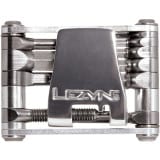 We're all used to components on our bikes breaking or coming out of adjustment. It's just a trade-off of lightweight performance that we've learned to live with. It's not acceptable, however, when your tools break or strip. It can leave you stranded miles from home, despite having been prepared...
Lezyne Torx Block Tool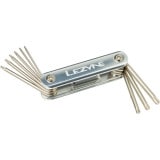 Keep every Torx wrench you'll need handy with the Lezyne Torx Block Tool. The tough I-beam construction handles the worst your ham-fist can dish out.
Lezyne V10 Multi-Tool
We're as tired as you are of cheap multi-tools with bits that round off instantly if you aren't paying a surgeon's attention to what you're doing. We're betting that you hardly ever reach for your micro-multi-tool when you're wrenching at home. Why would you? Full-size tools are tougher, give you...
Lezyne V5 Multi-Tool
We can read your mind. You want a tough multi-tool that's light enough to let you forget all about it until you need it. Lezyne also read your mind, and came through with the V-5 Multi-Tool. The V-5 uses ultra-durable nickel-plated chrome vanadium bits and a lightweight 7075 aluminum frame to...
Park Tool 3-Way Internal Nipple Wrench - SW-15
Today's aero-arms race forces manufacturers go to extreme measures to cheat wind resistance -- including hiding the spoke nipples inside the rims. The innovative Park Tool SW-15 3-Way Internal Spoke Nipple Wrench has three different sized wrenches to fit nipples hidden inside of rims. The SW-15...
Park Tool 3-Way Internal Nipple Wrench - SW-15
Hidden spoke nipples cheat wind, but require specific equipment like Park Tool's innovative SW-15 3-Way Internal Spoke Nipple Wrench. The SW-15 features a 3. 2mm square drive, and both 5 and 5. 5mm hex drive sockets. The low-profile walls fit perfectly in the tight surroundings of most rims, and...
Park Tool 3-Way Socket Wrench - ST-3
The three most common bolt and nut sizes are 8mm, 9mm, and 10mm. Park Tool, being the savvy purveyor of bicycle repair equipment that it is, puts these three sizes together in one tool -- the 3-Way Socket Wrench. Known internally at Park Tool as the ST-3, and to mechanics worldwide as a Y-wrench,...
Park Tool Adjustable Crown Race Puller - CRP-2
Quickly and easily remove headset crown races from forks with Park Tool's Adjustable Crown Race Puller - CRP-2. Unlike other crown removers, the CRP-2 is fully adjustable to allow precise and independent positioning of blades around the race. By locating each blade independently, this provides...
<< Prev | Back | 1 | 2 | 3 | 4 | 5 | 6 | 7 | 8 | 9 | 10 | More | Next >>