Tools - Road Bike Shop
Shop
>
Accessories
>
Tools & Maintenance
>
Tools
Lezyne Torx Block Tool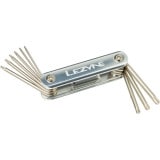 Keep every Torx wrench you'll need handy with the Lezyne Torx Block Tool. The tough I-beam construction handles the worst your ham-fist can dish out.
Park Tool 3-Way Internal Nipple Wrench - SW-15
Today's aero-arms race forces manufacturers go to extreme measures to cheat wind resistance -- including hiding the spoke nipples inside the rims. The innovative Park Tool SW-15 3-Way Internal Spoke Nipple Wrench has three different sized wrenches to fit nipples hidden inside of rims. The SW-15...
Park Tool Adjustable Crown Race Puller - CRP-2
Quickly and easily remove headset crown races from forks with Park Tool's Adjustable Crown Race Puller - CRP-2. Unlike other crown removers, the CRP-2 is fully adjustable to allow precise and independent positioning of blades around the race. By locating each blade independently, this provides...
Park Tool Adjustable Spoke Wrench - SW-10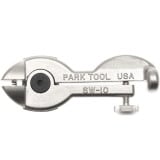 Get a twist going on your most stubborn road or mountain spokes with Park Tools' SW-10 Adjustable Spoke Wrench. Whether you're bringing your road bike wheels precisely true on race day, or trying to de-taco your burly freeride wheelset, the SW-10 will fit both, and any of the 80 gauge sizes...
Park Tool Advanced Mechanic Tool Kit
It takes time to acquire the proper tools for any job, let alone for servicing bicycles. But, you're able to accelerate the process with Park Tool's Advanced Mechanic Tool Kit. It includes the basics that every shop has, and it comes prepackaged in a convenient tool box that keeps everything...
Park Tool Backpack Harness - For BX-1, BX-2, and EK-1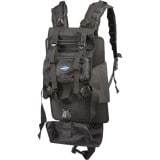 The Park Tool Backpack Harness makes it easy to tote your BX-1, BX-2, or EK-1 tool kit around with you and leaves your hands free to fight off marauding tool thieves. This fully adjustable harness features padded shoulder and waist straps, a sternum strap, and convenient pouches for your phone,...
Park Tool Bottom Bracket Facing Set
The classic British racing frame you have sitting in your basement has been calling you to build-it-up again. Unfortunately, you discovered that the 'expert' before you had cross-threaded the bottom bracket, leaving you with a worthless, stripped-out shell. Never fear, you recently scored the...
Park Tool Bottom Bracket/Cassette Tool for Campagnolo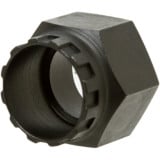 It's about time to pull the bottom bracket on your race bike for a good cleaning and greasing. The Park Tool BBT-5 tool is just what you need to pull a Campagnolo BB. When you're done with that you can pull and clean your cassette because the Park Tool BBT-5 also fits all Campy cassette...
Park Tool Cassette/Rotor Lockring Removal Tool - FR-5/FR-5G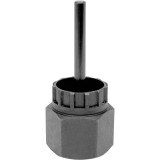 Remove and install Shimano and SRAM Cassettes, and CenterLock Rotors with the Park Tool FR-5/FR-5G Lockring Removal Tool.
Park Tool Chain Whip For 1/8in Cogs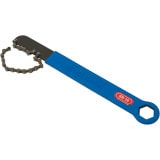 Remove a cassette lock ring or freewheel safely and easily with the Park Tool Chain Whip. The Chain Whip features a heat-treated handle that won't bend or break when removing an over-tightened lock ring. The opposite end of the Chain Whip has a hex opening designed to fit Park Tool freewheel...
<< Prev | Back | 1 | 2 | 3 | 4 | 5 | 6 | 7 | 8 | 9 | 10 | More | Next >>