Tools - Road Bike Shop
Shop
>
Accessories
>
Tools & Maintenance
>
Tools
Park Tool Bottom Bracket Facing Set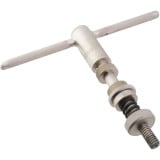 The classic British racing frame you have sitting in your basement has been calling you to build-it-up again. Unfortunately, you discovered that the 'expert' before you had cross-threaded the bottom bracket, leaving you with a worthless, stripped-out shell. Never fear, you recently scored the...
Park Tool Bottom Bracket Tool - BBT-19
The BBT-19 is a heavy duty, shop quality tool for installing and removing Shimano, Truvativ GXP, Race Face, FSA and Campagnolo 16-notch external bearing bottom bracket cups. Made from investment cast steel, the BBT-19 can be used with either a 3/8" drive torque wrench, 3/8" ratchet driver, FRW-1...
Park Tool Bottom Bracket Tool - Hollowtech II - BBT-9
This is Park's shop-quality tool for installing your Shimano 10-speed Hollowtech II bottom bracket cups. It's long enough to give you adequate leverage for installing the cups with the force you need. The precisely shaped metal teeth of the BBT-9 won't damage the teeth on your BB cups provided...
Park Tool Bottom Bracket/Cassette Tool for Campagnolo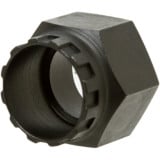 It's about time to pull the bottom bracket on your race bike for a good cleaning and greasing. The Park Tool BBT-5 tool is just what you need to pull a Campagnolo BB. When you're done with that you can pull and clean your cassette because the Park Tool BBT-5 also fits all Campy cassette...
Park Tool Carbon Cutting Saw Blade CSB-1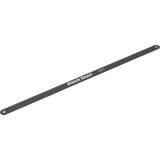 Carbon this, carbon that: cut it all with the Park Tool Carbon Cutting Saw Blade CSB-1. Designed for use with the Park Tool Saw-1 it also fits within the SG-8 Saw Guide.
Park Tool Cassette/Rotor Lockring Removal Tool - FR-5/FR-5G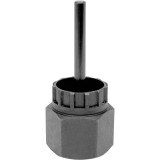 Remove and install Shimano and SRAM Cassettes, and CenterLock Rotors with the Park Tool FR-5/FR-5G Lockring Removal Tool.
Park Tool Chain Checker - CC-2
The Park Tool Chain Checker resolves unanswered questions about the life left in your chain. Broken chains suck, and worn chains don't shift well, so give your a check-up with the Park Tool Chain Checker.
Park Tool Chainring Nut Wrench - CNW-2C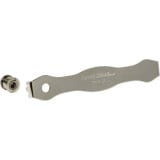 One of the quickest, easiest ways to destroy a set of chainring nuts is to try jamming a flathead in the slot to hold them in place. Do yourself a huge favor and pick up the Park Tool CNW-2C Chainring Nut Wrench. You'll be glad you did when you get your rings off without a hacksaw and a shredded...
Park Tool Crown Race Setting System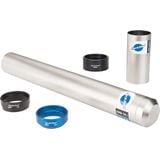 The Park Tool CRS-1 Crown Race Setter comes with six inserts to ensure that you won't deform your crown race as you pound it onto the fork crown. The CRS-1 set includes one universal setting tube, three 1" inserts, and three 1-1/8in inserts. If you have an oversized 1-1/4 or 1-1/2in steerer tube,...
Park Tool Deluxe Bench Mount Repair Stand - PRS-4 OS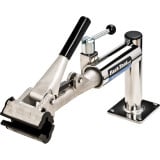 Take your home shop to professional levels with the wall-mounted Park Tool PRS-4 OS Deluxe Bench Mount Repair Stand. Places the clamp approximately 14. 5 inches (37cm) from the wallDurable clamp covers won't mar finishes and are replaceable when they eventually wear outSolid cast aluminum...
<< Prev | Back | 1 | 2 | 3 | 4 | 5 | 6 | 7 | 8 | 9 | 10 | More | Next >>