Tools - Road Bike Shop
Shop
>
Accessories
>
Tools & Maintenance
>
Tools
Fix It Sticks Original Tool
Most multitools are impossible to use it you actually need some force to loosen up a bolt or crank down on a screw, but Fix It Sticks solves that particular problem with its Original Tool, which combines multiple tools in a package that you can break apart and reassemble as needed, giving you the...
Fix It Sticks Replaceable Edition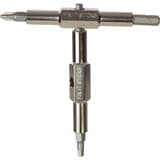 The Fix It Sticks Replaceable Edition multi-tool lets you swap out its eight interchangeable bits for the job you need. With the same reconfigurable T-handle design you get with the original modular model, now you have even more options for quick adjustments and repairs.
Fix It Sticks T-Way Wrench
Fix It Sticks is a company that makes some ingenious modular, reconfigurable multi-tools, but the T-Way Wrench breaks stride by being a fixed design -- or, least, the grip part is. The bits are still interchangeable, but the T-shaped handle is fixed, making this a handy shop tool. You can take it...
Innovations Tubeless Tire Repair Kit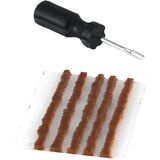 The next time you head out on a ride with your tubeless tires, stash Innovations' Tubeless Tire Repair Kit in your pocket or bag. The system uses butyl rubber plugs and includes an insertion tool to allow you to quickly patch your tires on-the-go, so you can make sure a flat tire won't send you...
Lezyne 11-Speed Chain Drive Breaker Tool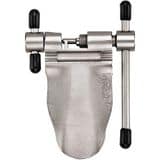 So, you scored a fancy new Campy 11-speed gruppo. Congratulations! But, if you try using your old chain tool on that 11-speed chain, your next ride is going to be a short one. Lezyne designed the 11-Speed Chain Drive Tool with a backing bolt designed specifically to flare your 11-speed chain pin....
Lezyne 3-Way Hex
You gotta love it when a company figures out a way to throw an innovative spin on an old favorite. The folks at Lezyne have somehow always been able to tweak a tried-and-true design just a bit to genuinely improve it. The 3-Way Wrench is a perfect example of Lezyne's innovative thinking at work....
Lezyne Alloy Levers - 1 Pair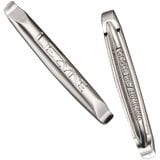 The Lezyne Alloy Levers' compact size makes them a great choice to bring along, the tough aluminum construction handles the most ornery tires easily, and you can see your reflection in the blingin' finish. When you need the extra stiffness of a big steel lever but don't want the weight, go with...
Lezyne Carbon 10 Multi-Tool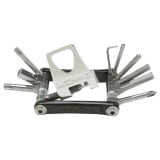 We get in these jags when we look at gear weights, throw up our hands and mutter, "weight doesn't matter." And then we pick up our bike loaded with bottles, pump, and saddlebag. We then reassess. If we're always carrying it, weight does matter. And every gram adds up. This is when we begin...
Lezyne Carbon 5 Multi-Tool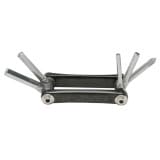 Generally speaking, multi-tools are rarely as beautiful as our bikes. However, this Lezyne Carbon 5 Multi-Tool transcends function and incorporates beauty into its design and construction. It's as simple as an all-purpose tool can be. There are five forged stainless steel bits -- 3, 4, 5, 6mm hex...
Lezyne Chain Drive - Chain Breaker Tool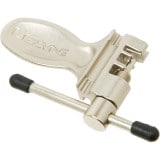 A chain breaker is one of those tools that you just kind of take for granted. You can get away with an attachment on a multi-tool, but once you've used a precise, shop-quality chain breaker you won't want to go back. A well-designed, comfortable chain tool like the Lezyne Chain Drive can make all...
<< Prev | Back | 1 | 2 | 3 | 4 | 5 | 6 | 7 | 8 | 9 | 10 | More | Next >>