Tools - Road Bike Shop
Shop
>
Accessories
>
Tools & Maintenance
>
Tools
Park Tool Backpack Harness - For BX-1, BX-2, and EK-1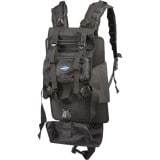 The Park Tool Backpack Harness makes it easy to tote your BX-1, BX-2, or EK-1 tool kit around with you and leaves your hands free to fight off marauding tool thieves. This fully adjustable harness features padded shoulder and waist straps, a sternum strap, and convenient pouches for your phone,...
Park Tool Bottom Bracket Facing Set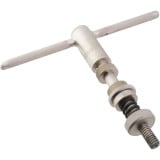 The classic British racing frame you have sitting in your basement has been calling you to build-it-up again. Unfortunately, you discovered that the 'expert' before you had cross-threaded the bottom bracket, leaving you with a worthless, stripped-out shell. Never fear, you recently scored the...
Park Tool Bottom Bracket Tool - Hollowtech II - BBT-9
This is Park's shop-quality tool for installing your Shimano 10-speed Hollowtech II bottom bracket cups. It's long enough to give you adequate leverage for installing the cups with the force you need. The precisely shaped metal teeth of the BBT-9 won't damage the teeth on your BB cups provided...
Park Tool Chain Whip For 1/8in Cogs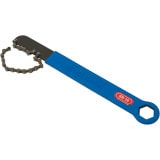 Remove a cassette lock ring or freewheel safely and easily with the Park Tool Chain Whip. The Chain Whip features a heat-treated handle that won't bend or break when removing an over-tightened lock ring. The opposite end of the Chain Whip has a hex opening designed to fit Park Tool freewheel...
Park Tool Deluxe Bench Mount Repair Stand - PRS-4 OS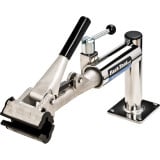 Take your home shop to professional levels with the wall-mounted Park Tool PRS-4 OS Deluxe Bench Mount Repair Stand. Places the clamp approximately 14. 5 inches (37cm) from the wallDurable clamp covers won't mar finishes and are replaceable when they eventually wear outSolid cast aluminum...
Park Tool Deluxe Wall Mount Repair Stand - PRS-4W
Easily install the Park Tool PRS-4W Deluxe Wall Mount Repair Stand to any post or wall stud to turn your workshop into a bike shop.
Park Tool Dial Indicator Gauge Set - TS-2/TS-2.2
Make wheel building and truing as precise as possible with the Park Tool's TS-2/TS-2. 2 Dial Indicator Gauge Set. This gauge set comes with all the hardware needed to mount both a lateral and radial runout dial indicator to the Park Tool TS-2. 2 and TS-2 Truing stand. Once you install it, you set...
Park Tool Event Stand Add-on Kit - ES-2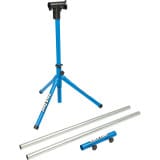 So, business is booming and your ES-1 Stand isn't wide enough to display all the bikes that need to bring to your next demo. Congratulations! The Park Tool ES-2 Event Stand Add-On Kit extend the ES-1 Stand by eight feet and should give you plenty of room for your gigantic demo fleet.
Park Tool Extension Kit - For PCS-1 Repair Stand
The Park Tool PCS-EXT Extension Kit makes it possible to raise the working height of the pre-2001 PCS-1 Repair Stand. The PCS-EXT is required for the use of the 106-AC or 106 tool tray.
Park Tool Folding Chain Tool - CT-6.3
With the Park Tool CT-6. 3 Folding Chain Tool at the ready, you're able to take the bite out of road or trailside repairs. It's low-profile in the folded position, so it takes up very little space. Additionally, it's compatible with modern 11-speed chains -- including Campagnolo. This is made...
<< Prev | Back | 1 | 2 | 3 | 4 | 5 | 6 | 7 | 8 | 9 | 10 | More | Next >>