Tools - Road Bike Shop
Shop
>
Accessories
>
Tools & Maintenance
>
Tools
Fix It Sticks Replaceable Edition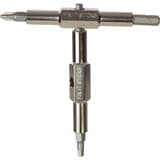 The Fix It Sticks Replaceable Edition multi-tool lets you swap out its eight interchangeable bits for the job you need. With the same reconfigurable T-handle design you get with the original modular model, now you have even more options for quick adjustments and repairs.
Fix It Sticks T-Way Wrench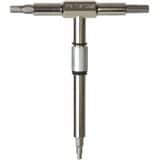 Fix It Sticks is a company that makes some ingenious modular, reconfigurable multi-tools, but the T-Way Wrench breaks stride by being a fixed design -- or, least, the grip part is. The bits are still interchangeable, but the T-shaped handle is fixed, making this a handy shop tool. You can take it...
Hero Kit Hero Kit for Road Biking
Retail Price:
$45.00
Our Price: $30.99
buy now
Next time you get a mechanical, will you be able to fix it, or will you be stranded on the side of the road, waiting for help? Well, if you have the Hero Kit for Road Biking, you'll be able to pull yourself up by the bootstraps and tackle almost anything that has you sidelined. Whether you're...
Hero Kit Super Hero Extreme Kit for Mountain Biking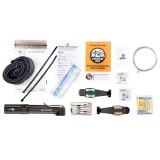 Retail Price:
$119.00
Our Price: $79.99
buy now
'Super Hero Extreme' might be very well be an overbearing string of superlatives better left to action packed Saturday-morning animations of the 90s. But, given the amount of lightweight tools and essential gear in this repair Kit for Mountain Biking, you'll understand why Hero Kit went to this...
Lezyne Classic Chain Rod
Despite the vaguely British-sounding name, the Lezyne Classic Chain Rod is an awfully nice chain whip. The wood handle feels nice in the hand, and the heat-treated steel head will stand up to all the torque your spindly roadie arms can put on it.
Lezyne Multi Block Tool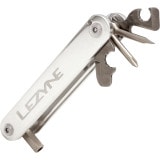 You hate being weighed down by excess crap on the trail, but you're smart enough to not ride without some kind of insurance. The Lezyne Multi Block Tool provides all the tools you would need on an afternoon ride, plus a bottle opener for your post-ride celebrations.
Lezyne Port-A-Shop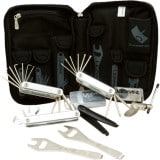 The only thing more frustrating than making emergency repairs is not having the right tool for the job -- luckily the Lezyne Port-A-Shop eliminates the dilemma. The Port-A-Shop comes with key cycling-specific tools all wrapped up and labeled in a nice, durable, zip-up case. Convenient carrying...
Lezyne Power Lever Tool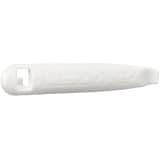 Don't let Lezyne Power Levers' simple appearance fool you. They are specialists. There are literally millions of more complicated tools out there that can't do nearly as good a job of pulling a tire off of a rim. The Power Levers' fiber-reinforced Composite Matrix construction can stand up to the...
Lezyne Stainless 4 Multi-Tool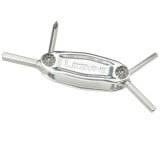 Retail Price:
$19.95
Our Price: $10.97
buy now
The Lezyne Stainless 4 Multi-Tool has only the most essential tools so you can make quick trail- and road-side adjustments and repairs while adding only the minimum weight and bulk to what you're carrying. The Stainless 4 is even small enough to shove in a pocket for easy access. Without a doubt,...
Park Tool 11-Speed Compatible ChainWhip/Sprocket Remover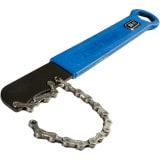 Retail Price:
$30.49
Our Price: $27.44
buy now
Swap your 11-23 for a 12-26 before you head out to the annual hill climb race. The Park Tool SR-11 11-Speed Compatible ChainWhip / Sprocket Remover will help you swap your cassettes in record time, even if you're running that newfangled Italian 11-speed. The one-inch box wrench in the handle fits...
<< Prev | Back | 1 | 2 | 3 | 4 | 5 | 6 | 7 | 8 | 9 | 10 | More | Next >>