Tools - Road Bike Shop
Shop
>
Accessories
>
Tools & Maintenance
>
Tools
Lezyne Port-A-Shop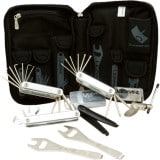 The only thing more frustrating than making emergency repairs is not having the right tool for the job -- luckily the Lezyne Port-A-Shop eliminates the dilemma. The Port-A-Shop comes with key cycling-specific tools all wrapped up and labeled in a nice, durable, zip-up case. Convenient carrying...
Lezyne Power Lever Tool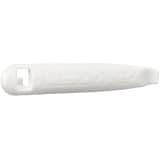 Retail Price:
$4.49
Our Price: $3.50
buy now
Don't let Lezyne Power Levers' simple appearance fool you. They are specialists. There are literally millions of more complicated tools out there that can't do nearly as good a job of pulling a tire off of a rim. The Power Levers' fiber-reinforced Composite Matrix construction can stand up to the...
Lezyne RAP 6 Multi-Tool
The smallest of Lezyne's RAP Multi-Tools, the RAP 6 features several hex, Torx, and Phillips bits, which is just enough to tweak drivetrain and steering components. This means it'll ride along in jerseys, shorts, and rear saddle bags without sagging or bouncing around. Stamped aluminum side...
Lezyne RAP-14 Multi Tool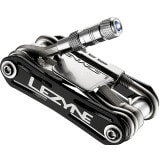 You can have the best-equipped home workshop around, but that pro-quality stand and bevy of fancy tools won't do you much good when you have a mechanical mid-ride. So when you're ready to take matters into your own hands, the Lezyne RAP-14 Multi Tool gives you the essentials to handle your next...
Lezyne RAP-7 Multi Tool
You don't always need an over-the-top tool kit, especially if you're just going out for a quick spin. But even those short jaunts can turn into a disaster if you're unprepared. The Lezyne RAP-7 Multi Tool is designed to help you manage those minor mechanicals and ensure that they don't ruin your...
Lezyne RAP13 Multi-Tool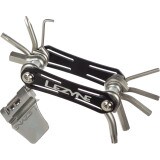 What can we say, the prepared cyclist is a happy cyclist, and quite frankly, one that we prefer to ride with. But, with a burgeoning and diverse multi-tool market, it's not always guaranteed that your pocket-held piece of security will get you out of a roadside jam. So, when faced with the...
Lezyne Stainless 20 Multi-Tool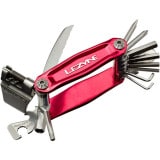 Just look at it. The Lezyne Stainless 20 Multi-Tool is all about function, but the form is what will grab your attention. The design is actually pretty basic, but we love the strategic use of stainless steel and aluminum components to keep the weight down while maintaining bombproof durability....
Lezyne Stainless 4 Multi-Tool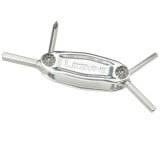 Retail Price:
$19.95
Our Price: $14.95
buy now
The Lezyne Stainless 4 Multi-Tool has only the most essential tools so you can make quick trail- and road-side adjustments and repairs while adding only the minimum weight and bulk to what you're carrying. The Stainless 4 is even small enough to shove in a pocket for easy access. Without a doubt,...
Lezyne Standard Block Tool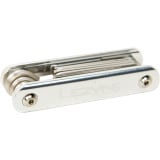 Retail Price:
$18.95
Our Price: $12.99
buy now
If all you ride is American (or pre-E. U. British), finding tools to fix your ride in a normal bike shop can be tough. Fortunately, Lezyne has your all-American back with the Standard Block Tool. This hex wrench set features seven straight hex wrenches and three L-shaped wrenches so you can...
Park Tool 3-Way Internal Nipple Wrench - SW-15
Today's aero-arms race forces manufacturers go to extreme measures to cheat wind resistance -- including hiding the spoke nipples inside the rims. The innovative Park Tool SW-15 3-Way Internal Spoke Nipple Wrench has three different sized wrenches to fit nipples hidden inside of rims. The SW-15...
<< Prev | Back | 1 | 2 | 3 | 4 | 5 | 6 | 7 | 8 | 9 | 10 | More | Next >>