Tools - Road Bike Shop
Shop
>
Accessories
>
Tools & Maintenance
>
Tools
Feedback Sports Velo Cache Cradle Arms Kit
Keep your tires off dry-rot-promoting concrete, and hang your bike where you can admire it with the Feedback Sports Velo Cache Cradle Arms Kit. This kit lets you add another bike to the Velo Cache Storage Stand.
Feedback Sports Velo Cache Expansion Kit
Standard Velo Cache racks hold two bikes, but what sort of barbarian limits their collection of wheels to a simple deuce? A refined rider has at least four bikes, and stores them all neatly and safely with the Velo Cache Expansion Kit, which adds two more secure racks to your existing Velo Cache...
Feedback Sports Velo Cache Gear Basket
Ever been late to a ride because you couldn't find one of your gloves? We've all been there. The Feedback Sports Gear Storage Basket enables owners of the company's Velo Cache Storage Rack to store their most critical riding gear right with their bikes. The Gear Storage Basket's deep, wrap-around...
Feedback Sports Velo Column
If you don't have a garage, storing your bikes can be a bit tricky. But you don't need to worry with Feedback Sports' Velo Column, which offers the perfect solution for limited floor space. The Velo's spring-loaded column holds two bikes (or four bikes with an optional adapter), and is adjustable...
Feedback Sports Wheel Adapter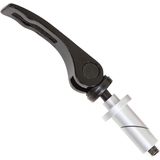 Feedback Sports' Wheel Truing Stand is a simple and effective solution to truing wheels, plus it can be mounted to their work stands -- perfect for those on the go. One problem, however, is it requires quick-release wheels to work. These Wheel Adapters fix that little hiccup. They come in 12mm,...
Fix It Sticks Replaceable Edition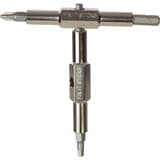 Retail Price:
$35.99
Our Price: $29.95
buy now
The Fix It Sticks Replaceable Edition multi-tool lets you swap out its eight interchangeable bits for the job you need. With the same reconfigurable T-handle design you get with the original modular model, now you have even more options for quick adjustments and repairs.
Fix It Sticks T-Way Wrench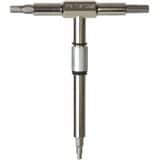 Fix It Sticks is a company that makes some ingenious modular, reconfigurable multi-tools, but the T-Way Wrench breaks stride by being a fixed design -- or, least, the grip part is. The bits are still interchangeable, but the T-shaped handle is fixed, making this a handy shop tool. You can take it...
Lezyne 11-Speed Chain Drive Breaker Tool
So, you scored a fancy new Campy 11-speed gruppo. Congratulations! But, if you try using your old chain tool on that 11-speed chain, your next ride is going to be a short one. Lezyne designed the 11-Speed Chain Drive Tool with a backing bolt designed specifically to flare your 11-speed chain pin....
Lezyne 3-Way Hex
You gotta love it when a company figures out a way to throw an innovative spin on an old favorite. The folks at Lezyne have somehow always been able to tweak a tried-and-true design just a bit to genuinely improve it. The 3-Way Wrench is a perfect example of Lezyne's innovative thinking at work....
Lezyne Allen Block Tool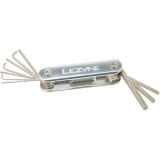 Pull the Lezyne Allen Block Tool out of your bag when you need to make quick trailside repairs. Covering the common bicycle Allen sizes, the sturdy, CNC machined aluminum I-beam block tool will take a beating in your bag without weighing it down.
<< Prev | Back | 1 | 2 | 3 | 4 | 5 | 6 | 7 | 8 | 9 | 10 | More | Next >>