Tools - Road Bike Shop
Shop
>
Accessories
>
Tools & Maintenance
>
Tools
Lezyne RAP-7 Multi Tool
You don't always need an over-the-top tool kit, especially if you're just going out for a quick spin. But even those short jaunts can turn into a disaster if you're unprepared. The Lezyne RAP-7 Multi Tool is designed to help you manage those minor mechanicals and ensure that they don't ruin your...
Lezyne RAP13 Multi-Tool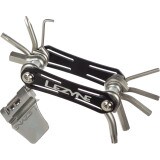 What can we say, the prepared cyclist is a happy cyclist, and quite frankly, one that we prefer to ride with. But, with a burgeoning and diverse multi-tool market, it's not always guaranteed that your pocket-held piece of security will get you out of a roadside jam. So, when faced with the...
Lezyne Stainless 20 Multi-Tool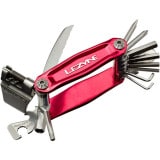 Just look at it. The Lezyne Stainless 20 Multi-Tool is all about function, but the form is what will grab your attention. The design is actually pretty basic, but we love the strategic use of stainless steel and aluminum components to keep the weight down while maintaining bombproof durability....
Lezyne Stainless 4 Multi-Tool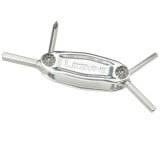 Retail Price:
$19.95
Our Price: $14.95
buy now
The Lezyne Stainless 4 Multi-Tool has only the most essential tools so you can make quick trail- and road-side adjustments and repairs while adding only the minimum weight and bulk to what you're carrying. The Stainless 4 is even small enough to shove in a pocket for easy access. Without a doubt,...
Lezyne Standard Block Tool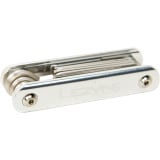 Retail Price:
$18.95
Our Price: $12.99
buy now
If all you ride is American (or pre-E. U. British), finding tools to fix your ride in a normal bike shop can be tough. Fortunately, Lezyne has your all-American back with the Standard Block Tool. This hex wrench set features seven straight hex wrenches and three L-shaped wrenches so you can...
Park Tool 3-Way Internal Nipple Wrench - SW-15
Today's aero-arms race forces manufacturers go to extreme measures to cheat wind resistance -- including hiding the spoke nipples inside the rims. The innovative Park Tool SW-15 3-Way Internal Spoke Nipple Wrench has three different sized wrenches to fit nipples hidden inside of rims. The SW-15...
Park Tool Adjustable Spoke Wrench - SW-10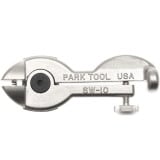 Get a twist going on your most stubborn road or mountain spokes with Park Tools' SW-10 Adjustable Spoke Wrench. Whether you're bringing your road bike wheels precisely true on race day, or trying to de-taco your burly freeride wheelset, the SW-10 will fit both, and any of the 80 gauge sizes...
Park Tool Advanced Mechanic Tool Kit
It takes time to acquire the proper tools for any job, let alone for servicing bicycles. But, you're able to accelerate the process with Park Tool's Advanced Mechanic Tool Kit. It includes the basics that every shop has, and it comes prepackaged in a convenient tool box that keeps everything...
Park Tool Backpack Harness - For BX-1, BX-2, and EK-1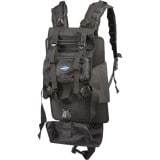 The Park Tool Backpack Harness makes it easy to tote your BX-1, BX-2, or EK-1 tool kit around with you and leaves your hands free to fight off marauding tool thieves. This fully adjustable harness features padded shoulder and waist straps, a sternum strap, and convenient pouches for your phone,...
Park Tool Bottom Bracket Facing Set
The classic British racing frame you have sitting in your basement has been calling you to build-it-up again. Unfortunately, you discovered that the 'expert' before you had cross-threaded the bottom bracket, leaving you with a worthless, stripped-out shell. Never fear, you recently scored the...
<< Prev | Back | 1 | 2 | 3 | 4 | 5 | 6 | 7 | 8 | 9 | 10 | More | Next >>