Tools - Road Bike Shop
Shop
>
Accessories
>
Tools & Maintenance
>
Tools
Shimano TL-RD11 Rear End Alignment Tool
Sometimes cassette chatter isn't the result of compressed housing or an out-of-tune derailleur. Shimano's TL-RD11 Rear End Alignment Tool lets any drivetrain doctor diagnose a bent derailleur hanger by screwing into it and measuring its relation to any point on the rear rim. Truing the hanger...
Silca HX1 Home and Travel Tool Drive Kit
For some, working on a bike is a chore. For others, wrenching can be a little bit zen, and it's for these folks Silca designed the HX1 Home and Travel Tool Drive Kit. Carefully laid out in a CNC-machined beechwood box, the S-2 steel hexes are coated with an anti-slip polymer that's as elegant as...
Silca Italian Army Knife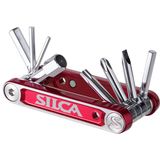 Not all multi-tools are created equal, and Silca's Italian Army Knife looks to top them all with classic Silca quality and laser attention to details. Like its Swiss compatriot is to daily life, this little tool packs everything you need for small fixes amidst epic cycling adventures. Mid-length...
Silca Limited Edition Woodblock Print Essential Kit
Emblazoned with a compass graphic on its hand-sanded, artfully finished beech wood box, Silca's Limited Edition Woodblock Print Essential Kit represents a refined take on the everyday, do-anything toolkit. Its eight hex keys are carefully constructed with strong and durable S-2 steel, coated in...
Silca Platinum Tubeless Rim Tape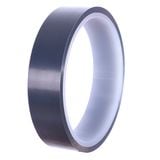 Optimized with a special adhesive that's suited for both carbon and aluminum surfaces, Silca's Platinum Rim Tape provides a strong seal for converting road, cross, and mountain bike wheels to tubeless. For those using a traditional road setup, Platinum Rim tape is a great replacement for...
Silca T-Handle Folio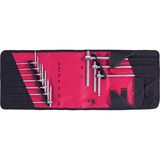 You've got enough to worry about on race day without the added stress of sifting through the depths of your hatchback in search of the tool you need for that last-minute brake adjustment. While it may not help calm all your pre-race nerves, the Silca T-Handle Folio keeps tools within easy reach...
Silca T-Ratchet + Ti-Torque Kit
By now, most of us either have a torque wrench handy in the garage or just take our bike to our favorite mechanic to avoid the expensive fallout of over-clamping on carbon and titanium bits. All that careful attention can be undone in an instant though with an unfortunately timed pothole that...
Silca T-Ratchet Kit
Silca's T-Ratchet Kit has garnered quite a bit of attention is its short existence, and we're pretty sure no ride kit is quite complete without this little tool hiding in wait of needed adjustments. Its dual-funtional T-Ratchet design starts as a standard "T" formation for quick turns when...
Silca Tubeless Valve Kit with Speed Shield
Silca pumps are widely known for their meticulous construction, and the brand's range of tools and other cycling accessories have been made with the same attention to longevity since the firm was created in Italy in the early 1900's. When the now US-based company noticed a gap in the market for...
Syncros Composite 9 Multi Tool
Retail Price:
$19.99
Our Price: $11.99
buy now
While some may be turned off by the Syncros Composite 9 Multi Tool's nylon/fiberglass body, we actually see it as an improvement compared to an all-steel multi-tool. For starters, it's lighter, so it won't add as many grams to a jersey pocket or saddle bag. It's also less likely to damage phones...
<< Prev | Back | 31 | 32 | 33 | 34 | 35 | 36 | 37 | 38 | 39 | 40 | More | Next >>