Tools - Road Bike Shop
Shop
>
Accessories
>
Tools & Maintenance
>
Tools
Evoc Tool Pouch
Evoc's Tool Pouch features a mesh pocket, a waterproof pocket for personal effects, and a zippered main pocket to organize your free-range tools and the random component parts floating around in you workshop. This is especially handy if, like many of us, your workshop doubles as your living space.
Fabric 16 in 1 Mini Tool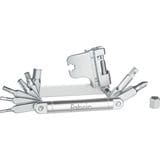 16 in 1 Mini Tool
Fabric Chamber Fixed Multi-Tool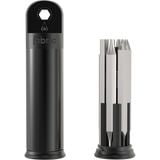 In contrast to traditional multi-tools that are prone to snagging on clothing or catching on other equipment in your saddle pack, Fabric's Chamber Fixed Multi-Tool keeps each of its 13 tools safely housed inside an aluminum cylinder when they're not in use. When you're ready to use it, remove the...
Feedback Sports 15mm Pedal Combo Wrench
Taking off your pedals is never an easy task, and somehow, we always need to take ours off when they're at their muddiest. The job must go on, of course, and it helps to have a solid set of wrenches at your disposal to make the process go a little smoother. Fill up your growing home toolbox with...
Feedback Sports 90 Degree/Straight Pick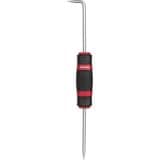 Unlike cassette pliers, bottom bracket wrenches, and other specific bike tools, you don't buy a tool like the Feedback Sports 90 Degree/Straight Pick for one specific purpose. Rather, you buy one, tuck it safely away in your toolbox, and wait not very long for the occasion to arise in which you...
Feedback Sports Bottle Opener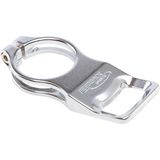 The engineers at Colorado-based Feedback Sports know that it's important to stay hydrated during afternoons spent in the garage working on your bike. Rather than having to go inside to find a bottle opener every time you get thirsty, you can mount this Bottle Opener directly to any Feedback...
Feedback Sports Bottom Bracket/Cassette Wrench
Though you may not always need both at the same time, we always think it's helpful to have two tools in one place. The Feedback Sports Bottom Bracket/Cassette Wrench comes with a durable cast steel construction and is eager to remove Shimano/SRAM lockrings and external bottom brackets all in the...
Feedback Sports Cable Cutter
We cringe to remember the times when we, young and naive, overzealously hacked away at cable housing only to realize we'd measured incorrectly. Heads hanging and eyes downcast, we'd abandon our evening ride plans and instead head back to our LBS, buy another package of housing, and start all over...
Feedback Sports Chain Pin Press
You resolved to teach yourself to do at least two simple repairs on your own bike this year, and well, you're running out of time. Coincidentally, you also bought a new chain that needs to be shortened. This is it: the stars have aligned. Hurry up and buy the Feedback Sports Chain Pin Press and...
Feedback Sports Fixed 3-Way Hex
Someday, in the distant future, cyclists will have one single tool that does everything they could possibly need to their bikes. Maybe they'll wave it over the length of their frames and wait patiently while it detects bent spokes and limits that need adjusting. We can only dream of what it will...
<< Prev | Back | 1 | 2 | 3 | 4 | 5 | 6 | 7 | 8 | 9 | 10 | More | Next >>