Tools - Road Bike Shop
Shop
>
Accessories
>
Tools & Maintenance
>
Tools
Unior Head Set Cup Remover
Retail Price:
$29.90
Our Price: $19.90
buy now
The Unior Headset Cup Remover allows you to easily remove your 1, 1-1/8, or 1-1/4in headset cup from your frame. The tool steel construction ensures that this traditional split wedge headset remover is durable, and it'll last for years of regular use with proper care.
Unior Mavic R-Sys Spoke Wrench
Mavic is known for eschewing traditional standards in creating some of the best equipment on the road, and its wheel systems are a showcase of this. To true many of its wheels (notably, many R-Sys and Ksyrium models), for example, you'll need a dedicated spoke wrench such as the Unior Mavic Spoke...
Unior Metal Tire Levers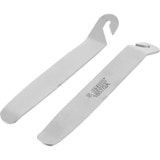 Retail Price:
$24.99
Our Price: $18.74
buy now
When your flimsy lightweight levers won???t cut it, the chrome-plated Unior Metal Tire Levers come into their own. Stronger than plastic tire levers, yet more compact than a traditional DH-styled tire lever, they???re the perfect solution when faced with tight fitting tires and alloy rims. Please...
Unior Nipple Assembly Tool
Retail Price:
$16.19
Our Price: $12.95
buy now
Anyone who's ever built bicycle wheels knows the aggravation associated with "dropping" a nipple inside a double-walled rim, initiating the need to rain-dance around the shop with your half-wheel, spokes flailing, hoping the nipple emerges. Prevent nip-slips and save time and hassle, too, with...
Unior Shimano Spoke Wrench
Not unlike some other high-end wheel manufacturers, Shimano developed its own rim/nipple interface for many of its high-end bicycle wheels. So, to true or service these wheels, you'll need a special spoke wrench like the Unior Shimano Spoke Wrench.
Unior Spoke Wrench
The Unior Spoke Wrench comes in a few sizes for a variety of traditional alloy or brass nipple applications. The tough steel construction with rubberized coating feels solid and comfortable in your hands, and it'll last.
Unior Sprocket Wear Indicator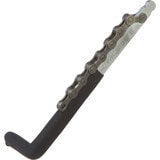 Retail Price:
$23.39
Our Price: $17.54
buy now
Shifting issues? Skipping chains? Grinding sounds coming from your drivetrain? It's quick and easy to point to chain wear as the culprit, but sprocket wear can screw up your ride, too. Use the handy Unior Sprocket Wear Indicator to tell how much life is left in your cogs, and the included...
Unior Tire levers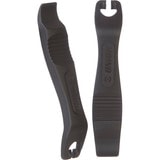 Retail Price:
$2.50
Our Price: $2.00
buy now
The uninitiated may be surprised to realize how hard it is to find a good pair of tire levers. Some cheaper ones break, warp, aren't hooked properly for bead grabbing, or aren't long enough. You'd think it'd be simple, right? The Unior Tire Levers are. Made of an alloyed steel and chrome-plated...
Unior Triple Spoke Wrench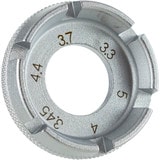 The Unior Triple Spoke Wrench allows you to true just about any wheelset you come across. This drop-forged, hardened tool steel wrench has wrench flats for 3. 3, 3. 45, 3. 7, 3. 96, 4. 4, and 5mm nipples. In other words, it???s equipped to deal with most any wheelset, so long as it doesn???t...
Unior XTR Crank Puller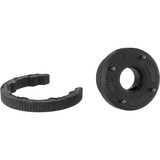 Retail Price:
$29.99
Our Price: $23.99
buy now
The Unior XTR Crank Puller is designed to aid in the removal of Shimano XTR M970 cranks. While other iterations of the XTR crankset use a pinch bolt design, the M970s use a pressfit interface that requires the use of a crank puller, such as this one, to remove the non-drive side crankarm without...
<< Prev | Back | 21 | 22 | More | Next >>