Tools - Road Bike Shop
Shop
>
Accessories
>
Tools & Maintenance
>
Tools
Topeak Shuttle Tire Lever 1.1
Retail Price:
$5.95
Our Price: $3.95
buy now
Make tire changes a breeze with the help of the Shuttle Tire Lever 1. 1. Made from engineering grade plastic, this lightweight set of two snap-together levers is rigid and durable enough to handle years of use, and a smooth, ergonomic grip makes the levers easy to handle.
Unior Chain Checker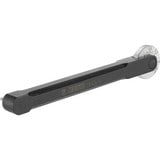 Fresh chains shift better, but if you're not sure if yours still qualifies, the Unior Chain Checker is here to help. Built out of precision laser-cut steel, this little beauty reliably tells you whether your chain is fresh and ready to roll, or stretched and ready to destroy your expensive...
Unior Competitive Cyclist Custom Travel Tool Kit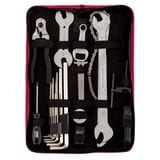 Being able to work on your bike is a valuable skill. It saves time and money by reducing or eliminating bike shop maintenance trips, means you won't ever have a problem that keeps you off the bike for longer than it takes you to fix it (which anyone who's had a ride cancelled due to a simple...
Unior Cone Wrench Set
From the makers of tools that will last for generations, the Unior Cone Wrench Set is made from hardened and tempered steel that's been chrome-plated. Handles are non-rubberized. The set is two double-open-ended wrenches that come in a plastic pouch. Wrench heads include 13mm, 14mm, 15mm, and a...
Unior DT Swiss Torx Nipple Wrench
Designed for the building and service of wheels that use DT Swiss Torx nipples, the Unior DT Swiss Torx Nipple Wrench is a TX20 bit, mated to a rubberized, butterfly-style wing handle for a comfortable grip and leverage.
Unior Flat Spoke Fixing Wrench
Frozen spoke nipples are among the most aggravating bridges to cross when doing wheel maintenance. In the instance that yours happen to freeze while laced to aero-bladed spokes, you can reach for the Unior Flat Spoke Fixing Wrench, which fixes the spoke in place so it doesn't twist as you're...
Unior Fork Seal Installation Tool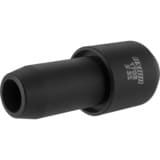 When pulling apart your suspension fork for service, it's always recommended that you install new seals when putting it all back together. Sliding the seals in straight, however, can be difficult without the right tool, and crooked seals can severely impair your fork's function. Do it right the...
Unior Head Set Cup Remover
The Unior Headset Cup Remover allows you to easily remove your 1, 1-1/8, or 1-1/4in headset cup from your frame. The tool steel construction ensures that this traditional split wedge headset remover is durable, and it'll last for years of regular use with proper care.
Unior Metal Tire Levers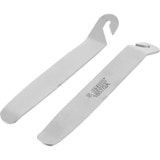 When your flimsy lightweight levers won't cut it, the chrome-plated Unior Metal Tire Levers come into their own. Stronger than plastic tire levers, yet more compact than a traditional DH-styled tire lever, they're the perfect solution when faced with tight fitting tires and alloy rims. Please...
Unior Nipple Assembly Tool
Anyone who's ever built bicycle wheels knows the aggravation associated with "dropping" a nipple inside a double-walled rim, initiating the need to rain-dance around the shop with your half-wheel, spokes flailing, hoping the nipple emerges. Prevent nip-slips and save time and hassle, too, with...
<< Prev | Back | 21 | 22 | More | Next >>