Tools - Road Bike Shop
Shop
>
Accessories
>
Tools & Maintenance
>
Tools
Pedro's 5mm Hex Driver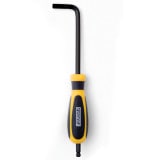 Find us a post-eighties bike that doesn't have a 5mm hex and we'd be impressed. They're everywhere, and even with the Torx family vying for supremacy, the trusty five will always be the most used tool on a mechanic's bench -- that's why Pedro's offers this 5mm Hex Driver. It's for those who...
Pedro's 8-Notch Shimano and ISIS Drive Bottom Bracket Wrench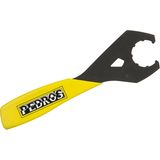 Retail Price:
$24.00
Our Price: $20.88
buy now
Get precise and proper wrenching with the Pedro's 8-Notch Shimano and ISIS Drive Bottom Bracket Wrench. Its comfortable padded grip provides ample leverage to work on your 8-notch Shimano or ISIS Drive bottom bracket cups, and its durable construction means it'll have a place in your toolbox for...
Pedro's Adjustable Wrench - 10in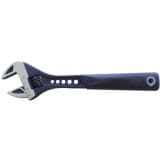 Adjustable wrench's come in all sorts of sizes and shapes ... and quality. Pedro's knows the importance of a premium Adjustable Wrench to mechanics, and offers this 10in version as an alternative to the questionable products populating big-box hardware stores. An innovative jaw design prevents...
Pedro's Apprentice Bench Tool Kit
Nothing is quite worse than standing over your beloved sled or lightweight race machine on Friday night and seeing that it needs some specific repair and maintenance--especially when you have an epic planned for the weekend that now looks out of sight. Pedro's is here to help with the Apprentice...
Pedro's Apprentice Pedal Wrench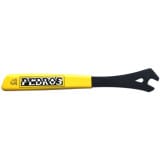 Make quick work of tough pedals with Pedro's Apprentice Pedal Wrench's 300mm length and cushioned plastic grip. Constructed from heat-treated tool steel, this 15mm pedal wrench will last a lifetime and is backed with the Pedro's guarantee to prove it. The Apprentice Pedal Wrench's opening is...
Pedro's Apprentice Tool Kit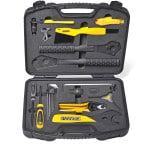 Turn your garage into your personal bike repair shop with the Pedro's Apprentice Tool Kit. With everything from an Equalizer pedal wrench to Pedro's cassette and bottom bracket tools, this Tool Kit provides 32 functions so you keep your stable of bikes up to speed in perfect working order. Pedro...
Pedro's Bench In A Box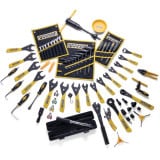 The Pedro's Bench in a Box really is exactly what the title suggests, except for the bench part. You can do just about anything with this tool kit that your bike will need done, from the headset to the rear hub and everything in between. Unless, of course, you break your frame. At least the Bench...
Pedro's Bottom Bracket Socket - ISIS Compatible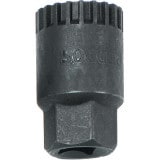 You feel a little slop in your pedals and know the truth in the pit of your stomach. Time to get the Pedros Bottom Bracket Socket and get to work on your bike. Whether your bottom bracket needs a healthy cleaning and greasing or needs to be replaced entirely, this ISIS-compatible Pedros Bottom...
Pedro's Bottom Bracket Wrench - Shimano 16x39 (XTR BB93, Dura-Ace BB9000)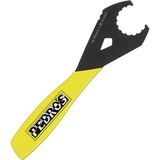 It's tough to pull out your bottom bracket with your hands, so we recommend using a specially designed tool if you ever, you know, actually want to get it done. Pedro's Bottom Bracket Wrench 16x39 fits 16-notch, 39mm bottom bracket cups, which basically means that it works with Shimano's XTR BB93...
Pedro's Cable Cutter
Essential for quality, clean cuts on new cables and housing, Pedro's Cable Cutters are designed for years of service. They feature extra jaw overlap to ensure smooth, equally cut strands every time and they are constructed from heat-treated steel for durability. Pedro's uses stamped steel handles...
<< Prev | Back | 21 | 22 | 23 | 24 | 25 | 26 | 27 | 28 | 29 | 30 | More | Next >>