Tools - Road Bike Shop
Shop
>
Accessories
>
Tools & Maintenance
>
Tools
Birzman Studio Deadblow Hammer
Sometimes a little blunt force is needed when you're pulling apart your bike, but hitting it with a metal hammer is about as smart as trying to stop a train with an outstretched arm. Instead, use the Birzman Studio Deadblow Hammer, made of H-type rubber, to lovingly beat your bike without...
Birzman T-Bar Hex Wrench Set w/ Stand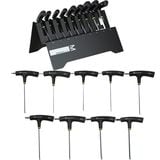 Hexes all do the same job, but some, like the Birzman T-Bar Hex Wrench Set with Stand, make that job a little bit easier. Not only does this set come with eight hexes, ranging in size from 2mm to 10mm, but it has a T25 Torx as well, along with a handsome stand to keep everything organized and...
Birzman Tubing Cutter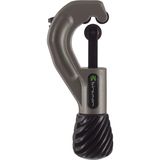 Your sexy new fork just arrived, and now it's time to fit it to your head tube. Please don't say you'll be cutting it with that hacksaw. Studies have shown that 94% of all steerer tubes cut with a hacksaw are crooked. OK, we made up that statistic, but it might be true. The Birzman Tubing Cutter...
Blackburn Grid 13 Multi-Tool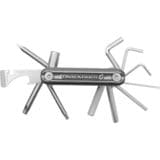 For such a small accessory, the right multi-tool brings us a considerable amount of peace of mind when tucked into a jersey pocket or saddle pack on a ride. The Blackburn Grid 13 Multi-Tool was constructed with a careful selection of tools for the most common trail or road-side issues, and...
Blackburn Grid 8 Multi-Tool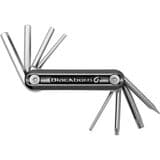 Tossing Blackburn's Grid 8 Multi-Tool into your saddle pack won't add much weight to your setup, and the weight it does add is a small price to pay for always being prepared to make basic fixes trail- or road-side.
Blackburn Local CO2 Ride Kit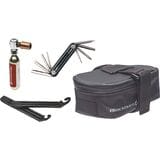 When we pick out a new bike, it usually involves more hemming and hawing than buying a car, and then we still need to outfit it for the roads or trails. Blackburn takes pity on us with the Local C02 Ride Kit, which stores everything needed for quick, mid-ride maintenance in a saddle bag.
Blackburn Switch Mini Tool
Switch Mini Tool
Blackburn Toolmanator 5 Multi-Tool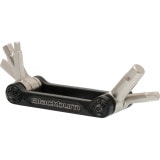 You'd be surprised how few tools you actually need to make most adjustments on your bike. The Blackburn Toolmanator 5 Multi-Tool will cover the vast majority of your maintenance bases. Made from a super-rigid one-piece aluminum frame and hardened chrome vanadium bits, the tool is incredibly slim...
CamelBak Bike Tool Roll Organizer
How does the old saying go? Keep your friends close, and your bike tools closer with CamelBak's Bike Tool Roll Organizer. We're pretty sure that's how it goes.
CamelBak Bottle Brush Kit
The CamelBak Bottle Brush Kit kit helps keep your bottles and valves clean and ready for whatever dirtiness you throw at it next. The large brush fits well in all 63-millimeter bottles and scours all the hard-to-reach crevices. The smaller brush cleaner keeps your bite valves and straws from...
<< Prev | Back | 1 | 2 | 3 | 4 | 5 | 6 | 7 | 8 | 9 | 10 | More | Next >>