Tools - Road Bike Shop
Shop
>
Accessories
>
Tools & Maintenance
>
Tools
Competitive Cyclist Torque Tool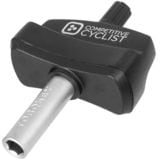 Retail Price:
$19.95
Our Price: $12.95
buy now
You know you'd rather not put blind faith in yourself to make adjustments to your pricey carbon dreamship using a regular wrench, and our Competitive Cyclist Torque Tool's compact design and impressive versatility makes it pretty easy to relinquish control to a toque wrench instead. It comes...
Crank Brothers b8 Multi Tool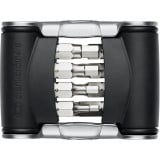 Retail Price:
$19.95
Our Price: $15.96
buy now
How many times have you thought about putting a multi-tool in your seatbag, tried to shove it in, and then basically given up in frustration? You don't want to buy a bigger seatbag, as that would ruin the aesthetics of your bike, but having been stuck making "that phone call home" on more than...
Crank Brothers PIXL Premium Multi-Tool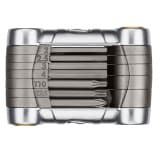 The Crank Brothers PIXL Premium Multi-Tool will get you out of your next sticky jam with a full array of allen wrenches, three screwdrivers, two torx wrenches and one helluva nice body.
Crank Brothers Y-Tool 12
Retail Price:
$29.95
Our Price: $22.46
buy now
Stash the Crank Brothers Y-Tool 12 in your pack before you hit the trail and you'll be ready for anything. This compact stainless steel case packs two screwdrivers, an assortment of hex wrenches and Torx bits, and comes with a patch kit and storage container, so you'll be ready to fix whatever...
Diamondback Ready-2-Ride Starter Kit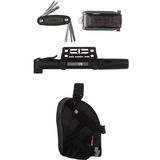 Retail Price:
$49.95
Our Price: $39.99
buy now
Cycling requires a plethora of gear to get started, and buying it all individually can become exhausting. Simplify your on-the-go maintenance preparation with Diamondback's Ready-2-Ride Starter Kit. Filled with all of the just-in-case essentials you'll need with you out on a ride, the kit will...
Evoc Tool Pouch
Evoc's Tool Pouch features a mesh pocket, a waterproof pocket for personal effects, and a zippered main pocket to organize your free-range tools and the random component parts floating around in you workshop. This is especially handy if, like many of us, your workshop doubles as your living space.
Fabric 16 in 1 Mini Tool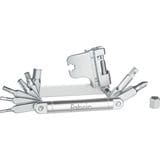 16 in 1 Mini Tool
Fabric Chamber Fixed Multi-Tool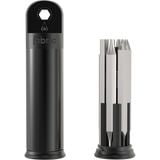 In contrast to traditional multi-tools that are prone to snagging on clothing or catching on other equipment in your saddle pack, Fabric's Chamber Fixed Multi-Tool keeps each of its 13 tools safely housed inside an aluminum cylinder when they're not in use. When you're ready to use it, remove the...
Feedback Sports 15mm Pedal Combo Wrench
Taking off your pedals is never an easy task, and somehow, we always need to take ours off when they're at their muddiest. The job must go on, of course, and it helps to have a solid set of wrenches at your disposal to make the process go a little smoother. Fill up your growing home toolbox with...
Feedback Sports 90 Degree/Straight Pick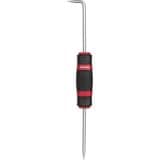 Unlike cassette pliers, bottom bracket wrenches, and other specific bike tools, you don't buy a tool like the Feedback Sports 90 Degree/Straight Pick for one specific purpose. Rather, you buy one, tuck it safely away in your toolbox, and wait not very long for the occasion to arise in which you...
<< Prev | Back | 1 | 2 | 3 | 4 | 5 | 6 | 7 | 8 | 9 | 10 | More | Next >>