Tools - Road Bike Shop
Shop
>
Accessories
>
Tools & Maintenance
>
Tools
Effetto Mariposa Giustaforza II 2-16 Pro Torque Wrench
The Effetto Mariposa Giustaforza II Pro Torque Wrench may not be the most inexpensive on your wish list, but that's why you married rich, right? Designed specifically for use with bicycles, the Giustaforza II Pro isn't found at your local auto parts store. It's incredibly simple to use, just...
Effetto Mariposa Giustaforza II Bits
You'll find that you use Effetto Mariposa Giustaforza II Bits more often than you thought possible. This bicycle-specific bit kit contains the tools that you wind up using 90% of the time your bike needs a repair, adjustment, or upgrade.
Feedback Sports A-Frame Event Stand w/ Tote Bag
The Feedback Sports A-Frame Event Storage Stand comes with its own tote bag and holds up to eight bikes by the saddles. Keep your bikes safe whether it's race day or time to store them in the garage for the off-season. This Feedback Sports stand requires no tools for set up and although...
Feedback Sports Alpine Digital Scale
Clamp the Feedback Sports Alpine Digital Scale into your bike stand to accurately weigh your bikes wheels and other gear. The Alpine Digital Scale measures items up to 55 pounds and displays their weight in both pounds and grams on its easy to read LCD display. This scale clamps into any bike...
Feedback Sports Digital Caliper
Cycling is a sport of millimeters: the width of a tire, the diameter of a seat tube, the thickness of a handlebar -- it all can make a difference. To stay on top of it all, you need something that can provide quick and accurate measurements. The Feedback Sports Digital Caliper is an affordable...
Feedback Sports FATT RAKK
One way to store your fatty is to deflate the tires and balance it on its own the rims. It'll work, but we definitely don't recommend it. A better way is with Feedback Sports FATT RAKK. It's optimized for 3 - 5-inch-wide bicycle tires and the cones can be adjusted for the best fit. Like the...
Feedback Sports Flop Stop Handlebar Holder
The Feedback Sports System Flop Stop Handlebar Holder keeps your front end from flopping all over the place when you're wrenching on your bike. All that you have to do is, simply, attach the Flop Stop Handlebar Holder between the seatpost and bars, and you're set. In order to fit any bike, this...
Feedback Sports Padded Tote Bag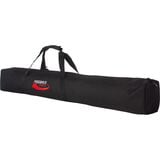 You've already purchased one of the lightest and most compact work stands on the market, why not keep it safe it with a tote bag designed to protect and carry it? The Feedback Sports Tote Bag Ultralight has been specially designed to fit the super-compact Pro-Ultralight Work Stand. Fully padded...
Feedback Sports Pro Classic Bicycle Repair Stand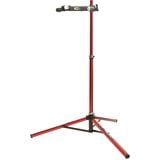 For over a decade the Feedback Sports Pro Bicycle Repair Stand has set the standard for full function, professional grade, portable bike stands. This stand features adjustable height, from 42-71 inches, and 360-degree rotation. The patented Slide-Lock clamp offers quarter-turn action to get bikes...
Feedback Sports Pro Elite Bicycle Repair Stand
You have more tools than anyone you know and your 'shop' has spread from a corner of your garage to take up an entire bay. So as the guy everyone comes to for help with new handlebar tape, chain installation, and those pesky brake shoe cartridges that just won't come out, you're now ready for the...
<< Prev | Back | 1 | 2 | 3 | 4 | 5 | 6 | 7 | 8 | 9 | 10 | More | Next >>