Tools - Road Bike Shop
Shop
>
Accessories
>
Tools & Maintenance
>
Tools
Park Tool Professional Pedal Wrench - PW-4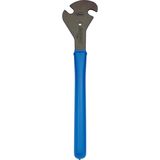 Retail Price:
$35.95
Our Price: $32.36
buy now
Park Tool's PW-4 Pedal Wrench ensures that you're taking care of your toys the correct way. The PW-4 is made with durable Cro-Moly steel and features an oversized handle that provides excellent leverage. The PW-4 allows you to easily remove pedals at any angle with 15mm offset openings at 30 and...
Park Tool Professional Travel and Event Kit - EK-1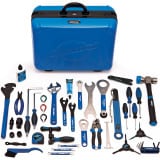 Retail Price:
$699.95
Our Price: $594.96
buy now
If you've ever tried to make a derailleur adjustment or fix a loose headset at a race only to realize you've left your most important tools on your workbench, the Park Tool EK-1 Professional Travel and Event kit should be on your holiday wish list. A complete, pro-level set of tools, the EK-1...
Park Tool Professional Wheel Truing Stand - TS-2.2
Retail Price:
$279.95
Our Price: $251.96
buy now
Channeling Park Tools' 35 years of experience producing industry-leading truing stands, the Professional Wheel Truing Stand - TS-2. 2 improves upon the legendary performance of the TS-2 stand, making it more precise and versatile than ever (the previous TS-2 didn't work with 29-inch wheels). Its...
Park Tool Ratcheting Torque Wrench
Retail Price:
$115.95
Our Price: $104.36
buy now
As more and more parts and frames and wheels are made from carbon fiber, proper torque becomes even more important. While you could certainly crush or crack an aluminum or steel component, you had a pretty good idea what 'too tight' felt like. Carbon's a bit different, and because of that, we...
Park Tool Replacement Chain Tool Pin
We've used the Park CT-3 Chain Tool for decades, and it's a shop essential. The beauty of Park's professional screw-type chain tools is that they last forever. The only maintenance or repair that they'll ever require is the occasional replacement of the drive pin. This Replacement Pin will fit...
Park Tool Rescue Tool - MTB-7
Retail Price:
$19.95
Our Price: $17.96
buy now
Rescue yourself and your friends on the trail with the Park Rescue Tool. Change a tire, replace a disc brake rotors, tighten a spokes, cut open a cactus for water, adjust a seat--or just sit back and crack open a cold-one at the end of a ride. Hell, you could even rescue a motorist--nah, never...
Park Tool Rescue Wrench - MT-1C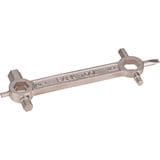 Retail Price:
$11.95
Our Price: $10.76
buy now
Each of the nine tools on the Park Tool MT-1C Hex Keys is positioned so you don't have to dislocate your wrist just to tighten nuts, bolts, and screws that are hard to reach. The cast-steel and nickel-plated MT-1C multi-tool has five hex wrenches, three socket wrenches, and a screwdriver, and...
Park Tool Rotor Truing Fork - DT-2C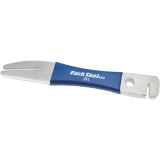 Retail Price:
$18.95
Our Price: $17.06
buy now
Disc Brakes have been a great advancement for mountain bikes. We love them and can barely remember bikes with anything but. However, sometimes demanding terrain, heat buildup, or even packing and shipping a bike will leave a rotor out of true. They may get bent easily, especially the larger...
Park Tool Rotor Truing Gauge - DT-3
Retail Price:
$43.95
Our Price: $39.56
buy now
You don't know how your rotor bent. It could of been the brutally bouncy shuttle ride up the side of a mountain, or maybe it was that twenty-yard cartwheel your bike enjoyed into the forest. What ever the case, accurately straighten it with the Park Tool DT-3 Rotor Truing Gauge.Note: The DT-3 is...
Park Tool Screw Type Chain Tool - CT-3.2
Retail Price:
$37.95
Our Price: $34.16
buy now
If you happen to see a shop's workspace, chances are pretty good that Park Tool's CT-3. 2 Screw Type Chain Tool is occupying coveted pegboard space. The combination of effective mechanical practices and utilitarian design have made this chain tool a shop staple, and a home mechanic favorite. It's...
<< Prev | Back | 11 | 12 | 13 | 14 | 15 | 16 | 17 | 18 | 19 | 20 | More | Next >>