Tools - Road Bike Shop
Shop
>
Accessories
>
Tools & Maintenance
>
Tools
Pedro's Trixie Tool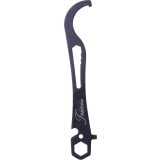 Retail Price:
$29.95
Our Price: $19.95
buy now
A lockring tool and 15mm wrench let the Trixie fulfill the needs of riders with a simple commuter bike. It attaches to frame braze-ons with wing nuts for quick and easy removal and installation. At 7. 4 inches in length, and sporting an ergonomic shape, the Trixie Tool provides excellent leverage...
Pedro's Universal Crank Remover w/Handle
While the square taper and splined bottom bracket has taken a backseat to the press fit and outboard variety, those cranks still dominate price point and a few odd applications here and there. For that reason it's a good idea to keep a Pedro's Universal Crank Remover in the tool kit. Constructed...
Pedro's Vise Whip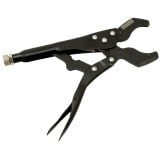 Retail Price:
$64.95
Our Price: $49.98
buy now
Face it. Chain whips are a pain to use--that's why Pedros created the Vise Whip. Now you can remove cassettes quickly and easily without the juggling act. Clamp the Pedros Vice Whip on cogs from 11 to 23 teeth to hold it in place, then just use a cassette socket to unscrew the keeper. Wasn't that...
Pedro's Y Wrench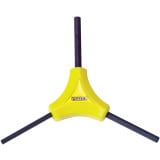 The reason Pedro's Y Wrench is ubiquitous to every bike tech's bench and serious pedal-head's garage is that the shape provides great grip and twist-ability. Add to this the angle-friendly ball end, and the Y wrench effectively cuts minutes off the installation and removal of bolts. When leverage...
Portland Design Works 3wrencho Tire Lever/Wrench
No, we're not talking about Yoshi Konno (RIP), but the Portland Design Works 3wrencho Tire Lever/Wrench is a solemn tribute to his master craftsmanship. The 3wrencho combines a 15mm box wrench with one of the best tire levers on the market. Impeccable design, tasteful representation, and a true...
PRO Adjustable Torque Wrench - 3-15 Nm
We're all familiar with the dangers of over- or under-tightening bolts on things like stem clamps and seatpost and collars, not least of which being the dreaded crunch of carbon giving up structural integrity. PRO's Adjustable 3-15 Nm Torque Wrench lets you save your shiny new carbon bits by...
PRO Mini Tool S-Slide 20 Function
A small setup like the PRO Mini Tool S-Slide 20 Function multitool probably isn't what you want to use in the shop, but it's perfect when you're on the trail or away from home. It has almost everything you need, from a hex keys to screwdrivers to Torx bits to tire levers to chain tools to spoke...
PRO Repair Stand
Flipping your bike upside down and working on it from your knees will let you get the job done, but being able to throw your ride in the PRO Repair Stand will make things about 1,000 times easier. This folding stand has a strong clamp that securely grasps the seatposts of even the heaviest...
PRO Shimano Bottom Bracket Cartridge Remover
Older bikes tend to have different components than fandangled new rides, so you might need specialized tools to take them apart and get them back together again. PRO's Shimano Bottom Bracket Cartridge Remover is designed to easily disassemble square-taper bottom brackets, so you can replace or...
Race Face Cinch BSA BB Cup Tool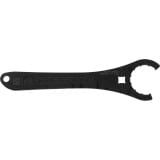 The Race Face BSA BB Cup tool is designed to work flawlessly to remove or install BSA30 bottom bracket cups. A cut-out window works with a torque wrench to ensure that you are tightening the cups just right. The Race Face Cinch BSA BB Cup Tool is available in One size and One color.
<< Prev | Back | 11 | 12 | 13 | 14 | 15 | 16 | 17 | 18 | 19 | 20 | More | Next >>