Tools - Road Bike Shop
Shop
>
Accessories
>
Tools & Maintenance
>
Tools
Pedro's Universal Crank Remover w/Handle
While the square taper and splined bottom bracket has taken a backseat to the press fit and outboard variety, those cranks still dominate price point and a few odd applications here and there. For that reason it's a good idea to keep a Pedro's Universal Crank Remover in the tool kit. Constructed...
Pedro's Vise Whip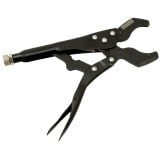 Retail Price:
$64.95
Our Price: $49.98
buy now
Face it. Chain whips are a pain to use--that's why Pedros created the Vise Whip. Now you can remove cassettes quickly and easily without the juggling act. Clamp the Pedros Vice Whip on cogs from 11 to 23 teeth to hold it in place, then just use a cassette socket to unscrew the keeper. Wasn't that...
Pedro's Y Wrench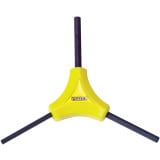 The reason Pedro's Y Wrench is ubiquitous to every bike tech's bench and serious pedal-head's garage is that the shape provides great grip and twist-ability. Add to this the angle-friendly ball end, and the Y wrench effectively cuts minutes off the installation and removal of bolts. When leverage...
Portland Design Works 3wrencho Tire Lever/Wrench
No, we're not talking about Yoshi Konno (RIP), but the Portland Design Works 3wrencho Tire Lever/Wrench is a solemn tribute to his master craftsmanship. The 3wrencho combines a 15mm box wrench with one of the best tire levers on the market. Impeccable design, tasteful representation, and a true...
Ritchey Tool Torque Key
The Ritchey 5nm Torque Key provides a quick and affordable way to ensure that the correct torque is applied to your Ritchey carbon bar and WCS stem combination. This wrench is preset to 5NM. Fortunately, though, there are a plethora of other bicycle components that require a torque spec of 5NM,...
Saris Cycle Racks Boss Bike Stand
Retail Price:
$44.99
Our Price: $41.00
buy now
Looking to keep your bike or bikes indoors, but don't feel like bolting a rack into the wall or giving up space to a big bike stand? Or maybe you need a bike stand you can take on the go? Saris has what you need. The Saris Boss Bike Stand is a relatively discrete, lightweight, and foldable rack...
Saris Cycle Racks Hottie Bike Storage Rack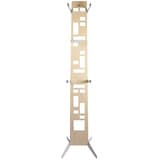 Occupying little floor space when it's not holding up your bike or bikes, the Saris Hottie Bike Storage Rack looks not unlike a tall Art Deco piece in your living room or foyer, with its wood face and bold shapes, yet its form also brings function. The freestanding rack can hold up to two bikes,...
Serfas 15 Function Mini Tool with Inflator
Retail Price:
$40.00
Our Price: $20.00
buy now
When you're in a hurry to get out and ride, you don't want to be digging through bags and old jersey pockets to find all your tools and inflation paraphernalia. Serfas' 15 Function Mini Tool with Inflator combines all the tools you need for minor repairs with an integrated C02 inflator so that...
Thule Universal Bike Stacker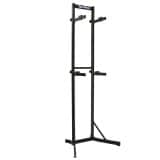 With the Thule Universal Bike Stacker, you'll be able to store two bicycles in your apartment or garage. The Bike Stacker is constructed with 1 x 2in steel to hold your burly downhill mountain bike and your super light roadie or to hold two burly downhill bikes . Soft, V-shaped rubber bike...
Timbuk2 Cash Advance Wallet
Retail Price:
$34.95
Our Price: $19.99
buy now
The perfect tool for the occasional mechanical or mental breakdown, the Timbuk2 Cash Advance Multi-Tool Wallet has all the tools you need to keep things running smoothly. The 15mm axle wrench is there to assist in the event of a flat tire, and the multiple hex wrenches and flathead screwdrivers...
<< Prev | Back | 11 | 12 | 13 | 14 | 15 | 16 | 17 | 18 | 19 | 20 | More | Next >>