Tools - Road Bike Shop
Shop
>
Accessories
>
Tools & Maintenance
>
Tools
Unior Metal Tire Levers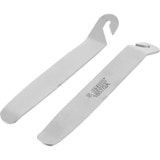 When your flimsy lightweight levers won't cut it, the chrome-plated Unior Metal Tire Levers come into their own. Stronger than plastic tire levers, yet more compact than a traditional DH-styled tire lever, they're the perfect solution when faced with tight fitting tires and alloy rims. Please...
Unior Nipple Assembly Tool
Anyone who's ever built bicycle wheels knows the aggravation associated with "dropping" a nipple inside a double-walled rim, initiating the need to rain-dance around the shop with your half-wheel, spokes flailing, hoping the nipple emerges. Prevent nip-slips and save time and hassle, too, with...
Unior Pedal Wrench
Nothing beats a good ol' pedal wrench. Made from chrome-plated chrome vanadium steel, the Unior Pedal Wrench is built to last. The dual-open-ended wrench is available in three versions: 15mm x 15mm, 15mm x 17mm, and 15mm x 9/16in.
Unior Triple Spoke Wrench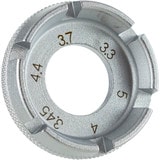 The Unior Triple Spoke Wrench allows you to true just about any wheelset you come across. This drop-forged, hardened tool steel wrench has wrench flats for 3. 3, 3. 45, 3. 7, 3. 96, 4. 4, and 5mm nipples. In other words, it's equipped to deal with most any wheelset, so long as it doesn't employ a...
Unior XTR Crank Puller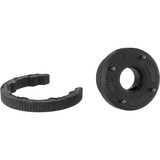 The Unior XTR Crank Puller is designed to aid in the removal of Shimano XTR M970 cranks. While other iterations of the XTR crankset use a pinch bolt design, the M970s use a pressfit interface that requires the use of a crank puller, such as this one, to remove the non-drive side crankarm without...
Victorinox Bike Tool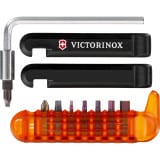 Swiss precision moves beyond your timepiece and trusty folding blade. With the Victorinox Bike tool, you've got a new riding companion that will make sure you're prepared for all your roadside assistance needs. Victorinox built its new compact Bike Tool around a durable, impact-proof plastic case...
Wasatch Powder Monkeys SmartStorage Wall Storage Unit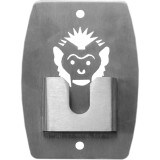 The Wasatch Powder Monkeys SmartStorage Wall Storage Unit makes storing your compatible rack (and attached gear) a cinch. Mount this unit to your wall, then slide whatever Switchblade-Crossbars-compatible rack you have onto this unit (with bikes, boats, skis, etc still attached).
<< Prev | Back | 11 | 12 | 13 | 14 | 15 | 16 | 17 | 18 | 19 | More | Next >>