Tools - Road Bike Shop
Shop
>
Accessories
>
Tools & Maintenance
>
Tools
Topeak Mini 9 Pro Multitool
Retail Price:
$21.95
Our Price: $14.95
buy now
When all you need is the basics, then all you need is the Topeak Mini 9 Pro Multitool when you hit backroads or city streets. Crafted with lightweight extruded aluminum, the Topeak 9 Pro is a miniature tool-box that fits comfortably in the palm of your hand when in use ... and in a pocket or...
Topeak OneUp Bike Holder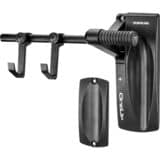 Retail Price:
$49.95
Our Price: $32.46
buy now
Some gearheads might see the Topeak OneUp Bike Holder as the perfect means for displaying the work of art that is their bike on the wall; other less obsessive types may simply view it as a great way to get their bike off the floor and out of the way. This elegant, functional holder features a...
Topeak PedalBar
Pedals typically involve a 15mm wrench, or either a 6 or 8mm Allen. The problem with this is that most common options aren't designed for pedal removal, as they don't provide the needed leverage or clearance. Topeak's PedalBar is an innovative solution that uses a sculpted, ergonomic body with a...
Topeak PrepStand Pro With Weight Scale
Retail Price:
$329.95
Our Price: $247.49
buy now
Topeak developed its new PrepStand Pro with Weight Scale so that you never have to question that clapped-out, rusted old excuse for a work stand again. With its durable materials, transportable design, and accurate scale, it's a must for both professional and home mechanics alike. The PrepStand...
Topeak PrepStation 2 Rolling Tool Station with 40 Tools
Retail Price:
$899.95
Our Price: $674.95
buy now
Take a walk past the bench of any seasoned bicycle mechanic, and you're likely to find a well-organized, labeled, and clean set of tools at his or her disposal. That's because the longer you wrench, the more you come to value your tools, and their organization becomes paramount to your...
Topeak PrepStation Tool Tray with Lid
Any bicycle maintenance is exponentially easier when parts and tools are organized. Topeak's PrepStation Tool Tray with Lid is a convenient holder for both tools and small parts. It features divided compartments to keep the hard-to-find set screws, retaining clips, and springs organized, and a...
Topeak Ratchet Rocket
You don't have to be a bike packer to appreciate a stem or H2O-bottle-boss-mountable hex set, tire levers, and chain tool in a compact, self-contained package -- with the bonus of a ratchet. Usually reserved for home or shop locations, this gives you the ability to use a ratchet on the road or...
Topeak Shuttle Tire Lever 1.1
Retail Price:
$5.95
Our Price: $3.95
buy now
Make tire changes a breeze with the help of the Shuttle Tire Lever 1. 1. Made from engineering grade plastic, this lightweight set of two snap-together levers is rigid and durable enough to handle years of use, and a smooth, ergonomic grip makes the levers easy to handle.
Unior Chain Checker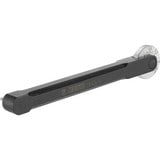 Fresh chains shift better, but if you're not sure if yours still qualifies, the Unior Chain Checker is here to help. Built out of precision laser-cut steel, this little beauty reliably tells you whether your chain is fresh and ready to roll, or stretched and ready to destroy your expensive...
Unior Competitive Cyclist Custom Travel Tool Kit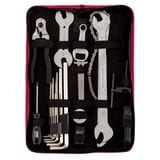 Retail Price:
$220.00
Our Price: $100.00
buy now
Being able to work on your bike is a valuable skill. It saves time and money by reducing or eliminating bike shop maintenance trips, means you won't ever have a problem that keeps you off the bike for longer than it takes you to fix it (which anyone who's had a ride cancelled due to a simple...
<< Prev | Back | 11 | 12 | 13 | 14 | 15 | 16 | 17 | 18 | 19 | 20 | More | Next >>