Tools - Road Bike Shop
Shop
>
Accessories
>
Tools & Maintenance
>
Tools
Park Tool Replacement Chain Tool Pin
We've used the Park CT-3 Chain Tool for decades, and it's a shop essential. The beauty of Park's professional screw-type chain tools is that they last forever. The only maintenance or repair that they'll ever require is the occasional replacement of the drive pin. This Replacement Pin will fit...
Park Tool Rescue Tool - MTB-7
Rescue yourself and your friends on the trail with the Park Rescue Tool. Change a tire, replace a disc brake rotors, tighten a spokes, cut open a cactus for water, adjust a seat--or just sit back and crack open a cold-one at the end of a ride. Hell, you could even rescue a motorist--nah, never...
Park Tool Rescue Wrench - MT-1C
Each of the nine tools on the Park Tool MT-1C Hex Keys is positioned so you don't have to dislocate your wrist just to tighten nuts, bolts, and screws that are hard to reach. The cast-steel and nickel-plated MT-1C multi-tool has five hex wrenches, three socket wrenches, and a screwdriver, and...
Park Tool Rotor Truing Fork - DT-2C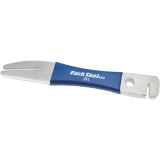 Retail Price:
$18.95
Our Price: $17.06
buy now
Disc Brakes have been a great advancement for mountain bikes. We love them and can barely remember bikes with anything but. However, sometimes demanding terrain, heat buildup, or even packing and shipping a bike will leave a rotor out of true. They may get bent easily, especially the larger...
Park Tool Screw Type Chain Tool - CT-3
Retail Price:
$36.95
Our Price: $25.99
buy now
Go to most any pro-quality bike shop and take a peek behind the counter in the work area. The Park Tool CT-3 Chain Tool is most likely the chain tool they rely on to get the job done. The cast steel body makes it comfortable and secure. Likewise, the vinyl covered T-handle gives you plenty of...
Park Tool Screw Type Chain Tool - CT-3.2
Retail Price:
$37.95
Our Price: $34.16
buy now
If you happen to see a shop's workspace, chances are pretty good that Park Tool's CT-3. 2 Screw Type Chain Tool is occupying coveted pegboard space. The combination of effective mechanical practices and utilitarian design have made this chain tool a shop staple, and a home mechanic favorite. It's...
Park Tool Shimano/ISIS Bottom Bracket Tool
Use the trusty Shimano/ISIS Bottom Bracket Tool to service or replace your ISIS bottom brackets without screaming or needing the assistance of your local mechanic.
Park Tool Shop Hammer - HMR-4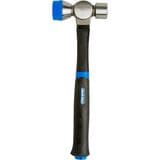 Retail Price:
$21.95
Our Price: $19.76
buy now
Grab the Park Tool HMR-4 Shop Hammer and take care of business, whatever that business may be. The Shop Hammer features a dual head with a standard steel face on one side, and a replaceable plastic face on the other for more delicate work. Park used a fiberglass shaft for a long life and...
Park Tool Shop Scissors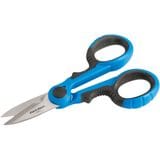 You may not have imagined yourself needing scissors when you're doing at-home bike maintenance, but after searching for a pair almost every time you do quick fixes on your bike, you've realized they'd probably be useful to have on-hand. Park Tool agrees, and the Minnesota-based tool manufacturer...
Park Tool Shop Screwdriver Set - SD-SET
The Park Tool SD-SET Shop Screwdriver Set includes all the screwdrivers that you'll be using about 95% of the time you are in your shop. These screwdrivers feature comfortable dual-density grips and heat-treated chrome vanadium tips for strength.
<< Prev | Back | 11 | 12 | 13 | 14 | 15 | 16 | 17 | 18 | 19 | 20 | More | Next >>