Tools - Road Bike Shop
Shop
>
Accessories
>
Tools & Maintenance
>
Tools
Topeak Flash Stand Slim
Just as sacrilegious as leaning a bicycle against an automobile is putting a kickstand on said bicycle. One solution is Topeak's Flash Stand Slim -- a small fold-out stand that securely holds a bicycle without marring the finish. This allows you to gear up while the bicycle awaits, and it also...
Topeak FlashStand Work Stand
Much like spending any time at a boat launch, the parking lot of popular rides often provides entertainment at the expense of the inexperienced. For example, imagine, a rider strapping on shoes -- with a bike leaned against their car. Slowly the bike starts to slide along the side of the car,...
Topeak Link Meister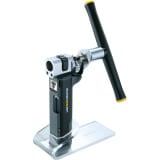 The large number of chain types creates somewhat of a bomb-defusing scenario when going for a chain tool, as incompatible interfaces will lead to catastrophic results. Topeak's Link Meister, on the other hand, can easily accommodate both pin and link type chains. Topeak's hardened chain tool...
Topeak Magnetic Tool Tray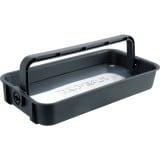 You know that container of bolts, washers, and assorted odds and ends that are always rattling around your tool kit? Wouldn't it be nice if there was some way of keeping them contained, without resorting to OCD-level organization tactics? Well, with the Topeak Magnetic Tool Tray, you can take...
Topeak OneUp Bike Holder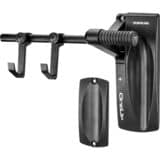 Retail Price:
$49.95
Our Price: $37.45
buy now
Some gearheads might see the Topeak OneUp Bike Holder as the perfect means for displaying the work of art that is their bike on the wall; other less obsessive types may simply view it as a great way to get their bike off the floor and out of the way. This elegant, functional holder features a...
Topeak PedalBar
Pedals typically involve a 15mm wrench, or either a 6 or 8mm Allen. The problem with this is that most common options aren't designed for pedal removal, as they don't provide the needed leverage or clearance. Topeak's PedalBar is an innovative solution that uses a sculpted, ergonomic body with a...
Topeak PrepBox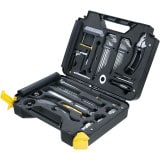 Cycling requires specific tools, but unfortunately, the tool cases, bags, and boxes you find at hardware and automotive stores are designed for home/garage applications. That's where Topeak steps in with its PrepBox -- a well thought out case with cycling essentials like a torque wrench, bottom...
Topeak PrepStand Pro With Weight Scale
Topeak developed its new PrepStand Pro with Weight Scale so that you never have to question that clapped-out, rusted old excuse for a work stand again. With its durable materials, transportable design, and accurate scale, it's a must for both professional and home mechanics alike. The PrepStand...
Topeak PrepStation 2 Rolling Tool Station with 40 Tools
Take a walk past the bench of any seasoned bicycle mechanic, and you're likely to find a well-organized, labeled, and clean set of tools at his or her disposal. That's because the longer you wrench, the more you come to value your tools, and their organization becomes paramount to your...
Topeak PrepStation Tool Tray with Lid
Any bicycle maintenance is exponentially easier when parts and tools are organized. Topeak's PrepStation Tool Tray with Lid is a convenient holder for both tools and small parts. It features divided compartments to keep the hard-to-find set screws, retaining clips, and springs organized, and a...
<< Prev | Back | 11 | 12 | 13 | 14 | 15 | 16 | 17 | 18 | 19 | More | Next >>