Tools - Road Bike Shop
Shop
>
Accessories
>
Tools & Maintenance
>
Tools
Pedro's Cable Cutter
Retail Price:
$34.95
Our Price: $26.21
buy now
Essential for quality, clean cuts on new cables and housing, Pedro's Cable Cutters are designed for years of service. They feature extra jaw overlap to ensure smooth, equally cut strands every time and they are constructed from heat-treated steel for durability. Pedro's uses stamped steel handles...
Pedro's Chain Checker Plus
A little bout of sticker shock is expected when pricing replacement cassettes. That's because they require extensive engineering and are expensive to manufacture. Because of this, Pedro's Chain Checker Plus serves as an essential tool if you plan on preventing premature wear to the cassette. With...
Pedro's Cog Wrench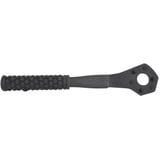 Retail Price:
$29.95
Our Price: $22.99
buy now
If you're tired of dealing with the frustration and bruised knuckles from slipped chain whips, Pedro's Cog Wrench is the answer. It securely holds 11 or 12 tooth cogs while a cassette tool fits in the center of the wrench. This system provides good purchase and leverage for loosening cassettes. A...
Pedro's Cone Wrench
Retail Price:
$12.95
Our Price: $9.07
buy now
Made from laser cut and heat-treated steel, Pedro's Cone Wrench is designed to perfectly fit hub cones to ensure simple and safe usage. An ergonomically designed handle provides maximum leverage and comfort and the wrenches are backed by Pedro's lifetime warranty. Pedro's Cone Wrench comes in...
Pedro's Downhill Tire Lever
It might look like a medieval tongue-depressor, but the Pedro's Downhill Tire Lever is made to get under the biggest, baddest DH tires out there. When plastic levers won't cut it, put away your screwdriver and reach for this big guy.
Pedro's Folding Hex Set Plus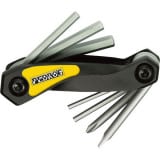 Retail Price:
$12.95
Our Price: $9.70
buy now
Slip this little Folding Hex Set Plus from Pedro's into your saddle bag, and you'll have all the metric hex head sizes you need, plus a flathead screwdriver and either a Torx T25 or Philips No. 2 driver. The ergo handle makes on-road and on-trail wrenching easy on your hands.
Pedro's Folding Hex Wrench Set
The Pedros Folding Hex Wrench Set features a durable composite handle, 1. 5, 2, 2. 5, 3, 4, 5, and 6mm hex wreches--take this tool out on the road with you for quick adjustments and quicker fixes. The Folding Hex Wrench Set's handle features a built in tool stop that allows the wrenches to be...
Pedro's Folding Repair Stand With Bag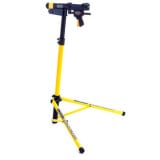 Retail Price:
$299.95
Our Price: $239.95
buy now
Pedro's Folding Repair Stand with Bag is highly portable with its folding design and included carrying bag, eagerly accompanying you to trailheads and race-day starting lines. Its adjustable height allows you to switch between multiple rigs when your buddies' bikes need repairs. The...
Pedro's Hex Bit Set
With proper torque increasing in importance as carbon components become omnipresent, Pedro's Hex Bit Set provides a 1/4-inch drive adapter, common hex sizes, and a T25 torx for the home or professional mechanic. This allows you to use a standard 1/4in drive torque wrench and ensure fasteners are...
Pedro's Hex Pedal Driver
The majority of pedal manufacturers use either a 6 or 8mm hex, which is why Pedro's provides home and shop mechanics with the Hex Pedal Driver. Available in both 6 and 8mm sizes, it's designed for quick and easy installation and removal of pedals and, in the case of the 8mm, cranks too. An...
<< Prev | Back | 11 | 12 | 13 | 14 | 15 | 16 | 17 | 18 | 19 | 20 | More | Next >>