Tools - Road Bike Shop
Shop
>
Accessories
>
Tools & Maintenance
>
Tools
Pedro's Tape Measure
From measuring seat tubes to building a bookshelf for all your training DVDs, the Pedro's 3m Tape Measure will handle all your metric-measuring needs with classic Pedro's style. A full 3 meters (nearly 10 feet to the mountain tribe) covers just about everything short of laying carpet in a room...
Pedro's Tire Lever - 2 Pack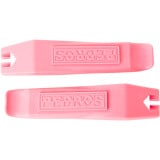 The Pedros Tire Lever 2-Pack gives you plenty of leverage to change burly DH and freeride tires, so you don't have to worry about breaking a half-dozen plastic levers in the process. Have you ever thought, "What I need is a something with a lot more clout to get the job done?" Well, Pedros...
Pedro's Trixie Chrome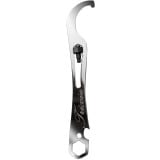 The Trixie Chrome features eight functions designed for the urban cyclist. This includes a lockring tool and 15mm axle nut wrench, along with 8, 9, and 10mm box end wrenches. It also has both 4 and 5mm hexes to cover most fixed-gear or single-speed bike repairs. The Trixie Chrome attaches to...
Pedro's Trixie Tool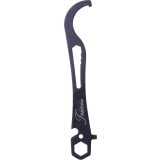 Retail Price:
$29.95
Our Price: $19.95
buy now
A lockring tool and 15mm wrench let the Trixie fulfill the needs of riders with a simple commuter bike. It attaches to frame braze-ons with wing nuts for quick and easy removal and installation. At 7. 4 inches in length, and sporting an ergonomic shape, the Trixie Tool provides excellent leverage...
Pedro's Tulio QR Multi-Tool
Replace your 130mm or 135mm rear skewer with Pedro's eight-function, sub-60 gram Tulio QR Multi-Tool to ensure essential tools are always on board. The tool acts as a premium quick release (total weight including skewer is 100 grams), with an ergonomic, anodized 7075-T6 aluminum body containing...
Pedro's Tutto Multi Chain Tool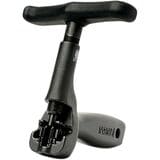 Chain advancement has been rapid over the last decade, and unfortunately, that's created issues for home and shop mechanics alike. Due to the variety of proper tools and techniques required, it's hard to keep up. Pedro's Tutto Multi Tool addresses this problem with a proprietary Fit Dial and...
Pedro's Universal Crank Remover w/Handle
While the square taper and splined bottom bracket has taken a backseat to the press fit and outboard variety, those cranks still dominate price point and a few odd applications here and there. For that reason it's a good idea to keep a Pedro's Universal Crank Remover in the tool kit. Constructed...
Pedro's Vise Whip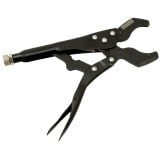 Face it. Chain whips are a pain to use--that's why Pedros created the Vise Whip. Now you can remove cassettes quickly and easily without the juggling act. Clamp the Pedros Vice Whip on cogs from 11 to 23 teeth to hold it in place, then just use a cassette socket to unscrew the keeper. Wasn't that...
Pedro's Y Wrench
The reason Pedro's Y Wrench is ubiquitous to every bike tech's bench and serious pedal-head's garage is that the shape provides great grip and twist-ability. Add to this the angle-friendly ball end, and the Y wrench effectively cuts minutes off the installation and removal of bolts. When leverage...
Portland Design Works 3wrencho Tire Lever/Wrench
No, we're not talking about Yoshi Konno (RIP), but the Portland Design Works 3wrencho Tire Lever/Wrench is a solemn tribute to his master craftsmanship. The 3wrencho combines a 15mm box wrench with one of the best tire levers on the market. Impeccable design, tasteful representation, and a true...
<< Prev | Back | 11 | 12 | 13 | 14 | 15 | 16 | 17 | 18 | 19 | 20 | More | Next >>