Tools - Road Bike Shop
Shop
>
Accessories
>
Tools & Maintenance
>
Tools
Park Tool Utility Knife - UK-1C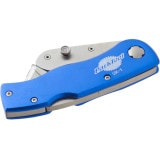 Retail Price:
$15.95
Our Price: $14.36
buy now
Keep the Park Tool UK-1C Utility Knife handy in the garage, tool box, or on your belt. The ergonomic aluminum handle provides a secure grip, and the quick-change blade system uses standard utility knife blades so you'll always have a sharp edge.
Park Tool Vulcanizing Patch Kit - VP-1
Retail Price:
$2.49
Our Price: $2.24
buy now
Flats happen, but even the most careless pedaler wouldn't use all six of the patches in Park Tool's Vulcanizing Patch Kit in a single ride, right? The two oval patches cover up bigger holes, the four smaller round patches are for littler punctures, and the self-vulcanizing fluid bonds tube and...
Pedro's 2-Piece Screwdriver Set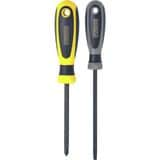 Designed for ease of use, comfort, and lasting durability, Pedro's professional-grade 2-Piece Screwdriver Set provides the common sizes found on bicycles. This includes a #2 Phillips and a 5. 5mm flat-blade screwdriver, both featuring dual-density, ergonomic thermoplastic handles to provide a...
Pedro's 5-Piece Screwdriver Set w/Pouch
Retail Price:
$39.95
Our Price: $30.99
buy now
The Pedros 5-Piece Screwdriver Set includes two Phillips and three flathead screwdrivers, so you never have to search the house to find the right one. Plus, Pedros includes a roll-up organizer that can also be hung from the wall behind your workbench.
Pedro's 5mm Hex Driver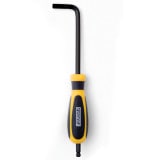 Find us a post-eighties bike that doesn't have a 5mm hex and we'd be impressed. They're everywhere, and even with the Torx family vying for supremacy, the trusty five will always be the most used tool on a mechanic's bench -- that's why Pedro's offers this 5mm Hex Driver. It's for those who...
Pedro's Adjustable Wrench - 10in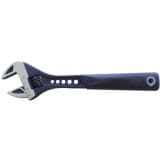 Adjustable wrench's come in all sorts of sizes and shapes ... and quality. Pedro's knows the importance of a premium Adjustable Wrench to mechanics, and offers this 10in version as an alternative to the questionable products populating big-box hardware stores. An innovative jaw design prevents...
Pedro's Apprentice Bench Tool Kit
Retail Price:
$549.95
Our Price: $330.00
buy now
Repair and maintenance on modern bicycles often requires little more than proper tools and an ability to read directions. Acquiring those tools, however, can be daunting. Luckily, Pedro's Apprentice Bench Tool Kit is packed with specialty tools in a turnkey package that covers much more than the...
Pedro's Apprentice Tool Kit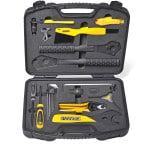 Retail Price:
$249.95
Our Price: $199.95
buy now
If you can read and follow directions, then having Pedro's Apprentice Tool Kit at your disposal will cut down on repair costs and downtime. Instead of a piecemeal tool kit, the Pedro's Apprentice Tool Kit is loaded with specialty tools in a turnkey package that covers much more than the basics....
Pedro's Bench In A Box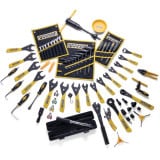 The Pedros Bench In A Box comes with everything from a headset tool to tire levers to a pedal wrench, so you can build, tune, and repair anything. Unless your bike was made on Mars, this Pedros tool kit includes all you need to get the job done. You get 14 sizes of hex wrenches, four spoke...
Pedro's Bottom Bracket Socket - ISIS Compatible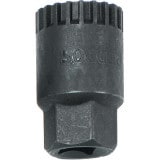 You feel a little slop in your pedals and know the truth in the pit of your stomach. Time to get the Pedros Bottom Bracket Socket and get to work on your bike. Whether your bottom bracket needs a healthy cleaning and greasing or needs to be replaced entirely, this ISIS-compatible Pedros Bottom...
<< Prev | Back | 11 | 12 | 13 | 14 | 15 | 16 | 17 | 18 | 19 | 20 | More | Next >>