Tools - Road Bike Shop
Shop
>
Accessories
>
Tools & Maintenance
>
Tools
Park Tool I-Beam Mini w/ Chain Tool - IB-3
Whether you have to tune your derailleur, change a flat, or fix a chain, the Park Tool I-Beam Mini Fold-Up Tool includes what you need to get the job done right. A selection of hex wrenches, a T25 star drive, and a flathead screw driver helps you adjust, tighten, or loosen just about anything on...
Park Tool INF-2 Shop Inflator
Redesigned to be more durable and easy to use, the Park Tool INF-2 Shop Inflator provides high-pressure inflation for day-in, day-out use in the bike shop or garage. Its 360-degree rotatable head accommodates both Presta and Schrader valves for painless inflation at any angle. The dual-sided head...
Park Tool Magnetic Parts Bowl - MB-1
Retail Price:
$7.95
Our Price: $7.16
buy now
Crawling around on the floor sucks when you're sober. With the Park Tool MB-1 Magnetic Parts Bowl, you won't have to worry about small parts falling on the floor and hiding under things, because they'll be stuck right where you left them: in the bowl.
Park Tool Master Chain Tool - CT-4.3
Retail Price:
$66.95
Our Price: $60.26
buy now
Chains are the lifeblood of your drivetrain. Without one, you have nothing more than a glorified hobby horse. And when they break, it's typically due to sloppy installation. When a professional mechanic installs a chain, it's with a precision unit like this Park Tool CT 4. 3 Master Chain Tool for...
Park Tool Metric Wrench Set - MW-SET
Retail Price:
$75.95
Our Price: $68.36
buy now
Unless you're riding an old Schwinn, those standard wrenches aren't gonna help much, that's why the Park Tool Metric Wrench set is your saving grace when it comes to in-house repairs. Fully equipped with 6-17mm wrenches, the Park Tool Metric Wrench set uses high quality steel and Park guarantees...
Park Tool Metric/English Folding Hex Set - AWS-12C
Retail Price:
$10.95
Our Price: $9.86
buy now
This Park Tool Folding Hex Set includes the most common metric and English sizes to help you with quick fixes on the trail. If you pull a derailleur cable and don't have a hex handy, you're looking at a long ride stuck in high gear. Instead of putting yourself through that misery, why don't you...
Park Tool Mini Chain Brute Chain Tool - CT-5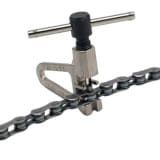 Retail Price:
$16.95
Our Price: $15.26
buy now
Wee but effective, Park Tool's CT-5 Mini Chain Brute Chain Tool is perfect to throw in your pack for trailside repairs. The steel construction is burly enough to pop the pins out of any chain, and the large lever makes the Chain Brute easy to operate without taking your gloves off.
Park Tool MTB-3.2 Premium Rescue Tool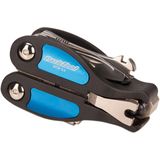 We're not going to say you'd never find yourself in a situation that Park Tool's MTB-3. 2 Premium Rescue Tool couldn't get you out of, but we will say that you'd have to try pretty hard to get there. As its name suggests, the Premium Rescue Tool was designed to get you off the side of the trail...
Park Tool Multi-Tool
The Park Tool Multi-Tool keeps your bikes rolling smoothly on the road and trail with its compact, easy-traveling design and variety of versatile tools. All of the multi-tools include a variety of hex wrenches, Torx-compatible drivers, and combo/straight tip screwdrivers for tightening loose...
Park Tool NP-6 Needle Nose Pliers
The uses for a set of Park Tool NP-6 Needle Nose Pliers are virtually countless. The tight spaces they can reach, the strength and precision they offer, and the durability they promise mean you'll be using the heck out of them, and that's what they're made for. Heat-treated chromoly steel and...
<< Prev | Back | 11 | 12 | 13 | 14 | 15 | 16 | 17 | 18 | 19 | 20 | More | Next >>