Tools - Road Bike Shop
Shop
>
Accessories
>
Tools & Maintenance
>
Tools
Pedro's Folding Hex Set Plus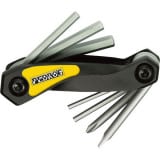 Retail Price:
$12.95
Our Price: $9.70
buy now
Slip this little Folding Hex Set Plus from Pedro's into your saddle bag, and you'll have all the metric hex head sizes you need, plus a flathead screwdriver and either a Torx T25 or Philips No. 2 driver. The ergo handle makes on-road and on-trail wrenching easy on your hands.
Pedro's Folding Hex Wrench Set
The Pedros Folding Hex Wrench Set features a durable composite handle, 1. 5, 2, 2. 5, 3, 4, 5, and 6mm hex wreches--take this tool out on the road with you for quick adjustments and quicker fixes. The Folding Hex Wrench Set's handle features a built in tool stop that allows the wrenches to be...
Pedro's Folding Repair Stand With Bag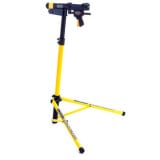 Retail Price:
$299.95
Our Price: $239.95
buy now
Pedro's Folding Repair Stand with Bag is highly portable with its folding design and included carrying bag, eagerly accompanying you to trailheads and race-day starting lines. Its adjustable height allows you to switch between multiple rigs when your buddies' bikes need repairs. The...
Pedro's Hex Bit Set
With proper torque increasing in importance as carbon components become omnipresent, Pedro's Hex Bit Set provides a 1/4-inch drive adapter, common hex sizes, and a T25 torx for the home or professional mechanic. This allows you to use a standard 1/4in drive torque wrench and ensure fasteners are...
Pedro's Hex Pedal Driver
The majority of pedal manufacturers use either a 6 or 8mm hex, which is why Pedro's provides home and shop mechanics with the Hex Pedal Driver. Available in both 6 and 8mm sizes, it's designed for quick and easy installation and removal of pedals and, in the case of the 8mm, cranks too. An...
Pedro's Intensive Care Unit + M7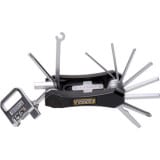 Retail Price:
$29.95
Our Price: $22.45
buy now
Pedro's ICM multi-tool includes a Mavic M7 spoke wrench along with their celebrated Intensive Care Unit to get you on your way. A total of 17 near-universal bike tools, from hex wrenches to tire levers, makes quick work of most road or trailside repairs. This year, Pedro's included a Mavic M7...
Pedro's Magnetic Parts Tray
When you finally get tired of dropping bolts behind your workbench, get yourself the Pedros Magnetic Parts Tray. Even if you tip over this bowl when tuning your bike at a gravel trailhead, you won't lose so much as a screw. Won't that be nice for a change?
Pedro's Master Tool Kit 3.0
The Pedros Master Tool Kit 3. 0 includes, well, basically anything you could possibly need to build, repair, or tune your bike--not to mention an organized, lockable case.
Pedro's Mini Pro Torque Wrench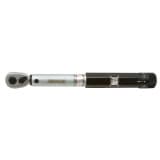 Retail Price:
$149.95
Our Price: $119.99
buy now
You can guess how tight to make all your bike's bolts, or you can use the Pedros Mini Pro Torque Wrench and be sure. Set the desired torque on the handle, and this wrench makes an audible click when you reach the appropriate force. This Pedros wrench covers everything from 3-15 Nm (20-240...
Pedro's Multi Spoke Wrench
Retail Price:
$10.95
Our Price: $8.20
buy now
Pedro's Multi Spoke Wrench is a three-way, shop-quality wheel tool in a compact and ergonomic design for truing and tensioning wheels. It includes the three most common sizes: 3. 2, 3. 3, and 3. 5mm spoke nipples, and is made from heat-treated tool steel for strength and long-lasting performance....
<< Prev | Back | 11 | 12 | 13 | 14 | 15 | 16 | 17 | 18 | 19 | 20 | More | Next >>