Tools - Road Bike Shop
Shop
>
Accessories
>
Tools & Maintenance
>
Tools
Ritchey Tool Torque Key
The Ritchey 5nm Torque Key provides a quick and affordable way to ensure that the correct torque is applied to your Ritchey carbon bar and WCS stem combination. This wrench is preset to 5NM. Fortunately, though, there are a plethora of other bicycle components that require a torque spec of 5NM,...
Saris Cycle Racks Boss Bike Stand
Looking to keep your bike or bikes indoors, but don't feel like bolting a rack into the wall or giving up space to a big bike stand? Or maybe you need a bike stand you can take on the go? Saris has what you need. The Saris Boss Bike Stand is a relatively discrete, lightweight, and foldable rack...
Saris Cycle Racks Hottie Bike Storage Rack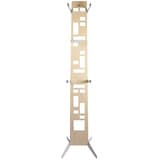 Occupying little floor space when it's not holding up your bike or bikes, the Saris Hottie Bike Storage Rack looks not unlike a tall Art Deco piece in your living room or foyer, with its wood face and bold shapes, yet its form also brings function. The freestanding rack can hold up to two bikes,...
Syntace Torque Bit Set
Retail Price:
$72.25
Our Price: $57.80
buy now
Equip your home shop with the Syntace Torque Bit Set. These quality bits come in 2mm, 2. 5mm, 3mm, 4mm, 5mm, 6mm, 8mm, and Tx25 Torx with a convenient holder.
Thule Universal Bike Stacker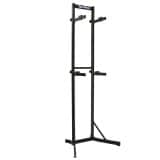 With the Thule Universal Bike Stacker, you'll be able to store two bicycles in your apartment or garage. The Bike Stacker is constructed with 1 x 2in steel to hold your burly downhill mountain bike and your super light roadie or to hold two burly downhill bikes . Soft, V-shaped rubber bike...
Timbuk2 Cash Advance Wallet
Retail Price:
$34.95
Our Price: $19.99
buy now
The perfect tool for the occasional mechanical or mental breakdown, the Timbuk2 Cash Advance Multi-Tool Wallet has all the tools you need to keep things running smoothly. The 15mm axle wrench is there to assist in the event of a flat tire, and the multiple hex wrenches and flathead screwdrivers...
Topeak Alien III Multi Tool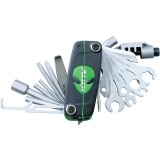 Topeak's Alien Multi Tools have become a staple in many cyclists' hydration packs due to their low weight and numerous features. For the new Alien III Multi Tool this includes 25 tools in total, all wrapped in a sub-300-gram package. Like all Aliens, the III splits in two for ease of use, but...
Topeak Alien XS Multi Tool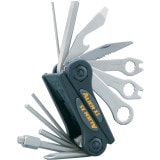 Retail Price:
$24.95
Our Price: $18.75
buy now
The Alien XS Multi Tool is the most compact model in Topeak's iconic line of two-piece bodied Multi Tools. And with an engineering grade plastic body, the 16-function Alien XS tips the scales at a feathery 170g. This allows it to comfortably ride along in shorts, jerseys, and saddle bags or...
Topeak Cable & Housing Cutter
There are cable cutters, and then there's Topeak's Cable and Housing Cutter, which boasts more functions than your typical snippers. Topeak decided to add a crimper to the hardened-steel cutter, and a housing re-former for easy installation of ferrules is a standout feature. This allows you to...
Topeak D-Torq Wrench DX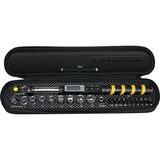 It's well documented that seasoned technicians have a hard time achieving proper specifications without a torque wrench. Topeak's 3/8in drive D-Torq Wrench DX measures Nm, in/lb, ft/lb, or kg/cm, ensuring even the greenest mechanic will achieve manufacturers' desired settings with ease. The...
<< Prev | Back | 11 | 12 | 13 | 14 | 15 | 16 | 17 | 18 | 19 | More | Next >>