Tools - Road Bike Shop
Shop
>
Accessories
>
Tools & Maintenance
>
Tools
Pedro's Pro Pedal Wrench
Pedro's tools are known for their durable construction, as well as for simple solutions to problems every home mechanic faces. The burly 15mm Pedal Wrench features a 305mm-long handle, which provides plenty of leverage for removing even the most stubborn of pedals. Put it this way: If the Pedro's...
Pedro's Pro Socket Handle 2.0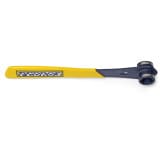 When fighting a stubborn bottom bracket cup, the worst option -- especially if you value the skin on your knuckles -- is a slip-prone, open-end wrench. The ideal alternative is a six-point connection, like the dual-sided 24/25. 4mm (one-inch) opening found here on Pedro's Pro Socket Handle 2. 0....
Pedro's Pro Torque Wrench 2.0
Retail Price:
$144.95
Our Price: $99.95
buy now
Torque all your stuff that needs torque with Pedro's ProTorque Wrench 2. 0. The 2. 0 version of this professional-quality torque wrench sorted out all the security bugs (it's complicated stuff, don't worry about it) so you can apply precise torque 'til you drop. Around here, we generally just...
Pedro's Pro Torx T/L Set - 7 Piece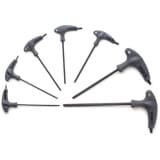 Pedro's release of the Pro Torx T/L Piece Set comes as response to the bike industry's growing use of Torx fasteners on today's two-wheelers. An earth-friendly manganese finish coats the wrenches, adding strength and life span, and a strong elastomer handle gives you grip and leverage to get the...
Pedro's Ratcheting Combo Wrench Set
When you're gearing up for some serious shop time, make sure you have Pedros Ratcheting Combo Wrench Set at the ready. While the open-ends of these wrenches get stuff done like normal, the box end ratchets to help you tighten and loosen bolts in seconds.
Pedro's Rx Multi-tool + M7
The Pedros RxM Multi Tool has all the tools to keep a rider rolling back home. One side of the tool features a folding hex wrench with a 2. 5, 3,4,5,6 and 8mm hex keys, a flat blade screwdriver, and the M7 spoke wrench. The other side features our snap-fit chain tool with a built-in 3. 2, 3. 3,...
Pedro's Shimano Integrated Bottom Bracket Wrench
Pedros made their Shimano Integrated Bottom Bracket Wrench with a precision cut for use with Shimano's new bottom bracket cups.
Pedro's Six-Pack Chain Tool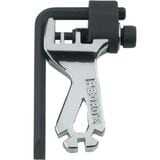 Pedro's combines 3. 2, 3. 3, and 3. 5mm spoke wrenches, a flat-head screwdriver, and 5mm hex wrench into the Six-Pack Chain Tool -- so you can cut redundancy, and weight, out of a tool roll or hydration pack. The Six-Pack is made from heat-treated, tool-grade steel and tips the scales at 80 grams...
Pedro's Star Nut Setter - 1in & 1 1/8in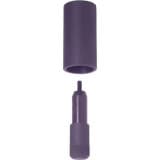 Working with 1-inch and 1 1/8-inch nuts can be a pain in the ass but, the nimble Pedros Star Nut Setter puts those nuts right where you want them. Balls. The Star Nut Setter uses a compact guide tool to ensure proper nut installation--minus the microscope.
Pedro's Starter Tool Kit
Designed with the aspiring mechanic in mind, Pedro's Starter Tool Kit supplies the essentials -- with room to grow. Pedro's fills its portable Burrito Tool Wrap with 19 tools, leaving open spots for expansion. The kit includes a cassette lockring socket and cog wrench, cable cutters, chain tool...
<< Prev | Back | 11 | 12 | 13 | 14 | 15 | 16 | 17 | 18 | 19 | 20 | More | Next >>