Tools - Road Bike Shop
Shop
>
Accessories
>
Tools & Maintenance
>
Tools
Park Tool Screw Type Chain Tool - CT-3
Go to most any pro-quality bike shop and take a peek behind the counter in the work area. The Park Tool CT-3 Chain Tool is most likely the chain tool they rely on to get the job done. The cast steel body makes it comfortable and secure. Likewise, the vinyl covered T-handle gives you plenty of...
Park Tool Shimano/ISIS Bottom Bracket Tool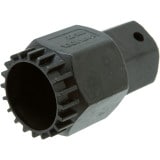 Use the trusty Shimano/ISIS Bottom Bracket Tool to service or replace your ISIS bottom brackets without screaming or needing the assistance of your local mechanic.
Park Tool Shop Cone Wrench Set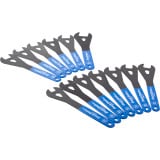 Park Tool makes some of the nicest cone wrenches this side of what you'd find inside a vintage Campagnolo Professional Tool set. And while many of today's modern hubs lack wrench flats for bearing adjustments (or lack bearing adjustments for that matter), some still do, and that's why you'll need...
Park Tool Shop Sprocket Remover / Chain Whip - SR-2.2
The ability to work on your own bike is what distinguishes the fanatic from the frenetic in cycling. The fanatic rides with the satisfaction that his bike is tuned perfectly by his own hands, while the frenetic punishes his bike and relies on a random mechanic to fix it. The Park Tool SR-2. 2...
Park Tool Shop Stool
Standing's lame, so plant your rear on the Park Tool Shop Stool. Not only are you now comfortable seated and no longer bending over to work on your bicycle, you can roll around the shop instead of walking. How cool is that?
Park Tool Sliding Thru Axle Adapter - For PRS-20, PRS-21, and PRS-23
If you're anything like us, having multiple bikes with multiple axle types has turned into quite the headache. Keeping up with industry standards and be a real pain, on both your brain, and your wallet. The Park Tool 1728-TA Sliding Thru Axle Adapter allows you to convert any PRS-20, PRS-21, or...
Park Tool Socket and Bit Set - SBS-1
When it comes to your tools you want something that is going to do the job and last a long time. With the Park Tool Socket and Bit Set - SBS-1 you get both thanks to chrome vanadium steel construction. These 3/8 in drive compatible bits and sockets are ideal for use with Park Tool Torque wrenches...
Park Tool Spoke Wrench SW-0 Through SW-3
This professional quality, precision-sized spoke wrench is hardened and chrome plated for long service. The SW-0 is sized for 3. 22mm (0. 127") nipples and fits Wheelsmith, Marwi and DT, Edco as well as other brands of nipples. The SW-1 is for 3. 3mm (0. 130") nipples. The SW-2 is for 3. 45mm (0....
Park Tool Storage Hook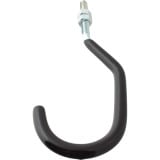 Stop leaning the quiver and start hanging your steeds with a tasty set of Park Tool Storage Hooks. Red for wood threads, black for bolt-on
Park Tool Tabletop Digital Scale - DS-2
Building a project bike is always a blast, and criteria #1, of course, is choosing the very lightest components money can buy. When the time comes, the Park Tool DS-2 Tabletop Gram Scale will become your new best friend. It can handle weights up to 3kg (~6. 6lbs) and will display results in 1g...
<< Prev | Back | 11 | 12 | 13 | 14 | 15 | 16 | 17 | 18 | 19 | 20 | More | Next >>