Tools - Road Bike Shop
Shop
>
Accessories
>
Tools & Maintenance
>
Tools
Pedro's Bench In A Box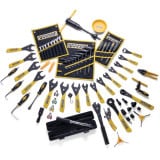 The Pedros Bench In A Box comes with everything from a headset tool to tire levers to a pedal wrench, so you can build, tune, and repair anything. Unless your bike was made on Mars, this Pedros tool kit includes all you need to get the job done. You get 14 sizes of hex wrenches, four spoke...
Pedro's Bottom Bracket Socket - ISIS Compatible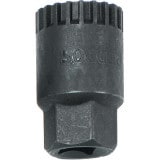 You feel a little slop in your pedals and know the truth in the pit of your stomach. Time to get the Pedros Bottom Bracket Socket and get to work on your bike. Whether your bottom bracket needs a healthy cleaning and greasing or needs to be replaced entirely, this ISIS-compatible Pedros Bottom...
Pedro's Cable Cutter
Retail Price:
$34.95
Our Price: $26.21
buy now
Essential for quality, clean cuts on new cables and housing, Pedro's Cable Cutters are designed for years of service. They feature extra jaw overlap to ensure smooth, equally cut strands every time and they are constructed from heat-treated steel for durability. Pedro's uses stamped steel handles...
Pedro's Cog Wrench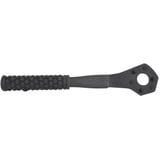 Retail Price:
$29.95
Our Price: $22.99
buy now
If you're tired of dealing with the frustration and bruised knuckles from slipped chain whips, Pedro's Cog Wrench is the answer. It securely holds 11 or 12 tooth cogs while a cassette tool fits in the center of the wrench. This system provides good purchase and leverage for loosening cassettes. A...
Pedro's Cone Wrench
Retail Price:
$12.95
Our Price: $9.07
buy now
Made from laser cut and heat-treated steel, Pedro's Cone Wrench is designed to perfectly fit hub cones to ensure simple and safe usage. An ergonomically designed handle provides maximum leverage and comfort and the wrenches are backed by Pedro's lifetime warranty. Pedro's Cone Wrench comes in...
Pedro's Downhill Tire Lever
It might look like a medieval tongue-depressor, but the Pedro's Downhill Tire Lever is made to get under the biggest, baddest DH tires out there. When plastic levers won't cut it, put away your screwdriver and reach for this big guy.
Pedro's External Bearing Bottom Bracket Socket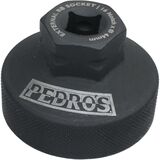 Give Pedro's External Bearing Bottom Bracket Socket and a breaker bar to the new guy and watch him strip aluminum treads with minimal effort. This socket's heat-treated S2 tool steel gives it incredible strength, and in the wrong hands, well, it can get real ugly quick. In the right hands, it can...
Pedro's Folding Hex Set Plus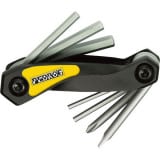 Retail Price:
$12.95
Our Price: $9.70
buy now
Slip this little Folding Hex Set Plus from Pedro's into your saddle bag, and you'll have all the metric hex head sizes you need, plus a flathead screwdriver and either a Torx T25 or Philips No. 2 driver. The ergo handle makes on-road and on-trail wrenching easy on your hands.
Pedro's Folding Hex Wrench Set
The Pedros Folding Hex Wrench Set features a durable composite handle, 1. 5, 2, 2. 5, 3, 4, 5, and 6mm hex wreches--take this tool out on the road with you for quick adjustments and quicker fixes. The Folding Hex Wrench Set's handle features a built in tool stop that allows the wrenches to be...
Pedro's Folding Repair Stand With Bag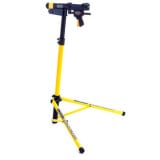 Retail Price:
$299.95
Our Price: $239.95
buy now
Tired of using bystanding junipers and quakies as impromptu bike stands? Pedro's portable Folding Repair Stand loves road trips--just don't let it eat any jerky or chili before the long drive. Throw your bike on top of the car, toss the Folding Repair Stand in the trunk, and set your sights on...
<< Prev | Back | 11 | 12 | 13 | 14 | 15 | 16 | 17 | 18 | 19 | 20 | More | Next >>