Tools - Road Bike Shop
Shop
>
Accessories
>
Tools & Maintenance
>
Tools
Park Tool Shimano/ISIS Bottom Bracket Tool
Use the trusty Shimano/ISIS Bottom Bracket Tool to service or replace your ISIS bottom brackets without screaming or needing the assistance of your local mechanic.
Park Tool Shop Cone Wrench Set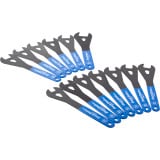 Park Tool makes some of the nicest cone wrenches this side of what you'd find inside a vintage Campagnolo Professional Tool set. And while many of today's modern hubs lack wrench flats for bearing adjustments (or lack bearing adjustments for that matter), some still do, and that's why you'll need...
Park Tool Single Speed Spanner - SS-15
The Park Tool Single Speed Spanner SS-15 is the bike tool you need to complement your minimalist lifestyle. Pedal wrench? Check. 15mm axle nut wrench? Got it. Tire lever? Yup. Bottle opener? You know it. It's got just about everything you need to fix your fixie, and keep you lubed up in the...
Park Tool Spoke Wrench for Mavic Wheel Systems - SW-13
Take control of those pesky Mavic spoke nipple systems with the Park Tool SW-13 Spoke Wrench. The small end accommodates integrated nipples with the 5. 65mm OD splines and 7mm threaded nipples. The large end fits the 9mm spline OD eyelets of 'FORE drilled rim adapters' used on the XM819, EX823,...
Park Tool Spoke Wrench for Shimano Wheel Systems - SW-14
When it's time to adjust your Shimano wheels, reach for the Park Tool SW-14 Shimano Spoke Wrench. This two sided wrench features offset, low-profile heads, which give you plenty of clearance on hub-located or rim-located nipples. One end is 4. 3mm, and the other is 4. 4mm. They'll fit the...
Park Tool Spoke Wrench SW-0 Through SW-3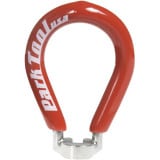 This professional quality, precision-sized spoke wrench is hardened and chrome plated for long service. The SW-0 is sized for 3. 22mm (0. 127") nipples and fits Wheelsmith, Marwi and DT, Edco as well as other brands of nipples. The SW-1 is for 3. 3mm (0. 130") nipples. The SW-2 is for 3. 45mm (0....
Park Tool Tabletop Digital Scale - DS-2
Building a project bike is always a blast, and criteria #1, of course, is choosing the very lightest components money can buy. When the time comes, the Park Tool DS-2 Tabletop Gram Scale will become your new best friend. It can handle weights up to 3kg (~6. 6lbs) and will display results in 1g...
Park Tool Team Issue Portable Repair Stand - PRS-25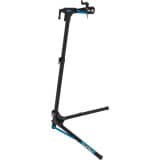 Like the PCS-10 Home Mechanic Stand, Park Tool's PRS-25 Team Issue Repair Stand employs a folding design for easy storage and a three-point base for stability on any surface -- be it smooth concrete in your garage or in a rain soaked gravel lot at a 24 hour race. But compared to the PCS-10, the...
Park Tool Team Race Stand - PRS-20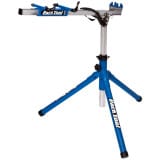 The Park Tool PRS-20 Team Race Stand is a compact, Euro-style work stand that securely holds your bike without clamping the frame tubes or seat post. Ideal for bikes with ultra lightweight frame tubes and seatposts, and for bikes with tight access areas that can't be clamped. Originally designed...
Park Tool Tire & Tube Repair Kit - TR-1C
Remove stubborn tires and seal punctures with the Park Tool Tire & Tube Repair Kit - TR-1C.
<< Prev | Back | 11 | 12 | 13 | 14 | 15 | 16 | 17 | 18 | 19 | 20 | More | Next >>