Tools - Road Bike Shop
Shop
>
Accessories
>
Tools & Maintenance
>
Tools
Park Tool Replacement Chain Tool Pin
We've used the Park CT-3 Chain Tool for decades, and it's a shop essential. The beauty of Park's professional screw-type chain tools is that they last forever. The only maintenance or repair that they'll ever require is the occasional replacement of the drive pin. This Replacement Pin will fit...
Park Tool Rescue Wrench - MT-1C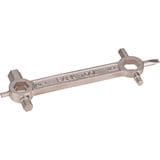 Each of the nine tools on the Park Tool MT-1C Hex Keys is positioned so you don't have to dislocate your wrist just to tighten nuts, bolts, and screws that are hard to reach. The cast-steel and nickel-plated MT-1C multi-tool has five hex wrenches, three socket wrenches, and a screwdriver, and...
Park Tool SCW-SET.3 Cone Wrench Set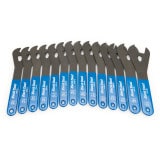 Keep your hubs tight with the Park Tool SCW Cone Wrench Set. This set includes one each of 13-24mm, 26mm, and 28mm wrenches. And because they're built by Park Tool, there's no doubt that these shop-quality wrenches are built to last.
Park Tool Shimano/ISIS Bottom Bracket Tool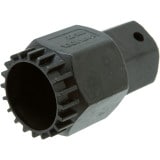 Use the trusty Shimano/ISIS Bottom Bracket Tool to service or replace your ISIS bottom brackets without screaming or needing the assistance of your local mechanic.
Park Tool Single Speed Spanner - SS-15
The Park Tool Single Speed Spanner SS-15 is the bike tool you need to complement your minimalist lifestyle. Pedal wrench? Check. 15mm axle nut wrench? Got it. Tire lever? Yup. Bottle opener? You know it. It's got just about everything you need to fix your fixie, and keep you lubed up in the...
Park Tool Spoke Wrench for Mavic Wheel Systems - SW-13
Take control of those pesky Mavic spoke nipple systems with the Park Tool SW-13 Spoke Wrench. The small end accommodates integrated nipples with the 5. 65mm OD splines and 7mm threaded nipples. The large end fits the 9mm spline OD eyelets of 'FORE drilled rim adapters' used on the XM819, EX823,...
Park Tool Spoke Wrench SW-0 Through SW-3
This professional quality, precision-sized spoke wrench is hardened and chrome plated for long service. The SW-0 is sized for 3. 22mm (0. 127") nipples and fits Wheelsmith, Marwi and DT, Edco as well as other brands of nipples. The SW-1 is for 3. 3mm (0. 130") nipples. The SW-2 is for 3. 45mm (0....
Park Tool Storage Hook
Stop leaning the quiver and start hanging your steeds with a tasty set of Park Tool Storage Hooks. Red for wood threads, black for bolt-on
Park Tool Tabletop Digital Scale - DS-2
Building a project bike is always a blast, and criteria #1, of course, is choosing the very lightest components money can buy. When the time comes, the Park Tool DS-2 Tabletop Gram Scale will become your new best friend. It can handle weights up to 3kg (~6. 6lbs) and will display results in 1g...
Park Tool Tire & Tube Repair Kit - TR-1C
Remove stubborn tires and seal punctures with the Park Tool Tire & Tube Repair Kit - TR-1C.
<< Prev | Back | 11 | 12 | 13 | 14 | 15 | 16 | 17 | 18 | 19 | 20 | More | Next >>