Tools - Road Bike Shop
Shop
>
Accessories
>
Tools & Maintenance
>
Tools
Park Tool Mini Chain Brute Chain Tool - CT-5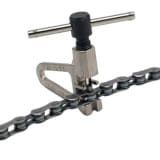 The Park Tool CT-5 Chain Tool is Park's budget chain tool. You'll be able to tackle all necessary work on pretty much any chain under the sun with the CT-5.
Park Tool Needle Nose Pliers - NP-6
Needle nose pliers are undoubtedly one of the most used tools in a bike shop--they need to be tough, well-made, and functional. The Park Tool Needle Nose Pliers are constructed using heat-treated chromoly steel for lifetime of use, and with a six-inch business-end they're the perfect size for...
Park Tool P-Handled Star Shaped Wrench Set of 8
The Park Tool P-Handled Star Shaped Wrench Set includes the eight most commonly-used Torx sizes to give you added power removing or installing brake rotors and other Torx-attached components. Includes T6, T8, T10, T15, T20, T25, T30 and T40 sizes
Park Tool Park Tool Shop Apron
It's easy to dirty up your favorite attire when immersed in man-cave bike repairs. Keep your spouse happy and save money on clothing with the Park Tool Shop Apron Constructed using heavy 7-ounce poly cotton twill for comfort and durability, you'll be hard-pressed to ruin those new pants of...
Park Tool Professional Cable & Housing Cutter - CN-10
The Park Tool CN-10 Professional Cable Cutter has a rubberized grip so it won't slip, and super-sharp jaws that make quick work of both cable and housing.
Park Tool Professional Pedal Wrench - PW-4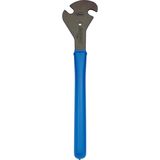 The Park Tool PW-4 Pedal Wrench is the only pedal wrench worth owning. Oversized handle is plenty long for leverage. 15mm offset openings at 30 and 45 degrees so you can easily remove pedals at any angle.
Park Tool Professional Wheel Truing Stand - TS-2.2
The Park Tool TS-2. 2 Professional Wheel Truing Stand is the one to choose for heavy shop use. Alternatively, if you do your own wheel work at home, this is the one you'll want if you appreciate high quality tools and settle for nothing less than the best. The TS-2. 2 accepts wheels up to 29"...
Park Tool Ratcheting Torque Wrench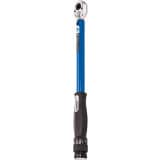 Does your posse call you 'Ham Fist'? Do they say you'd make a great stripper? Did they buy you a set of easy-outs for your birthday? Maybe it's time to start checking yourself with the Park Tools Ratcheting TW-5 Torque Wrench. It's never too late to stop stripping threads, rounding socket heads,...
Park Tool Replacement Chain Tool Pin
We've used the Park CT-3 Chain Tool for decades, and it's a shop essential. The beauty of Park's professional screw-type chain tools is that they last forever. The only maintenance or repair that they'll ever require is the occasional replacement of the drive pin. This Replacement Pin will fit...
Park Tool Rotor Truing Fork - DT-2C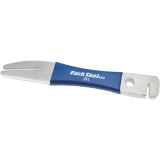 Disc Brakes have been a great advancement for mountain bikes. We love them and can barely remember bikes with anything but. However, sometimes demanding terrain, heat buildup, or even packing and shipping a bike will leave a rotor out of true. They may get bent easily, especially the larger...
<< Prev | Back | 11 | 12 | 13 | 14 | 15 | 16 | 17 | 18 | 19 | 20 | More | Next >>