Tools - Road Bike Shop
Shop
>
Accessories
>
Tools & Maintenance
>
Tools
Park Tool PK-2 Professional Tool Kit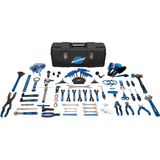 Retail Price:
$814.95
Our Price: $733.46
buy now
Equip your bike shop or home repair space with the Park Tool PK-2 Professional Tool Kit for the very best in rugged, precision-crafted tools for just about any repair or maintenance job that springs up. The Professional Tool Kit comes with over 65 of Park Tool's most useful tools, ensuring you're...
Park Tool Preset Torque Driver
If you've built your svelte road frame up with an equally sleek arrangement of matte carbon componentry, you might as well spring for Park Tool's Preset Torque Driver to avoid turning routine maintenance and quick adjustments into larger issues. Rather than holding your breath every time you...
Park Tool Professional Cable & Housing Cutter - CN-10
Made with cold-forged, heat-treated steel, the sharp jaws of Park Tool's Professional Cable and Housing Cutters CN-10 cleanly sever both cables and housing. The cutters feature a handy built-in crimper for cable ends and a "forming hole" to ensure cables glide smoothly through fresh-cut housing.
Park Tool Professional Pedal Wrench - PW-4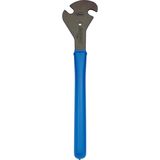 Retail Price:
$35.95
Our Price: $32.36
buy now
Park Tool's PW-4 Pedal Wrench ensures that you're taking care of your toys the correct way. The PW-4 is made with durable Cro-Moly steel and features an oversized handle that provides excellent leverage. The PW-4 allows you to easily remove pedals at any angle with 15mm offset openings at 30 and...
Park Tool Repair Stand Cast Aluminum Tool Tray - 105
Retail Price:
$73.95
Our Price: $66.56
buy now
Keep essential tools within arm's length with the Park Tool Repair Stand Cast Aluminum Tool Tray - 105. Fits PRS-6, PCS-1, and PCS-4 Repair Stands manufactured after June 1996 (using composite top tubes)Fits all versions of the PRS-2, PRS-3, and PRS-13 Shop Stands
Park Tool Rescue Wrench - MT-1C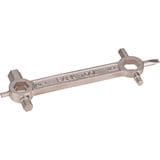 Retail Price:
$11.95
Our Price: $10.76
buy now
Each of the nine tools on the Park Tool MT-1C Hex Keys is positioned so you don't have to dislocate your wrist just to tighten nuts, bolts, and screws that are hard to reach. The cast-steel and nickel-plated MT-1C multi-tool has five hex wrenches, three socket wrenches, and a screwdriver, and...
Park Tool Rotor Truing Fork - DT-2C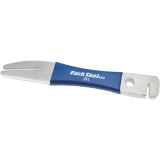 Retail Price:
$18.95
Our Price: $17.06
buy now
Disc Brakes have been a great advancement for mountain bikes. We love them and can barely remember bikes with anything but. However, sometimes demanding terrain, heat buildup, or even packing and shipping a bike will leave a rotor out of true. They may get bent easily, especially the larger...
Park Tool Screw Type Chain Tool - CT-3.2
If you happen to see a shop's workspace, chances are pretty good that Park Tool's CT-3. 2 Screw Type Chain Tool is occupying coveted pegboard space. The combination of effective mechanical practices and utilitarian design have made this chain tool a shop staple, and a home mechanic favorite. It's...
Park Tool Shop Screwdriver Set - SD-SET
Retail Price:
$19.95
Our Price: $17.96
buy now
The Park Tool SD-SET Shop Screwdriver Set includes all the screwdrivers that you'll be using about 95% of the time you are in your shop. These screwdrivers feature comfortable dual-density grips and heat-treated chrome vanadium tips for strength.
Park Tool Shop Sprocket Remover / Chain Whip - SR-2.2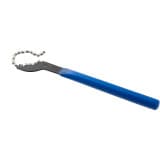 Retail Price:
$39.95
Our Price: $35.96
buy now
Forget the constant slipping of homemade chain whips with the solid and sturdy performance of the Park Tool Shop Sprocket Remover/Chain Whip - SR-2. 2. This sprocket remover/chain whip works with 7, 8, 9, 10, and 11-speed cassettes, meaning it's compatible with both Shimano/SRAM and Campagnolo....
<< Prev | Back | 11 | 12 | 13 | 14 | 15 | 16 | 17 | 18 | 19 | 20 | More | Next >>