Tools - Road Bike Shop
Shop
>
Accessories
>
Tools & Maintenance
>
Tools
Park Tool Shop Stool
Standing's lame, so plant your rear on the Park Tool Shop Stool. You are now comfortably seated and no longer bending over to work on your bicycle. How cool is that?
Park Tool Single Speed Spanner - SS-15
The Park Tool Single Speed Spanner SS-15 is the bike tool you need to complement your minimalist lifestyle. Pedal wrench? Check. 15mm axle nut wrench? Got it. Tire lever? Yup. Bottle opener? You know it. It's got just about everything you need to fix your fixie, and keep you lubed up in the...
Park Tool Socket and Bit Set - SBS-1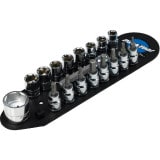 When it comes to your tools you want something that is going to do the job and last a long time. With the Park Tool Socket and Bit Set - SBS-1 you get both thanks to chrome vanadium steel construction. These 3/8 in drive compatible bits and sockets are ideal for use with Park Tool Torque wrenches...
Park Tool Spoke Wrench for Mavic Wheel Systems - SW-13
Take control of those pesky Mavic spoke nipple systems with the Park Tool SW-13 Spoke Wrench. The small end accommodates integrated nipples with the 5. 65mm OD splines and 7mm threaded nipples. The large end fits the 9mm spline OD eyelets of 'FORE drilled rim adapters' used on the XM819, EX823,...
Park Tool Spoke Wrench SW-0 Through SW-3
This professional quality, precision-sized spoke wrench is hardened and chrome plated for long service. The SW-0 is sized for 3. 22mm (0. 127") nipples and fits Wheelsmith, Marwi and DT, Edco as well as other brands of nipples. The SW-1 is for 3. 3mm (0. 130") nipples. The SW-2 is for 3. 45mm (0....
Park Tool Storage Hook
Stop leaning the quiver and start hanging your steeds with a tasty set of Park Tool Storage Hooks. Red for wood threads, black for bolt-on
Park Tool Tabletop Digital Scale - DS-2
Building a project bike is always a blast, and criteria #1, of course, is choosing the very lightest components money can buy. When the time comes, the Park Tool DS-2 Tabletop Gram Scale will become your new best friend. It can handle weights up to 3kg (~6. 6lbs) and will display results in 1g...
Park Tool Tire & Tube Repair Kit - TR-1C
Remove stubborn tires and seal punctures with the Park Tool Tire & Tube Repair Kit - TR-1C.
Park Tool Tire Lever Set - TL-1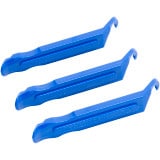 We have learned the hard way the things that do not substitute for a tire lever: Metal spoon, screwdriver, fingers, floor pump thumblock, prayer and much more. The humble tire lever, in this case the Park Tool TL-1 Set-of-3 Tire Levers, is something so simple yet so vital for happy &...
Park Tool Triple Spoke Wrench - SW-7
The Park SW-7 Triple Spoke Wrench has the utility of three tools and combines them into one. It features the three most common spoke nipple sizes. It corresponds to the standard Park black, green and red spoke wrenches. This combo is a boon to the home mechanic who likes to work on their own...
<< Prev | Back | 11 | 12 | 13 | 14 | 15 | 16 | 17 | 18 | 19 | 20 | More | Next >>