Tools - Road Bike Shop
Shop
>
Accessories
>
Tools & Maintenance
>
Tools
Lezyne Torx Block Tool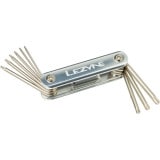 Keep every Torx wrench you'll need handy with the Lezyne Torx Block Tool. The tough I-beam construction handles the worst your ham-fist can dish out.
Lezyne V10 Multi-Tool
We're as tired as you are of cheap multi-tools with bits that round off instantly if you aren't paying a surgeon's attention to what you're doing. We're betting that you hardly ever reach for your micro-multi-tool when you're wrenching at home. Why would you? Full-size tools are tougher, give you...
Lezyne V5 Multi-Tool
We can read your mind. You want a tough multi-tool that's light enough to let you forget all about it until you need it. Lezyne also read your mind, and came through with the V-5 Multi-Tool. The V-5 uses ultra-durable nickel-plated chrome vanadium bits and a lightweight 7075 aluminum frame to...
Nite Ize Gear Tie Dockable Twist Tie - 12in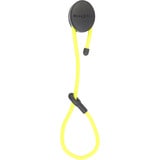 Insanely good for solving problems you didn't even realize you had, the Nite Ize 12-inch Dockable Twist Tie is a strong, light rubberized band of wire that can get a grip on virtually anything. Think of it as a giant, heavy-duty twist tie, because that's what it is. It can suspend up to 25lb and...
Nite Ize Gear Tie Dockable Twist Tie - 24in
Retail Price:
$6.95
Our Price: $5.56
buy now
Sometimes you encounter a product so ingenious you can't but help stare at it in silence for a few moments while your brain goes, "!!!!!" One such item is the Nite Ize 24-inch Gear Tie Dockable Twist Tie. It's little more than a steroidal version of the twist tie you took off the bread bag this...
OTTO Tuning System
The OTTO Tuning System is an ingenious solution for dialing in precise, ultra-accurate shifts on your Shimano/SRAM 10/11-speed drivetrain. Great for competitive racers, road cycling enthusiasts, and trail riders, the OTTO Tuning System verifies your rear derailleur's alignment issues in less than...
Park Tool 11-Speed Compatible ChainWhip/Sprocket Remover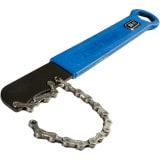 Retail Price:
$30.95
Our Price: $27.86
buy now
Swap your 11-23 for a 12-26 before you head out to the annual hill climb race. The Park Tool SR-11 11-Speed Compatible ChainWhip / Sprocket Remover will help you swap your cassettes in record time, even if you're running that newfangled Italian 11-speed. The one-inch box wrench in the handle fits...
Park Tool 3-Way Hex Wrench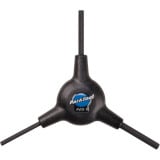 Retail Price:
$10.95
Our Price: $9.86
buy now
When making adjustments to your bike, the three most common hex sizes are 4, 5, and 6mm. Park Tool, being the savvy purveyor of bicycle repair equipment that it is, developed what's quite possibly the most iconic shop tool ever -- the 3-Way Hex Wrench. Known internally at Park Tool as the AWS-1,...
Park Tool 3-Way Internal Nipple Wrench - SW-15
Retail Price:
$14.95
Our Price: $13.46
buy now
Hidden spoke nipples cheat wind, but require specific equipment like Park Tool's innovative SW-15 3-Way Internal Spoke Nipple Wrench. The SW-15 features a 3. 2mm square drive, and both 5 and 5. 5mm hex drive sockets. The low-profile walls fit perfectly in the tight surroundings of most rims, and...
Park Tool Adjustable Crown Race Puller - CRP-2
Retail Price:
$259.95
Our Price: $233.96
buy now
Quickly and easily remove headset crown races from forks with Park Tool's Adjustable Crown Race Puller - CRP-2. Unlike other crown removers, the CRP-2 is fully adjustable to allow precise and independent positioning of blades around the race. By locating each blade independently, this provides...
<< Prev | Back | 11 | 12 | 13 | 14 | 15 | 16 | 17 | 18 | 19 | 20 | More | Next >>