Tools - Road Bike Shop
Shop
>
Accessories
>
Tools & Maintenance
>
Tools
Park Tool Park Tool Shop Apron
It's easy to dirty up your favorite attire when immersed in man-cave bike repairs. Keep your spouse happy and save money on clothing with the Park Tool Shop Apron Constructed using heavy 7-ounce poly cotton twill for comfort and durability, you'll be hard-pressed to ruin those new pants of...
Park Tool Professional Cable & Housing Cutter - CN-10
The Park Tool CN-10 Professional Cable Cutter has a rubberized grip so it won't slip, and super-sharp jaws that make quick work of both cable and housing.
Park Tool Professional Hex Wrench Set - HXS-1.2
You use your hex wrenches more than any other tools. Because of this they get rounded-off and mangles more than any other tools. The Park Tool HXS-1. 2 Professional Hex Wrench Set is precison-machined from super-tough Bondhus Protanium so you'll get years of use out of your hex wrenches. Yup,...
Park Tool Professional Hex Wrench Set with Holder - HXS-2.2
The shop-quality Park Tool HXS-2. 2 Professional Hex Wrench Set with Holder turns your home into a pro bike shop. The wrenches utilize a Bondhus ball tip on the long end for hard-to reach bolts and a flat tip on the short end for a positive fit when more torque is needed. Includes 2, 2. 5, 3, 4,...
Park Tool Professional Pedal Wrench - PW-4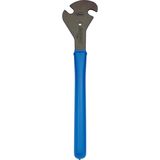 The Park Tool PW-4 Pedal Wrench is the only pedal wrench worth owning. Oversized handle is plenty long for leverage. 15mm offset openings at 30 and 45 degrees so you can easily remove pedals at any angle.
Park Tool Professional Travel and Event Kit - EK-1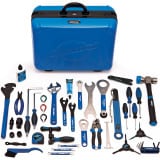 The Park Tool EK-1 Professional Travel and Event Kit is crammed full of Park's finest, most commonly-used tools, so you can just grab it and go to your next race or demo, or just put in your car and be the hero at your next big group ride.
Park Tool Replacement Chain Tool Pin
We've used the Park CT-3 Chain Tool for decades, and it's a shop essential. The beauty of Park's professional screw-type chain tools is that they last forever. The only maintenance or repair that they'll ever require is the occasional replacement of the drive pin. This Replacement Pin will fit...
Park Tool Rescue Wrench - MT-1C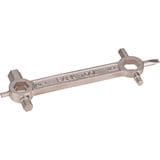 Each of the nine tools on the Park Tool MT-1C Hex Keys is positioned so you don't have to dislocate your wrist just to tighten nuts, bolts, and screws that are hard to reach. The cast-steel and nickel-plated MT-1C multi-tool has five hex wrenches, three socket wrenches, and a screwdriver, and...
Park Tool Rotor Truing Fork - DT-2C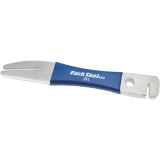 Disc Brakes have been a great advancement for mountain bikes. We love them and can barely remember bikes with anything but. However, sometimes demanding terrain, heat buildup, or even packing and shipping a bike will leave a rotor out of true. They may get bent easily, especially the larger...
Park Tool Screw Type Chain Tool - CT-3.2
If you happen to see a shop's workspace, chances are pretty good that Park Tool's CT-3. 2 Screw Type Chain Tool is occupying coveted pegboard space. The combination of effective mechanical practices and utilitarian design have made this chain tool a shop staple, and a home mechanic favorite. It's...
<< Prev | Back | 11 | 12 | 13 | 14 | 15 | 16 | 17 | 18 | 19 | 20 | More | Next >>