Tools - Road Bike Shop
Shop
>
Accessories
>
Tools & Maintenance
>
Tools
Park Tool Professional Cable & Housing Cutter - CN-10
The Park Tool CN-10 Professional Cable Cutter has a rubberized grip so it won't slip, and super-sharp jaws that make quick work of both cable and housing.
Park Tool Professional Pedal Wrench - PW-4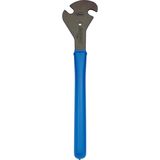 The Park Tool PW-4 Pedal Wrench is the only pedal wrench worth owning. Oversized handle is plenty long for leverage. 15mm offset openings at 30 and 45 degrees so you can easily remove pedals at any angle.
Park Tool Professional Wheel Truing Stand - TS-2.2
The Park Tool TS-2. 2 Professional Wheel Truing Stand is the one to choose for heavy shop use. Alternatively, if you do your own wheel work at home, this is the one you'll want if you appreciate high quality tools and settle for nothing less than the best. The TS-2. 2 accepts wheels up to 29"...
Park Tool Ratcheting Torque Wrench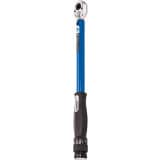 Does your posse call you 'Ham Fist'? Do they say you'd make a great stripper? Did they buy you a set of easy-outs for your birthday? Maybe it's time to start checking yourself with the Park Tools Ratcheting TW-5 Torque Wrench. It's never too late to stop stripping threads, rounding socket heads,...
Park Tool Replacement Chain Tool Pin
We've used the Park CT-3 Chain Tool for decades, and it's a shop essential. The beauty of Park's professional screw-type chain tools is that they last forever. The only maintenance or repair that they'll ever require is the occasional replacement of the drive pin. This Replacement Pin will fit...
Park Tool Rotor Truing Fork - DT-2C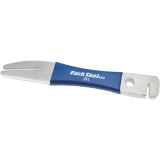 Disc Brakes have been a great advancement for mountain bikes. We love them and can barely remember bikes with anything but. However, sometimes demanding terrain, heat buildup, or even packing and shipping a bike will leave a rotor out of true. They may get bent easily, especially the larger...
Park Tool Shimano/ISIS Bottom Bracket Tool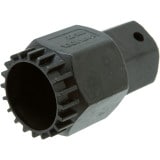 Use the trusty Shimano/ISIS Bottom Bracket Tool to service or replace your ISIS bottom brackets without screaming or needing the assistance of your local mechanic.
Park Tool Shop Stool
Standing's lame, so plant your rear on the Park Tool Shop Stool. You are now comfortably seated and no longer bending over to work on your bicycle. How cool is that?
Park Tool Socket and Bit Set - SBS-1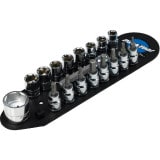 When it comes to your tools you want something that is going to do the job and last a long time. With the Park Tool Socket and Bit Set - SBS-1 you get both thanks to chrome vanadium steel construction. These 3/8 in drive compatible bits and sockets are ideal for use with Park Tool Torque wrenches...
Park Tool Spoke Wrench SW-0 Through SW-3
This professional quality, precision-sized spoke wrench is hardened and chrome plated for long service. The SW-0 is sized for 3. 22mm (0. 127") nipples and fits Wheelsmith, Marwi and DT, Edco as well as other brands of nipples. The SW-1 is for 3. 3mm (0. 130") nipples. The SW-2 is for 3. 45mm (0....
<< Prev | Back | 11 | 12 | 13 | 14 | 15 | 16 | 17 | 18 | 19 | 20 | More | Next >>