Tools - Road Bike Shop
Shop
>
Accessories
>
Tools & Maintenance
>
Tools
Blackburn Toolmanator 12 Multi-Tool
The self-aware Blackburn Toolmanator 12 Multi-Tool is a sentient mechanical device sent from the future to aid in the maintenance of your bicycle. Its indestructible, lightweight aluminum exoskeleton houses a bevy of accoutrements, and slides easily into a jersey or pistol holster, remaining...
Blackburn Toolmanator 16 Multi-Tool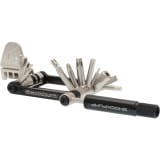 The Blackburn Toolmanator 16 Multi-Tool has gone where no multi-tool has gone before. And it returned with its own shock pump. We're not sure what prompted its journey to the beyond or what strange, futuristic wonders it encountered along the way, but we're glad it made it home safely with its...
Blackburn Toolmanator 5 Multi-Tool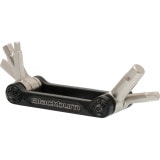 You'd be surprised how few tools you actually need to make most adjustments on your bike. The Blackburn Toolmanator 5 Multi-Tool will cover the vast majority of your maintenance bases. Made from a super-rigid one-piece aluminum frame and hardened chrome vanadium bits, the tool is incredibly slim...
Brooks Tool Kit - MT10
You don't ride without water, food, and tubes, so why would you go out without a quality multitool like the Brooks MT10 Tool Kit?
Brooks Tool Kit - MT21
Biking without a quality multitool is like going to work naked--please please please don't do it.
Campagnolo Tire Lever for Carbon Clincher Rims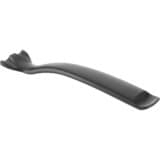 The Campagnolo Tire Lever for Carbon Clincher Rims solves a problem that most people don't realize until it's too late. Trying to remove tightly-beaded tires from carbon clincher rims with squared-edged or metal tire levers can permanently damage the rim beds or rim beads, compromising the...
Chris King 30mm Injector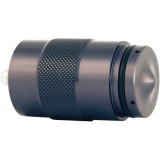 The Chris King 30m BB Injector Tool is made for maintenance of Chris King bottom brackets only. The durable, all-aluminum tool is designed to be used in conjunction with many popular push-type grease gun systems by threading directly onto the gun nozzle. Chris King also provides a zerk fitting...
Chris King Bottom Bracket External Cup Tool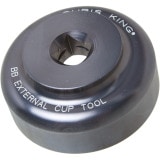 OK, you've just shelled out for your new slice of heaven, a Chris King bottom bracket. Just like the headsets, they come in an array of dazzling anodized colors. Do you really want to torque them into your frame with that half-rusty, stamped steel Shimano external cup wrench? We thought not. What...
Crank Brothers b14 Multi Tool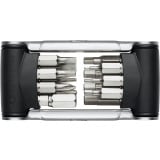 Retail Price:
$26.95
Our Price: $21.56
buy now
That pesky multi-tool. When you have it, you never need it, but once you forget to slip it into your jersey pocket, that's when you need it the most. You don't want to carry your workbench set with you, so make short work of any necessary fixes with Crank Brothers' b14 Multi Tool. Crank Brothers...
Crank Brothers b17 Multi Tool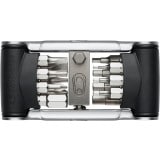 Retail Price:
$32.95
Our Price: $26.36
buy now
For longer rides and tours, having a bevy of tools for small fixes and repairs at your disposal is highly encouraged. And while throwing a few hex wrenches in your saddle bag is useful, a tool such as Crank Brothers' b17 Multi Tool, is just as light and features all the tools necessary to keep...
<< Prev | Back | 1 | 2 | 3 | 4 | 5 | 6 | 7 | 8 | 9 | 10 | More | Next >>