Tools - Road Bike Shop
Shop
>
Accessories
>
Tools & Maintenance
>
Tools
Blackburn Toolmanator 5 Multi-Tool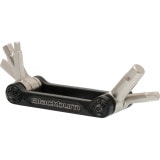 You'd be surprised how few tools you actually need to make most adjustments on your bike. The Blackburn Toolmanator 5 Multi-Tool will cover the vast majority of your maintenance bases. Made from a super-rigid one-piece aluminum frame and hardened chrome vanadium bits, the tool is incredibly slim...
Brooks Tool Kit - MT10
You don't ride without water, food, and tubes, so why would you go out without a quality multitool like the Brooks MT10 Tool Kit?
Brooks Tool Kit - MT21
Biking without a quality multitool is like going to work naked--please please please don't do it.
Chris King 30mm Injector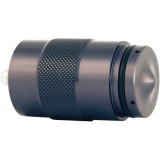 The Chris King 30m BB Injector Tool is made for maintenance of Chris King bottom brackets only. The durable, all-aluminum tool is designed to be used in conjunction with many popular push-type grease gun systems by threading directly onto the gun nozzle. Chris King also provides a zerk fitting...
Crank Brothers b14 Multi Tool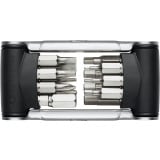 Retail Price:
$26.95
Our Price: $24.26
buy now
That pesky multi-tool. When you have it, you never need it, but once you forget to slip it into your jersey pocket, that's when you need it the most. You don't want to carry your workbench set with you, so make short work of any necessary fixes with Crank Brothers' b14 Multi Tool. Crank Brothers...
Crank Brothers b17 Multi Tool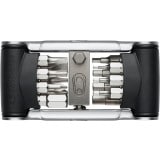 Retail Price:
$32.95
Our Price: $29.66
buy now
For longer rides and tours, having a bevy of tools for small fixes and repairs at your disposal is highly encouraged. And while throwing a few hex wrenches in your saddle bag is useful, a tool such as Crank Brothers' b17 Multi Tool, is just as light and features all the tools necessary to keep...
Crank Brothers b8 Multi Tool
How many times have you thought about putting a multi-tool in your seatbag, tried to shove it in, and then basically given up in frustration? You don't want to buy a bigger seatbag, as that would ruin the aesthetics of your bike, but having been stuck making "that phone call home" on more than...
Crank Brothers Multi 10 Tool
The Crankbrothers Multi-10 Tool is slimmer and more compact than the Multi-17. While it lacks the chain tool and nipple wrenches, it contains all the super handy tools that you'll really use on a regular basis on the trail or on the tailgate to keep your bike rolling smoothly. In fact, its...
Crank Brothers Multi 5 Tool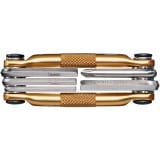 Retail Price:
$12.95
Our Price: $11.66
buy now
Crankbrothers makes elegant stuff, and the Multi-5 is a perfect example. A lightweight, rust-proof aluminum frame houses the essential tools of the trade: 3, 4, 5, 6mm hex key and a Philips screwdriver. Light and small so you can slip it into a jersey pocket and never know it was there.
Crank Brothers PICA Premium Multi-Tool
The Crank Brothers PICA Multi-Tool has everything you need to fix a typical road or trailside mechanical failure. It's the PICA+ minus the 8mm and 10mm sockets. If you can live without those, this is the tool for you.
<< Prev | Back | 1 | 2 | 3 | 4 | 5 | 6 | 7 | 8 | 9 | 10 | More | Next >>