Cleaning Kits Accessories - Road Bike Shop
Shop
>
Accessories
>
Tools & Maintenance
>
Cleaning Kits & Accessories
Paceline Products Eurostyle Sports Wash
When cycling away from home, it might be hours before you can get to a hotel or camp to 'hose off' post-ride. You're pretty much stuck stewing in a mixture of sweat, grime, sunscreen, and embrocation cremes for the drive. Paceline Products addresses this issue with its non-irritating Eurostyle...
Park Tool Bike Cleaning Brush Set - BCB-4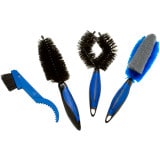 The Park BCB-4 Brush Set includes 4 unique brushes, each designed for a specific purpose in keeping your bike super-clean. A double-ended gear brush helps free packed dirt in between cogs, chains, and rings. For frame tubes and wheels, Park supplies a soft bristle three-quarter circle brush....
Park Tool Bike Cleaning Brush Set - BCB-4.2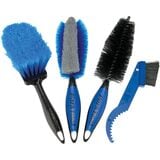 Is your cleaning "kit" still limited to a few decade-old shop rags and a rotation of retired toothbrushes? You can do better, and your bike deserves it. The Park Tool Bike Cleaning Brush Set (or BCB-4. 2) is made up of four brushes: one soft bristle soaping brush, one frame cleaning dual-headed...
Park Tool CM-5.2 Cyclone Chain Scrubber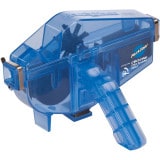 Using an extra-large solvent reservoir and a series of rotating brushes, Park Tool's CM-5. 2 Cyclone Chain Scrubber makes quick work of routine maintenance. At the bottom of the reservoir, magnet keeps abrasive particles from re-entering the drivetrain for longer life and smooth performance. For...
Pedro's Mini Pit Kit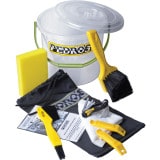 Retail Price:
$49.95
Our Price: $39.95
buy now
The perfect addition to any garage or trunk, Pedro's Mini Pit Kit provides essentials to clean and tune -- conveniently stored in a portable bucket. The 1. 8 gallon bucket stows all included items with room for additional cleaning products so post-ride cleanups are quick and easy. The Mini Pit...
Pedro's Pro Brush Kit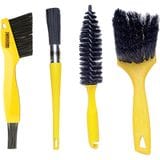 Retail Price:
$21.95
Our Price: $17.95
buy now
The Pedros Pro Brush Kit comes with five brushes to help you get to all those hard-to-reach places. Now you can get in behind your derailleur, inside your rear cassette, or anywhere else you need to reach to clean out the funk from your last ride.
Portland Design Works Mister Sparkle Chain Cleaner
You don't want to be the guy with drivetrain that sounds like he's torturing a family of swallows with each pedal stroke. If you're as meticulous with your bikes as we are with ours, you know the importance of keeping your chain clean of dirt and grime that will quickly degrade your drivetrain....
VeloShine Wipes - 18-Pack
Retail Price:
$9.00
Our Price: $8.00
buy now
Let's face it, a clean bike is better than a dirty one. But how often does your bike truly need a full-on wash? Probably less often than you'd think. Most of the time, you'd be wise to simply clean the sweat and/or drink residue from the frame tubes and occasionally wipe the excess lube and grit...