Cleaning Kits Accessories - Road Bike Shop
Shop
>
Accessories
>
Tools & Maintenance
>
Cleaning Kits & Accessories
Muc-Off Individual Claw Brush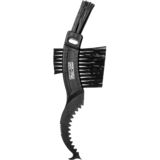 We could all be a little better at maintaining and cleaning our bikes. Not only will parts last longer but they will perform better too. The Muc-Off Individual Claw Brush is perfect for scrubbing dirty drivetrains including chains, cassettes, derailleurs, and chainrings, both in your home shop or...
Paceline Products Eurostyle Skin Wash
When cycling away from home, it might be hours before you can wash-up, and you're pretty much stuck stewing in a mixture of sweat, grime, sunscreen, and embrocation until you do. Paceline Products addresses this issue with its non-irritating Eurostyle Skin Wash. Post ride, just apply the Skin...
Park Tool Bike Cleaning Brush Set - BCB-4.2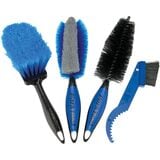 Retail Price:
$21.95
Our Price: $19.76
buy now
Treat your bike right with Park Tool's Bike Cleaning Brush Set. The BCB 4. 2 offers you four different brushes that are designed specifically for bicycles: one soft bristle soaping brush, one frame cleaning dual-headed sponge/bristle brush, one tapered detailing brush, and one gear cleaning brush...
Park Tool GearClean Brush - GSC-1C
Retail Price:
$4.95
Our Price: $4.46
buy now
Get into the nooks and crannies of your drivetrain with Park Tool's GSC-1C GearClean Brush. The curved, toothed end fits in between cassette cogs to free impacted grit, while the stiff bristles break up stubborn dirt.
Park Tool Nitrile Mechanic's Glove - Box of 100
Retail Price:
$23.95
Our Price: $21.56
buy now
Trust us, courting a potential mate with grime-packed finger nails and open sores from nasty solvents isn't going to work out in your favor. Pick up the Park Tool MG-2 Nitrile Work Glove Box of 100 and cleanup will be as simple as pulling the Nitrile Work Glove off when you're done. Improved for...
Park Tool Replacement Brush - For GSC-1
Retail Price:
$1.95
Our Price: $1.75
buy now
When your handy Park Tools GSC-1 brush starts to get a little chunky, or you've lost one too many bristles to an angry, muddy drivetrain, give your brush some much due love with the Park Tools Replacement Brush for GSC-1 GearClean brushes. Its nylon bristles clean derailleurs just like a fresh...
Pedro's Mini Pit Kit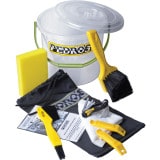 The perfect addition to any garage or trunk, Pedro's Mini Pit Kit provides essentials to clean and tune -- conveniently stored in a portable bucket. The 1. 8 gallon bucket stows all included items with room for additional cleaning products so post-ride cleanups are quick and easy. The Mini Pit...