Cleaning Kits Accessories - Road Bike Shop
Shop
>
Accessories
>
Tools & Maintenance
>
Cleaning Kits & Accessories
Paceline Products Eurostyle Sports Wash
When cycling away from home, it might be hours before you can get to a hotel or camp to 'hose off' post-ride. You're pretty much stuck stewing in a mixture of sweat, grime, sunscreen, and embrocation cremes for the drive. Paceline Products addresses this issue with its non-irritating Eurostyle...
Park Tool Bike Cleaning Brush Set - BCB-4.2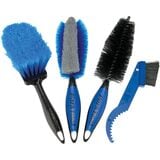 Retail Price:
$21.95
Our Price: $19.76
buy now
Treat your bike right with Park Tool's Bike Cleaning Brush Set. The BCB 4. 2 offers you four different brushes that are designed specifically for bicycles: one soft bristle soaping brush, one frame cleaning dual-headed sponge/bristle brush, one tapered detailing brush, and one gear cleaning brush...
Park Tool CM-5.2 Cyclone Chain Scrubber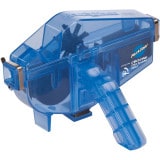 Retail Price:
$26.49
Our Price: $23.84
buy now
Dirt in your drivetrain is a bummer for all sorts of reasons, but Park Tool's CM-5. 2 Cyclone Chain Scrubber makes it easy to keep your links clean. An internal reservoir holds two ounces of chain cleaner, a magnet keeps small particles from reentering your chain after they've been brushed out,...
Park Tool Nitrile Work Glove Box of 100 - MG-2
Retail Price:
$23.95
Our Price: $21.56
buy now
Trust us, courting a potential mate with grime-packed finger nails and open sores from nasty solvents isn't going to work out in your favor. Pick up the Park Tool MG-2 Nitrile Work Glove Box of 100 and cleanup will be as simple as pulling the Nitrile Work Glove off when you're done. Improved for...
Pedro's Mini Pit Kit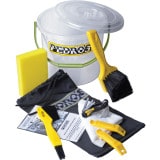 Retail Price:
$50.00
Our Price: $44.00
buy now
The perfect addition to any garage or trunk, Pedro's Mini Pit Kit provides essentials to clean and tune -- conveniently stored in a portable bucket. The 1. 8 gallon bucket stows all included items with room for additional cleaning products so post-ride cleanups are quick and easy. The Mini Pit...
VeloShine Wipes - 18-Pack
Retail Price:
$9.00
Our Price: $8.01
buy now
Let's face it, a clean bike is better than a dirty one. But how often does your bike truly need a full-on wash? Probably less often than you'd think. Most of the time, you'd be wise to simply clean the sweat and/or drink residue from the frame tubes and occasionally wipe the excess lube and grit...