Cleaning Kits Accessories - Road Bike Shop
Shop
>
Accessories
>
Tools & Maintenance
>
Cleaning Kits & Accessories
Paceline Products Eurostyle Sports Wash
When cycling away from home, it might be hours before you can get to a hotel or camp to 'hose off' post-ride. You're pretty much stuck stewing in a mixture of sweat, grime, sunscreen, and embrocation cremes for the drive. Paceline Products addresses this issue with its non-irritating Eurostyle...
Park Tool CM-5.2 Cyclone Chain Scrubber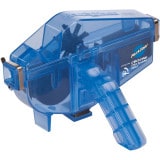 Retail Price:
$26.49
Our Price: $23.84
buy now
Dirt in your drivetrain is a bummer for all sorts of reasons, but Park Tool's CM-5. 2 Cyclone Chain Scrubber makes it easy to keep your links clean. An internal reservoir holds two ounces of chain cleaner, a magnet keeps small particles from reentering your chain after they've been brushed out,...
Park Tool GearClean Brush - GSC-1C
Retail Price:
$4.95
Our Price: $4.46
buy now
Get into the nooks and crannies of your drivetrain with Park Tool's GSC-1C GearClean Brush. The curved, toothed end fits in between cassette cogs to free impacted grit, while the stiff bristles break up stubborn dirt.
Park Tool Nitrile Work Glove Box of 100 - MG-2
Retail Price:
$23.95
Our Price: $21.56
buy now
Trust us, courting a potential mate with grime-packed finger nails and open sores from nasty solvents isn't going to work out in your favor. Pick up the Park Tool MG-2 Nitrile Work Glove Box of 100 and cleanup will be as simple as pulling the Nitrile Work Glove off when you're done. Improved for...
Pedro's Chain Keeper
Spring for the Pedro's USA Chain Keeper and say goodbye to flaccid chains. The Chain Keeper mounts in your rear drop out, keeping tension on the chain so you can stroke, pull, grease, and clean your chain without worrying about it falling or swinging around. The quick release lever comes in handy...
Pedro's Mini Pit Kit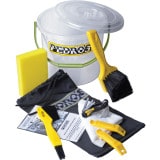 The perfect addition to any garage or trunk, Pedro's Mini Pit Kit provides essentials to clean and tune -- conveniently stored in a portable bucket. The 1. 8 gallon bucket stows all included items with room for additional cleaning products so post-ride cleanups are quick and easy. The Mini Pit...
Pedro's Pro Brush Kit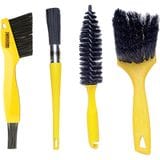 Pedro's Pro Brush Kit lets you give your bike all the tender loving care it deserves with five cycling specific brushes. The Pro Brush Kit comes with a derailleur brush, wheel brush, frame brush, gear cleaning brush, and a hub brush that will reach every nook and cranny. Pedro's also includes a...
Portland Design Works Mister Sparkle Chain Cleaner
Cleaning your chain by hand can be a pain--scrubbing, maintaining tension, and pedaling all the same time is tough--but Portland Design Works Mister Sparkle Chain Cleaner makes polishing your links a breeze. This handy-dandy plastic package has a swing-arm hook that clips onto the derailleur so...