Mini Pumps - Road Bike Shop
Shop
>
Accessories
>
Pumps & Co2 Inflators
>
Mini Pumps
Birzman Velocity Apogee Pump
The Birzman Velocity Apogee Mini Pump may be a little guy, but it can lay down 160 PSI, so it's never met a road tire it can't handle. While it's meant to be frame-mounted or stashed in a pack, it features the same CNC-machined aluminum construction as Birzman's full-sized floor pumps, with a...
Birzman Zacoo Salut Shock Pump with Gauge
Dialing in your suspension is a matter of personal preference, so it helps to have a tool like the Birzman Zacoo Salut Shock Pump with Gauge lying around the garage. Sleek, small, and easy to use, this CNC-machined aluminum pump easily screws onto the Schrader valves in your fork and rear...
Blackburn Airstick Anyvalve Mini Pump
When it comes to designing items like the Airstick Anyvalve Mini Pump, we're usually happy to yield to Blackburn's expertise. But. We do have one critique: instead of Airstick, we would've called the thing Airlog. It's light and small enough to warrant the "stick" categorization, but the amount...
Blackburn Mammoth Anyvalve Mini Pump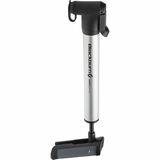 When you're in the middle of a trail system, out of tubes and out of patches, you don't need to be worrying about which valve stem is on the spare tube that kind stranger rocking a classic mid-1990's rig just tossed your way. Air up with any valve at any time with Blackburn's Mammoth Anyvalve...
Blackburn Mammoth C02'Fer Mini Pump
If you're the type of person who can only sometimes find a spare CO2 cartridge when you need it on the trail, Blackburn's Mammoth C02'Fer Mini Pump will work with your seat-of-the-pants style perfectly. The mini pump is not only compatible with Presta, Schrader, and Dunlop valves, but it can also...
Blackburn Mammoth Flex Mini Pump
Don't get caught out on the side of the trail with a flat tire and insufficient air. Be prepared with the Blackburn Mammoth Flex Mini Pump. As its namesake implies, this little pump boasts high volume air transfer to get you back up and rolling quickly. A convenient hose attachment and built-in...
Blackburn Outpost HV Anyvalve Pump
Getting a flat on your fat bike or plus-sized mountain tire makes for a much more strenuous wrist and arm workout on the side of the trail than if you'd gotten one with a normal tire. Thankfully, Blackburn engineered the Outpost HV Anyvalve Pump to save your strength, specifically ensuring the...
Brooks England P1 Hand Pump With Gauge
Brooks England brings its classic British sensibilities to mini pumps with the introduction of its P1 Hand Pump With Gauge. With its clean aesthetics and understated styling, the P1 will look right at home alongside your Brooks saddle and bag. The pump's compact shape suits it to easy storage,...
Fabric Classic Mini Pump
Ditch that old, worn out plastic pump and add some classic style to your jersey pocket with Fabric's Classic Mini Pump. Featuring a sleek, sandblasted aluminum body and an elegant wooden handle, this little pump pushes big air volume to have you back on route after a flat in a flash. Its steel...
Fabric Road Mini Pump
CO2 cartridges may be fast, but they quickly lose their charm once you've run out of spares with miles of debris-strewn road to navigate before you're home. On the other hand, having a Fabric Road Mini Pump along for the ride lets you lose the stress with confidence you'll have all the air you...
<< Prev | 1 | 2 | 3 | 4 | Next >>