Mini Pumps - Road Bike Shop
Shop
>
Accessories
>
Pumps & Co2 Inflators
>
Mini Pumps
Blackburn Airstik 2 Stage Pump
We find ourselves in an internal debate between the Blackburn AirStik 2Stage and the AirStik SL -- faster pumping or smaller size. If you need it on your bike for a race, do you want to save 26g or have almost twice the air volume per stroke? We go back and forth, but the greater air volume does...
Blackburn Airstik SL Pump
What ever happened to the pump peg? Whenever we look at mini-pumps, and the Blackburn AirStik SL is no different, we find ourselves longing for a way to mount a full-size frame pump under the top tube of our bike. They were so easy. Even the plastic Silca pumps were better than most of the...
Blackburn Frame Pump CF
Retail Price:
$49.95
Our Price: $22.48
buy now
You know that one of our bugs, a bee that is almost perpetually in our bonnet is how full-size frame-fit pumps are disappearing from bikes. They are supremely useful and so very PRO. Yes, we know about all the shaped carbon tubesets out there, but trust us, more can fit pumps than you think. We...
Crank Brothers Gem Pump
Stuff the Crank Brothers Gem Pump in your pack and you'll be the envy of flat tire enthusiasts everywhere. This high-volume dual piston pump can get you all the way to 130 PSI if you need it to, and it does it in a hurry. It also does it in stylish anodized color, or in classic silver, if that's...
Crank Brothers Sterling SG Pump
Most mini-pumps make you guess about air pressure. That's right--the old tire squeeze. Not exactly scientific, is it? Not scientifically exact, either. The Crank Brothers Sterling SG has a handy pressure gauge built into the head, so you can get the pressure exactly right, even on the trail.The...
Lezyne Alloy Drive CFH
Retail Price:
$65.00
Our Price: $52.00
buy now
We all make mistakes, and unfortunately, a common one is forgetting a CO2 cartridge before a long ride. If you've never had to hitchhike home from a remote mountain road with a flat tire, you don't want to start now -- trust us. Instead of enduring a single moment of road-side self-loathing, you...
Lezyne Micro Drive HP Pump
Retail Price:
$45.00
Our Price: $36.00
buy now
Some would have you believe that chaos is the natural current of the universe; we see the logic. Chaos expands the boundaries of space. Chaos created the necessity for agriculture. And chaos gives you flat tires when you're trying to get from A to B. The Lezyne Micro Floor Drive HP Pump doesn't...
Lezyne Pen Gauge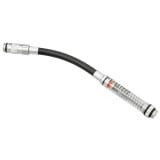 One of the torments of using mini-pump at the side of the road or trail is the absence of a pressure gauge. Lezyne designed their Pen Gauge as an accessory to give you pressure readings while using one of their mini-pumps. The in-line gauge is at the pump end of a flexible hose, similar to the...
Lezyne Road Drive Pump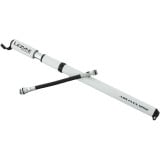 The Lezyne Road Drive Pump is to the Carbon what the Carbon Pressure Drive is to the Pressure Drive. This is the same smart pump design, with the same features, but with one change: CNC-machined aluminum standing in for carbon fiber at the handle, barrel, and frame mount. CNC-machined aluminum...
Portland Design Works Big Silver Pump
Retail Price:
$54.00
Our Price: $32.40
buy now
When it comes to inflation, we typically adopt the form follows function approach to design. This could be derivative of never having our cake and eating too, or just from the hassle of being stranded because of a faulty pump design. However, since its inception, Portland Design Works has been...
<< Prev | 1 | 2 | Next >>