Mini Pumps - Road Bike Shop
Shop
>
Accessories
>
Pumps & Co2 Inflators
>
Mini Pumps
Blackburn Airstik 2 Stage Pump
We find ourselves in an internal debate between the Blackburn AirStik 2Stage and the AirStik SL -- faster pumping or smaller size. If you need it on your bike for a race, do you want to save 26g or have almost twice the air volume per stroke? We go back and forth, but the greater air volume does...
Blackburn Airstik SL Pump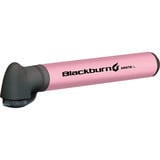 What ever happened to the pump peg? Whenever we look at mini-pumps, and the Blackburn AirStik SL is no different, we find ourselves longing for a way to mount a full-size frame pump under the top tube of our bike. They were so easy. Even the plastic Silca pumps were better than most of the...
Blackburn Mammoth AnyValve Pump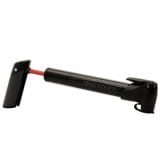 The Blackburn Mammoth AnyValve Pump takes the guesswork out of which adapter goes where. The reason is because there are no adapters to choose from with the Blackburn AnyValve Head which automatically adjusts to fit Presta, Schrader or Dunlop. SO, it's easy to figure it out. The Mammoth weighs...
Blackburn Outpost HV Mini Pump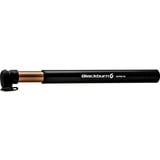 The Blackburn Outpost HV Mini Pump cranks out some serious air from a small space. The Outpost HV (High Volume) has a TwistGrip valve head that can accommodate both Schrader and Presta by simply rotating the head itself, making it easy to operate, even with gloves. You can shove up to 80psi in...
Crank Brothers Pump Mounting Bracket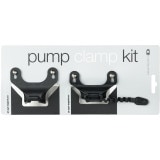 Retail Price:
$5.95
Our Price: $5.36
buy now
Carrying a tire pump in your jersey packet is a bit awkward. There's the worry that it will fall out and well, it just takes up space. However, if you own a Crank Brothers Sterling or Gem pump, you can easily attach it to your bike frame with the Crank Brothers Pump Mounting Bracket. The bracket...
FOX Racing Shox Suspension Pump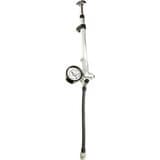 Fox, the market leader in shocks, offers a reliable shock pump with a 300psi gauge that has the requisite rotating hose and screw-on Schrader valve. Plunger-style pump handle fits nicely in the palm of your hand. It features the great Fox logo.
Lezyne ABS Pen Gauge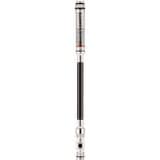 Typically, using your hand pump while out on the trail or on the side of the road to pump up the flat tire you just repaired means simply guessing how much pressure you've added, because hand pumps rarely have pressure gauges. Lezyne has stepped in with a predictably intelligent solution in the...
Lezyne Alloy Drive High Volume Pump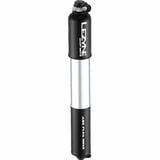 Life is filled with unexpected setbacks. Unfortunately, these happen all too often on the trail. That's why the Lezyne made the Alloy Drive Pump. Featuring the same shape and dimensions as the Carbon Drive 2, the Alloy Drive Pump gives you all of the performance at a fraction of the price. The...
Lezyne Carbon Road Drive 2 Pump
There are those who lament the end of parallel top tubes on bicycle frames. It was so easy to put a long frame-fit pump underneath it. Unfortunately for these people, the Lezyne Carbon Road Drive 2 Pump is only available now, not a decade ago. This pump is sleek, long, and reliable. It comes in...
Lezyne HP Drive Pump
Getting a flat is a drag, but it's infinitely worse when you're dealing with a sub-par mini-pump. And while the Lezyne HP Drive Pump won't get air into your tire as fast as a floor pump, its durable aluminum construction and high-pressure hose ensure that you won't lose any of your precious...
<< Prev | 1 | 2 | Next >>