Floor Pumps - Road Bike Shop
Shop
>
Accessories
>
Pumps & Co2 Inflators
>
Floor Pumps
Birzman Tiny Tanker Travel Pump
Taking all your gear on the road is hard enough without having to find room for a full-sized pump. That said, it's a huge bummer to have to use a hand pump all the time just because you're not at home. Birzman helps solve your travel dilemma with the Tiny Tanker Travel Pump, a fully functional...
Blackburn Air Tower 1 Floor Pump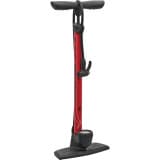 Schrader or Presta? The Blackburn Air Tower 1 answers this age-old question with its magical AnyValve pump head, that just kind of knows, even if you don't.
Lezyne ABS Floor Pump Hose - STD
The basic idea of a floor pump is pretty straightforward: a cylinder and a piston. Many manufacturers get this right, but few can match the reliability and innovation of Lezyne when it comes to hoses. If your hose or valve has failed -- or if you want to preempt that inevitable, ride-cancelling...
Lezyne Alloy Digital Drive Floor Pump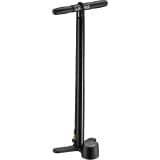 Analog gauges are not just difficult to see, their accuracy can often be questionable. When it comes to tire pressure, a discrepancy of a few psi is not only going to affect ride characteristics and comfort, it can also be the difference between a podium finish and a finishers' medal. For that...
Lezyne Alloy Dirt Floor Drive Pump
There are two differences between the Alloy and CNC Dirt Floor Drive Pumps from Lezyne. The first is that the Alloy has a varnished wood handle. The second is the steel piston substituted for the CNC-machined one. The cost is a little extra weight, but the benefit is a lowered price. If you're a...
Lezyne Alloy Drive Floor Pump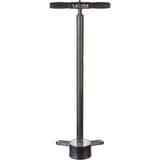 Steel tubes, artisan lugs, box-section rims, Merino wool jerseys. You know you love them, and when you ride, you're not dreaming of 50 millimeter carbon rims, you're imagining that you're the third wheel of the Bahamontes/Gaul rivalry. If you're the kind of cyclist who fetishizes the classic...
Lezyne Classic Dirt Drive Floor Pump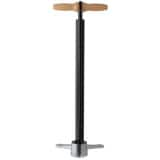 Simple, easy, straightforward; classic. Lezyne's Classic Dirt Floor Drive Pump takes the features of the other high-volume pumps and pairs them up with an economical wood handle, and steel barrel and piston. Lezyne high-volume (aka mountain) pumps are different from their high-pressure (aka road)...
Lezyne Classic Drive Floor Pump
Lezyne clearly appreciates the timeless elements of traditional pump design. After all, it's hard to beat steel, wood, and rubber when it comes to durability. The Classic Drive Floor Pump's inclusion of the decidedly non-traditional ABS Flip-Thread Chuck and disc wheel-compatible Speed Chuck...
Lezyne CNC Digital Drive Pump
Well, the day has arrived. Pumps are now high-tech cycling equipment. While we're quite certain that we could live without the large, easy-to-read, and accurate digital screen on Lezyne's CNC Digital Drive Pump, we have no idea why we'd want to. It certainly wouldn't be because of concerns over...
Lezyne CNC Floor Drive Floor Pump
Floor pumps are one of those invisible pieces of cycling gear that most of us tend to take for granted, but that are integral to the sport. When was the last time you were chatting with a fellow cyclist on the road and, instead of asking what frame material or component group they prefer, you...
<< Prev | 1 | 2 | 3 | 4 | Next >>