Floor Pumps - Road Bike Shop
Shop
>
Accessories
>
Pumps & Co2 Inflators
>
Floor Pumps
Blackburn Air Tower 1 Floor Pump
The Blackburn Air Tower 1 Floor Pump gets the job done, and it gets it done in a hurry. The Air Tower 1 doesn't care whether you're using Shrader or Presta valves--its AnyValve pump head just kind of knows. You don't have to concern yourself--the head locks on either way. The comfortable T-handle...
Blackburn Air Tower 2 Floor Pump
There's nothing worse than getting ready to hop on your bike and head out for a ride then realizing that you forgot to fill up your tires. You got distracted trying to pack food, filling your water bottle -- whatever happened, you now just want to fill them up so you can get on with your ride....
Diamondback Ready-2-Ride Plus Starter Kit
Retail Price:
$69.95
Our Price: $41.97
buy now
Outfitting your bike with all of the gear you'll need for a ride can be overwhelming at first. Diamondback makes establishing your initial tool kit hassle-free with its Ready-2-Ride Plus Starter Kit, created to prepare you for both everyday situations as well as the ones that we hope only happen...
Lezyne ABS Braided Floor Pump Hose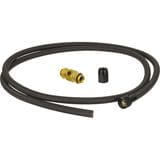 When your newly acquired bundle of cuteness sinks its sharp little puppy teeth into your favorite Lezyne floor pump hose, it's easy to assume you'll need to buy a whole new pump. Never fear though, the Lezyne ABS Braided Floor Pump Hose lets you breathe new life into that mangled, standard...
Lezyne ABS Floor Pump Hose - STD
The basic idea of a floor pump is pretty straightforward: a cylinder and a piston. Many manufacturers get this right, but few can match the reliability and innovation of Lezyne when it comes to hoses. If your hose or valve has failed -- or if you want to preempt that inevitable, ride-cancelling...
Lezyne ABS-2 Chuck
The Lezyne ABS-2 Chuck is an innovative chuck attachment for Lezyne's line of high-pressure floor pumps. It quickly and securely attaches to both Presta and Schrader valves for maximum convenience, bleeding out excess air and fine-tuning pressure with its Air Bleed System (ABS) button. The...
Lezyne Alloy Digital Drive ABS-2 Floor Pump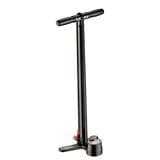 Lezyne created the Alloy Digital Drive Floor Pump because analog gauges have questionable accuracy and are hard to see clearly. A few PSI will affect your ride characteristics and comfort and that could be the difference between you and the podium. Since no one wants to lose because of that, the...
Lezyne Alloy Drive ABS-2 Floor Pump
The Lezyne Alloy Drive Floor Pump puts lesser pumps to shame with its timeless aluminum construction, brilliant anodized finish, and high-pressure output. The pump's 220PSI output ensures proper inflation of both road tires and mountain bike tires, with a 90-degree valve design that allows it to...
Lezyne Classic Drive ABS-2 Floor Pump
Lezyne employs the classic, timeless design it's known for once again with its Classic Drive ABS-2 Floor Pump, delivering a durable, high-pressure floor pump that doesn't have to be hidden away in a closet when not in use. Constructed with a steel barrel and piston, the Classic Drive also...
Lezyne CNC Digital Drive ABS-2 Floor Pump
Dial in just the right amount of tire pressure for your road bike with the Lezyne CNC Digital Drive ABS-2 Floor Pump. This anodized aluminum pump exudes a sleek, upscale aesthetic that's a great addition to your finished garage or workspace. Upgraded from Lezyne's standard floor pumps, its...
<< Prev | 1 | 2 | 3 | 4 | Next >>