Floor Pumps - Road Bike Shop
Shop
>
Accessories
>
Pumps & Co2 Inflators
>
Floor Pumps
Blackburn Air Tower HP Pump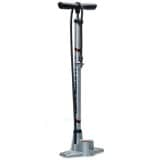 The bigot in us loved that our old floor pump came with a Presta-only head. With a brass chuck and simple rubber internals, it was easy to use. Our buddies with cheap bikes that had schrader valves wouldn't get anything if they walked away with it. It's this prejudice that rears up when we look...
Lezyne Alloy Digital Drive Floor Pump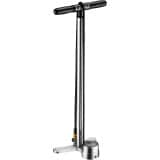 Analog gauges are not just difficult to see, their accuracy can often be questionable. When it comes to tire pressure, a discrepancy of a few psi is not only going to affect ride characteristics and comfort, it can also be the difference between a podium finish and a finishers' medal. For that...
Lezyne Alloy Dirt Floor Drive Pump
There are two differences between the Alloy and CNC Dirt Floor Drive Pumps from Lezyne. The first is that the Alloy has a varnished wood handle. The second is the steel piston substituted for the CNC-machined one. The cost is a little extra weight, but the benefit is a lowered price. If you're a...
Lezyne Classic Dirt Drive Floor Pump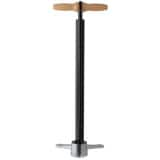 Simple, easy, straightforward; classic. Lezyne's Classic Dirt Floor Drive Pump takes the features of the other high-volume pumps and pairs them up with an economical wood handle, and steel barrel and piston.Lezyne high-volume (aka mountain) pumps are different from their high-pressure (aka road)...
Lezyne Classic Drive Floor Pump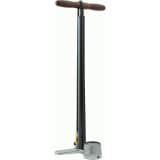 You know why this is called the Classic Floor Drive Pump. Lezyne has took its high pressure (aka road) design and built one up that strongly resembles the Silca Pista of old. Wood handle, steel barrel, steel piston, are all taken out of Silca's playbook.But Lezyne also takes from its own playbook...
Lezyne CNC Dirt Drive Floor Pump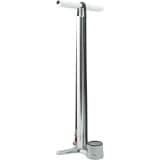 Lezyne believes that road and mountain pumps should not be the same; the two disciplines call for different tires and different pressures. As a result, they've optimized their road designs for high pressure and their mountain designs for high volume. Lezyne's mountain pumps have larger diameter...
Lezyne CNC Floor Drive Floor Pump
A sparkly, shiny floor pump catches our attention. It looks good, like a utopian view of tools, like something that maintains a sleek modernity no matter what. If we're discussing the Lezyne CNC Floor Drive Pump, no matter how much grease gets on it, no matter how much it is used and abused, it...
Lezyne CNC Travel Drive Floor Pump
Retail Price:
$100.00
Our Price: $79.95
buy now
For years, we've seen gear bags that advertise a spot for a floor pump on the bottom of the bag. We've looked at the bag, then our heavy track pump, look back at the bag, and forget about tossing it in. But that's because we hadn't seen a pump like this. Lezyne's CNC Travel Floor Drive Pump is...
Lezyne Danny MacAskill Travel Floor Drive Pump
If you're uninitiated as to who Danny MacAskill is, let's just say that he's arguably the greatest trials rider of our time, if not ever. And if you're familiar with the trials discipline, you know that it takes you to the road less traveled, as well as mandating enough abusive trial-and-error...
Lezyne Speed Chuck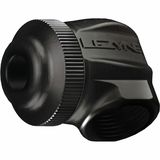 The Speed Chuck is a great add-on to Lezyne floor pumps. It screws onto the Flip-Chuck head at a right angle to make it easy to fit in a disc wheel's valve cavity. It uses washers so you can just press on the chuck without fiddling with screwing on threads. And because it's added beyond the...
<< Prev | 1 | 2 | Next >>