Floor Pumps - Road Bike Shop
Shop
>
Accessories
>
Pumps & Co2 Inflators
>
Floor Pumps
Blackburn Air Tower 1 Floor Pump
Retail Price:
$29.95
Our Price: $20.96
buy now
The Blackburn Air Tower 1 Floor Pump gets the job done, and it gets it done in a hurry. The Air Tower 1 doesn't care whether you're using Shrader or Presta valves--its AnyValve pump head just kind of knows. You don't have to concern yourself--the head locks on either way. The comfortable T-handle...
Blackburn Air Tower 2 Floor Pump
There's nothing worse than getting ready to hop on your bike and head out for a ride then realizing that you forgot to fill up your tires. You got distracted trying to pack food, filling your water bottle -- whatever happened, you now just want to fill them up so you can get on with your ride....
Blackburn Chamber HV Floor Pump
If you've ever spent way too much time and expended far too many CO2 cartridges trying to seat a tubeless mountain bike tire with a floor pump better suited for skinny, high PSI road tires, you'll appreciate the utility of the Blackburn Chamber HV Floor Pump. It trades a low, 50 PSI/3. 4 Bar max...
Blackburn Piston 2 Floor Pump
Replacing a loyal floor pump isn't an occasion that comes around too often, and it's not a choice we ever take lightly. If you're looking for a solid, affordable design with a gauge you'll be able to read without squinting, the Blackburn Piston 2 Floor Pump is calling your name. With an AnyValve...
Lezyne ABS Braided Floor Pump Hose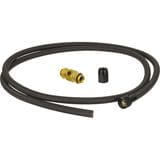 When your newly acquired bundle of cuteness sinks its sharp little puppy teeth into your favorite Lezyne floor pump hose, it's easy to assume you'll need to buy a whole new pump. Never fear though, the Lezyne ABS Braided Floor Pump Hose lets you breathe new life into that mangled, standard...
Lezyne ABS Floor Pump Hose - STD
The basic idea of a floor pump is pretty straightforward: a cylinder and a piston. Many manufacturers get this right, but few can match the reliability and innovation of Lezyne when it comes to hoses. If your hose or valve has failed -- or if you want to preempt that inevitable, ride-cancelling...
Lezyne ABS-2 Chuck
The Lezyne ABS-2 Chuck is an innovative chuck attachment for Lezyne's line of high-pressure floor pumps. It quickly and securely attaches to both Presta and Schrader valves for maximum convenience, bleeding out excess air and fine-tuning pressure with its Air Bleed System (ABS) button. The...
Lezyne Alloy Digital Drive ABS-2 Floor Pump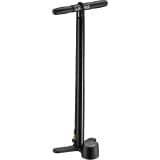 Lezyne created the Alloy Digital Drive Floor Pump because analog gauges have questionable accuracy and are hard to see clearly. A few PSI will affect your ride characteristics and comfort and that could be the difference between you and the podium. Since no one wants to lose because of that, the...
Lezyne Alloy Drive ABS-2 Floor Pump
The Lezyne Alloy Drive Floor Pump puts lesser pumps to shame with its timeless aluminum construction, brilliant anodized finish, and high-pressure output. The pump's 220PSI output ensures proper inflation of both road tires and mountain bike tires, with a 90-degree valve design that allows it to...
Lezyne Alloy Drive Tall Floor Pump
Ditch your cheap, plastic-ridden pump for the upscale brilliance and superior functionality of the Lezyne Alloy Drive Tall Floor Pump. Its anodized aluminum exudes a sleek and sophisticated aesthetic that's sure to complement your finished garage or home workspace. For maximum convenience, it...
<< Prev | 1 | 2 | 3 | 4 | Next >>