Floor Pumps - Road Bike Shop
Shop
>
Accessories
>
Pumps & Co2 Inflators
>
Floor Pumps
Silca Super Pista Floor Pump
Retail Price:
$100.00
Our Price: $70.00
buy now
When Silca first introduced its Pista floor pump, the mountain bike was just a glimmer in its father's eyes. That venerable pump became a cycling icon, still working after decades of service. However, the short fall was that it was designed before high-volume tires, and it missed the mark when...
Topeak Joe Blow ACE Floor Pump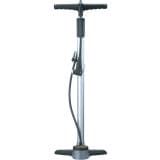 Mountain and road tires are two different animals, requiring completely different ranges of air pressure. That creates a problem when designing a pump as there are two options; high volume, low pressure or low volume, high pressure. But, that's not the case for the 260psi max Joe Blow ACE Floor...
Topeak Joe Blow Mountain Floor Pump
When's the last time you inflated a mountain bike tire over 100psi? In the world of mountain bikes these days, we rarely see pressures exceeding 40psi, and therefore 90 percent of pumps on the market are overbuilt to redundancy in favor of skinny road tires. That's not the case for Topeak's Joe...
Topeak Joe Blow Pro Floor Pump
Simple and durable, Topeak's Joe Blow Pro Floor Pump quickly inflates tires up to 160psi. A padded handle, and wide, stable base provide secure pumping, while the aluminum barrel provides the strength floor pumps need. A large dial gauge and bleed valve aid in achieving the desired pressure, and...
Topeak Joe Blow Race Floor Pump
In a lowly attempt to separate consumers from their hard-earned dollars, products are often twisted and contorted into far-fetched, complicated designs. On the other hand, there's the Joe Blow Race, an honest floor pump with necessary features like a durable barrel and base, a top-mounted analog...
Topeak Joe Blow Sprint Floor Pump
Quickly and easily top off your tires with the Topeak Joe Blow Sprint Floor Pump. An aluminum body and steel base provide secure pumping while a padded, oversized handle provides comfort. The analog pressure gauge is mounted at the top of the barrel for easy reading, unlike most pumps that locate...
<< Prev | 1 | 2 | 3 | Next >>