Floor Pumps - Road Bike Shop
Shop
>
Accessories
>
Pumps & Co2 Inflators
>
Floor Pumps
Pedro's Super Prestige Floor Pump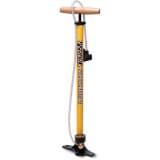 Pedro's knows that pro bike mechanics are tough on their tools. That's why there's the Pedro's Super Prestige Bike Pump: simple, stable, and durable. This road / mountain bike pump's aluminum barrel stands up to the knocks and dings of the shop, and the sleek wooden handle feels comfortable in...
PRO Performance Floor Pump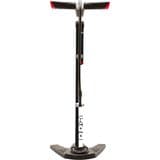 Bike pumps are utilitarian things, but that doesn't mean that they're all created equal. PRO's Performance Floor Pump will get you the pressure you need -- all the way up to 160 PSI -- and its sleek design and durable construction place it a level above most similarly priced floor pumps out there...
Serfas Folding Travel Floor Pump
Retail Price:
$59.95
Our Price: $39.95
buy now
With a folding base and handle and included wall-mounting hardware, the Serfas Folding Travel Floor Pump is almost as dedicated to getting out of the way as it is to inflating tires. Almost. The pump features Serfas' signature Quick Draw pump head for instant compatibility with Presta and...
Silca Aluminum Disc Chuck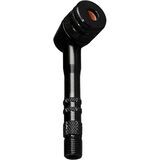 If you've spent any time at the velodrome, or at the start of a time trial, you've most likely heard the term "crack-pipe" at one point or another, which usually gets an odd look from the uninitiated. And, while there could be a "doping" reference in there somewhere, what the riders are referring...
Silca Side Lever Locking Disc Chuck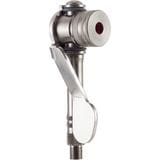 Dialing in pressure on disc wheels can be a nightmare, but it becomes a dream with Silca's Side Lever Locking Disc Chuck. The side lever lets you lock it onto the valve stem in disc wheels, while the rotating head allows for easy alignment of the chuck and valve stem, helping to eliminate hose...
Silca SuperPista Ultimate Pump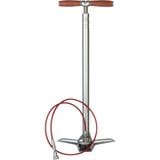 The Silca Superpista Ultimate Pump is a craftsman's delight that will make the daily task of pumping your tires a little less arduous. This work of art is fabricated with a stainless steel barrel and hardware that is machined to minute tolerances. Inside the barrel, the Silca leather washer moves...
SKS Airchecker Digital Gauge/Pressure Regulator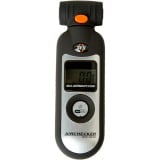 The SKS Airchecker Digital Display Pressure Gauge is a far cry from a squeeze and a "seems good enough" as you roll towards the door for a long training ride. In the same amount of time that you can wonder what your tire pressure is at, you can check it and know. SKS uses modern technology to...
Topeak Joe Blow ACE Floor Pump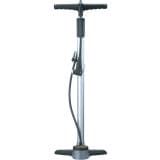 Retail Price:
$149.95
Our Price: $139.45
buy now
Mountain and road tires are two different animals, requiring completely different ranges of air pressure. That creates a problem when designing a pump as there are two options; high volume, low pressure or low volume, high pressure. But, that's not the case for the 260psi max Joe Blow ACE Floor...
Topeak Joe Blow Mountain Floor Pump
When's the last time you inflated a mountain bike tire over 100psi? In the world of mountain bikes these days, we rarely see pressures exceeding 40psi, and therefore 90 percent of pumps on the market are overbuilt to redundancy in favor of skinny road tires. That's not the case for Topeak's Joe...
Topeak Joe Blow Sprint Floor Pump
Quickly and easily top off your tires with the Topeak Joe Blow Sprint Floor Pump. An aluminum body and steel base provide secure pumping while a padded, oversized handle provides comfort. The analog pressure gauge is mounted at the top of the barrel for easy reading, unlike most pumps that locate...
<< Prev | 1 | 2 | 3 | 4 | Next >>