Floor Pumps - Road Bike Shop
Shop
>
Accessories
>
Pumps & Co2 Inflators
>
Floor Pumps
Silca Aluminum Disc Chuck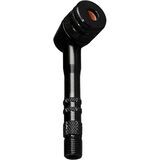 If you've spent any time at the velodrome, or at the start of a time trial, you've most likely heard the term "crack-pipe" at one point or another, which usually gets an odd look from the uninitiated. And, while there could be a "doping" reference in there somewhere, what the riders are referring...
Silca Presta Chuck
Instead of just saying "eh, close enough," get your pressures right on with Silca's Presta Chuck. Silca prides itself on making high-quality parts that last virtually forever. Indeed, this chuck's full 17-4 stainless steel construction looks fantastic and will last for years, while the synthetic...
Silca Side Lever Locking Disc Chuck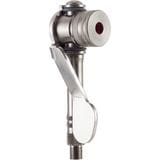 Dialing in pressure on disc wheels can be a nightmare, but it becomes a dream with Silca's Side Lever Locking Disc Chuck. The side lever lets you lock it onto the valve stem in disc wheels, while the rotating head allows for easy alignment of the chuck and valve stem, helping to eliminate hose...
Topeak Joe Blow ACE Floor Pump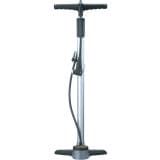 Retail Price:
$149.95
Our Price: $139.95
buy now
Mountain and road tires are two different animals, requiring completely different ranges of air pressure. That creates a problem when designing a pump as there are two options; high volume, low pressure or low volume, high pressure. But, that's not the case for the 260psi max Joe Blow ACE Floor...
Topeak Joe Blow Mountain Floor Pump
When's the last time you inflated a mountain bike tire over 100psi? In the world of mountain bikes these days, we rarely see pressures exceeding 40psi, and therefore 90 percent of pumps on the market are overbuilt to redundancy in favor of skinny road tires. That's not the case for Topeak's Joe...
Topeak Joe Blow Pro Floor Pump
Simple and durable, Topeak's Joe Blow Pro Floor Pump quickly inflates tires up to 160psi. A padded handle, and wide, stable base provide secure pumping, while the aluminum barrel provides the strength floor pumps need. A large dial gauge and bleed valve aid in achieving the desired pressure, and...
Topeak Joe Blow Sprint Floor Pump
Quickly and easily top off your tires with the Topeak Joe Blow Sprint Floor Pump. An aluminum body and steel base provide secure pumping while a padded, oversized handle provides comfort. The analog pressure gauge is mounted at the top of the barrel for easy reading, unlike most pumps that locate...
Topeak Transformer Floor Pump
Retail Price:
$139.95
Our Price: $89.99
buy now
Chances are pretty good that your bike doesn't have a kickstand, and for good reason. But that can make tire inflation a bit of a struggle, particularly when dealing with tubeless tires. Topeak's Transformer Floor Pump has adjustable seat and chainstay hooks and foldable legs that allow the...
<< Prev | 1 | 2 | 3 | Next >>