Co2 Inflators - Road Bike Shop
Shop
>
Accessories
>
Pumps & Co2 Inflators
>
Co2 Inflators
Blackburn Wayside CO2 Thread On Inflator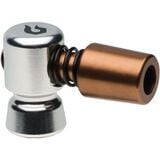 Wayside CO2 Thread On Inflator
Crank Brothers CO2 Inflator + 2 Cartridges
Retail Price:
$19.95
Our Price: $15.96
buy now
You never want to go out on a ride without a way to inflate a flat tire. But, you don't always want to carry a frame pump or anything cumbersome in your pockets. For those days, Crank Brother's CO2 Inflator is the prefect accessory. The Inflator features a simple, rubber coated grip so your...
Crank Brothers CO2 Sterling Refill - 6-Pack
CO2 Sterling Refill - 6-Pack
Innovations 20g Threaded CO2 Cartridges - 2-Pack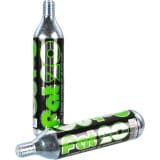 Having a stash of cartridges at home, work, or in the car will help ensure you're always prepared for a flat attack. The 2-Pack Genuine Innovations 20g Threaded Cartridges are compatible with the Air Chuck, NANO, Ultraflate Plus, and many other threaded inflators. The 20g canisters are perfect...
Innovations Air Chuck Elite Inflator
You don't need to carry the kitchen sink with you when you ride, but you should at least have a tube and CO2 cartridges. Genuine Innovations' Air Chuck Elite is a compact CO2 inflator with a lifetime warranty to keep you rolling for the long haul. The inflator features easy push-to-inflate...
Innovations CO2 Refill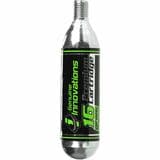 We now sell Innovations 16 gram threaded CO2 Cartridges as singles. Each cartridge has enough CO2 to inflate a 700 x 23c tire to roughly 100psi. On the trail, one 16g cartridge will inflate a typical 26" mountain bike tire to roughly 40psi. We generally like to ride with a couple cartridges for...
Innovations Proflate Elite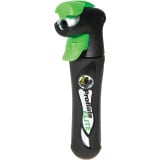 The Genuine Innovations Proflate Elite removes any doubt of over-inflation while using C02 cartridges. It is compatible with 12g threaded,16g threaded and non-threaded, and 20 and 25g threaded C02 cartridges. Simply drop the cartridge into the cup, or screw the cartridge into the head, press onto...
Innovations Tire Repair and Inflation Wallet Kit
Don't get caught without the proper tools to fix a flat. The Genuine Innovations Tire Repair and Inflation Wallet Kit has everything you need, stored in a handy case, so that you'll never be caught taking a taxi home again. The kit includes a Genuine Innovations Microflate C02 inflator, two...
Lezyne Trigger Drive CO2 Cartridge System
Fast air combined with light weight in a tiny package are the reasons why everyone loves using CO2 cartridges The promise has amazing hedonic value and seeing a CO2 inflator in action for the first time is equal to the wonderment of seeing a magician saw someone in half for the first time. The...
Portland Design Works CO2 20 Count Box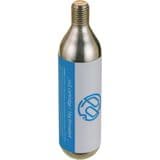 We know the scene; you stock up on three packs of CO2 and after a few group rides, the seemly endless supply of cartridges has been diminished and you're the one in need of rescuing. Buying in bulk is no longer limited to Stinger Waffles and toilet paper, so keep your CO2 stash loaded with the...
<< Prev | 1 | 2 | Next >>