Co2 Inflators - Road Bike Shop
Shop
>
Accessories
>
Pumps & Co2 Inflators
>
Co2 Inflators
Effetto Mariposa Espresso Caffelatex Inflate and Repair Cartridge
If the Effetto Mariposa Espresso Caffelatex Inflate and Repair Cartridge didn't work so damn well we would have written it off as just another gimmicky contraption. It's the real deal. To work the Espresso Cartridge, simply connect the nozzle located at end of the flexible silicone tube directly...
Innovations Microflate Nano CO2 Inflator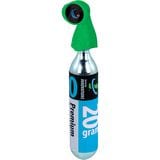 The Innovations Microflate Nano is the smallest CO2 tire inflator we carry. In fact, it is the only inflator that will work within the limited space of a disc wheel valve opening. It's so small that it's sure to fit in the tiniest of seatbags with two cartridges alongside. Keep in mind, the...
Innovations Secondwind Road Aluminum Mini CO2 Inflator
It's the best of both worlds -- a CO2 inflator and a high pressure hand pump. You'll get convenience and reliability, no matter how many flats you get on your next bad luck ride. The Second Wind Road Aluminum Mini has a sturdy alloy body that contains the pump mechanism, so you can be sure that...
Innovations Tire Repair and Inflation Wallet Kit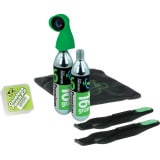 Don't get caught without the proper tools to fix a flat. The Genuine Innovations Tire Repair and Inflation Wallet Kit has everything you need, stored in a handy case, so that you'll never be caught taking a taxi home again. The kit includes a Genuine Innovations Microflate C02 inflator, two...
Lezyne 25G Threaded CO2 Cartridge - 5-Pack Refill
At some point you'll need to restock your jersey pocket with Lezyne 25g CO2 Cartridges, so you may as well buy in bulk. The Lezyne CO2 cartridges are 25 grams of threaded bliss each, and are available in packages of five, so load up.
Lezyne Alloy Drive CO2 Inflator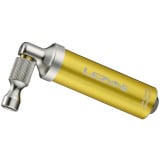 Retail Price:
$28.00
Our Price: $19.99
buy now
Flat tires are a lot like cramps, ingrown toenails, and taxes. They suck, but they're part of life. While there's no way to make a flat tire an entirely painless experience, the Lezyne Alloy Drive CO2 Kit makes a pretty solid effort. By removing the most common aggravations of the least...
Portland Design Works CO2 20 Count Box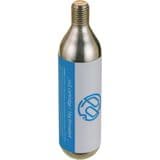 We know the scene; you stock up on three packs of CO2 and after a few group rides, the seemly endless supply of cartridges has been diminished and you're the one in need of rescuing. Buying in bulk is no longer limited to Stinger Waffles and toilet paper, so keep your CO2 stash loaded with the...
Portland Design Works CO2 3-Pack
Travel pumps are great, but let's face it, to the average passerby, the wild action of crouched inflation might solicit a warranted phone call to the police. Do yourself a favor and enter the world of CO2 inflation. And when you get there, pick up the Portland Design Works CO2 3-Pack to keep your...
SRAM CO2 Refill - 16g Threaded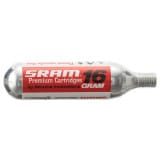 While SRAM is well known for their componentry, they also make accessories. These 16 gram CO2 Threaded Refills are sold as singles. Each cartridge has enough CO2 to inflate a 700c x 23mm tire to roughly 100psi. On the trail, one 16g cartridge will inflate a typical 26in mountain bike tire to...
Topeak Air Booster CO2 Inflator Head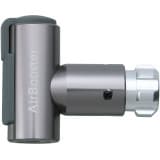 The evolution of CO2 inflators is one colored with frustration from brittle composites and premature releases. We've come a long way from CO2 inflators of the '90s, and Topeak's Air Booster embodies the highest level of development. Incredibly small, the Air Booster is about 1. 5in long and high,...
<< Prev | 1 | 2 | Next >>