Co2 Inflators - Road Bike Shop
Shop
>
Accessories
>
Pumps & Co2 Inflators
>
Co2 Inflators
Blackburn Wayside CO2 Thread On Inflator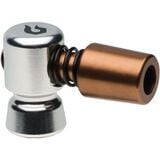 When you've been waylaid by an unfortunate puncture, then the last thing you want to deal with is an overcomplicated widget. With its easy operation (turn the CO2 cartridge when the inflator is seated on your valve) and compact, space-saving design, the Blackburn Wayside CO2 Thread-On Inflator...
Crank Brothers CO2 Inflator + 2 Cartridges
Retail Price:
$19.95
Our Price: $17.96
buy now
You never want to go out on a ride without a way to inflate a flat tire. But, you don't always want to carry a frame pump or anything cumbersome in your pockets. For those days, Crank Brother's CO2 Inflator is the prefect accessory. The Inflator features a simple, rubber coated grip so your...
Crank Brothers CO2 Sterling Refill - 6-Pack
The Crank Brothers CO2 Sterling Refill 6-Pack will work for nearly any inflator that accepts 16g threaded cartridges, but frankly, they're going to look best when paired CB's ingenious Sterling Inflator.
Innovations 20g Threaded CO2 Cartridges - 2-Pack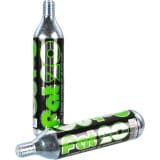 Having a stash of cartridges at home, work, or in the car will help ensure you're always prepared for a flat attack. The 2-Pack Genuine Innovations 20g Threaded Cartridges are compatible with the Air Chuck, NANO, Ultraflate Plus, and many other threaded inflators. The 20g canisters are perfect...
Innovations Air Chuck Elite Inflator
You don't need to carry the kitchen sink with you when you ride, but you should at least have a tube and CO2 cartridges. Genuine Innovations' Air Chuck Elite is a compact CO2 inflator with a lifetime warranty to keep you rolling for the long haul. The inflator features easy push-to-inflate...
Innovations CO2 Refill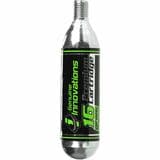 We now sell Innovations 16 gram threaded CO2 Cartridges as singles. Each cartridge has enough CO2 to inflate a 700 x 23c tire to roughly 100psi. On the trail, one 16g cartridge will inflate a typical 26" mountain bike tire to roughly 40psi. We generally like to ride with a couple cartridges for...
Innovations Proflate Elite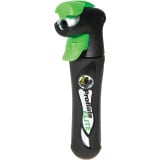 The Genuine Innovations Proflate Elite removes any doubt of over-inflation while using C02 cartridges. It is compatible with 12g threaded,16g threaded and non-threaded, and 20 and 25g threaded C02 cartridges. Simply drop the cartridge into the cup, or screw the cartridge into the head, press onto...
Innovations Tire Repair and Inflation Wallet Kit
Don't get caught without the proper tools to fix a flat. The Genuine Innovations Tire Repair and Inflation Wallet Kit has everything you need, stored in a handy case, so that you'll never be caught taking a taxi home again. The kit includes a Genuine Innovations Microflate C02 inflator, two...
Lezyne 16G Threaded CO2 Cartridge - 5-Pack Refill
If you're like us, and prefer CO2 to a frame pump, then Lezyne is the obvious way to go. Featured here are threaded 16g CO2 cartridges for use with all Lezyne CO2 inflators. It inflates 700c road tires to around 120psi (8. 3bar), or one 26-inch mountain tire to 30psi (2. 1bar). Even better, they...
Lezyne Caddy Kit
The Lezyne Caddy Kit keeps you from being stranded next time you end up with a pinch flat on a deserted desert trail or lonely stretch of country road. This flat repair kit comes with a durable, weatherproof Caddy Sack and Lezyne's Twin Speed CO2 for simple inflation with both Presta and Schrader...
<< Prev | 1 | 2 | 3 | Next >>