Co2 Inflators - Road Bike Shop
Shop
>
Accessories
>
Pumps & Co2 Inflators
>
Co2 Inflators
Innovations 20g Threaded CO2 Cartridges - 2-Pack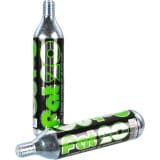 Having a stash of cartridges at home, work, or in the car will help ensure you're always prepared for a flat attack. The 2-Pack Genuine Innovations 20g Threaded Cartridges are compatible with the Air Chuck, NANO, Ultraflate Plus, and many other threaded inflators. The 20g canisters are perfect...
Innovations Proflate Elite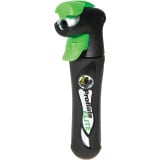 The Genuine Innovations Proflate Elite removes any doubt of over-inflation while using C02 cartridges. It is compatible with 12g threaded,16g threaded and non-threaded, and 20 and 25g threaded C02 cartridges. Simply drop the cartridge into the cup, or screw the cartridge into the head, press onto...
Innovations Tire Repair and Inflation Wallet Kit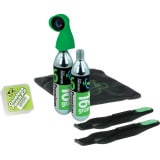 Don't get caught without the proper tools to fix a flat. The Genuine Innovations Tire Repair and Inflation Wallet Kit has everything you need, stored in a handy case, so that you'll never be caught taking a taxi home again. The kit includes a Genuine Innovations Microflate C02 inflator, two...
Lezyne 25G Threaded CO2 Cartridge - 5-Pack Refill
At some point you'll need to restock your jersey pocket with Lezyne 25g CO2 Cartridges, so you may as well buy in bulk. The Lezyne CO2 cartridges are 25 grams of threaded bliss each, and are available in packages of five, so load up.
Lezyne Alloy Drive CO2 Inflator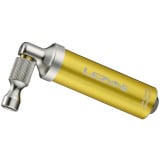 Retail Price:
$28.00
Our Price: $19.99
buy now
Flat tires are a lot like cramps, ingrown toenails, and taxes. They suck, but they're part of life. While there's no way to make a flat tire an entirely painless experience, the Lezyne Alloy Drive CO2 Kit makes a pretty solid effort. By removing the most common aggravations of the least...
Silca EOLO III - CO2 Regulator with 16gm Cartridges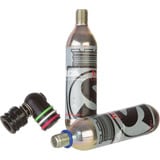 When CO2 cartridges were first developed in the early 1980s, inflating your tires accurately was a bit troublesome. With Silca's invention of the EOLO, the user finally had the ability to control the flow of air, making cartridge use much more mainstream. The EOLO III is the latest version of...
Silca Ultra-Premium CO2 Cartridges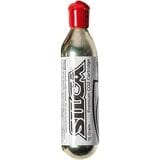 Not all CO2 cartridges are the same, and for an item that can make the difference between continuing a ride and making a phone call for a bail out, you'll want a cartridge that has been certified for safety. Silca's Ultra-Premium CO2 Cartridges are so well-designed they are used in life vests and...
SRAM CO2 Refill - 16g Threaded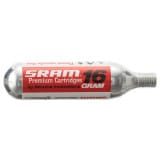 While SRAM is well known for their componentry, they also make accessories. These 16 gram CO2 Threaded Refills are sold as singles. Each cartridge has enough CO2 to inflate a 700c x 23mm tire to roughly 100psi. On the trail, one 16g cartridge will inflate a typical 26in mountain bike tire to...
Topeak Air Booster CO2 Inflator Head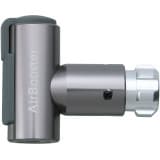 The evolution of CO2 inflators is one colored with frustration from brittle composites and premature releases. We've come a long way from CO2 inflators of the '90s, and Topeak's Air Booster embodies the highest level of development. Incredibly small, the Air Booster is about 1. 5in long and high,...
Topeak Air Booster Race Pod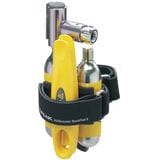 Dialing in a repair kit takes years of fine tuning to get it right. Topeak's Air Booster Race Pod, however, cuts down the trial and error by putting the necessities for quick tire repairs in a clean kit that attaches to seatposts. The kit features Topeak's Air Booster CO2 inflator, two tire...