Co2 Inflators - Road Bike Shop
Shop
>
Accessories
>
Pumps & Co2 Inflators
>
Co2 Inflators
Airshot 1.15L Tubeless Inflator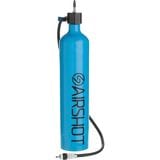 We all agree that tubeless has promise, with its pinch flat resistance and lower pressure capacity making for better handling and more time enjoying the ride. However, between wasted CO2 cartridges and time spent hopping from shop to shop in search of a compressor that will seat a finicky tire,...
Birzman Infinite Apogee Road Frame Pump with CO2 Inflator and Cartridges
No one really looks forward to getting a flat, but, like tax day or visiting your in-laws, it's one of those things that's just gonna happen. At least with the Birzman Infinite Apogee Road Frame Pump with CO2 Inflator and Cartridges, you'll be prepared for every (mild) catastrophe with the...
Blackburn Outpost CO2 Cupped Inflator
When you flat far from anywhere, it's a giant relief to know you have the Blackburn Outpost CO2 Cupped Inflator tucked into your pack or jersey pocket. Its sleek design cups the included CO2 canister so your hand won't freeze while you inflate, and the CNC-machined alloy valve automatically...
Blackburn Wayside CO2 Thread On Inflator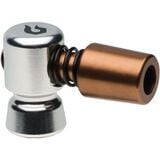 When you've been waylaid by an unfortunate puncture, then the last thing you want to deal with is an overcomplicated widget. With its easy operation (turn the CO2 cartridge when the inflator is seated on your valve) and compact, space-saving design, the Blackburn Wayside CO2 Thread-On Inflator...
Fabric CO2 Tool Kit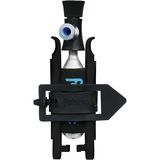 A flat tire on the road or trail is no one's favorite mid-ride interruption, but Fabric's clean and tidy CO2 Tool Kit aims to cheer you up and get you back on two wheels as quickly as possible. Perfect for tucking into a saddle pack or even a jersey pocket, the kit contains two reinforced tire...
Innovations Proflate Elite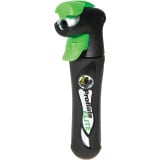 The Genuine Innovations Proflate Elite removes any doubt of over-inflation while using C02 cartridges. It is compatible with 12g threaded,16g threaded and non-threaded, and 20 and 25g threaded C02 cartridges. Simply drop the cartridge into the cup, or screw the cartridge into the head, press onto...
Innovations Tire Repair and Inflation Wallet Kit
Don't get caught without the proper tools to fix a flat. The Genuine Innovations Tire Repair and Inflation Wallet Kit has everything you need, stored in a handy case, so that you'll never be caught taking a taxi home again. The kit includes a Genuine Innovations Microflate C02 inflator, two...
Lezyne 25G Threaded CO2 Cartridge - 5-Pack Refill
At some point you'll need to restock your jersey pocket with Lezyne 25g CO2 Cartridges, so you may as well buy in bulk. The Lezyne CO2 cartridges are 25 grams of threaded bliss each, and are available in packages of five, so load up.
Lezyne Caddy Kit
The Lezyne Caddy Kit keeps you from being stranded next time you end up with a pinch flat on a deserted desert trail or lonely stretch of country road. This flat repair kit comes with a durable, weatherproof Caddy Sack and Lezyne's Twin Speed CO2 for simple inflation with both Presta and Schrader...
Lezyne Control Drive CO2
The Lezyne Control Drive CO2 Inflator does just what the name suggests--it gives you control over your CO2 cartridge. By opening and closing the control valve, you can release as much or as little CO2 as you need. The Control Drive is oversized, so you don't have to take your gloves off to...
<< Prev | 1 | 2 | 3 | Next >>