Co2 Inflators - Road Bike Shop
Shop
>
Accessories
>
Pumps & Co2 Inflators
>
Co2 Inflators
Effetto Mariposa Espresso Caffelatex Inflate and Repair Cartridge
If the Effetto Mariposa Espresso Caffelatex Inflate and Repair Cartridge didn't work so damn well we would have written it off as just another gimmicky contraption. It's the real deal. To work the Espresso Cartridge, simply connect the nozzle located at end of the flexible silicone tube directly...
Innovations Tire Repair and Inflation Wallet Kit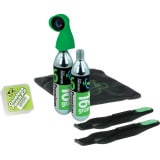 Don't get caught without the proper tools to fix a flat. The Genuine Innovations Tire Repair and Inflation Wallet Kit has everything you need, stored in a handy case, so that you'll never be caught taking a taxi home again. The kit includes a Genuine Innovations Microflate C02 inflator, two...
Lezyne 25G Threaded CO2 Cartridge - 5-Pack Refill
At some point you'll need to restock your jersey pocket with Lezyne 25g CO2 Cartridges, so you may as well buy in bulk. The Lezyne CO2 cartridges are 25 grams of threaded bliss each, and are available in packages of five, so load up.
Portland Design Works CO2 20 Count Box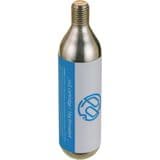 We know the scene; you stock up on three packs of CO2 and after a few group rides, the seemly endless supply of cartridges has been diminished and you're the one in need of rescuing. Buying in bulk is no longer limited to Stinger Waffles and toilet paper, so keep your CO2 stash loaded with the...
Silca EOLO III - CO2 Regulator with 16gm Cartridges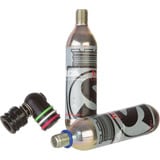 When CO2 cartridges were first developed in the early 1980s, inflating your tires accurately was a bit troublesome. With Silca's invention of the EOLO, the user finally had the ability to control the flow of air, making cartridge use much more mainstream. The EOLO III is the latest version of...
Silca Ultra-Premium CO2 Cartridges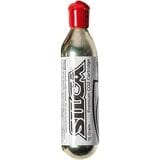 Not all CO2 cartridges are the same, and for an item that can make the difference between continuing a ride and making a phone call for a bail out, you'll want a cartridge that has been certified for safety. Silca's Ultra-Premium CO2 Cartridges are so well-designed they are used in life vests and...
Topeak Air Booster CO2 Inflator Head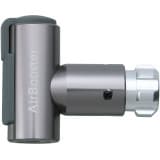 The evolution of CO2 inflators is one colored with frustration from brittle composites and premature releases. We've come a long way from CO2 inflators of the '90s, and Topeak's Air Booster embodies the highest level of development. Incredibly small, the Air Booster is about 1. 5in long and high,...
Topeak Air Booster Race Pod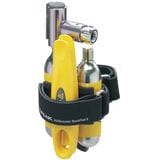 Dialing in a repair kit takes years of fine tuning to get it right. Topeak's Air Booster Race Pod, however, cuts down the trial and error by putting the necessities for quick tire repairs in a clean kit that attaches to seatposts. The kit features Topeak's Air Booster CO2 inflator, two tire...
Topeak SmartGauge D2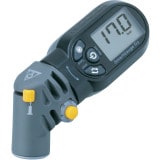 It doesn't matter how many years are under your belt; squeezing a tire is no way to determine proper inflation pressure. Topeak's SmartGauge D2, however, is the proper solution to quantifying your pressures. The gauge features Topeak's rotating SmartHead, meaning it'll work seamlessly with both...