Co2 Inflators - Road Bike Shop
Shop
>
Accessories
>
Pumps & Co2 Inflators
>
Co2 Inflators
Effetto Mariposa Espresso Caffelatex Inflate and Repair Cartridge
If the Effetto Mariposa Espresso Caffelatex Inflate and Repair Cartridge didn't work so damn well we would have written it off as just another gimmicky contraption. It's the real deal. To work the Espresso Cartridge, simply connect the nozzle located at end of the flexible silicone tube directly...
Innovations 20g Threaded CO2 Cartridges - 2-Pack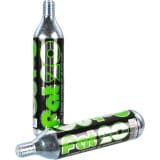 Having a stash of cartridges at home, work, or in the car will help ensure you're always prepared for a flat attack. The 2-Pack Genuine Innovations 20g Threaded Cartridges are compatible with the Air Chuck, NANO, Ultraflate Plus, and many other threaded inflators. The 20g canisters are perfect...
Innovations Air Chuck Elite Inflator
You don't need to carry the kitchen sink with you when you ride, but you should at least have a tube and CO2 cartridges. Genuine Innovations' Air Chuck Elite is a compact CO2 inflator with a lifetime warranty to keep you rolling for the long haul. The inflator features easy push-to-inflate...
Innovations CO2 Refill
We now sell Innovations 16 gram threaded CO2 Cartridges as singles. Each cartridge has enough CO2 to inflate a 700 x 23c tire to roughly 100psi. On the trail, one 16g cartridge will inflate a typical 26" mountain bike tire to roughly 40psi. We generally like to ride with a couple cartridges for...
Portland Design Works CO2 20 Count Box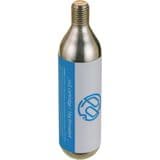 We know the scene; you stock up on three packs of CO2 and after a few group rides, the seemly endless supply of cartridges has been diminished and you're the one in need of rescuing. Buying in bulk is no longer limited to Stinger Waffles and toilet paper, so keep your CO2 stash loaded with the...
SRAM CO2 Refill - 16g Threaded
While SRAM is well known for their componentry, they also make accessories. These 16 gram CO2 Threaded Refills are sold as singles. Each cartridge has enough CO2 to inflate a 700c x 23mm tire to roughly 100psi. On the trail, one 16g cartridge will inflate a typical 26in mountain bike tire to...
Topeak Air Booster CO2 Inflator Head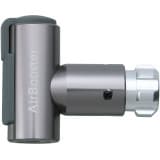 The evolution of CO2 inflators is one colored with frustration from brittle composites and premature releases. We've come a long way from CO2 inflators of the '90s, and Topeak's Air Booster embodies the highest level of development. Incredibly small, the Air Booster is about 1. 5in long and high,...
Topeak Air Booster Race Pod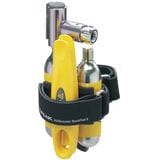 Dialing in a repair kit takes years of fine tuning to get it right. Topeak's Air Booster Race Pod, however, cuts down the trial and error by putting the necessities for quick tire repairs in a clean kit that attaches to seatposts. The kit features Topeak's Air Booster CO2 inflator, two tire...
Topeak SmartGauge D2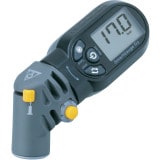 It doesn't matter how many years are under your belt; squeezing a tire is no way to determine proper inflation pressure. Topeak's SmartGauge D2, however, is the proper solution to quantifying your pressures. The gauge features Topeak's rotating SmartHead, meaning it'll work seamlessly with both...