Co2 Inflators - Road Bike Shop
Shop
>
Accessories
>
Pumps & Co2 Inflators
>
Co2 Inflators
Airshot 1.15L Tubeless Inflator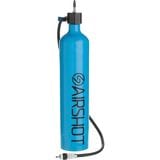 We all agree that tubeless has promise, with its pinch flat resistance and lower pressure capacity making for better handling and more time enjoying the ride. However, between wasted CO2 cartridges and time spent hopping from shop to shop in search of a compressor that will seat a finicky tire,...
Birzman E-Grip CO2 Inflator with Cartridge
Sleek, shiny, and easy to use, the Birzman E-Grip CO2 Inflator with Cartridge is able to inflate Presta- and Schrader-equipped road and mountain bike tubes in seconds, so you don't have to languish for days on the side of the road just to hit 80 PSI with a tiny hand pump. The E-Grip accepts all...
Birzman Infinite Apogee Road Frame Pump with CO2 Inflator and Cartridges
No one really looks forward to getting a flat, but, like tax day or visiting your in-laws, it's one of those things that's just gonna happen. At least with the Birzman Infinite Apogee Road Frame Pump with CO2 Inflator and Cartridges, you'll be prepared for every (mild) catastrophe with the...
Birzman Roar CO2 Inflator with Three 16g CO2 Threaded Cartridges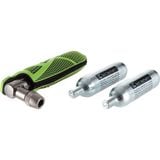 Instead of wearing your shoulder out with that old mini-pump, inflate your tire in seconds with the Birzman Roar CO2 Inflator. It's compact, sleek, and compatible with both Presta and Schrader valves, so you'll never be caught unprepared, and comes with three 16oz cartridges so you'll be ready...
Blackburn Outpost CO2 Cupped Inflator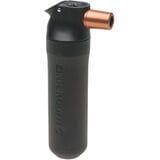 When you flat far from anywhere, it's a giant relief to know you have the Blackburn Outpost CO2 Cupped Inflator tucked into your pack or jersey pocket. Its sleek design cups the included CO2 canister so your hand won't freeze while you inflate, and the CNC-machined alloy valve automatically...
Blackburn Wayside CO2 Thread On Inflator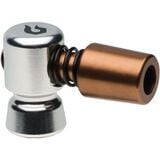 When you've been waylaid by an unfortunate puncture, then the last thing you want to deal with is an overcomplicated widget. With its easy operation (turn the CO2 cartridge when the inflator is seated on your valve) and compact, space-saving design, the Blackburn Wayside CO2 Thread-On Inflator...
Crank Brothers CO2 16g Threaded - 30 Cartridges Bulk Pack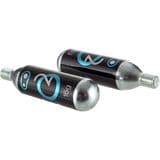 Retail Price:
$59.99
Our Price: $47.99
buy now
The only thing worse than flatting is kneeling next to the trail for 10 minutes pumping up your patched tube with one of those micro pumps. Exhausting. The Crank Brothers CO2 Sterling Refill 30-Pack will work for nearly any inflator that accepts 16g threaded cartridges, but frankly, they're going...
Crank Brothers CO2 Inflator + 2 Cartridges
Frame pumps can be a burden to carry sometimes, but there's nothing worse than being stranded with a flat. Crank Brother's sleek CO2 Inflator offers you an easy solution. The Inflator uses a simple, rubber-coated grip to protect your fingers from the cold CO2 cartridge, and the spring-loaded head...
Innovations 20g Threaded CO2 Cartridges - 2-Pack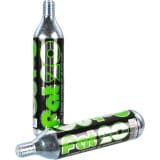 Having a stash of cartridges at home, work, or in the car will help ensure you're always prepared for a flat attack. The 2-Pack Genuine Innovations 20g Threaded Cartridges are compatible with the Air Chuck, NANO, Ultraflate Plus, and many other threaded inflators. The 20g canisters are perfect...
Innovations Proflate Elite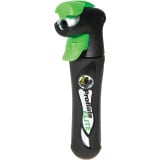 The Genuine Innovations Proflate Elite removes any doubt of over-inflation while using C02 cartridges. It is compatible with 12g threaded,16g threaded and non-threaded, and 20 and 25g threaded C02 cartridges. Simply drop the cartridge into the cup, or screw the cartridge into the head, press onto...
<< Prev | 1 | 2 | 3 | Next >>