Co2 Inflators - Road Bike Shop
Shop
>
Accessories
>
Pumps & Co2 Inflators
>
Co2 Inflators
Effetto Mariposa Espresso Caffelatex Inflate and Repair Cartridge
If the Effetto Mariposa Espresso Caffelatex Inflate and Repair Cartridge didn't work so damn well we would have written it off as just another gimmicky contraption. It's the real deal. To work the Espresso Cartridge, simply connect the nozzle located at end of the flexible silicone tube directly...
Innovations 20g Threaded CO2 Cartridges - 2-Pack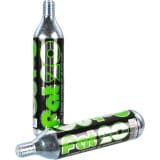 Having a stash of cartridges at home, work, or in the car will help ensure you're always prepared for a flat attack. The 2-Pack Genuine Innovations 20g Threaded Cartridges are compatible with the Air Chuck, NANO, Ultraflate Plus, and many other threaded inflators. The 20g canisters are perfect...
Innovations CO2 Refill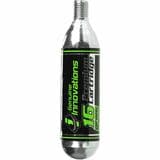 We now sell Innovations 16 gram threaded CO2 Cartridges as singles. Each cartridge has enough CO2 to inflate a 700 x 23c tire to roughly 100psi. On the trail, one 16g cartridge will inflate a typical 26" mountain bike tire to roughly 40psi. We generally like to ride with a couple cartridges for...
Lezyne Trigger Drive CO2 Cartridge System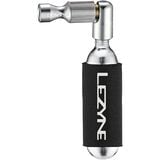 Fast air combined with light weight in a tiny package are the reasons why everyone loves using CO2 cartridges The promise has amazing hedonic value and seeing a CO2 inflator in action for the first time is equal to the wonderment of seeing a magician saw someone in half for the first time. The...
SRAM 20g CO2 Cartidge
Retail Price:
$3.50
Our Price: $2.80
buy now
While SRAM is better known for its componentry, it also makes top-shelf accessories like CO2 refills. This 20 gram CO2 cartridge will fill a single 700c x 23mm tire to approximately 100 psi. On the trail, one 20g cartridge will inflate a 26in tire to around 40psi. We usually ride with a few of...