Co2 Inflators - Road Bike Shop
Shop
>
Accessories
>
Pumps & Co2 Inflators
>
Co2 Inflators
Innovations Tire Repair and Inflation Wallet Kit
Don't get caught without the proper tools to fix a flat. The Genuine Innovations Tire Repair and Inflation Wallet Kit has everything you need, stored in a handy case, so that you'll never be caught taking a taxi home again. The kit includes a Genuine Innovations Microflate C02 inflator, two...
Lezyne 25G Threaded CO2 Cartridge - 5-Pack Refill
At some point you'll need to restock your jersey pocket with Lezyne 25g CO2 Cartridges, so you may as well buy in bulk. The Lezyne CO2 cartridges are 25 grams of threaded bliss each, and are available in packages of five, so load up.
Lezyne Caddy Kit
The Lezyne Caddy Kit keeps you from being stranded next time you end up with a pinch flat on a deserted desert trail or lonely stretch of country road. This flat repair kit comes with a durable, weatherproof Caddy Sack and Lezyne's Twin Speed CO2 for simple inflation with both Presta and Schrader...
Lezyne Control Drive CO2
The Lezyne Control Drive CO2 Inflator does just what the name suggests--it gives you control over your CO2 cartridge. By opening and closing the control valve, you can release as much or as little CO2 as you need. The Control Drive is oversized, so you don't have to take your gloves off to...
Lezyne Control Drive CO2 25G
Retail Price:
$32.99
Our Price: $29.94
buy now
Keep the Lezyne Control Drive CO2 25G handy on longer road jaunts and spirited trail rides where low tire pressure and pinch flats are bound to happen. The Control Drive comes with one 25-gram CO2 cartridge for quick inflation of high-pressure road tubes/tires and standard trail tubes/tires. It...
Lezyne Repair Kit
Don't get stranded in the middle of nowhere with a flat. Instead, pick up the Lezyne Repair Kit for everything you need to fix your punctured tube. This repair kit contains a reusable storage bag and Lezyne's Twin Speed Drive for easy inflation with both Presta and Schrader valves. Its two-piece...
Lezyne Trigger Drive CO2 Cartridge System
CO2 cartridges are great--they're quick, easy, and lightweight. However, they lack the control of a traditional pump. The Lezyne Trigger Drive CO2 Cartridge System changes that. The Trigger Drive is made with a machined aluminum chuck for light weight and durability. It joins the valve at a right...
Lezyne Trigger Speed Drive Co2 Inflator
Save yourself from the danger of a repetitive motion injury using mini pumps. To make life easier, you should enjoy the convenience of CO2 inflators on the side of the road or trail, and you'll be back up and running a whole lot faster as well. Though Lezyne makes a number of great pumps, this...
Lezyne Twin Speed Drive CO2 Inflator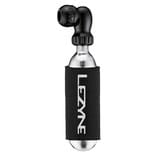 Retail Price:
$19.99
Our Price: $13.99
buy now
The Lezyne Twin Speed Drive CO2 Inflator has a name that's slightly misleading, we'll admit. The inflator doesn't enable double inflation speeds (as though the virtually instantaneous process of inflating your tires with CO2 cartridges wasn't fast enough), but it does have a dual-head design that...
Park Tool TB-2 Emergency Tire Boot Set
When your Saturday long ride takes you over a few stretches of questionable tarmac, you aren't as surprised as you are frustrated when you feel the undeniable "thump" letting you know you have a flat. Fixing the gash in your tire won't take you off the road for too long if you have Park Tool's...
<< Prev | 1 | 2 | 3 | Next >>