Co2 Inflators - Road Bike Shop
Shop
>
Accessories
>
Pumps & Co2 Inflators
>
Co2 Inflators
Portland Design Works CO2 20 Count Box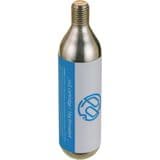 We know the scene; you stock up on three packs of CO2 and after a few group rides, the seemly endless supply of cartridges has been diminished and you're the one in need of rescuing. Buying in bulk is no longer limited to Stinger Waffles and toilet paper, so keep your CO2 stash loaded with the...
Portland Design Works CO2 3-Pack
Travel pumps are great, but let's face it, to the average passerby, the wild action of crouched inflation might solicit a warranted phone call to the police. Do yourself a favor and enter the world of CO2 inflation. And when you get there, pick up the Portland Design Works CO2 3-Pack to keep your...
Portland Design Works Shiny Object CO2 Inflator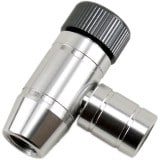 The Portland Design Works Shiny Object CO2 Inflator is constructed from the ever-durable aluminum alloy. And considering that it's smaller in stature than a CO2 cartridge, there's no reason to be stranded with a flat -- that is, unless you forgot a tube. Hey, things happen. But the Shiny Object's...
Silca EOLO III - CO2 Regulator with 16gm Cartridges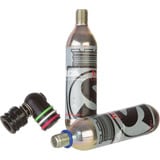 When CO2 cartridges were first developed in the early 1980s, inflating your tires accurately was a bit troublesome. With Silca's invention of the EOLO, the user finally had the ability to control the flow of air, making cartridge use much more mainstream. The EOLO III is the latest version of...
Silca Ultra-Premium CO2 Cartridges
Not all CO2 cartridges are the same, and for an item that can make the difference between continuing a ride and making a phone call for a bail out, you'll want a cartridge that has been certified for safety. Silca's Ultra-Premium CO2 Cartridges are so well-designed they are used in life vests and...
SRAM CO2 Refill - 16g Threaded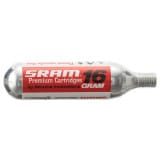 While SRAM is well known for their componentry, they also make accessories. These 16 gram CO2 Threaded Refills are sold as singles. Each cartridge has enough CO2 to inflate a 700c x 23mm tire to roughly 100psi. On the trail, one 16g cartridge will inflate a typical 26in mountain bike tire to...
<< Prev | 1 | 2 | Next >>