Co2 Inflators - Road Bike Shop
Shop
>
Accessories
>
Pumps & Co2 Inflators
>
Co2 Inflators
Park Tool TB-2 Emergency Tire Boot Set
When your Saturday long ride takes you over a few stretches of questionable tarmac, you aren't as surprised as you are frustrated when you feel the undeniable "thump" letting you know you have a flat. Fixing the gash in your tire won't take you off the road for too long if you have Park Tool's...
Portland Design Works CO2 3-Pack
Pumping up a flat is great if you're working on your forearm muscles, but if you just want to fill up your tire and get going, a cartridge from the Portland Design Works CO2 3-Pack's a better way to go. Each cartridge will fill up a road or mountain tire enough to get you home, and they're...
Silca EOLO III - C02 Regulator
We love CO2 cartridges and regulators for their compact portability and fast air delivery, but we don't love the resultant frozen fingertips that come along with that utility. Silca addresses that issue with its EOLO III CO2 Regulator and the classy style we've come to expect from anything the...
Silca Ultra-Premium CO2 Cartridges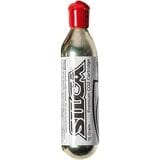 Not all CO2 cartridges are the same, and for an item that can make the difference between continuing a ride and making a phone call for a bail out, you'll want a cartridge that has been certified for safety. Silca's Ultra-Premium CO2 Cartridges are so well-designed they are used in life vests and...
<< Prev | 1 | 2 | Next >>