Powermeters - Road Bike Shop
Shop
>
Accessories
>
Powermeters & Computers
>
Powermeters
PowerTap G3 46 Carbon Clincher Wheelset
While we all know that the art of carbon wheel manufacturing is a science, we tend to forget that training and racing are as well. Two of the most innovative companies from these fields got together to form the PowerTap G3/Reynolds 46mm Carbon Clincher Wheelset. Now, whether you're training or...
PowerTap G3 Alloy Wheelset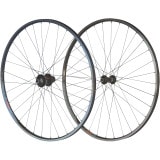 You now have no excuses for omitting those harsh sections of road from your training rides. You know, those stretches you've always wanted to check out, but have always avoided while running your precious carbon hoops. However, when equipped with proper wheels underneath you, such as PowerTap's...
PowerTap G3 ENVE SES 3.4 Carbon Tubular Wheelset
You live and breathe by numbers. Sure, your training wheels have a PowerTap, but you need the money-makers. Why? Because you need to know just how powerful that final sprint was, but your training wheels just won't do for racing. Now, there's finally a wheelset that utilizes the very latest in...
PowerTap G3 ENVE SES 6.7 Carbon Tubular Wheelset
Pair the engineering of a former F1 aerodynamicist with some of the most advanced power training technology available, and you receive a package that's nearly impossible to beat. Yes, we're talking about PowerTap's new G3 SES 6. 7 Tubular Wheelset that incorporates wind tunnel-developed front...
Quarq Elsa BB30
It could easily be argued that if you're not training with power, you're simply not training. At this point, the success of power-based training and racing is irrefutable. And now that Quarq's thrown the rule book out the window with its new Elsa BB30, the aforementioned becomes more of a fact...
Quarq Elsa GXP
Grams have been shaved, accuracy increased, and stiffness taken to a new a level. Of course, we're talking about the new Quarq Elsa GXP. Representing the shape of Quarq to come, the Elsa is packed full of the latest and greatest in SRAM crank technology, as well as carrying a few features that...
Quarq Riken BB30
So, besides a $300 price difference, the question begs to be asked, how do the Quarq Riken BB30 and Elsa actually differ? Surprisingly, the answer is not much -- that is if you're not a habitual gram counter. In fact, the overall functionality of the two systems are nearly identical, only...
Quarq Riken GXP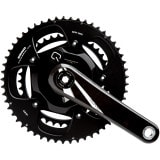 Let's face it, the sport of cycling tends to be slow in its adoption to change. Whereas the powermeter used to be considered a luxury item for the most elite of pros (the types who sleep in altitude tents and wear space legs), it's now a prerequisite for anyone seeking success in the saddle....
SRAM Red 22 Quarq Powermeter - BB30
SRAM and Quarq have once again put their best technologies forward to create the new Red 22 Quarq Powermeter - BB30 cransket. The original 2012 joining of the masterminds resulted in the Red crankset seamlessly pairing with Quarq's top-end powermeter, which is why both revered manufacturers once...
SRM Campagnolo Powermeter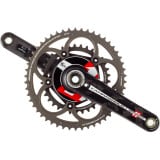 The Campagnolo Powermeter is the brainchild from a marriage between SRM engineers and the Campagnolo Design Team. The result is SRM's most powerful and precise powermeter in existence, and remains as the only Campagnolo powermeter for a reason--perfection. Displaying a true dedication to this...
<< Prev | 1 | 2 | Next >>