Gps Computers - Road Bike Shop
Shop
>
Accessories
>
Powermeters & Computers
>
Gps & Computers
CatEye Adventure Computer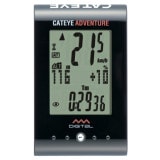 Retail Price:
$99.95
Our Price: $49.95
buy now
With the new CatEye Adventure Wireless Computer, you gain access to all of the crucial cycling metrics you've come to expect from CatEye, as well as an integrated altimeter. CatEye designed the Adventure Computer with its ease-of-use at the forefront of design. Accordingly, its ClickTec Plus...
Columbia Escapade Watch - Women's
Retail Price:
$54.95
Our Price: $41.21
buy now
With the Women's Escapade Watch from Columbia you get time-telling style at an affordable price. The bezel is made of tough, durable stainless steel so it won't give up on you at a crucial moment, and the strap is made from silicone for non-slip comfort all day long, no matter how sweaty you get...
Garmin Fenix 2 Special Edition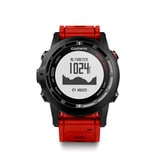 The Garmin Fenix 2 Special Edition offers all of the features of the standard Fenix 2, with one key change. The screen is the negative of the standard edition, displaying dark information on a white field. We celebrated the release of the Special Edition because we find the light mode to be more...
Garmin Fenix 2 Special Edition Performer Bundle
For any outdoor child trapped in an adult's body, the Fenix 2 is such a fun toy that even Garmin can't leave it alone. Since its debut, the GPS giant's Swiss HQ has tweaked the Fenix 2 with a Performer Bundle, which included a readily-compatible heart rate monitor, a Special Edition, which...
Garmin Forerunner 220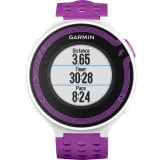 The Garmin Forerunner 220 is a GPS watch designed to accompany training sessions, runs around the neighborhood, and long-distance races alike. The GPS and internal accelerometer work in conjunction to capture pace and distance--regardless of your indoor or outdoor running preference. It also...
Garmin Forerunner 920XT
You're a triathlete. Your events include three disciplines, and your training regime incorporates these three and more. The Garmin Forerunner 920XT is designed to give biometric feedback, cadence and distance, and training, recovery, and competition information related to every aspect of your...
Garmin Forerunner 920XT Bundle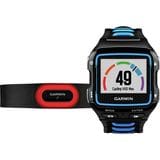 Garmin knows that the stakes are high in every training session, regardless of which discipline you're targeting, and that fitness and race preparation extend long after your workout has ended. That's why the Forerunner 920XT is built to cover all manner of endurance training as well as tracking...
Garmin vivosmart
Office culture and training don't always correspond. In fact, they're pretty much the antithesis of each other, and as winter approaches there are fewer easy opportunities to interrupt long periods of stasis. Garmin's vivosmart wearable is designed to address this, tracking everyday movements and...
Garmin vivosmart Bundle
Garmin's vivosmart Bundle includes Garmin's own heart rate monitor for guaranteed compatibility with the vivosmart wearable. The vivosmart automatically recognizes the heart rate monitor, so there's no danger of picking up someone else's signal during Pilates or -- even worse -- broadcasting your...
Pioneer SGX-CA500 Cycle Computer Standard Bar Mount
Pioneer's new SGX-CA500 Computer Bar Mount is taking the world of cyclocomputers by storm. It's a great piece of tech that's as tough as it is smart, but sometimes, accidents happen. This original Pioneer replacement bracket is made of high-quality plastic and mounts to 31. 8mm handlebars with a...
<< Prev | 1 | 2 | 3 | 4 | Next >>