Gps Computers - Road Bike Shop
Shop
>
Accessories
>
Powermeters & Computers
>
Gps & Computers
Garmin Small Tube Mount
Sometimes, you need to mount your VIRB to something other than your handlebars if you're going to get the perfect angle. The Garmin Small Tube Mount accessory accommodates everything from ski poles to roll bars, so the action is always in frame. The mount features an adjustable ring that fits...
Garmin Tactix Bravo GPS
Sometimes training for your chosen outdoor passion can feel like your own top-secret mission. Sure, it's all legal, but most of your friends and family have no idea why you choose to put yourself through such rigorous efforts, perplexed as you spend entire weekend days out on the roads with your...
Garmin Tether for Edge 510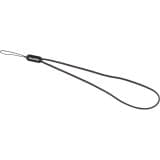 If you own a Garmin Edge 510, you're most likely racing or aspiring to. And as we all know, crashing is simply an unavoidable part of racing. Perhaps that's why a Cat. 5 criterium is silently known as the most dangerous place on earth, thus the Crash. 5 nickname. So, while we never intend on...
Garmin USB Power Adapter
Are you traveling to a dream destination for the ride of your life? Do you want to make sure that every moment of the adventure is recorded? Well, the Garmin USB Power Adapter for your VIRB or VIRB HD, uses your existing USB cable to charge your unit in almost any international outlet. Adapters...
Garmin Varia Vision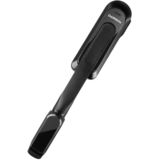 Not so long ago, rumors of glasses with live-stream data updating straight into your line of vision would've still been relegated to futuristic movies and science fiction novels. Now, they're changing the way we train. Mount Garmin's Varia Vision onto either arm of your sunglasses and see metrics...
Garmin Vented Helmet Strap
Love your Garmin VIRB camera, and want to stick it on your head? If you've got the Garmin Vented Helmet Strap mount, getting a solid mount on your helmet will be a snap. Sure, you might look a little funny with an electronic box sticking out the top of your dome, but at least your footage will be...
Garmin Vivoactive
Garmin's Vivoactive is an intuitively simple wearable that -- when paired with compatible sensors -- displays biometrics gathered from the myriad aspects of your life on a bright, vibrant touchscreen. It brings the usual functionality that we've grown to expect from smart wearables, including...
Garmin Vivoactive HR GPS
Sleek enough to pass acceptably through your presentation to the board, the Garmin Vivoactive HR GPS stealthily utilizes wrist-based heart rate reading to take your daily activity tracking and training data analysis to the next level. Whether you're keeping tabs on your daily steps, training for...
Garmin Vivofit 3
If you take a look around at a popular outdoor running loop or your local gym, you're bound to see plenty of wrists sporting wearable fitness gadgets whether their wearers are walking, running, hiking, or hitting the weight racks. For a whole host of practical, well-deserved reasons, wearable...
Garmin Vivomove Activity Tracker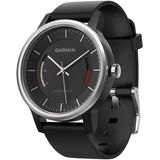 Retail Price:
$149.99
Our Price: $127.49
buy now
We're thoroughly impressed with the amount of daily activities Garmin's featherweight wearables can detect unobtrusively from our wrists, but sometimes, we miss classic leather bands and analog displays. With the growing availability of small touchscreen computers that can be worn at the wrist,...
<< Prev | Back | 1 | 2 | 3 | 4 | 5 | 6 | 7 | 8 | 9 | 10 | More | Next >>