Gps Computers - Road Bike Shop
Shop
>
Accessories
>
Powermeters & Computers
>
Gps & Computers
Garmin vivosmart Bundle
Garmin's Vivosmart Bundle offers a sleek and convenient way to achieve the optimal healthy lifestyle. The Vivosmart Bundle includes Garmin's heart rate monitor, which syncs automatically with the vivosmart wearable. The OLED display shows your distance traveled, steps taken, calories burned, and...
Garmin Vivosmart HR Activity Tracker
When you start wearing the Garmin Vivosmart HR Activity Tracker, don't be surprised if you start referring to it as a person, jumping up out of your chair to tell your coworkers, friends, or family that "Vivo" just said you've been sitting for too long and need to get up. It sounds crazy, but...
K-Edge Handlebar Mount for Pioneer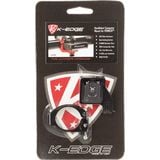 Mount your Pioneer head unit cleanly to your 31. 8mm carbon or aluminum handlebars with the K-Edge Handlebar Mount so you can keep track of your left and right side data as you ride. Constructed with durable, rigid aluminum, it reliably secures your computer using K-Edge's double locking system,...
K-Edge Pro Handlebar Computer Mount for Garmin
You've already invested in your brand new Garmin 520; shiny, bright, and incredibly smart, it's the computer of your dreams. So far you've only stared at it. Before you even think about heading out on the roads with that multi-colored dream machine, pick up a K-Edge Pro Handlebar Computer Mount...
Lezyne Cadence Speed Flow Sensor
From pumps to lights to multi-tools, Lezyne built its reputation on an industry-leading meticulousness that has never disappointed us. Now, it brings that obsession to detail to the numbers game, letting you supplement your data-gathering with the Cadence Speed Flow Sensor regardless of what...
Lezyne GPS Bar/Stem Mount Kit
Lezyne has long been known for its attention to detail, evident in the clean lines and precision machining in even the smallest of its accessories. The GPS Bar/Stem Mount Kit carries on this tradition, featuring clean design and a rubber shim to cradle the composite X-Lock mounting bracket and...
Lezyne GPS O-Ring Set
Freshen up a wobbly GPS mount with the Lezyne GPS O-Ring Set, which contains four o-rings (two large, two small) to fix up your setup and keep your GPS solidly affixed to your bars.
Lezyne HR Flow Sensor
If you've got one of Lezyne's comically feature-laden GPS units (which, if you don't, you should probably ditch the overpriced video game console on your bar mount and pick one up), then you're probably in the market for a heart rate monitor. Keep it all kosher with Lezyne's own HR Flow Sensor, a...
Lezyne Macro GPS Bike Computer
Lezyne's GPS line has long made a name for itself by packing the cosmic power of GPS navigation into the smallest possible space, but the Macro GPS Bike Computer takes a slightly different approach. It essentially packages the same improved functionality of the updated Mini GPS in a larger, more...
Lezyne Macro GPS HR Loaded Bike Computer
Lezyne is celebrating the tenth year of its GPS ventures by retooling the entire line, adding yet more functionality to designs that already define the leading edge of the feature-to-price ratio. The Macro GPS HR Loaded Bike Computer is no exception, and it combines the Macro GPS's functionality...
<< Prev | 1 | 2 | 3 | 4 | 5 | 6 | 7 | 8 | 9 | 10 | Next >>