Gps Computers - Road Bike Shop
Shop
>
Accessories
>
Powermeters & Computers
>
Gps & Computers
Polar RC3 GPS Watch
Retail Price:
$279.95
Our Price: $195.97
buy now
Variety is the spice of life, and the Polar RC3 GPS Watch is your versatile training tool: know what heart-rate zone you're in to optimize your workouts, make a plan of attack using target zones and training goals, record your routes, and even find your way home with this indispensable tool. With...
Suunto Ambit2 Altimeter Watch
Whether it's a week-long bike tour in the Pyrenees, a backcountry ski tour in the Wasatch, or a summer of training for a marathon, let the Suunto Ambit2 Altimeter Watch supply you with every bit of information you need. Full GPS functionality pinpoints your location and elevation, and it keeps...
Suunto Ambit2 R Watch
The Suunto Ambit2 R Watch optimizes your aerobic performance through providing a wide array of real-time running statistics. A built-in accelerometer displays your current speed, in addition to measuring pace, cadence, and distance. This watch is ANT+ enabled, allowing use with compatible heart...
Suunto Ambit2 S Strap
Looking to upgrade the time-worn strap that originally came with your Suunto Ambit2 S Watch? Grab the Suunto Ambit2 S Strap to easily swap in and out of your Suunto Ambit2 S Watch. This replaceable strap provides you with a custom look and fresh feel. Necessary replacement screws and nuts are...
Suunto Ambit2 S Watch
From tracking and sharing your latest trail run to logging your VO2 max values, the Suunto Ambit2 S Watch supplies a torrent of valuable information to the serious endurance athlete. Full GPS functionality aids in route navigation, graphs changes in altitude, and tracks speed, pace, and distance....
Suunto Battery Kit for 1st Gen. Vector, X-Lander, Altimax, Advizor, Yachtsman
The Suunto Replacement Battery Kit includes a CR2430 battery, an O-ring, and a new lid, and fits Suunto 3-series watches, including the Vector, X-Lander, Altimax, Advizor, and Yachtsman. When you change the battery, carefully follow the instructions in the manual. Never use an old lid or O-ring....
Suunto Battery Kit for Observer, X6, X6HR, S6, T6, X6HRM, G3
The Suunto Battery Replacement Kit for Observers, X6, S6, T6, and G3 watches includes a battery, O-ring seal, and a new lid. This easy-to-use kit helps you replace your Suunto battery in a few seconds with no tools other than a coin. You don't even have to take your Suunto watch to a watch store...
Suunto Core Altimeter Watch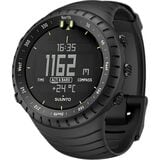 The weather was clear for days as your expedition ascended 10,000 feet, but then the barometric pressure started to change and your Storm Alarm went off. Thanks to the Suunto Core Altimeter Watch, you set up your high-altitude camp ahead of the big storm and are in your sleeping bag sipping hot...
Suunto Core Aluminum Altimeter Watch
From high-altitude climbing expeditions to epic desert treks, count on the Suunto Core Aluminum Altimeter Watch to provide the information you need to navigate unforgiving landscapes. Whether you're recording gains in elevation, using the compass to follow a specific bearing, or reading the...
Suunto Core Brushed Steel Altimeter Watch
From the top of Everest to snorkeling in the Caribbean, the Suunto Core Brushed Steel Altimeter Watch need never leave your wrist. Its altimeter works in elevations as high as 29,500 feet and as low as -1,600 feet, and its log records your movement up the mountain so you know how long you climbed...
<< Prev | 1 | 2 | 3 | 4 | 5 | 6 | 7 | 8 | Next >>