Gps Computers - Road Bike Shop
Shop
>
Accessories
>
Powermeters & Computers
>
Gps & Computers
Garmin Vivomove Premium Activity Tracker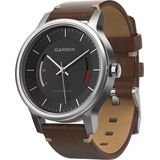 Retail Price:
$299.99
Our Price: $199.99
buy now
You spend most of your free time making dreamy eye contact with the touchscreen, full-color miniature computer you wear on your wrist as you work out, convinced it may actually be more intelligent than you are. When you trade getting feedback on vertical oscillation and cadence for real world...
Garmin vivosmart Bundle
Garmin's Vivosmart Bundle offers a sleek and convenient way to achieve the optimal healthy lifestyle. The Vivosmart Bundle includes Garmin's heart rate monitor, which syncs automatically with the vivosmart wearable. The OLED display shows your distance traveled, steps taken, calories burned, and...
Garmin Vivosmart HR Activity Tracker
When you start wearing the Garmin Vivosmart HR Activity Tracker, don't be surprised if you start referring to it as a person, jumping up out of your chair to tell your coworkers, friends, or family that "Vivo" just said you've been sitting for too long and need to get up. It sounds crazy, but...
K-Edge Handlebar Mount for Pioneer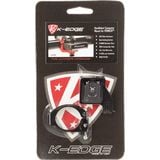 Mount your Pioneer head unit cleanly to your 31. 8mm carbon or aluminum handlebars with the K-Edge Handlebar Mount so you can keep track of your left and right side data as you ride. Constructed with durable, rigid aluminum, it reliably secures your computer using K-Edge's double locking system,...
K-Edge TT Mount for Pioneer
Retail Price:
$74.99
Our Price: $59.99
buy now
If you train with a power meter, keeping track of your power output during a tri or time trial is crucial. Thankfully, you can still mount your Pioneer power meter head unit onto your aerobars with K-Edge's TT Mount for Pioneer. Made of rigid, durable aluminum, it locks the computer in place...
Lezyne GPS Bar/Stem Mount Kit
Lezyne has long been known for its attention to detail, evident in the clean lines and precision machining in even the smallest of its accessories. The GPS Bar/Stem Mount Kit carries on this tradition, featuring clean design and a rubber shim to cradle the composite X-Lock mounting bracket and...
Lezyne GPS Out Front Mount
A ride that isn't obsessively cataloged isn't a ride at all, so it's important to keep your on-board computer seriously secure and right where you can see it. Lezyne's GPS Out Front Mount is made of a stiff composite matrix that won't let your Lezyne GPS unit flop around, and secures to your...
Lezyne HR Flow Sensor
If you've got one of Lezyne's comically feature-laden GPS units (which, if you don't, you should probably ditch the overpriced video game console on your bar mount and pick one up), then you're probably in the market for a heart rate monitor. Keep it all kosher with Lezyne's own HR Flow Sensor, a...
Lezyne Macro GPS HRSC Loaded Bike Computer
Lezyne's Macro GPS HRSC Loaded Bike Computer builds on the functionality of the Macro GPS unit by adding a heart rate sensor and cadence/speed sensor to the mix to complete the package of necessary ride data. The head unit itself essentially puts the stellar utility of the Mini GPS onto a larger,...
Lezyne Micro Color GPS Bike Computer
Lezyne has been in the GPS game for a full decade now, and it's celebrating with the launch of a completely revised line of devices whose minimalist footprint and function-first aesthetics have become the brand's hallmarks. Though the Micro Color GPS Bike Computer does incorporate a host of new...
<< Prev | 1 | 2 | 3 | 4 | 5 | 6 | 7 | 8 | 9 | 10 | Next >>