Gps Computers - Road Bike Shop
Shop
>
Accessories
>
Powermeters & Computers
>
Gps & Computers
LifeProof Life Jacket
That Lifeproof case of yours may prevent water from getting in your iPhone, but it's still going to sink like a rock if you drop it in the river, which can be a problem if you're in the middle of a stretch of class III rapids. Luckily you can slip the Lifeproof Life Jacket right over your iPhone...
Mavic R-Sys Spoke Magnet
If you're running any of Mavic's new R-Sys wheels or the Ksyrium SLR, you've surely encountered some problems in the compatibility department. Namely, this issue becomes apparent in the use of spoke magnets. Why? Because Mavic's carbon Tracomp spoke shape doesn't accommodate the use of standard...
Polar Bike Mount Twist Lock Set
Instead of having to wear your Polar watch or cycling computer on your wrist, simply attach it to the stem or handlebar via the Polar Bike Mount Twist Lock Set. The twist locking mechanism allows you to quickly and securely attach or detach your Polar device. Easily install the bike mount to your...
Polar RC3 GPS Watch
Variety is the spice of life, and the Polar RC3 GPS Watch is your versatile training tool: know what heart-rate zone you're in to optimize your workouts, make a plan of attack using target zones and training goals, record your routes, and even find your way home with this indispensable tool. With...
Suunto Ambit2 Altimeter Watch
Whether it's a week-long bike tour in the Pyrenees, a backcountry ski tour in the Wasatch, or a summer of training for a marathon, let the Suunto Ambit2 Altimeter Watch supply you with every bit of information you need. Full GPS functionality pinpoints your location and elevation, and it keeps...
Suunto Ambit2 S Watch
From tracking and sharing your latest trail run to logging your VO2 max values, the Suunto Ambit2 S Watch supplies a torrent of valuable information to the serious endurance athlete. Full GPS functionality aids in route navigation, graphs changes in altitude, and tracks speed, pace, and distance....
Suunto Core Altimeter Watch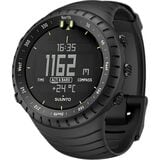 The weather was clear for days as your expedition ascended 10,000 feet, but then the barometric pressure started to change and your Storm Alarm went off. Thanks to the Suunto Core Altimeter Watch, you set up your high-altitude camp ahead of the big storm and are in your sleeping bag sipping hot...
Suunto Core Aluminum Altimeter Watch
From high-altitude climbing expeditions to epic desert treks, count on the Suunto Core Aluminum Altimeter Watch to provide the information you need to navigate unforgiving landscapes. Whether you're recording gains in elevation, using the compass to follow a specific bearing, or reading the...
Suunto Core Brushed Steel Altimeter Watch
From the top of Everest to snorkeling in the Caribbean, the Suunto Core Brushed Steel Altimeter Watch need never leave your wrist. Its altimeter works in elevations as high as 29,500 feet and as low as -1,600 feet, and its log records your movement up the mountain so you know how long you climbed...
Tate Labs Bar Fly 1.1
Tate Labs designed the original Bar Fly as an out-in-front Garmin cycling computer mount to replace the more sensitive stock version. The Bar Fly 1. 1 is the updated version of the original Bar Fly, complete with a redesigned engagement system and even lower price. At the heart of the Bar Fly 1....
<< Prev | 1 | 2 | 3 | 4 | 5 | 6 | 7 | Next >>