Gps Computers - Road Bike Shop
Shop
>
Accessories
>
Powermeters & Computers
>
Gps & Computers
Garmin HRM-Tri
Garmin's HRM-Tri heart rate monitor strap is fashioned from a soft material and well-suited to tracking heart rate on land or during wetsuit-legal events, but we don't recommend it for pool workouts or swims without wetsuits. It runs on a standard CR2032 battery with a claimed battery life of 10...
Garmin HRM-Tri/HRM-Swim Accessory Bundle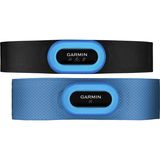 For many triathletes, tracking biometric data on the run and bike training blocks is second nature, but the swim is measured only in distance covered and lap times. Now, you can get the most out of every second of training with the Garmin HRM-Tri/HRM-Swim Accessory Bundle. Designed especially for...
Garmin MapSource City Navigator Brazil NT
If you're planning on riding through Brazil, we're sure that you're aware of your potential for getting lost on either the busy or rural roads of this beautiful country. Luckily, though, Garmin has worked tirelessly on taking out much of the guesswork involved in international travel. In fact,...
Garmin MapSource City Navigator Mexico NT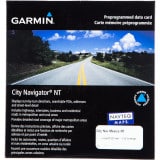 When asked about our adventures, we find that our stories of navigational failures are typically the ones that we tell the most. However, when that turmoil and frustration is actually occurring, we're not thinking of cute stories that we'll retell later. That's why Garmin has been working...
Garmin MapSource City Navigator North America NT
Few things are more fun than adventuring by bike, especially when know where you're going. Luckily, Garmin knows this better than most, which is why it offers the MapSource City Navigator North America NT. If you own a Garmin 800 or 810 computer, and you're riding anywhere in North America, this...
Garmin MapSource City Navigator South America NT
Garmin's City Navigator allows you to confidently explore new terrain around the world with its detailed road maps and points of interest software built specifically for your GPS device. Now you can study up and be prepared for the roads that await your next adventure abroad using the latest...
Garmin Mini USB Cable
Whether you've got a VIRB camera or a GPS, whether you're charging your device or updating it, your life will be a lot easier if you've got the Garmin Mini USB cable. You've seen them before, and your device most likely came with one, but whether you need a backup, or you're looking for a...
Garmin Out-Front Bike Mount
Forget rigging up your Garmin Edge cycling computer with jenky zip ties the minute you pick up the Garmin Out-Front Bike Mount. This sleek, incredibly secure mount is compatible with Garmin Edge series 200, 500, 510, 800, and 810 bike computers, also working with the Garmin Forerunner 310 and...
Garmin Quarter Turn Bike Mount
While your Edge 800 or Edge 500 GPS comes with two of these Quarter Turn Bike Mounts, what if you lose one and like to ride with your Garmin GPS on more than one bike -- perhaps on your road and mountain bikes? Luckily you can purchase them separately here. The Garmin Quarter Turn Bike Mount...
Garmin Shoulder Harness Mount
Love your Garmin VIRB camera, but stuck feeling like you want more mounting options? Well, with the Garmin Shoulder Harness Mount, you're able to get a solid mount, and a new perspective. By mounting the camera to your shoulder, you'll get a more realistic looking shot than if you mounted it on...
<< Prev | Back | 1 | 2 | 3 | 4 | 5 | 6 | 7 | 8 | 9 | 10 | More | Next >>