Gps Computers - Road Bike Shop
Shop
>
Accessories
>
Powermeters & Computers
>
Gps & Computers
Garmin Vivomove Activity Tracker
We're thoroughly impressed with the amount of daily activities Garmin's featherweight wearables can detect unobtrusively from our wrists, but sometimes, we miss classic leather bands and analog displays. With the growing availability of small touchscreen computers that can be worn at the wrist,...
Garmin Vivomove Premium Activity Tracker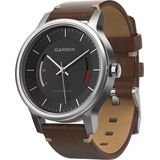 You spend most of your free time making dreamy eye contact with the touchscreen, full-color miniature computer you wear on your wrist as you work out, convinced it may actually be more intelligent than you are. When you trade getting feedback on vertical oscillation and cadence for real world...
Garmin vivosmart Bundle
Retail Price:
$199.99
Our Price: $139.99
buy now
Garmin's Vivosmart Bundle offers a sleek and convenient way to achieve the optimal healthy lifestyle. The Vivosmart Bundle includes Garmin's heart rate monitor, which syncs automatically with the vivosmart wearable. The OLED display shows your distance traveled, steps taken, calories burned, and...
Garmin Vivosmart HR Activity Tracker
When you start wearing the Garmin Vivosmart HR Activity Tracker, don't be surprised if you start referring to it as a person, jumping up out of your chair to tell your coworkers, friends, or family that "Vivo" just said you've been sitting for too long and need to get up. It sounds crazy, but...
K-Edge Handlebar Mount for Pioneer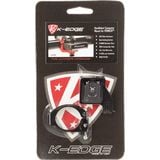 Mount your Pioneer head unit cleanly to your 31. 8mm carbon or aluminum handlebars with the K-Edge Handlebar Mount so you can keep track of your left and right side data as you ride. Constructed with durable, rigid aluminum, it reliably secures your computer using K-Edge's double locking system,...
K-Edge TT Mount for Pioneer
Retail Price:
$74.99
Our Price: $59.99
buy now
If you train with a power meter, keeping track of your power output during a tri or time trial is crucial. Thankfully, you can still mount your Pioneer power meter head unit onto your aerobars with K-Edge's TT Mount for Pioneer. Made of rigid, durable aluminum, it locks the computer in place...
Lezyne GPS Bar/Stem Mount Kit
Lezyne has long been known for its attention to detail, evident in the clean lines and precision machining in even the smallest of its accessories. The GPS Bar/Stem Mount Kit carries on this tradition, featuring clean design and a rubber shim to cradle the composite X-Lock mounting bracket and...
Lezyne GPS O-Ring Set
Freshen up a wobbly GPS mount with the Lezyne GPS O-Ring Set, which contains four o-rings (two large, two small) to fix up your setup and keep your GPS solidly affixed to your bars.
Lezyne Mini GPS Bike Computer
Ever the tinkerers, Lezyne spent much of the last product cycle fiddling with its GPS designs, and not even the "simple" Mini GPS Bike Computer was left untouched. We set simple off in quotation marks because the Mini GPS is small, but its colossal data collection and route management abilities...
Lezyne Mini GPS HR Loaded Bike Computer
Lezyne's Mini GPS HR Loaded Bike Computer proves that, despite other manufacturer's apparent insistence to the contrary, tracking ride data and biometrics doesn't have to be a complicated, costly affair. The latest Mini GPS has been completely re-imagined, getting functional updates that bring it...
<< Prev | 1 | 2 | 3 | 4 | 5 | 6 | 7 | 8 | 9 | 10 | Next >>