Gps Computers - Road Bike Shop
Shop
>
Accessories
>
Powermeters & Computers
>
Gps & Computers
Garmin Forerunner 25 Bundle
Retail Price:
$199.99
Our Price: $179.99
buy now
If you're looking for an upgrade from a basic stopwatch but don't want to spend your entire run tripping on sidewalks as you toggle between screens trying to improve your vertical oscillation, don't worry. GPS watches don't have to make you so oblivious to everything but data that it completely...
Garmin Forerunner 35
The Forerunner 35 is Garmin's simple solution to gathering biometric training data during the simplest form of endurance training. It's built to be a stand-alone GPS running companion that handles everything from heart rate monitoring to route mapping with no phone or ancillary heart rate strap...
Garmin Forerunner 630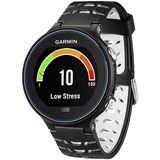 Retail Price:
$399.99
Our Price: $327.99
buy now
We'd be a few years late in saying that the days of stopwatches gracing the wrists of every runner we see are behind us, but with Garmin's latest additions to its data-loving family, we'd go so far as to say that the days of watches that only tell us pace, distance, and calories are numbered too....
Garmin Forerunner 630 Bundle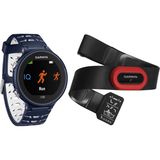 Retail Price:
$449.99
Our Price: $359.99
buy now
Garmin continuously challenges the limits of how much data is accessible to endurance athletes from their wrists, never content with sitting still and offering the same mix of features for long. Its latest virtual coach, the Forerunner 630, improves upon the impressive 600 series of watches...
Garmin Forerunner 735XT
Serious multi-sport athletes need serious data tracking ability, and the Garmin Forerunner 735XT brings it in spades. Its ability to transition seamlessly from run to bike to swim with a quick click of a button makes it the perfect training partner for aspiring amateurs and professional athletes...
Garmin Forerunner 735XT HRM4-Run Bundle
Your high school track coach may have been channeling the '70s by carefully metering water rations to reward grueling hill repeats with sparse drops of sustenance and that old school "no pain, no gain" approach to endurance training, but that doesn't mean you have to be stuck there, too. Hills...
Garmin Forerunner 735XT Tri-Bundle
Solely tracking data for run and bike time during triathlon training is kind of like painstakingly measuring most of the ingredients for a cake and then deciding to wing it on the flour and hope it turns out ok. Get dialed-in and see the full picture of your multi-discipline training with the...
Garmin Forerunner 935 GPS Tri Bundle
Train harder and race faster with the triathlon-savvy metrics provided by the Garmin Forerunner 935 GPS Tri Bundle. This bundle pack includes the Garmin Forerunner 935 GPS Watch, HRM-Tri monitor, and HRM-Swim monitor, giving you the ability to track your training and racing efforts on the road,...
Garmin Forerunner 935 GPS Watch
Designed for the savvy athlete looking to step up their running and triathlon training, the Garmin Forerunner 935 GPS Watch offers a slew of advanced exercise features in a slimmed-down design. Advanced running and multi-sport features include a barometric altimeter for tracking elevation changes...
Garmin HRM-Run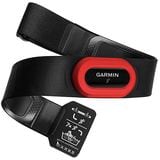 The migration from simple stop watches to working out with computers on our wrists began with heart rate, and even now, most of the data measured by Garmin's fleet of scary-smart gadgets has something to do with that metric. Access everything your new watch can do and learn how hard your heart...
<< Prev | Back | 1 | 2 | 3 | 4 | 5 | 6 | 7 | 8 | 9 | 10 | More | Next >>