Gps Computers - Road Bike Shop
Shop
>
Accessories
>
Powermeters & Computers
>
Gps & Computers
Garmin Edge Explore 1000 Cycling Computer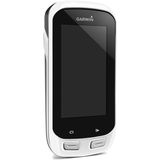 Based on the name alone, Garmin's Edge Explore 1000 Cycling Computer sounds a lot like a combination between the Edge 1000 and the Edge Touring, and -- aside from a few new features -- that's essentially what it is. The Edge Explore 1000 borrows its user-friendly design from the Edge 1000 while...
Garmin Edge Explore 820 Bike Computer
As fun as it is to pull a weathered map from the depths of a pannier and painstakingly plot the route, it's even better to not have to worry about getting lost along the way. Whether you're looking to get adventurous on your daily commute or planning epic training miles ahead of a double century,...
Garmin Epix TOPO U.S. 100K
After years of study you've finally memorized every geographical feature, landmark, game trail, stream, and class four road. Now forget it all, because the Garmin Epix mapping watch with TOPO U. S. 100K maps is going to make the whole package redundant. Of course, the Epix is hardly a watch--you...
Garmin fenix 3
The Garmin Fenix 3 provides so much information that it's ideal for runners, hikers, cyclists, swimmers, skiers, snowboarders, mountaineers, endurance athletes, and the list goes on. And if you think that it stops at speed, distance, calories burned, location, and GPS-tracking, you'll be excited...
Garmin fenix 3 Bundle
Retail Price:
$549.99
Our Price: $499.99
buy now
The new Garmin fenix 3 is designed to be your "one watch to rule them all," as it were. Utilizing EXO+ GPS and a GLONASS antenna, the fenix 3 records data such as: how fast you're going, how far you've gone, calories burned, elevation gained and lost, number of ski runs you've taken, and even how...
Garmin Fenix 3 HR Training Watch
Tracking nearly every aspect of your adventurous lifestyle, the Garmin Fenix 3 HR Training Watch is incredibly versatile and ingeniously smart with its GPS tracking, sport-tuned profiles, exercise physiological metrics, and Bluetooth smartphone syncing. The 1. 2 inch sunlight-readable Garmin...
Garmin Fenix 3 Sapphire Performer Bundle
If you're sick of being the guy that no one's able to recognize when you're not in athletic wear, Garmin had you in mind when it released the Fenix 3 Sapphire Performer Bundle. Start with the Fenix and a pair of jeans, and you'll feel like a whole new person, while still being able to keep a...
Garmin Fenix 3 Sapphire Titanium Training Watch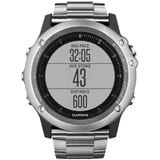 Fuel your outdoor lifestyle in refined style with the Garmin Fenix 3 Sapphire Titanium Training Watch. Bucking the industry trend of placing a cheap plastic band on a powerful training watch, the Fenix 3 Sapphire Titanium exudes a well-polished look with its upscale titanium band. And for...
Garmin Fenix 3 Sapphire Training Watch
Wearing a rubberized band that looks more like hazard tape or a rave party glow stick is potentially against the grain with most of life's situations, such as when in the office or at dinner with the family. The Garmin Fenix 3 Sapphire Training Watch's classically styled leather strap not only...
Garmin Fenix 5
Offering a long-awaited refresh to the popular Fenix 3, the Garmin Fenix 5 retains all the popular sport-tracking capabilities of the Fenix 3, but in a sleeker 47-millimeter case with easier swapping of wrist straps. Instead of messing with tools to change out the strap, the Fenix 5 now offers...
<< Prev | Back | 1 | 2 | 3 | 4 | 5 | 6 | 7 | 8 | 9 | 10 | More | Next >>