Gps Computers - Road Bike Shop
Shop
>
Accessories
>
Powermeters & Computers
>
Gps & Computers
Suunto M-Series Strap - Women's
Upgrade your Suunto M5 (black/gold or black/silver) or M2 (fuchsia) watch with the Suunto Women's M-Series Strap. This replacement strap is made of elastomer, and it features a braided pattern for intricate detail.
Suunto Quest Strap Kit
Tired of your old, beat-up strap, or simply want to customize and enhance the look of your Suunto Quest watch? Pick up the Suunto Quest Strap Kit for a high-quality strap replacement to your Quest watch. A wide variety of colors provides an ideal look, and the included strap and attachment pins...
TomTom Comfort Strap
Even though your parents got you a TomTom watch to run with, the strap isn't quite right. That's where the Comfort Strap comes in. With a colorful assortment to choose from, you'll get one that matches your personality.
TomTom Multi-Sport GPS Watch + Cycle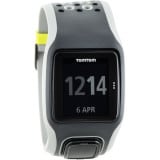 Ideal for avid bike racers and serious pedal pushers, the TomTom Multi-Sport GPS Watch + Cycle includes a Bluetooth-enabled heart rate monitor and Bluetooth Cadence/Speed Sensors. The heart rate monitor is for use when running and biking; it isn't waterproof and cannot be used when swimming. The...
TomTom Runner GPS Watch
Train for your next ultra marathon or simply formulate realistic exercise goals with the TomTom Runner GPS Watch. Running is more exciting and engaging when you can set tangible goals, so this watch features QuickGPSFix Technology that precisely locates and tracks your every stride in conjunction...
Topeak PanoBike Blue Tooth Speed/Cadence Sensor
With the Topeak PanoBike Blue Tooth Speed/Cadence Sensor, you can turn a smartphone, tablet, or any Bluetooth Smart (BLE 4. 0) device into a personal training and health management device. All you have to do is chose an app (Strava, MapMyRide, Runtastic, Endomondo, ext.) of your liking and sync...
<< Prev | 1 | 2 | 3 | Next >>