Gps Computers - Road Bike Shop
Shop
>
Accessories
>
Powermeters & Computers
>
Gps & Computers
Garmin Edge 520 Bike Bundle Computer
Regardless of the passion with which they argue against one another, one thing data geeks and anti-tech purists can't dispute is that with the right technology, numbers never lie. In the case of the Garmin Edge 520 Bike Bundle Computer, it's undeniably true. Drawing from Garmin's years of...
Garmin Edge 520 Bike Computer
A few decades ago, a certain television show endearingly predicted that in the future, hovercars, holograms, robots, and impossibly complex gadgets would be commonplace. Now in 2016, it looks like one of the 60's favorite animated families was more prophetic than satirical. Think about it: a...
Garmin Edge 820 Bike Computer
Recent years have posed something of a conundrum for the discerning data nerd, but Garmin's new Edge 820 Bike Computer solves the case by refusing to sacrifice with a huge body or limited functionality. The Edge 810 brings it all to the table with myriad mapping, tracking, and virtual training...
Garmin Edge 820 Bundle Bike Computer
Garmin's all-new Edge 820 Bike Computer Bundle wraps the high-tech tracking and mapping ability you loved about the Edge 810 into a smaller package that closely mirrors the Edge 520's coveted sizing. When paired with the included speed sensor, cadence sensor, and HRM3 Rev2 heart rate strap, the...
Garmin Edge Explore 1000 Cycling Computer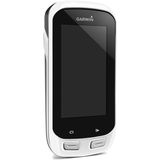 Based on the name alone, Garmin's Edge Explore 1000 Cycling Computer sounds a lot like a combination between the Edge 1000 and the Edge Touring, and -- aside from a few new features -- that's essentially what it is. The Edge Explore 1000 borrows its user-friendly design from the Edge 1000 while...
Garmin Edge Explore 820 Bike Computer
As fun as it is to pull a weathered map from the depths of a pannier and painstakingly plot the route, it's even better to not have to worry about getting lost along the way. Whether you're looking to get adventurous on your daily commute or planning epic training miles ahead of a double century,...
Garmin Epix
Retail Price:
$549.99
Our Price: $469.63
buy now
It took years of practice but you finally mastered triangulation and night-sky navigation. Now bite the billet and file all that knowledge away for a rainy day, because the Garmin Epix mapping watch is going to make it all redundant. Of course, the Epix is hardly a watch--you wear it on your...
Garmin Epix TOPO U.S. 100K
After years of study you've finally memorized every geographical feature, landmark, game trail, stream, and class four road. Now forget it all, because the Garmin Epix mapping watch with TOPO U. S. 100K maps is going to make the whole package redundant. Of course, the Epix is hardly a watch--you...
Garmin fenix 3
The Garmin Fenix 3 provides so much information that it's ideal for runners, hikers, cyclists, swimmers, skiers, snowboarders, mountaineers, endurance athletes, and the list goes on. And if you think that it stops at speed, distance, calories burned, location, and GPS-tracking, you'll be excited...
Garmin fenix 3 Bundle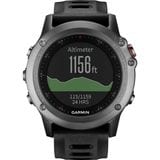 The new Garmin fenix 3 is designed to be your "one watch to rule them all," as it were. Utilizing EXO+ GPS and a GLONASS antenna, the fenix 3 records data such as: how fast you're going, how far you've gone, calories burned, elevation gained and lost, number of ski runs you've taken, and even how...
<< Prev | 1 | 2 | 3 | 4 | 5 | 6 | 7 | 8 | 9 | 10 | Next >>