Recovery Food And Drinks - Road Bike Shop
Shop
>
Accessories
>
Nutrition & Performance
>
Recovery Food And Drinks
Acli-Mate EnduranceTub - 35 Servings
EnduranceTub - 35 Servings
Acli-Mate Mountain Carton - 30-Pack
Mountain Carton - 30-Pack
Acli-Mate Mountain Tub - 30-Serving
Mountain Tub - 30-Serving
Clifbar Builder's MAX Bar - 9-Pack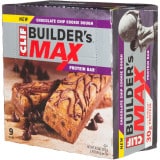 As an outdoor enthusiast, you don't have the time to make a healthy meal that'll recover your body from all the trail hiking, mountain climbing, road biking, hardcore skiing, intense kayaking, and backpacking adventures you live for. Not to mention one that'll travel well with you. So pack up the...
Clifbar Builders Protein Bar - 12 Pack
Brain feeling sluggish? Grab a Clif Bar Builders Protein Bar out of your 12-pack, and pep up. Each of these bars contain a whopping 20 grams of protein, along with vitamins and minerals, to give you a boost when start to zone out rather than be in the zone. Clif Bar doesn't use trans fats, and...
Clifbar Clif Shot Bloks
Variety is the spice of life -- we couldn't agree more. We understand ('cause we've been there) that after numerous hours of training and racing, the body needs to mix it up a little in terms of what goes in the tank. That's why the folks at Clif Bar set out to create another energy food option...
Clifbar Clif Shot Energy Gel - 24 Pack
Clif Shot Energy Gel is a fast-acting, easy-to-digest energy gel with 24 grams of carbohydrates -- your body's preferred source of fuel during exercise. Within two to ten minutes, Shot's carbohydrates (both simple & complex) and electrolytes hits your bloodstream, working to sustain your overall...
Clifbar Clif Shot Hydration Drink
You just can't perform at the top of your game if you're dehydrated. With 4% carbohydrates and all 5 electrolytes, Clif Shot Electrolyte Hydration helps your body absorb and retain fluid for effective hydration.
Clifbar Clif Shot Recovery Drink
Clif Shot Recovery Drink
Clifbar Clifbar Clif Bars - 12 Pack
Clif Bar's flagship product, the Clif Bar, features 70% organic ingredients and the nutrients you need to get through your workout or workday.
<< Prev | Back | 1 | 2 | 3 | 4 | 5 | 6 | 7 | 8 | 9 | 10 | More | Next >>