Recovery Food And Drinks - Road Bike Shop
Shop
>
Accessories
>
Nutrition & Performance
>
Recovery Food And Drinks
Powerbar Performance Energy Blends - 6 Pack
The folks at Power Bar created the Performance Energy Blends energy pouches for those of us who would prefer to fuel our runs, rides, and races by natural means. Unlike other gels, which are essentially sugar syrups with flavors and sometimes caffeine added, these Blends are made up of pureed...
Powerbar Protein Plus 20 Gram Bar - 15 Bars
For you to perform your best and recover quickly, your muscles need a sufficient amount of high-quality protein. Grab a Powerbar Protein Plus 20 Gram Bar before or after your workout to supply your body with a balanced blend of slow-, medium-, and fast-digesting proteins. A 20-gram TriSource...
Powerbar ProteinPlus 30 Gram Bar - 12 Bars
Serious athletes know that a healthy dose of protein just before or after a workout is crucial to muscle development and recovery. Get yours with a convenient and tasty Powerbar ProteinPlus 30 Gram Bar. The blend of whey, soy, and casein proteins provides all the crucial amino acids hungry...
Powerbar Pure and Simple Bar - 15 Bars
Just because you're rushing out the door to hit the trails doesn't mean you have to grab processed energy foods to get a boost. Powerbar Pure and Simple Bars are made entirely from wholesome natural ingredients like oats and fruit that provide healthy, sustained energy to get you up sets of steep...
Powerbar Recovery Bars - Box 15 Bars
Just as important as supplyingnutrition during exercise or competition is proper recovery. Powerbar specificallyformulated its Recovery Bars to offer post-exercise nutrition directlyto the muscles. Carbohydrates play a crucial role inrestoring glycogen, the long-term form of energy storage in...
Powerbar Triple Threat Bars - Box (15 Bars)
Remember the days when energy bars tasted like flavoredcardboard ... if you were lucky? Well, those are now a fleeting memory thanksto the PowerBar Triple Threat Energy Bars. Powerbar set out to change thatbland, preconceived notion by using nuts, oat bran, and natural flavors like peanut butter...
ProBar Core Protein Bar - 12-Pack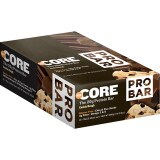 The ProBar Core Protein Bar 12-Pack sends a healthy helping of protein in your system to assuage hunger and load your body up with the nutrients it needs. Whether you need a hardy replenishment after training sessions or a something to keep you on your feet eight miles into a twelve-mile hike,...
ProBar Halo Bar - 12 Pack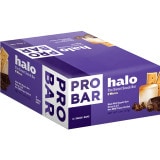 Sometimes, you really, really want a candy bar but not the processed sugars, unpronounceable chemicals, and mystery fats, so it's a good thing you have a ProBar Halo Bar 12-Pack. These sweet treats are loaded with delicious flavor, and their natural, organic ingredients give you the tastes you...
ProBar Meal Bar - 12-Pack
The ProBar Meal Bar 12-Pack fuels you up for your most epic outdoor adventures or even those around-town days when you're too busy to make something but you aren't willing to descend into the terrifying world of fast food. The majority of the ingredients are organic and there are no preservatives...
Raw Revolution Organic Food Bar - 12 Bars
If you friends haven't tasted a Raw Revolution Organic Food Bar, they might not understand that these delicious little energy nuggets taste nothing like those chalky bars you typically dread eating. And, if they're confused about how good these are, they might refuse if you offer them one. That...
<< Prev | Back | 1 | 2 | 3 | 4 | 5 | 6 | 7 | 8 | 9 | 10 | More | Next >>