Tail Lights - Road Bike Shop
Shop
>
Accessories
>
Lights
>
Tail Lights
Blackburn Mars 1.1 Tail Light
There aren't too many bike lights that will get you seen from behind more quickly than the Blackburn Mars 1. 1 Tail Light. Three super-bright LED's light up the back of your bike like the red planet itself in steady or flashing modes to make sure you don't wind up staring at the underside of some...
Fi'zi:k Blin:k Tail Light
Retail Price:
$19.95
Our Price: $14.95
buy now
Props to Fizik for curing one of cycling's perpetual annoyances. There's nothing worse than going for an early morning spin and having your thighs brush again and again and again against the tail light you've affixed to your seatpost. You've gotta ride with a tail light -- we feel safer riding...
Lezyne Femto Drive Rear Light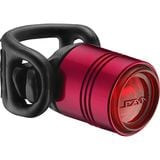 Retail Price:
$14.95
Our Price: $12.00
buy now
A perfect match for the Lezyne Femto Front Light, the Femto Rear Light looks just like its sibling but sports a red lens and puts out 7 lumens instead of 15. The Femto Drive Rear Light's durable CNC-machined aluminum body is weather-resistant, dissipates heat to protect the batteries, and won't...
Lezyne Hecto Drive Rear Light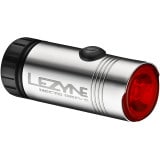 If you ride at night, you know that being visible to traffic is paramount. Sure, you use a bright headlight, but that won't help being seen from behind. Add the Lezyne Hecto Drive Rear Light to your stash so that you'll be lit from all directions. Three long-lasting LEDs are encased in a...
Light & Motion Vis 360 Plus Light
You know the drill -- before leaving your apartment ever morning, you dress, pack your tools and a spare change of clothes, don gloves and helmet, and duck out the front door, bike under arm. It's only until you're beyond the point of turning around when you realize you've forgotten your rear...
NiteRider Lightning Bug 100 USB Tail Light
Retail Price:
$44.95
Our Price: $35.95
buy now
Be seen on the commute with NiteRider's Lightning Bug 100 USB Tail Light. A bright LED lets motorists know that you're on the road, and a USB charging port ensures that the 800mA/hx1 battery is topped off before you leave the office. The Lightning Bug provides 100 lumens of light on its highest...
Portland Design Works Aether Demon Tail Light
Retail Price:
$49.00
Our Price: $24.99
buy now
Getting the attention of motorists and others while out on the road is what the Aether Demon Tail Light does best. This incredibly bright, blinking tail light from Portland Design works eschews those clunky alkaline batteries in favor of a sleek lithium-ion battery that charges via USB port. With...
Portland Design Works Danger Zone Tail Light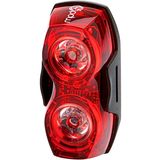 We all know the song, and we're even more familiar with the shirtless high-fives that accompanied it. However, while the locker rooms of flight school seem like quite the daunting environment, it's nothing compared to riding the streets after the bars let out. That's why Portland Design Works...
Portland Design Works Fenderbot Tail Light
It can be argued that one of the crowning achievements of the Modern Age was bringing light from the darkness. However, that celebration was so the Industrial Revolution. Nowadays, we have 'robots' to perform our illuminating demands, and as cyclists, we now have the Portland Design Works...
Portland Design Works Radbot 1000 Tail Light
What's better than an army of robots defending you during your nightly ride? How about an army of radbots, or in this case, an army of one Portland Design Works Radbot 100 Tail Light. Literally as bright as a car's tail light, the Radbot 1000 is your mechanized defense shield from the onslaught...
<< Prev | 1 | 2 | Next >>