Light Accessories - Road Bike Shop
Shop
>
Accessories
>
Lights
>
Light Accessories
Light & Motion Solite Bike Mount Kit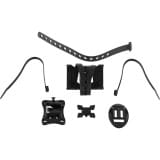 Get the most out of your Light & Motion Solite with the Solite Bike Mount Kit. This kit allows you to mount the Solite to your bike or to your helmet for the commute home or an evening trail ride.
Light & Motion Vis 180 Spare Mount
The Light & Motion Vis 180 light offers a full 180 degrees of visibility -- none of which can do you any good without the right mount. Replace your lost or damaged Vis 180 mount with this Spare Mount, which includes the plastic backing for the light itself, along with the rubber strap for a...
Light & Motion Vis 360 Spare Front Mount
If you do a lot of night riding on multiple bikes, it's nice to be able to easily transfer your Light & Motion lights from helmet to helmet without having to move the entire strap assembly. This Vis 360 Spare Front Mount works with the front lights in the Vis 360 system, and quickly mounts to any...
Light & Motion Vis 360 Spare Front Strap - Long Strap 180
Even if you haven't lost your Light & Motion Vis 360 Front Strap, it can't be a bad idea to have a spare ready to go. Especially if you have a puppy. Or a kitten. Or a son, or a daughter, or a brother, or a roommate, or a ferret, or a sister, or a parakeet ....
Light & Motion Vis 360 Spare Rear Mount
Maybe you crashed and it somehow broke, maybe you simply misplaced it, or maybe you'd just like to add another light mount to a different helmet in your collection so you can transfer the lights back and forth. Whatever the reason, the Vis 360 Spare Rear Mount mounts your Vis 360 rear light (in...
Light & Motion Vis180/Micro Rack Mount
Your Light & Motion Vis 180 Micro Light is sweet and it's probably saved your life more than a few times. Wouldn't it be cool if you could use it on your other bike as well without having to shell out all the dough for another light? You can. The Light & Motion Vis 180 Micro Rack Mount attaches...
NiteRider Cordless Helmet Mount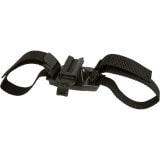 Congratulations, you've untied yourself from messy, ungainly wires by picking up the NiteRider MiNewt. 150/250 Wireless light ... but now you want to mount it on your helmet instead of your bars. Just get the Helmet Mount and start illuminating from your head.
NiteRider Universal Handlebar Mount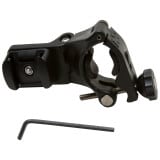 You'll have great flexibility for lighting up your night rides with NiteRider's Universal Handlebar Bike Light Mount. This mount is designed to work with any of NiteRider's fabulous bike lights and enables you to direct the light as you wish.
<< Prev | 1 | 2 | Next >>