Headlights - Road Bike Shop
Shop
>
Accessories
>
Lights
>
Headlights
Blackburn Flea 2.0 Front/ Flea Rear USB Combo Lights
Would you like to make that a combo meal? The Blackburn Flea 2. 0 USB Front and Rear Combo Pack gives you the visibility to confidently take your bike out at night, knowing that you're 74% less likely to be run over by an idiot.
Bookman Light Set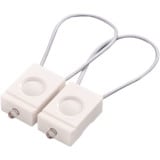 It's no secret, cyclists can be an eccentric bunch. But the products we have to choose from are often beige designs for broad, mass-market appeal. That's the opposite for Bookman, --just take a look at its easy to use Light Set. You have eight colors from Goblin Green to Sixpence Orange to...
CatEye Commuter Set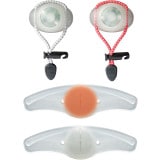 Retail Price:
$40.00
Our Price: $20.00
buy now
When your day goes longer than planned and you're pedaling home in the dark, it's best to be as visible as possible. CatEye makes it easy with its Commuter Set. The Commuter set includes both a front and rear Loop light. These lights feature extended run times -- 30hours constant, 50hours...
CatEye Omni 3 Headlight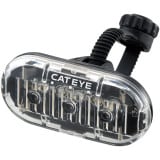 You love your bike commute to work each morning and back home each evening, but in the winter when the days are short, or even in the summer when you're working long hours, you need light. That's why CatEye offers its Omni 3 Headlight at a low price so you don't have to sacrifice safety for your...
CatEye Orbit Spoke Light Combo
Retail Price:
$20.00
Our Price: $10.00
buy now
Do you remember the day you bought your brand new bike? What's the first thing you did? Cut off the reflectors is first on our list. But then, one day your workday goes a little later than planned and you need to be visible after dark. For this reason, CatEye has created the Orbit Spoke Light...
Exposure Axis - Single XML Light
Retail Price:
$269.95
Our Price: $202.45
buy now
The fact that you can attach the 550-lumen Axis Single XML Light to your helmet, complete with battery, in a sub 100 gram package is pretty impressive to say the least. Exposure's makes this possible through the use of LED technology, a 2900mAh lithium ion battery (good for 2 - 36 hours), and...
Exposure Diablo Mk5 Light
Retail Price:
$299.95
Our Price: $209.95
buy now
1100 lumens of light, a hair over 100g, and it's self-contained. Heavy bragging rights there, for Exposure's Diablo Mk5 Light and reasons for competitive 24hr racers and KOM terrorists alike to consider this torch. If you've ever snagged a power cord and had a singletrack tunnel go dark or would...
Exposure Equinox Light
At the forefront of lighting technology, Exposure's sub 125g, 1200-lumen Equinox Light is incredibly powerful for its feathery weight. And if that's not enough power, Equinox can boost lumens to 2000 and increase battery life with the addition of a Support Cell. As it sits, the light will last...
Exposure Equinox Light Pack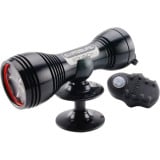 At the forefront of lighting technology, Exposure's sub 125g, 2000-lumen Equinox Light Pack comes with a helmet mount and a wireless remote switch. That's right, an incredibly powerful light and battery combination that's feathery enough for helmet use, complete with control at your finger tips....
Exposure Joystick Light with Helmet Mount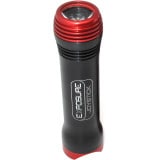 Retail Price:
$234.95
Our Price: $165.00
buy now
With seven years under its belt, the Exposure Joystick Mk7 has continually evolved as Exposure has grown to be a leader in the performance lighting market. Now sporting a boost in output to 400 lumens and Exposure's new Optimized Mode Selector, the lightweight Joystick Mk7 with Helmet Mount...
<< Prev | 1 | 2 | 3 | 4 | 5 | 6 | 7 | 8 | Next >>