Headlights - Road Bike Shop
Shop
>
Accessories
>
Lights
>
Headlights
Azonic Adam Head Light
Retail Price:
$54.95
Our Price: $24.73
buy now
Illuminating the darkest country roads and late-night trails, the Azonic Adam Head Light packs a punch with its high-powered Cree LEDs. Providing 200-lumens on its highest setting, this rechargeable USB head light keeps you safe when you're commuting after dark in the city and riding your...
Azonic Adam/Sulu USB Light Pair
The Azonic Adam/Sulu USB Light Pair provide intense illumination for late-night trail rides and cruising through the city after dark. The front Adam light delivers 200-lumens with its powerful LEDs, lighting up pitch-dark stretches of singletrack and desolate country roads. The rear Sulu light...
Azonic Hoss Head Light
Packing a whopping 400-lumens of illumination within a compact aluminum machined body, the Azonic Hoss Head Light illuminates the darkest nights with its top-of-the-line Cree LED lights. This super-bright LED light illuminates pitch-dark trails and desolate streets, providing extra visibility to...
Azonic Hoss/Sulu USB Light Pair
Retail Price:
$94.95
Our Price: $47.47
buy now
The Azonic Hoss/Sulu USB Light Pair delivers powerful front and rear illumination for late-night cruises through the city, daily commutes, and pitch-dark singletrack rides. Its Hoss front light packs a whopping 400-lumens for super-bright illumination on dark trails and desolate streets. The Hoss...
Azonic Sulu CR Front Light
Retail Price:
$15.95
Our Price: $7.97
buy now
Light up the night with the Azonic Sulu CR Front Light. This super-compact LED features black aluminum housing for a sleek look with durability to withstand daily riding and waterproof seals for extra weather protection. 15-lumens of illumination light up dark city streets and desolate country...
Blackburn Click Head Light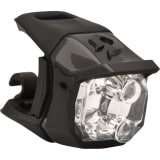 There are many an unfortunate occurrence which can ruin a lovely evening of fine cocktails and cycling shenanigans--none more than that with a rogue vehicular encounter. Improve your visibility and get home safe with the clever, bulb-push illumination of the Blackburn Click Head Light.
Blackburn Flea 2.0 USB Light - Front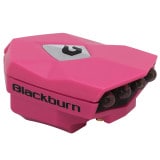 Retail Price:
$29.95
Our Price: $18.99
buy now
Finally, you can worry less about getting run over on your ride home from work. The Blackburn Flea 2. 0 Front Light hits traffic with 40 lumens from four super-bright White Nichia LED's so the rest of the world is out of excuses for putting you in the hospital. The Flea 2. 0 comes with a USB...
Blackburn Scorch 1.0 Headlight
With the super-bright Blackburn Scorch 1. 0 Headlight, you'll be more visible to motorists and you won't run over cats all the time anymore.
Blackburn Super FLEA Headlight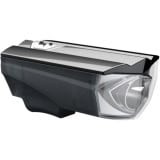 Attach the Blackburn Super FLEA Headlight to your bar and not only will you crash less, but fe3wer things will crash into you, too.
Brooks England Femto Front Light
Copper has made a serious comeback recently, but we don't need to be telling Brooks England that. Steadfastly devoted to evoking the bygone days of cycling, Brooks created the Femto Front Light with the style we'd expect from the brand, including a classy copper-colored body. Attached to your...
<< Prev | Back | 1 | 2 | 3 | 4 | 5 | 6 | 7 | 8 | 9 | 10 | More | Next >>