Headlights - Road Bike Shop
Shop
>
Accessories
>
Lights
>
Headlights
Blackburn Click Head Light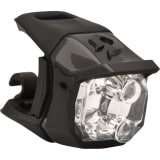 There are many an unfortunate occurrence which can ruin a lovely evening of fine cocktails and cycling shenanigans--none more than that with a rogue vehicular encounter. Improve your visibility and get home safe with the clever, bulb-push illumination of the Blackburn Click Head Light.
Blackburn Flea 2.0 Front/ Flea Rear USB Combo Lights
Retail Price:
$54.95
Our Price: $41.21
buy now
Would you like to make that a combo meal? The Blackburn Flea 2. 0 USB Front and Rear Combo Pack gives you the visibility to confidently take your bike out at night, knowing that you're 74% less likely to be run over by an idiot.
Blackburn Flea 2.0 USB Light - Front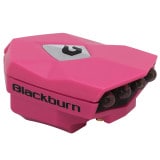 Finally, you can worry less about getting run over on your ride home from work. The Blackburn Flea 2. 0 Front Light hits traffic with 40 lumens from four super-bright White Nichia LED's so the rest of the world is out of excuses for putting you in the hospital. The Flea 2. 0 comes with a USB...
Blackburn Scorch 1.0 Headlight
With the super-bright Blackburn Scorch 1. 0 Headlight, you'll be more visible to motorists and you won't run over cats all the time anymore.
Blackburn Super FLEA Headlight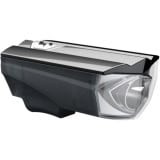 Attach the Blackburn Super FLEA Headlight to your bar and not only will you crash less, but fe3wer things will crash into you, too.
CatEye Omni 3 Headlight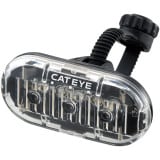 Retail Price:
$13.95
Our Price: $10.45
buy now
You love your bike commute to work each morning and back home each evening, but in the winter when the days are short, or even in the summer when you're working long hours, you need light. That's why CatEye offers its Omni 3 Headlight at a low price so you don't have to sacrifice safety for your...
CatEye Rapid X Light
CatEye continues to make some of the most reliable and visible lights in the business. So, when the company comes up with a totally new product, it's notable to riders everywhere. The new CatEye Rapid X Light is the latest and greatest, and it promises to outshine everything else that came before...
CatEye Sumo 3 Headlight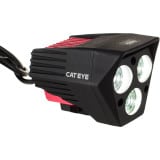 Retail Price:
$449.95
Our Price: $246.99
buy now
There's brightness and then there's how'd-that-car-get-on-the-trail brightness. And the CatEye Sumo 3 Headlight certainly leans towards the latter. To start, CatEye incorporated three LED bulbs that exude up to 5500 candlepower. If you're used to reading output levels in terms of lumens, let us...
CatEye Volt 1200 Headlight
Sure, powerful, palm-sized headlights have been on the market for more than a few years, but did you ever expect to see light output that rivals your car's high beams? Well, whether or not you were ready for it, this is the reality. With CatEye's Volt 1200, you receive 1200 lumens of illumination...
CatEye Volt 300 Headlight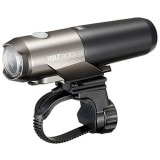 Headlight technology has evolved quickly from days of yore when you needed to carry two water-bottle sized batteries for a few hours of illumination. Now you can literally hold a complete light in the palm of your hand. The Cateye Volt 300 is the latest in portable lumens - quick to charge and...
<< Prev | Back | 1 | 2 | 3 | 4 | 5 | 6 | 7 | 8 | 9 | 10 | More | Next >>