Headlights - Road Bike Shop
Shop
>
Accessories
>
Lights
>
Headlights
Blackburn Click Head Light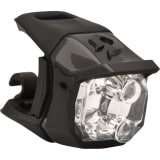 There are many an unfortunate occurrence which can ruin a lovely evening of fine cocktails and cycling shenanigans--none more than that with a rogue vehicular encounter. Improve your visibility and get home safe with the clever, bulb-push illumination of the Blackburn Click Head Light.
Blackburn Flea 2.0 USB Light - Front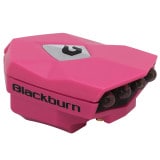 Finally, you can worry less about getting run over on your ride home from work. The Blackburn Flea 2. 0 Front Light hits traffic with 40 lumens from four super-bright White Nichia LED's so the rest of the world is out of excuses for putting you in the hospital. The Flea 2. 0 comes with a USB...
Blackburn Scorch 1.0 Headlight
With the super-bright Blackburn Scorch 1. 0 Headlight, you'll be more visible to motorists and you won't run over cats all the time anymore.
CatEye Omni 3 Headlight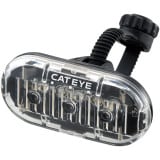 Retail Price:
$13.95
Our Price: $10.45
buy now
You love your bike commute to work each morning and back home each evening, but in the winter when the days are short, or even in the summer when you're working long hours, you need light. That's why CatEye offers its Omni 3 Headlight at a low price so you don't have to sacrifice safety for your...
CatEye Orbit Spoke Light Combo
Retail Price:
$20.00
Our Price: $7.99
buy now
Do you remember the day you bought your brand new bike? What's the first thing you did? Cut off the reflectors is first on our list. But then, one day your workday goes a little later than planned and you need to be visible after dark. For this reason, CatEye has created the Orbit Spoke Light...
CatEye Rapid X Light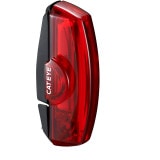 CatEye continues to make some of the most reliable and visible lights in the business. So, when the company comes up with a totally new product, it's notable to riders everywhere. The new CatEye Rapid X Light is the latest and greatest, and it promises to outshine everything else that came before...
CatEye Sumo 3 Headlight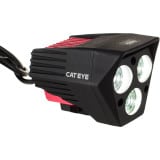 Retail Price:
$449.95
Our Price: $299.95
buy now
There's brightness and then there's how'd-that-car-get-on-the-trail brightness. And the CatEye Sumo 3 Headlight certainly leans towards the latter. To start, CatEye incorporated three LED bulbs that exude up to 5500 candlepower. If you're used to reading output levels in terms of lumens, let us...
CatEye Volt 300 Headlight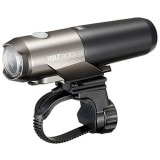 Headlight technology has evolved quickly from days of yore when you needed to carry two water-bottle sized batteries for a few hours of illumination. Now you can literally hold a complete light in the palm of your hand. The Cateye Volt 300 is the latest in portable lumens - quick to charge and...
Exposure Axis - Single XML Light
Retail Price:
$269.95
Our Price: $202.45
buy now
The fact that you can attach the 550-lumen Axis Single XML Light to your helmet, complete with battery, in a sub 100 gram package is pretty impressive to say the least. Exposure's makes this possible through the use of LED technology, a 2900mAh lithium ion battery (good for 2 - 36 hours), and...
Exposure Equinox Light
Retail Price:
$479.00
Our Price: $399.00
buy now
At the forefront of lighting technology, Exposure's sub 125g, 1200-lumen Equinox Light is incredibly powerful for its feathery weight. And if that's not enough power, Equinox can boost lumens to 2000 and increase battery life with the addition of a Support Cell. As it sits, the light will last...
<< Prev | 1 | 2 | 3 | 4 | 5 | 6 | 7 | 8 | Next >>