Headlights - Road Bike Shop
Shop
>
Accessories
>
Lights
>
Headlights
NiteRider Lumina Micro 250 & Solas Combo
Coming or going, you want to be seen, and a good headlight/taillight team on your bike can be worth its weight (or more) in gold. For brightness and value, it's tough to beat a duet like the NiteRider Lumina Micro 250 Headlight and Solas Taillight Combo. It may be the smallest in the cordless...
NiteRider Lumina Micro 250 Headlight
Pop on a headlight like the NiteRider Lumina Micro 250, which is a bright light for bright minds that know value and want safety and quality in equal parts. It may be the smallest in the cordless Lumina family, but at 250 lumens, the Micro is still far brighter than the average light out there --...
NiteRider Mako 150 Combo
NiteRider doesn't believe your budget should limit your safety. Easily one of the best values in the bike light market, the NiteRider Mako 150 Combo combines the company's best-selling Mako 150 headlight with the Cherrybomb 0. 5-watt taillight, making for a seriously bright combination at a...
NiteRider Mako 150 Light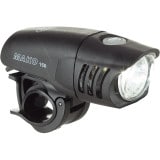 Many entry level bike lights operate only with the notion that it's important for you to be seen, not to see whats in front of you. However,NiteRider has taken its introductory light offering to the next level with the Mako 150 Light. A budget conscious option for front lights, the Mako 150 will...
NiteRider Mako 200 Light
When the sun goes down and you're rushing across town to a friends house, the NiteRider Mako 200 Light will light the way for safe passage. Unlike most entry-level lights that're just bright enough to make the overly-cautious motorist aware of your presence, the Mako 200 light illuminates a...
NiteRider Mako 200 USB Light
Forgetting that you need to change the batteries in your light can leave you in a lurch when you're headed home late at night. With the new USB rechargable NiteRider Mako 200 USB Light, the only thing that you have to remember is plug it in at the coffee shop or in the office. Sitting in the...
NiteRider MiNewt Mini 350 Plus Light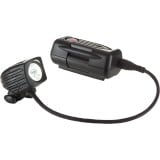 As the sun goes down, and you're on your way home for the night, your 20 lumen light provides some visibility but lacks the ability to light up the ground in front of you. So, if you love blindly hitting potholes at speed, we recommend keeping your wimpy light. However, if you want to see and be...
NiteRider MiNewt Pro 750 Light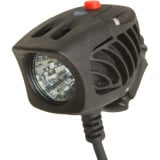 Retail Price:
$229.95
Our Price: $183.95
buy now
If you do enough night-time riding to warrant investing in a serious lamp, but don't want to carry around a heavy-hitter like the Pro 1500 LED Race Light, NiteRider makes the MiNewt Pro 750 Light just for you. You'll be astounded at how tiny yet how powerful this system really is. NiteRider uses...
NiteRider Pro 1200 Race Light
Small and powerful, NiteRider's Pro 1200 Race Light employs a feathery frame to reduce neck fatigue without compromising beam quality. Instead of projecting a direct beam, the Cree XML LED bulb and engineered lens broadcast a trail-illuminating halo for excellent forward and side-to-side...
NiteRider Pro 1800 Race Light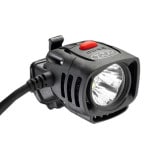 Late night trail rides and endurance races call for a light that's brighter than the one sitting on the handlebars of your commuter bike. A light with 500 lumens might work well at dusk, but it doesn't provide sufficient lighting when you're speeding down a single track that's enshrouded in...
<< Prev | 1 | 2 | 3 | 4 | 5 | 6 | 7 | 8 | 9 | Next >>