Headlights - Road Bike Shop
Shop
>
Accessories
>
Lights
>
Headlights
NiteRider Lightning Bug 2.0 Light
Retail Price:
$14.95
Our Price: $12.75
buy now
Big light, small package is the best way to describe the NiteRider Lightning Bug 2. 0 Light. The perfect light for adding some visibility to your bike in low-light conditions. The Lightning Bug weighs just 22 grams and is designed with stretchy rubber fasteners that are simple to mount. In...
NiteRider Lightning Bug 3.0 Light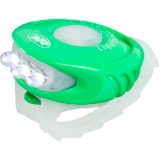 Retail Price:
$19.95
Our Price: $13.97
buy now
The NiteRider Lightning Bug 3. 0 Light features three bright little LEDs to keep you visible to motorists during your late-night jaunt across town and training rides gone long. Easy-to-mount rubber fasteners make it a breeze to take on and off. The size makes it easy to store in a jersey pocket...
NiteRider Lightning Bug Combo Light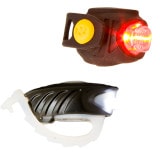 Get your righteous commute on with the NiteRider Lightning Bug Combo Kit. This headlight / taillight combo will give those constantly distracted motorists something to fixate on as you pedal around town. The lights attach easily to your handlebars and seatpost, and come off just as easily when...
NiteRider Lumina 550 Light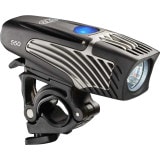 Even before daylight hours grow shorter, sometimes the quietest time to train is just before the dawn -- empty roads, chirping birds, fresh, crisp air, and of course, darkness. Enter NiteRider's Lumina series. Compact, cordless, and USB rechargeable lights ensure that you'll see every bump in the...
NiteRider Lumina 750 Headlight & Solas Taillight Combo
If you're really good, you can identify cars and trucks at night, whether coming or going, by their headlight and taillight patterns. We doubt there are such enthusiasts in the world of bike lighting systems, but if there are, they'd instantly recognize the NiteRider Lumina 750 Headlight and...
NiteRider Lumina Flare 650 with Intergrated Tail Light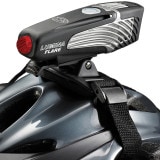 Retail Price:
$169.95
Our Price: $122.99
buy now
Riding your bike isn't really that complicated, so why should that beautiful simplicity go out the window just because the sun has set? If you've got a Niterider Lumina Flare 650 light strapped to your helmet, it's as simple as charging it up and turning it on. That's because the lightweight...
NiteRider Lumina Micro 250 & Solas Combo
Coming or going, you want to be seen, and a good headlight/taillight team on your bike can be worth its weight (or more) in gold. For brightness and value, it's tough to beat a duet like the NiteRider Lumina Micro 250 Headlight and Solas Taillight Combo. It may be the smallest in the cordless...
NiteRider Lumina Micro 250 Headlight
Pop on a headlight like the NiteRider Lumina Micro 250, which is a bright light for bright minds that know value and want safety and quality in equal parts. It may be the smallest in the cordless Lumina family, but at 250 lumens, the Micro is still far brighter than the average light out there --...
NiteRider Mako 100 Light
Most lights for city riding only keep drivers aware of your presence, but don't do anything to illuminate the road or its hazards. As an introductory-level light from NiteRider, the Mako 100 Light is a small but powerful light addition to your commute. See the road, and let motorists see you....
NiteRider Mako 150 Combo
NiteRider doesn't believe your budget should limit your safety. Easily one of the best values in the bike light market, the NiteRider Mako 150 Combo combines the company's best-selling Mako 150 headlight with the Cherrybomb 0. 5-watt taillight, making for a seriously bright combination at a...
<< Prev | 1 | 2 | 3 | 4 | 5 | 6 | 7 | 8 | 9 | 10 | Next >>