Headlights - Road Bike Shop
Shop
>
Accessories
>
Lights
>
Headlights
NiteRider Lightning Bug Combo Light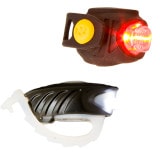 Get your righteous commute on with the NiteRider Lightning Bug Combo Kit. This headlight / taillight combo will give those constantly distracted motorists something to fixate on as you pedal around town. The lights attach easily to your handlebars and seatpost, and come off just as easily when...
NiteRider Mako 200 Light
When the sun goes down and you're rushing across town to a friends house, the NiteRider Mako 200 Light will light the way for safe passage. Unlike most entry-level lights that're just bright enough to make the overly-cautious motorist aware of your presence, the Mako 200 light illuminates a...
NiteRider Mako 200 USB Light
Forgetting that you need to change the batteries in your light can leave you in a lurch when you're headed home late at night. With the new USB rechargable NiteRider Mako 200 USB Light, the only thing that you have to remember is plug it in at the coffee shop or in the office. Sitting in the...
NiteRider Mako Mini Headlight
Serving as the smallest of NiteRider's Mako series of headlights, the NiteRider Mako Mini Headlight is a big deal. For an excellent price, you get up to 50 lumens via 3-mode functionality (high steady, low steady, and flash). It's intended to be seen more than to see in dark conditions, but...
NiteRider MiNewt Mini 350 Plus Light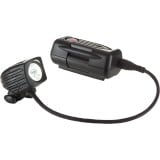 As the sun goes down, and you're on your way home for the night, your 20 lumen light provides some visibility but lacks the ability to light up the ground in front of you. So, if you love blindly hitting potholes at speed, we recommend keeping your wimpy light. However, if you want to see and be...
NiteRider MiNewt Pro 750 Light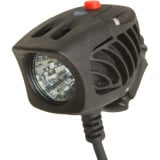 Retail Price:
$229.95
Our Price: $183.95
buy now
If you do enough night-time riding to warrant investing in a serious lamp, but don't want to carry around a heavy-hitter like the Pro 1500 LED Race Light, NiteRider makes the MiNewt Pro 750 Light just for you. You'll be astounded at how tiny yet how powerful this system really is. NiteRider uses...
NiteRider Pro 1200 Race Light
Small and powerful, NiteRider's Pro 1200 Race Light employs a feathery frame to reduce neck fatigue without compromising beam quality. Instead of projecting a direct beam, the Cree XML LED bulb and engineered lens broadcast a trail-illuminating halo for excellent forward and side-to-side...
NiteRider Pro 1800 Race Light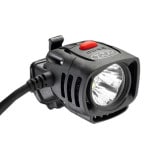 Late night trail rides and endurance races call for a light that's brighter than the one sitting on the handlebars of your commuter bike. A light with 500 lumens might work well at dusk, but it doesn't provide sufficient lighting when you're speeding down a single track that's enshrouded in...
Portland Design Works Cosmic Dreadnought 135 Headlight
Retail Price:
$49.95
Our Price: $24.95
buy now
The darkest alleyways are no match for the Portland Design Works Cosmic Dreadnought 135 Headlight. Compact design and extended running time ensure darkness never wins. The exterior case of the Dreadnought is built to withstand rain and snow so that leakage never stops you from riding. A Cree XPE...
Serfas True 1000 Headlight with integrated Thunderbolt Tail Light
If you're bold enough to trail ride at night, you want to see what's coming at you. The Serfas True 1000 Headlight ensures that nothing is left to your imagination. And, when you come down off the trail, the integrated Thunderbolt Tail light keeps you visible to cars as you make your way home....
<< Prev | 1 | 2 | 3 | 4 | 5 | 6 | 7 | 8 | Next >>