Headlights - Road Bike Shop
Shop
>
Accessories
>
Lights
>
Headlights
Lezyne Femto Drive Front Light
Sometimes being seen is more important than illuminating your own path--think of early-morning urban commuting--so Lezyne designed the work-of-art Femto Drive Front Light to let motorists know you're coming. The LED bulb puts out 15 lumens of steady or flashing illumination, courtesy of two...
Lezyne Hecto Drive Front Light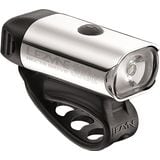 When you want a simple, lightweight headlight to pop into your bag for those days when you get stuck riding home as the sun is setting, the Lezyne Hecto is the perfect fit. It's clean style is only matched by its convenience and packability. Three long-lasting LEDs are encased in a dome-like...
Lezyne Hecto Drive XL & Strip Drive Pair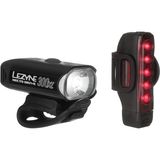 When you head out on a dawn or dusk ride, it's always a little darker than you think it's going to be in the trees or on a steep canyon climb. Make sure you're able to see and be seen on the occasions you ride without the sun with Lezyne's Hecto Drive XL & Strip Drive Pair. The headlight and...
Lezyne Helmet Mount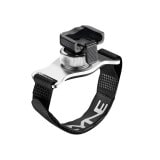 Strapping one of Lezyne's high-performance LEDs will require a little more strength than a wimpy plastic mount. The Lezyne Aluminum Helmet Mount is made from, you guessed it, aluminum, for a high strength-to-weight and the ability to hang on during rough descents. The spherical pivot allows you...
Lezyne International 2A USB Charging Kit
Keep your lights charged when you travel with the Lezyne International 2A USB Charger Kit. This setup allows you to charge your Lezyne USB lights pretty much anywhere you can find a wall socket. It includes adapters for USA, EURO, ASIA, and AU wall sockets, so you're set no matter where your...
Lezyne KTV Drive Pro Light Pair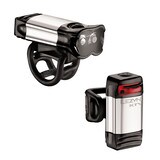 The intersection of value, performance, and design can be tricky to find, particularly in the utilitarian world of bicycle lighting. Lezyne puts a thumb tack on the map, though, with their new KTV family of lights, and if you're after a killer deal, the Lezyne KTV Drive Pro Pair sends both the...
Lezyne LED Femto Drive Light Pair
Small ain't no thing to the engineering geniuses at Lezyne. Not only were they able to jam some serious brightness into the compact Lezyne Femto Light Pair, they kept the lights' stylish appearance up to the company's usual standards, too. The Femtos' durable CNC-machined aluminum bodies are...
Lezyne LED KTV Drive Headlight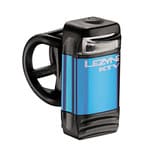 Retail Price:
$19.99
Our Price: $15.99
buy now
The road can be a dangerous place, especially for cyclists whose schedules see them on the road before sunrise or after dark. If this describes you, then you know that the importance of ensuring that motorists also see you on the road is impossible to overstate. With its combination of features,...
Lezyne LED KTV Drive Light Pair
Sometimes companies try a different approach to product design, and it can be a gamble. Lezyne has a habit of challenging the design and function of bicycle lighting, and with the new LED KTV Drive Light Pair, you get a double whammy of a new, and excellent, approach to bike lights. Both the KTV...
Lezyne LED KTV Drive Pro Headlight
The world of bike lights might, on the surface, seem relatively benign with regards to technological advancements or flashy new designs (pun definitely intended). So it gets our attention when a company truly re-thinks bike lighting, and a great example of a train of thought we advise following...
<< Prev | Back | 1 | 2 | 3 | 4 | 5 | 6 | 7 | 8 | 9 | 10 | More | Next >>