Headlights - Road Bike Shop
Shop
>
Accessories
>
Lights
>
Headlights
Light & Motion GoBe 700 Spot Headlamp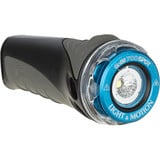 Let the Light & Motion GoBe 700 Spot Headlamp shine your way while you climb mountains, bike down them, or commute around town. Engineered with Cree LED lighting in a wide 20-degree angle, the GoBe 700 provides the high-quality lighting athletes need in fast-moving pursuits. The GoBe is...
Light & Motion Seca 1500 Light
Why stop riding just because the sun is taking a break? With the Light and Motion Seca 1500 Light, you don't have to. In the full-strength setting, it puts out 1500 lumens of trail illuminating light for two hours of ride time. And if you turn down the setting, you won't have to sacrifice any...
Light & Motion Seca 1700 Race Light
Retail Price:
$469.99
Our Price: $234.99
buy now
It's getting dark, and the only audible sounds are from your pedals turning over, the tires on the gravel, and a distant sound of the forest settling in for the night. As you reach the summit of the hills, you watch the sun set on the distant horizon before you flick on your light to descend....
Light & Motion Seca 2000 3 Cell Race Light
Those with an affinity for riding at night know just how important bright lights are, but no one needs to pay a weight penalty in order to see where they're going. Luckily, though, weight isn't an issue with the Light and Motion Seca 2000 Race Light. Kicking out 2000 lumens at full-power, this is...
Light & Motion Seca 2000 6 Cell Enduro Light
Riding at night puts a whole new twist on the trails that you know and love. However, bright lights have a tendency make it even better. And with a whopping 2000 lumens on tap, the Light and Motion Seca 2000 Enduro Light certainly qualifies as bright. It gets its light output from six LEDs, which...
Light & Motion Solite 250 EX
When Light and Motion set out to build the most versatile light that it could come up with, the Solite 250 EX became the result. It puts out a whopping 250 lumens, which is able to be dialed back to 50 for the times when you don't need deer-blinders. Better yet, with the supplied headband, it...
Light & Motion Stella 500 Light
Staying safe on a night ride largely depends on your being able to see where you're going. And with the Light and Motion Stella 500 Light, visibility will be the least of your concerns. The whole package weighs in around 230 grams including a battery, so whether you're mounting it to your...
Light & Motion Taz 1200 Light
If you've ever participated in an epic, all-night endurance race like the 24 Hours of Moab, you're certainly no stranger to having once been relegated to lugging around a heavy battery pack which powered an extremely expensive headlight that was no more powerful than a car headlamp on its lowest...
Light & Motion Taz 1500 Headlight
What do you see? More importantly, while cranking along a trail in the middle of the night at 20 miles per hour, what do you not see? Find out, and in doing so, speed up, with the outrageously bright Light & Motion Taz 1500 Headlight. Let all 1500 lumens neutralize the factor of night so you can...
Light & Motion Taz 800 Light
Retail Price:
$249.99
Our Price: $162.49
buy now
The Taz series from Monterey-based Light & Motion is billed as the company's 'crossover' lights. From the rigors of a darkened return commute, to illuminating potential trail hazards, the Taz 800 delivers enough concentrated light power for the darkest trails, while softening up and conserving...
<< Prev | 1 | 2 | 3 | 4 | 5 | 6 | 7 | 8 | 9 | 10 | Next >>