Headlights - Road Bike Shop
Shop
>
Accessories
>
Lights
>
Headlights
Fabric USB Front Light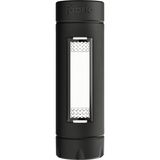 All of the crisp air and rich foliage of fall makes for a welcome change to your weekend rides, but your opportunities to sneak a few miles in after work in the evenings grow more difficult to come by every day. Extending your rides a half hour longer can be as easy as buying the right light. If...
Fabric USB Stick Light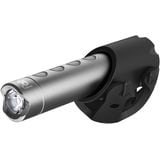 Expanding into the realm of bike lights for the first time, Fabric carried its affinity for simple, functional pieces beyond saddles, creating a concise line of headlights that double as tail lights when needed, like the 150-lumen USB Stick Light. Focusing on keeping cyclists seen more than...
Garmin Varia Bike Lights Bundle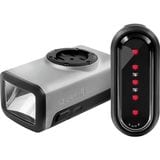 Ever since it first dipped its toes in the data pool, Garmin has been known for innovative products aimed at helping cyclists train more efficiently. With the introduction of a new line of bike lights, the data-loving company is now also demonstrating its interest in promoting safety as well. As...
Garmin Varia Headlight
Whether you ride in traffic regularly or your schedule occasionally forces you to log miles after the sun's gone down, you know it's important to see where you're going and stay visible on the roads in low-light conditions. Garmin's Varia Headlight offers the safety benefits you'd expect from a...
Knog Blinder Mob Eyeballer Front Light
The engineers at Knog, based just outside of Melbourne, Australia, are no strangers to fast-paced commutes on busy, narrow streets. We'd imagine their experiences in a major metropolitan area are part of what inspired the brand to create a line of bike lights specifically dedicated to the safety...
Knog Blinder Road 250 Headlight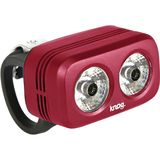 Retail Price:
$79.95
Our Price: $68.49
buy now
In the hunt for better visibility in low-light and nighttime conditions, one might be tempted to mount a fog light to the handlebars if it weren't for the prohibitive size and weight of it. The Knog Blinder Road 250 Headlight provides a better option to light the way, packing 250 lumens into its...
Knog Pop ii Headlight
Retail Price:
$24.50
Our Price: $19.60
buy now
Knog's Pop ii Headlight is perfect for the nights you want to pedal your cruiser out to grab takeout or meet up with your friends at that new cafe down the street. Light enough that you can leave it on your bike all the time so it's ready when you need it, the Pop ii emits up to 35 lumens and can...
Lezyne Composite Matrix Handlebar Mount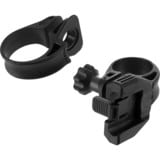 Busted up the handlebar mount for your 2013 Lezyne Mega or XL headlamp? Or maybe your 2012 LED Lezyne? No worries. The Lezyne Composite Matrix Handlebar Mount is the replacement you need. Compatible with 31. 8mm or 25. 4mm handlebars (with the included rubber shims), the mount head also pivots up...
Lezyne CR2032 Battery - 8 Pack
So, you got a pair of Lezyne Femto Lights and you're ready to start commuting on your bike every night. Femto LEDs last a good long time-60 hours-in Flash mode, but that isn't forever. You'll need some backup power. Lezyne CR2032 Batteries come in an 8-Pack. That should be enough to get you...
Lezyne Deca Drive 1500 XXL Headlight
With shortening winter days and fall foliage giving way to fields of snow, the search for appropriate lighting begins in earnest. Light the way and ride into the night with the Lezyne Deca Drive 1500 XXL Headlight. Capping out at a whopping 1,500 lumens, this light perches on the handlebars to...
<< Prev | Back | 1 | 2 | 3 | 4 | 5 | 6 | 7 | 8 | 9 | 10 | More | Next >>