Headlights - Road Bike Shop
Shop
>
Accessories
>
Lights
>
Headlights
Fortified Bicycle Defender Anti-Theft Bike Headlight
There are few things more frustrating than walking out to your bike after an evening with friends or a long study session to find your light stolen. Foil those light thieves with the Fortified Bicycle Defender Anti-Theft Bike Headlight. It's built to deter theft and stick around to guide you home...
Garmin Varia Bike Lights Bundle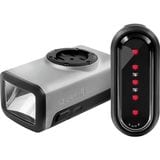 Ever since it first dipped its toes in the data pool, Garmin has been known for innovative products aimed at helping cyclists train more efficiently. With the introduction of a new line of bike lights, the data-loving company is now also demonstrating its interest in promoting safety as well. As...
Garmin Varia Headlight
Whether you ride in traffic regularly or your schedule occasionally forces you to log miles after the sun's gone down, you know it's important to see where you're going and stay visible on the roads in low-light conditions. Garmin's Varia Headlight offers the safety benefits you'd expect from a...
Garmin Varia Tail Light
Garmin took a cue from automobiles when designing its new Varia Tail Light, which is fitting, as the light aims to facilitate better communication between motorists and cyclists. As you approach a turn or intersection, the tail light brightens to signal your decrease in speed the same way a car's...
Knog Blinder Arc 640 Headlight
When you're caught outside in an early sunset, a small light that keeps you from blending into the dusk is usually enough protection -- nothing too bright, just a reminder to motorists of your presence on the road. But if you're routinely heading out knowing the majority of your ride will take...
Knog Blinder Mob Eyeballer Front Light
The engineers at Knog, based just outside of Melbourne, Australia, are no strangers to fast-paced commutes on busy, narrow streets. We'd imagine their experiences in a major metropolitan area are part of what inspired the brand to create a line of bike lights specifically dedicated to the safety...
Knog Blinder Mob Four Eyes Front Light
Nighttime urban bike adventures call for functional lighting that won't get in the way or crimp your style. The Knog Blinder Mob Four Eyes Front Light serves as a bright beacon wrapped in a sleek little package. It nests unobtrusively on your handlebars but kicks out 80 lumens of light for over 1...
Knog Blinder Mob Four Eyes Twin Pack
Commuting on crowded urban streets has its set of challenges, but in the end, you still get to commute in the saddle while everyone else is stuck in a car. Protect yourself while you navigate rush hour with Knog's Blinder Mob Four Eyes Twin Pack, with an eye-catching, four-bulb design made...
Knog Blinder Road 250 Headlight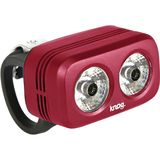 In the hunt for better visibility in low-light and nighttime conditions, one might be tempted to mount a fog light to the handlebars if it weren't for the prohibitive size and weight of it. The Knog Blinder Road 250 Headlight provides a better option to light the way, packing 250 lumens into its...
Knog Blinder Road 3 Headlight
Retail Price:
$94.95
Our Price: $42.73
buy now
As much as we'd like to just mount a fog light to our handlebars, that's probably not the ideal choice for improving our visual footprint in low-light conditions. The Knog Binder Road 3 provides a better option by packing 300 lumens into a small, lightweight frame that mounts neatly and...
<< Prev | Back | 1 | 2 | 3 | 4 | 5 | 6 | 7 | 8 | 9 | 10 | More | Next >>