Headlights - Road Bike Shop
Shop
>
Accessories
>
Lights
>
Headlights
Exposure Switch Headlight with TraceR Tail Light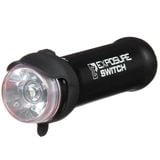 Sure, the bulk of your commute takes place in crowded bike lanes permanently cast in a downtown glow, and you seldom feel like you're actually riding at night. But that doesn't mean you shouldn't have some kind of light mounted onto your commuter bike. Instead of spending big on a high-lumen...
Exposure Toro Mk8 Headlight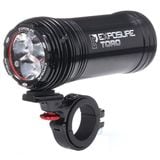 If you're serious about racing XC after dark this year, don't hinge a potential PR on a weak beam. You know that as soon as you get onto truly dark singletrack, seeing your line is paramount to keeping up with the pack. With a more focused beam than other comparable Exposure lights, the Exposure...
Exposure Trace Front Light
Sure, a quick-and-easy elastic band secures the Trace Front Light to handlebars like many other LED front lights, only Exposure's expertise makes this much more than the typical watch battery in a rubber case. First off, the Trace light combines a powerful, yet efficient Cree XPG LED with a...
Exposure USB Battery Charger
You love your Exposure Spark, Flash, and Flare lights, but a little bit of your soul dies every time you throw out one of those non-reusable batteries. Exposure's USB Battery Charger brings much-needed peace of mind to powering your lights with two rechargeable RCR123A batteries and a USB...
Exposure WhiteEye Light
Retail Price:
$64.95
Our Price: $45.46
buy now
The Exposure WhiteEye is CNC machined aluminum throughout, save for the plastic lens. It looks just like their RedEye Helmet Light, but instead of producing a glowing red light to be seen from the rear, the White Eye produces 240 lumens from its single Seoul P4 LED. It can be used to give...
Fabric USB Front Light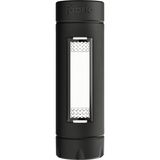 All of the crisp air and rich foliage of fall makes for a welcome change to your weekend rides, but your opportunities to sneak a few miles in after work in the evenings grow more difficult to come by every day. Extending your rides a half hour longer can be as easy as buying the right light. If...
Fabric USB Stick Light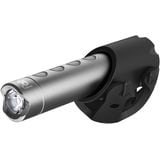 Expanding into the realm of bike lights for the first time, Fabric carried its affinity for simple, functional pieces beyond saddles, creating a concise line of headlights that double as tail lights when needed, like the 150-lumen USB Stick Light. Focusing on keeping cyclists seen more than...
Garmin Varia Bike Lights Bundle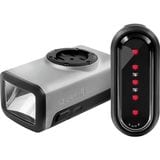 Ever since it first dipped its toes in the data pool, Garmin has been known for innovative products aimed at helping cyclists train more efficiently. With the introduction of a new line of bike lights, the data-loving company is now also demonstrating its interest in promoting safety as well. As...
Knog Blinder Mob Eyeballer Front Light
The engineers at Knog, based just outside of Melbourne, Australia, are no strangers to fast-paced commutes on busy, narrow streets. We'd imagine their experiences in a major metropolitan area are part of what inspired the brand to create a line of bike lights specifically dedicated to the safety...
Knog Blinder Road 250 Headlight
Retail Price:
$79.95
Our Price: $68.49
buy now
In the hunt for better visibility in low-light and nighttime conditions, one might be tempted to mount a fog light to the handlebars if it weren't for the prohibitive size and weight of it. The Knog Blinder Road 250 Headlight provides a better option to light the way, packing 250 lumens into its...
<< Prev | Back | 1 | 2 | 3 | 4 | 5 | 6 | 7 | 8 | 9 | 10 | More | Next >>