Headlights - Road Bike Shop
Shop
>
Accessories
>
Lights
>
Headlights
Lezyne LED Femto Drive Light Pair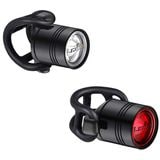 Small ain't no thing to the engineering geniuses at Lezyne. Not only were they able to jam some serious brightness into the compact Lezyne Femto Light Pair, they kept the lights' stylish appearance up to the company's usual standards, too. The Femtos' durable CNC-machined aluminum bodies are...
Lezyne LED KTV Drive Headlight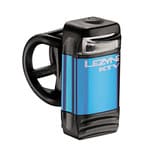 The road can be a dangerous place, especially for cyclists whose schedules see them on the road before sunrise or after dark. If this describes you, then you know that the importance of ensuring that motorists also see you on the road is impossible to overstate. With its combination of features,...
Lezyne LED KTV Drive Light Pair
Sometimes companies try a different approach to product design, and it can be a gamble. Lezyne has a habit of challenging the design and function of bicycle lighting, and with the new LED KTV Drive Light Pair, you get a double whammy of a new, and excellent, approach to bike lights. Both the KTV...
Lezyne LED KTV Drive Pro Headlight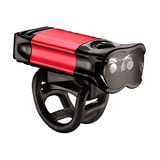 The world of bike lights might, on the surface, seem relatively benign with regards to technological advancements or flashy new designs (pun definitely intended). So it gets our attention when a company truly re-thinks bike lighting, and a great example of a train of thought we advise following...
Lezyne LED Mega Drive Headlight with Accessories
Looking to pick up a serious headlight with all the bells and whistles in the box? Look no further than the self-contained Lezyne Mega Drive Headlight with Accessories. The most obvious difference between the Mega Drive and other lights is the CNC'd aluminum body. In the event that you take a...
Lezyne LED Micro Drive Light Pair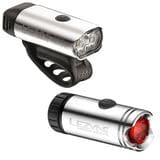 The appearance and performance of the average Lezyne bicycle light suggests pretty outrageous pricing. Luckily, that's not the case. Understanding the value of, well, value, Lezyne's engineers have an uncanny ability to jam beautiful form and performance into their lights and ask relatively...
Lezyne LED Power Drive XL Headlight with Accessories
Low lumen head lights are typically suitable for riding through suburban and urban areas with street lights, but for trail or rural riding at night, you'll need something more substantial. Enter the Lezyne LED Power Drive XL Headlight with Accessories. This little beast produces almost as many...
Lezyne LIR 123A Battery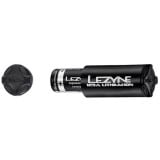 One of the best features of Lezyne's Mini series of lights is Infinite Light technology, which allows you to pop open the light and replace the batteries on the trail, effectively giving you as much power as you want to carry. In order to utilize this feature, however, you'll need backup...
Lezyne Macro Drive Headlight
The second largest of the company's beautiful and technically excellent LED Sport lights, the Lezyne Macro Drive Headlight is still very compact and light for how incredibly bright it is, and with a host of smart features, it's as easy to live with as it is to admire. The most obvious difference...
Lezyne Macro/Zecto Light Pair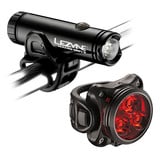 The Lezyne Macro/Zecto Light Pair is a rock-solid and high-IQ choice for anyone looking for a great combo in one box. You can learn more about the Macro headlight here and the Zecto taillight here, but read on for the highlights: Both the Zecto and Macro feature beautifully-machined alloy bodies...
<< Prev | 1 | 2 | 3 | 4 | 5 | 6 | 7 | 8 | 9 | 10 | Next >>